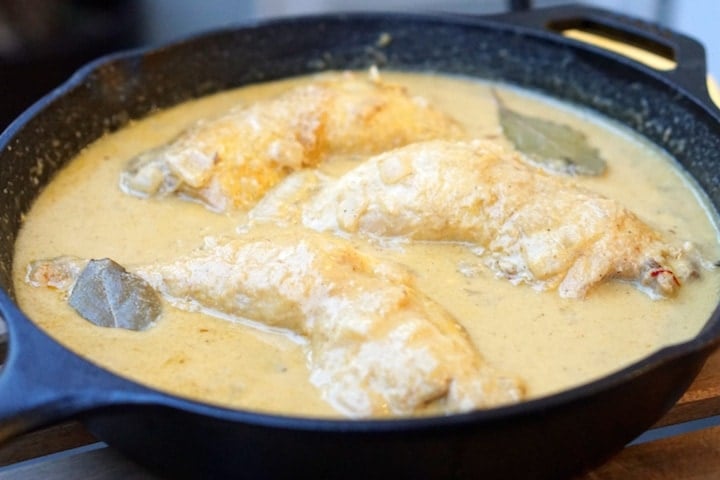 Cooking is my therapy. I love every minute of it— from buying the right ingredients to chopping and mincing, boiling and baking, and, finally, serving and eating. The only part I despise is cleaning up (does anyone like that part?). But one of the best parts of cooking is the first time you try "a keeper". You know– a recipe that in the old days you'd clip out and paste into your recipe book, and that nowadays goes onto your "Most Amazing Recipes But Like For Real!!!" board on Pinterest. A keeper is a recipe you love enough to make again and again, one that you aspire to learn by heart and pass on to your offspring. I recently discovered a keeper.
I've eaten pollo en pepitoria many times as part of a menú del día. Despite having it in some very traditional restaurants, it never made a strong impression. More often than not, it was bright yellow, surely colored with colorante (food coloring powder) instead of traditional saffron. For years I lived in ignorance of what this dish could really be.
The Mystery of Cinnamon
But as I cook my way through Claudia Roden's The Food of Spain, I was captured by her version of pollo en pepitoria, which includes cinnamon as an ingredient. I love cinnamon in savory dishes and had to find out more.
It turns out, there's lots more to know about this traditional Spanish dish. The Spanish dictionary defines pepitoria as a:
Stew that you make with all edible parts of a bird, or only with the offal, and whose sauce includes egg yolk. (Guisado que se hace con todas las partes comestibles del ave, o solo con los despojos, y cuya salsa tiene yema de huevo.)
A combination of diverse things without order. (Conjunto de cosas diversas y sin orden.)
It's thought to be of Moorish (Arab) origin (due to the almonds and saffron in the dish) and it's worth noting that the original ingredients were all available pre-colonization of the Americas. There are no new world ingredients (like potatoes, tomatoes or peppers) in the dish– a somewhat rare phenomenon nowadays.
Claudia's version strays quite a bit from the classics. She uses chicken thighs instead of offal (fine with me!) or the popularly accepted traditional version of the last hundred years which is made with hen (gallina). And she adds cinnamon. While this is what drew me to her recipe from the start, it's the part that's the most mysterious. The majority of my favorite Spanish recipe blogs have a version of pollo en pepitoria that is pretty basic when it comes to spices– just saffron, salt and pepper.
BUT… the oldest recipe I found includes quite a few more– nutmeg, cloves and ginger to be exact and here's the thing, it is specifically ANTI cinnamon!
Here's the recipe, from Arte de Cocina, Pasteleria, Vizcocheria y Conserveria de Martinez Montiño (published in 1763) source:
"Pelarás las aves, y le cortarás los alones, y los pescuezos; estos alones, y pescuezos pelalos en agua, porque salgan blancos; y cortarás las puntas à los alones, y à los pescuezos les quitarás los picos y los gaznates, y les darás dos golpecitos sin acabarlos de cortar: el uno en medio del pescuezo, u el otro en la cabeza; porque cuando se coman, puedan comer los sesos de la gallina, y los pies se pelen en la misma agua caliente. Todo esto se echará à cocer con agua, y sal, y un pedacito de tocino gordo, y unas cebollas enteras; y en estando cocido el tocino, y las cebollas, sacalo al tablero, y picalo con mucha verdura asi caliente: y después que este muy bien picado, vuelvelo à echar en la olla, y sazona con pimienta, jengibre, y nuez, y cueza. Luego toma un poco de buena manteca de puerco en una sarten, ò cacito, y ponla à calentar; y cuando esté bien caliente, echale un poco de harina floreada, y sea tan poca la harina, que no se haga masa en la sarten, sino que haga unas ampollitas blancas, y que se quede muy blanca, y echala así con la sarten dentro en la olla de la pepitoria, y echale un poco de vinagre, y un poco de azafrán. A estas pepitorias no se han de echar huevos batidos, sino cocerlos, y asentar las yemas doradas encima del plato. Y advierte, que los higadillos no se han de cocer, sino asarlos, ó freirlos, y asentarlos por encima de los platos, y las madrecillas de las gallinas las podrás rellenar, y adornar los platos con ellas y con los higadillos. Este plato ha de estár un poco subido de sal, especias, y vinagre, porque de otra manera esta la carne dulce. Advierte, que todas las veces que digo que sazones con todas especias, se entiende pimienta, clavos, nuez, jengibre y azafrán; porque la canela no ha de entrar en cosa que no lleve dulce, y en todos, ó en los mas dulces ha de entrar canela; porque está puesto al revés en otro libro".
To summarize the above for those of you who don't read 18th century Spanish, there are a few fascinating points to note:
He uses lard instead of olive oil (this is more typical than many think in traditional Spanish cooking). Though obviously, if this recipe is indeed of Arab origin, olive oil was likely used in the original versions.
He says: "Warning– when I say to season with "spices" what I mean is black pepper, cloves, nutmeg, ginger and saffron– because cinnamon shouldn't be a part of something savory, however it should be an ingredient in sweets." (this is a rough translation fyi). He then mentions that another book has this backwards.
So what's the deal? Would cinnamon be a part of the first pepitorias or not? I may never know the answer! (And you may be thinking I'm a bit of a food geek– I know…).
But what's really important is that I made Claudia's version with cinnamon and loved every last bite. It's most definitely a keeper in my book.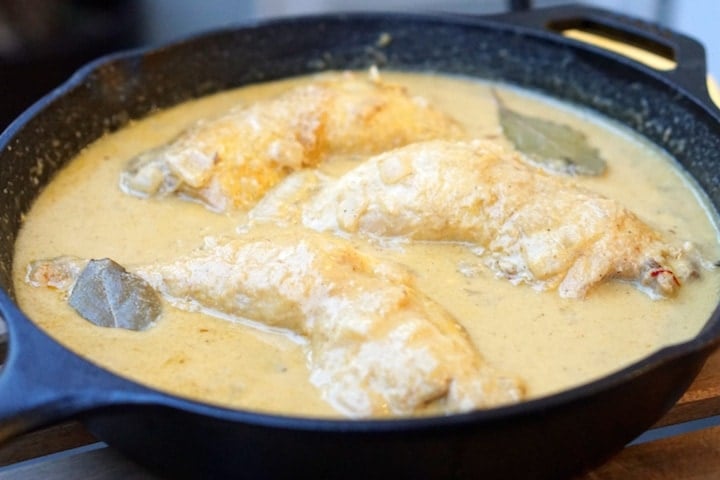 Chicken in Almond Sauce (Pollo en Pepitoria)
This delicious recipe for chicken in almond sauce is called pollo en pepitoria in Spanish. It's one of my favorite Spanish recipes!
Ingredients
1/4

cup

extra virgin olive oil

4-6

large chicken thighs with the skin attached

I use free range chicken

Salt

Pepper

1

large onion

diced

2

cups

chicken stock

1

cup

dry white wine or sherry

2

bay leaves

1/2

teaspoon

cinnamon

4

hard boiled eggs

1/2

cup

of raw almonds

6

cloves

of garlic

Pinch

of real saffron threads
Instructions
First, cover the bottom of a large heavy skillet in olive oil and heat over a medium heat.

Season the raw chicken with salt and pepper and add to the hot pan, browning for a short time on each side.

Remove the chicken from the pan, lower the heat and add the diced onion.

Sauté the onion for about 5 minutes until golden, and add the white wine.

Return the chicken to the pan and cover in the chicken stock, then add the bay leaves and cinnamon.

Cover and simmer for 25 minutes, turning the chicken over about halfway through.

In the meantime, make the hard boiled eggs and remove the hard boiled yolks from the whites.

Save the yolks and dice the whites for later.

In a frying pan, heat a couple tablespoons of olive oil and add the garlic and almonds. Some recipes also add stale bread for a classic picada. Fry until golden brown and remove onto paper towels to drain excess oil.

Blend the almonds, garlic (bread if using) and hard boiled egg yolks in a food processor until you have a thick paste. If necessary, add some of the liquid from the chicken to help blend.

Stir the paste into the stew and add a pinch of saffron.

Simmer slowly, uncovered, stirring frequently until the sauce has thickened and the chicken is cooked through. Season with salt and pepper and serve with something to sop up extra sauce (this is not traditional, but I made rice-- potatoes or a nice loaf of bread would also work!).
Nutrition
Calories:
658.2
kcal
Carbohydrates:
14.86
g
Protein:
32.11
g
Fat:
47.91
g
Saturated Fat:
9.63
g
Cholesterol:
300.84
mg
Sodium:
398.68
mg
Potassium:
647.47
mg
Fiber:
2.88
g
Sugar:
4.94
g
Vitamin A:
348.14
IU
Vitamin C:
3.68
mg
Calcium:
104.7
mg
Iron:
2.64
mg
 Have you ever tried pollo en pepitoria? And do you like cinnamon in savory dishes?