Fricandó is a delicious Catalan beef stew. It's slow-cooked with mushrooms and includes the traditional Catalan picada (a puree of nuts, herbs, garlic, and wine). It is a staple of Catalan cuisine and quite a unique recipe. If you love beef stew with mushrooms, you'll love this dish!
I'd never heard of fricandó until last week when I arrived at culinary school and opened up my recipe for the day. But I was the exception-- it turns out that most of my Catalan peers knew this dish well. They had grown up eating fricandó, a delicious Catalan beef stew with mushrooms. It's one of those traditional dishes where every family has its own fricandó recipe. Even our teacher confessed that he makes his grandma's version at home!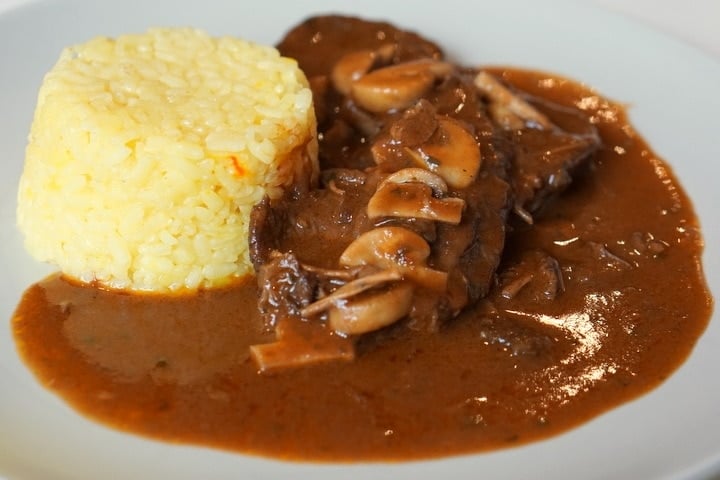 But for the purpose of the class, we made fricandó the proper way, step by step. I don't have anything to compare it to, but it's definitely one of the best beef stew recipes I have ever tried! Sometimes I find beef stew gloppy and stodgy, and everything tastes the same. This fricandó recipe has complex flavors (though is still simple to make!) and it doesn't feel heavy at all.
See also: Classic Spanish beef stew
This Catalan beef stew with mushrooms is made using beef shoulder or knuckle (part of the shoulder-- called "llata de ternera" here), which is a very tough cut. But when treated with time and love, it becomes melt-in-your-mouth tender, especially with this delicious beef stew recipe!
Catalan Beef Stew (Fricandó) Recipe
Try the recipe and let me know what you think!
Ingredients
Stew
1

lb

about ½ kilo beef shoulder (or rump/chuck roast)

Flour for frying

Olive oil for frying the meat

about ¼ cup

¼

cup

dried mushrooms

if you can find them

½

Tablespoon

of salt

Ground pepper

Olive oil

2

medium onions

small dice

2

medium carrots

small dice

2

garlic cloves

minced

1

Tablespoon

tomato paste

Herbs of choice

bay leaf, thyme, oregano, rosemary, marjoram

1

cup

of diced tomato

if buying canned, look for "petite dice"

½

cup

120 ml red wine

⅓

cup

80 ml dry sherry or port

5

cups

1200 ml beef stock

½

cup

fresh seasonal mushrooms of choice

whichever you prefer
PICADA (the puree we will add in at the end for flavor and texture)
1

clove

garlic

Small handful of fresh parsley

8 to

toasted almonds

3

Tablespoons

44 ml dry port or sherry (oloroso would be perfect)

1

fluid ounce

of sweet anisette liquor

5

grams

dark chocolate

a small chunk

⅓

cup

water
Instructions
Stew
Clean the meat of any nerves or tendons and cut into chunks

Season the meat with salt and pepper, and cover in flour (shake off any excess)

Brown the meat on all sides in a heavy pot covered with olive oil, then remove the meat and reserve for later

If using dried mushrooms, cover them with water to hydrate

Using the same pot and oil, sauté the onion and carrot until both are cooked through and golden

Add the garlic and sauté for 30 seconds, until fragrant

Add the tomato paste and herbs, and sauté for about a minute

Add the meat back in (and any juices that were released while resting)

Cover with the diced tomatoes, red wine, and sherry/port

Bring to a boil and then simmer until the liquid has reduced by half

Add the beef stock and rehydrated mushrooms, make sure the meat is fully covered by liquid

Cover the pot and simmer for about an hour, stirring every now and then

Once the meat is tender and the stew is ready, sauté the fresh mushrooms in a frying pan with a little bit of olive oil and salt and pepper

Add the picada (below) to the stew to taste

Add the sauteed mushrooms to the stew right before serving

Enjoy! I love fricandó with a side of rice or mashed potatoes - pasta or roasted potatoes (or homemade french fries) are great too!
Picada
Put all of the ingredients in a blender or food processor and pulse until it is a smooth paste
To Serve
Heat the stew and stir in the picada, a spoonful at a time. Taste as you go (some prefer only a little of the picada because of its strong flavor.
Nutrition
Calories:
566.26
kcal
|
Carbohydrates:
25.27
g
|
Protein:
28.69
g
|
Fat:
31.83
g
|
Saturated Fat:
10.22
g
|
Cholesterol:
80.55
mg
|
Sodium:
1610.32
mg
|
Potassium:
1347.37
mg
|
Fiber:
3.37
g
|
Sugar:
9.87
g
|
Vitamin A:
5467.56
IU
|
Vitamin C:
16.06
mg
|
Calcium:
99.1
mg
|
Iron:
4.74
mg
What do you think about this traditional fricandó recipe? I promise that despite the many steps, it's pretty easy and no fuss. The picada is optional (but adds a great flavor). It's definitely become one of my favorite beef and mushroom stew recipes!
More delicious Spanish stews
What's your favorite stew recipe? Leave a comment below!