This blog post was originally posted on April 19, 2016 and was updated on July 14, 2017.
Within the past few decades, people began to forgo butter and margarine in favor of olive oil. Everyone also seemed to collectively realize that a glass of red wine a day had health benefits and that was it. But the Mediterranean Diet is so much more than that.
Here in Malaga—where you can dip your toes in the Mediterranean Sea every morning, where olive groves are not too far away, and where local wines are the way to go—eating Mediterranean is just what we do. Now the real question: why should you jump on the bandwagon? Here are five reasons why eating Mediterranean is the way to go.
Why the Mediterranean Diet is Worth Trying
1. Olives and olive oil
Few things in life are better than fresh extra-virgin olive oil. In Malaga, it's what locals use for cooking every day. You can drizzle it over toast in the morning for a quick, easy and delicious breakfast. Even the best fried fish is made with top-quality EVOO. This has two benefits: it's healthier, and you can reuse it due to the high quality.
As for the olives themselves, well there are so many different kinds that you're sure to enjoy one of them. Spain is one of the biggest producers of olives in the world, so here you have a good chance of finding some varieties that may be new to you.
2. Red wine
Another reason to love the Mediterranean diet is the chance to indulge in a glass of red wine. But rather than having a glass of wine on its own, when you're eating Mediterranean, you enjoy a small glass of wine with your meal. That seems to make things much more civilized—and a daily glass of red wine has been proven to have health benefits, too.
3. Lots of legumes and veggies
This may sound a bit odd as a reason why eating Mediterranean is great, but it's true! Humble legumes such as the chickpea, the faba bean and the lentil are key player in the Mediterranean diet. One of the best things to eat in winter is a hearty stew with veggies and one of these legumes (locals are especially partial to lentil soup with veggies). Some people even add in chorizo—this is Spain, after all!
4. Fresh fish
The Mediterranean diet includes less red meat and more fish and chicken. Here in Malaga, that's no problem—one of the star local ingredients is fish. You'll find that locals eat all types of fish in many different ways: fried, grilled, in stew or soup, or even on a skewer! Whatever you try, it's bound to be delicious and healthy. After all, Malaga has roots as a fishing town, so you can imagine that they know what they're doing when it comes to seafood.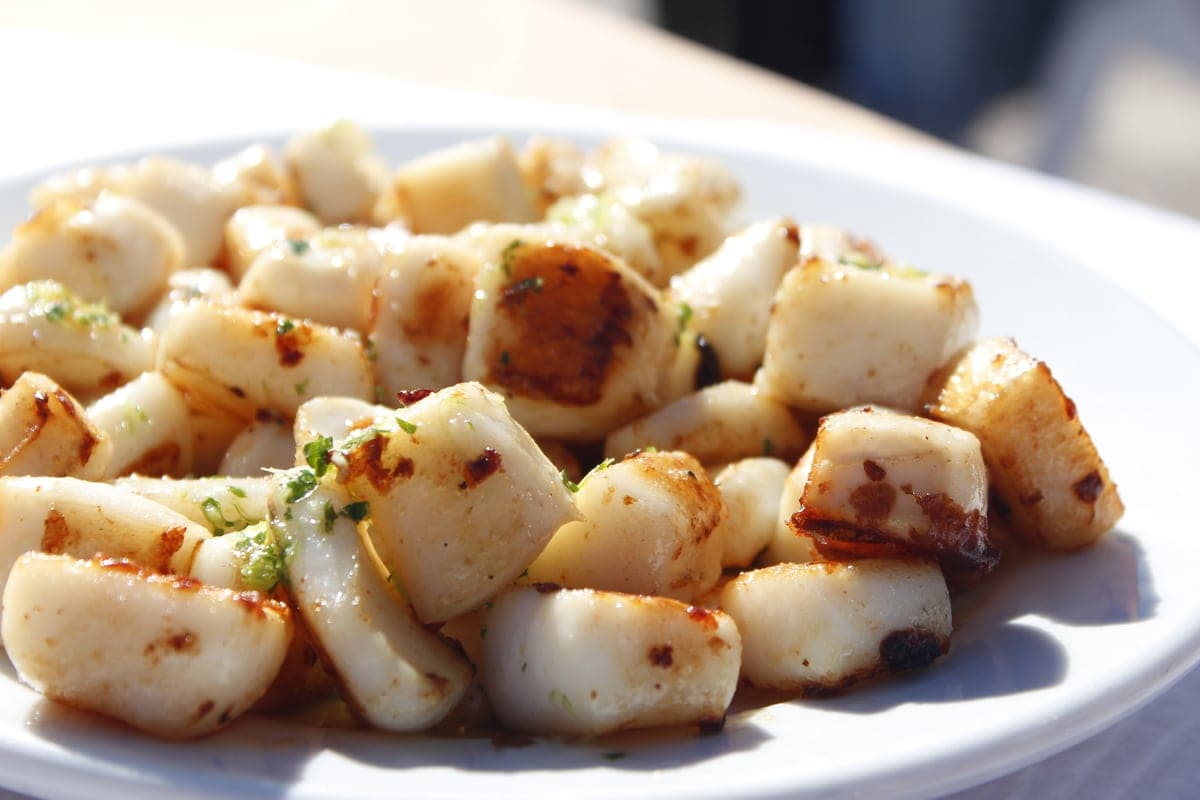 5. Slow down!
One of the points of the Mediterranean diet that locals hold most dear—and perhaps the part that is most overlooked—is the aspect of speed. One of the reasons that eating Mediterranean is so healthy is that it forces you to slow down. Eating is a family event here (or at least an event enjoyed with friends or co-workers). Spanish people would never think of relinquishing their sit-down meal in the middle of the day in favor of a quick lunch grabbed on the go. A big part of the Mediterranean diet is simply enjoying the fresh food and local products.
Pin me!