This blog post was originally posted on November 20, 2015 and was updated on December 13, 2017.
Love it or hate it, winter is inevitable even in the sunniest cities on earth. And with it come the boots, scarves, sweaters—the works.
While there are parts of the colder months that everyone enjoys—hot chocolate by the fire, afternoons spent indoors reading a great book, ski weekends, ice skating outdoors—sometimes you just need to escape somewhere that's warm and sunny. If you still need convincing, here are 10 reasons to visit Malaga in winter.
10 Reasons to Visit Malaga in Winter
1. The weather is fantastic
When you google "winter sun break," one of the top destinations that pops up is Malaga. It is the capital of the Costa del Sol, after all! Malaga capital enjoys even more sunny days than the surrounding region since it's protected from the north by the mountains and to the south by the sea.
This creates a microclimate with mild temperatures, even in winter. The average for the winter months hovers around 15 degrees Celsius (59 degrees Fahrenheit), but in the sun you'll soon be shedding that winter jacket—and that alone sounds like a good enough reason to visit Malaga in winter.
2. The white villages are just waiting to be explored
Since you won't be jumping in the Mediterranean (however warm it might get, this is clearly not the season for a swim), why not check out one of the beautiful white villages (pueblos blancos) near Malaga? Spend your winter getaway exploring the twisting, narrow streets of Mijas, Comares, or Frigiliana. At this time of year, there are fewer people and you're more likely to have an authentic experience.
Start exploring: 5 Breathtaking White Villages Near Malaga
3. There are world-renowned ski slopes just a short 100 km drive away
Malaga is a great home base for a sunny winter escape thanks to its proximity to the sea, but also the mountains. You can easily spend a day in the Sierra Nevada, which is just 100 km from Malaga capital. It's a great option if you are looking for a vacation that combines the best of both worlds: great weather and winter sports.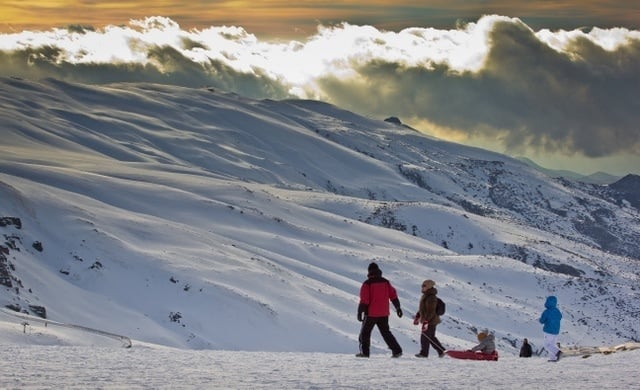 4. You can eat lunch at the beach
While it might not be warm enough to go for a swim, one thing you can do in Malaga in winter is have lunch in the sun at one of the beachside restaurants, or chiringuitos. There's something so wonderful about enjoying a meal in December or January with the sun shining and the waves crashing in the distance—and certainly not possible in most of the rest of Europe!
5. Malaga was voted one of the best places to spend the holidays in Spain
Christmas is a beautiful time to visit Malaga. The light display on Calle Larios is always quite impressive, and the festive atmosphere is contagious. You can enjoy the Christmas markets, and ring in the New Year with a toast of cava or sweet wine.
Of course, you can't miss the huge nativity scene at the town hall, or the parade for Three Kings Day complete with floats and candy for the children. One thing's for sure: this time of year is nothing if not magical.
See also: 50 Things to Do in Malaga at Christmas
6. It really is the only time of year to fully enjoy a plato de los montes!
Have you ever seen a photo of the locally famous platos de los montes de Malaga? These are plates piled high with every kind of meat imaginable—oh, and also fried potatoes and a fried green pepper...and maybe a fried egg.
This heavy dish is a bit too much in the summer, but there's something about a cool winter Sunday that invites you to drive up to the mountains of Malaga and stop at a venta (one of the roadside restaurants) to indulge in the chorizo, morcilla, pork loin, fried potatoes, fried egg...and maybe that fried green pepper (because you need some veggies, after all!)
7. Some of the best golf courses in Spain are found on the Costa del Sol
Another popular reason many people choose to book a winter vacation in Malaga are the world-class golf courses available along the Costa del Sol. Enjoy a drive from Malaga capital along the highway that borders the sea and spend a day out on the green.
8. Tapas are delicious year round
There is nothing quite like a tapas bar packed with locals, complete with coats thrown over bar stools, where you can catch up with friends and enjoy round after round of tapas and beer or wine. Locals love going for tapas all year round, but there's something especially cozy about it in the winter when the terrace at night is just a bit too chilly.
The variety of tapas in winter is also pretty spectacular. Bars tend to serve heartier things: paella, bacon-wrapped dates, and fried bacalao are just a few of the typical dishes you can enjoy in Malaga in winter.
Hungry yet? 11 Typical Tapas from Malaga You Should Try
9. A chance to truly appreciate sweet wine
As tasty as it is, the hot summer months are not ideal for sweet wine—instead, locals prefer a cold caña (beer) or a tinto de verano (wine mixed with lemon soda). Wintertime, though, is ideal for indulging in this tasty tipple, as winter in Malaga gives you a chance to sit in one of the classic wine bars of the city and try the various local wines.
Local Tip: Start with the Pajarete, but then again, ask the bartender. You'll be surprised at how many different wines there are from the region.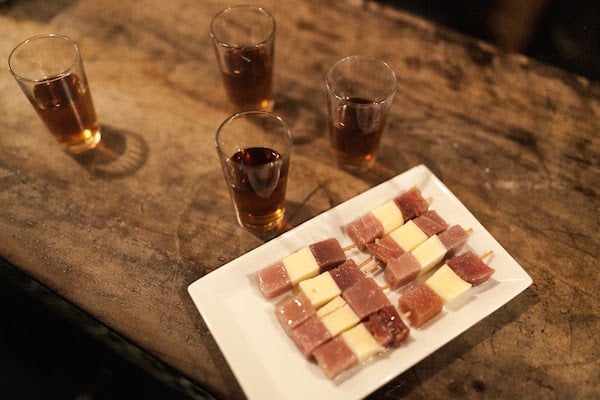 10. The museums are better without the crowds
Since winter in Malaga is low tourist season, you'll be able to enjoy the museums with a little bit more breathing room. There's nothing worse than going to an art gallery and feeling like everyone is on top of one another, so by visiting Malaga in winter, you'll be able to truly enjoy the art.
Ready to go? The Most Unique Museums in Malaga
Pin me!