Flaming clay pots, sharable glasses that shoot out perfect streams of wine, jugs that keep water cold on the hottest of days... the Spanish china cabinet is full of curiously fun ways to eat and drink.
What often originated as practical solutions to living in the countryside are now highly entertaining ways to enjoy a bottle of wine or a glass of traditional liquor.
On the other side of that rural practicality is the elaborate beauty of royalty, wealth and power. While country farmers were using ingenious clay pots to, for example, chill their water, Spanish royalty was inspiring an extensive Spanish ceramics industry that has influenced pottery designs across the Americas.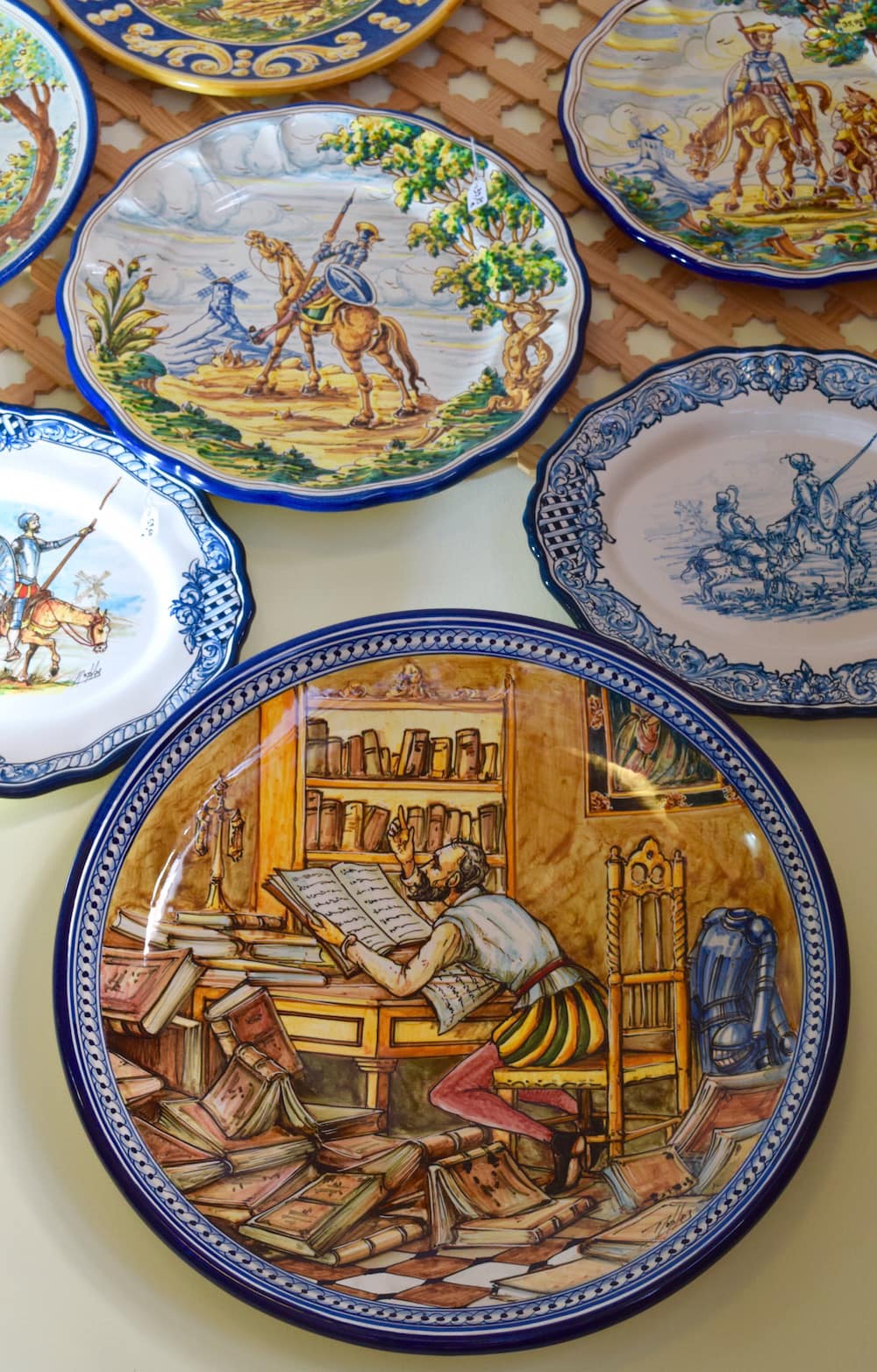 In many ways the plates, bowls and glasses on a Spanish table tell just as much of a story as the food and drinks they hold.
The bright blue and yellow designs on the celebrated ceramics from Talavera de la Reina, a town about 80 miles southwest of Madrid, are said to stimulate appetites and inspired the tradition of Mexico's "talavera" pottery.
The white and blue floral designs that weave across typical plates in Granada harken back to the city's history as a Moorish stronghold. And the unique clays of Salvatierra de los Barros, a village in the southwestern province of Extremadura, naturally keep drinks refreshingly cold despite scorching summer temperatures.
While the designs are intricate and beautiful, it's the fun forms and highly specialized uses of Spanish ceramics that really make eating in Spain that much more fun. Here are a few of my favorites.
Botijo
The proper translation of botijo should, in my opinion, be "magic jug." These genius inventions were able to keep water refreshingly cool for farmers out in the fields of rural Spain centuries before refrigerators and high tech thermoses were around.
The secret of the botijo is in the mud. The porous type of clay traditionally used to make these water jugs allows just the right amount of water to seep through and evaporate. And as the water evaporates it takes a bit of heat with it, leaving the water inside the jug cooler and cooler.
Botijos are almost always shared among people, therefore the spout has a very small opening that makes the water stream out without anyone having to touch their lips to the jug. Putting your mouth on the botijo would be a serious faux pas!
Queimada
Centuries ago, in the craggy hills of Galicia, Celtic witches sat around shallow clay pots stirring blazing bowls of queimada. They chanted and sang while tossing the flaming liquid in and out of the pot in a ritual to get rid of evil spirits and cleanse the soul.
Witches may no longer haunt those hills but the tradition of the queimada is still going strong. Special clay bowls are filled with sugar, coffee beans, lemon slices and aguardiente, a fiery moonshine-like liquor distilled from grape skins and seeds. Then the brew is lit on fire.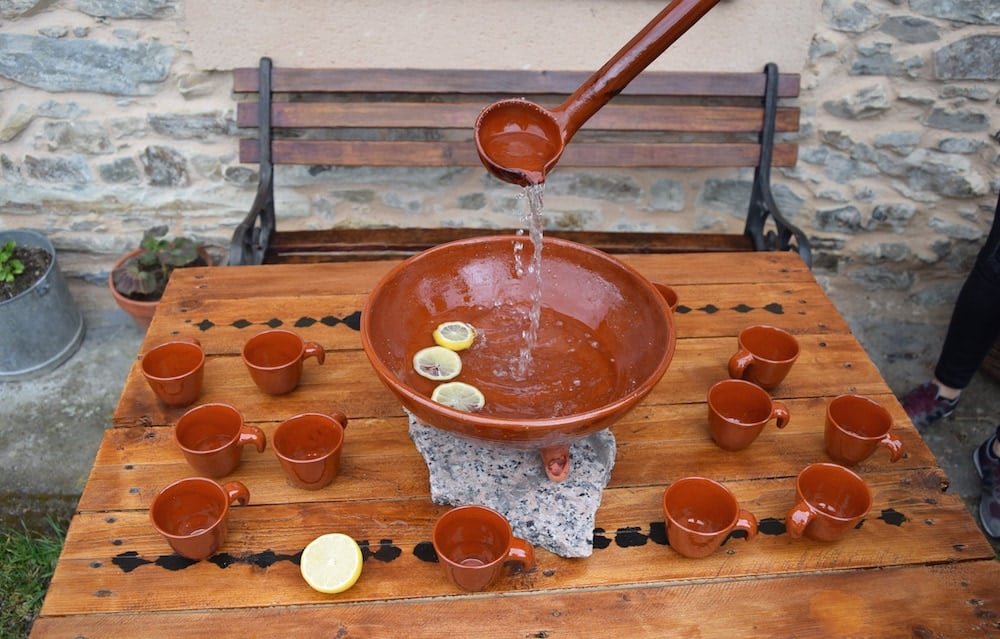 Using a clay ladle, people take turns scooping up spoonfuls of the flaming liquid and pouring it back into the bowl over and over until the fire goes out. Then the steaming queimada liqueur is ladled into clay cups. The delicious liqueur tastes exactly as I'd imagine a soul purifying witches brew would taste.
Cazuela
These shallow clay dishes are a fundamental part of many of my favorite Spanish foods. Cazuelas cook slowly and evenly, making whatever is placed inside them juicy and fantastic. They are super versatile and can be used in the oven, on the stove, in the microwave and as serving dishes, keeping your food nice and toasty throughout the meal.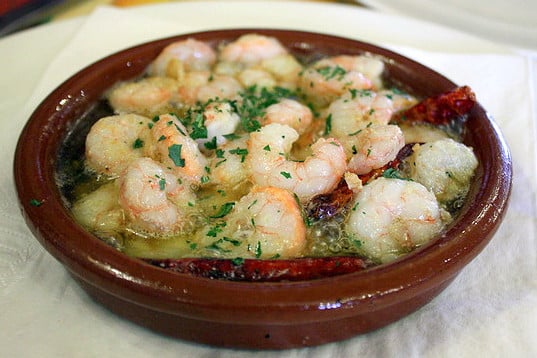 These classic Spanish ceramic dishes are used across the country to cook everything from seafood to stews to eggs to desserts. Here are a few of my personal favorite uses for cazuelas:
Gambas al ajillo (Garlic shrimp)
Sopa de ajo (Garlic Soup)
Pisto (Spanish ratatouille)
All types of egg dishes like Huevos al Plato or Huevos a la Flamenca
Crema Catalana (the Spanish version of creme brûlée)
Porrón
A porrón is a glass full of party. While usually not made of ceramic, these funky looking glass contraptions are both functional and fun. Originally from northeastern Spain, the porrón was invented as a poor man's wine glass. Instead of having glasses for each person at the table, the porrón serves as a hygienic communal wine glass.
Its long conical spout has a tiny hole that lets out a thin jet of wine which can be poured into your mouth from a distance. This way no one touches their mouth to the drinking vessel.
While its origins are practical, the reality nowadays is downright comical. The trick of the porrón is to pour quickly and accurately, a feat that more often than not results in a wine soaked shirt. Word to the wise, practice with white wine first...
You can find the porrón for sale on Amazon these days-- a worthy investment!
Salad Dressing Carriers
One of the most fantastic things about Spanish ceramics is how specialized they are. There are bowls fused together to create ideal olive servers, complete with a nifty handle and a small bowl for the pits.
There are all types of figurines -- from piglets to wide-skirted women-- to hold toothpicks and umpteen styles of pitchers for each type of liquid (large and wide-bodied for sangria, short and stout for milk, tall and thin for wine).
But perhaps my favorites are those for olive oil, vinegar and salt. These three bottles are fundamental parts of most Spanish meals and are therefore some of the most beautifully decorated items in any pottery store.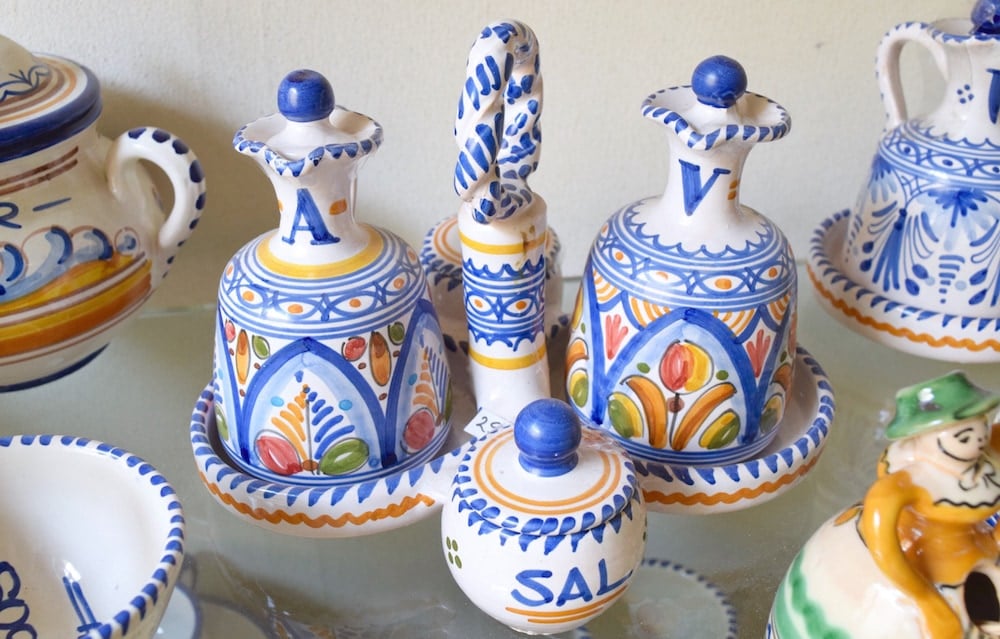 The carafes for the oil and vinegar are small and labeled with an A for aceite (oil) V for vinagre (vinegar). Their arrival at the table signals delicious things to come!
Have you ever tried to eat or drink from these intriguing Spanish ceramics? Which is your favorite?