I've been thinking about writing this post since the very first week I moved to Madrid, nearly two years ago now. I was immediately impressed by how different things were in the capital-- after living in Andalusia for nearly three years I felt like I was in a while new world.
When I moved to Seville I was only 22 years old, and right out of college. It was supposed to be a sort of gap year, a chance to improve my Spanish and avoid the seemingly inevitable job search that I'd already come to despise.
But as we all know, that one year experience has now turned into four, and will likely turn into 5, 6, 7… but not in Seville. Unfortunately, as amazing as Seville was, it was time for Ale and I to move on. Economically repressed, and a bit too small minded, it just wasn't the place to launch the businesses we had in mind, and to take our careers and dreams to the next level.
But I still miss it like crazy.
Arriving to the Santa Justa Train Station the nostalgia sets in hard. I smell the azahar-- the lemon blossoms on the trees, and hear the distinct Sevillano accent all around me. I remember what my life was like there; it was a simpler time.
I wouldn't change my decision to move to Madrid, but there are certain things that even after two years I still miss about living in Seville. In no particular order, here they are-- hopefully if you visit you can take advantage of them for me!
1. Tapas
My Seville tapas obsession is obviously the first thing that comes to mind. Seville is the self proclaimed World Capital of Tapas (it's no joke, the title is officially pending UNESCO recognition) and, in my opinion, it deserves the title. From the most traditional tapas, to modern takes on small plates, Seville really knows how to perfect the art of the tapeo.
I don't understand why Madrid has such a tough time with the Seville style tapas concept. I've lost count of the number of times I've gone into a restaurant in Madrid that proclaims to have tapas on the menu, only to find that their tapas are more like media raciones or raciones (much larger portions). Good, creative tapas in Madrid can also be difficult to find. That said, in Madrid many bars still follow the traditional meaning of a tapa, which is something that comes included with your drink. I can't complain about that!
2. Parque Miraflores
Madrid has some amazing parks, many of which I still haven't discovered. But there is something special about the wild, unkempt Parque Miraflores in Seville. Going for a run around the vegetable gardens, spotting beautiful birds or bumping into a family of swans made me feel like I was back home in rural Massachusetts.
3. Cobblestone Alleys
There is nothing like being in the center of Seville, wandering through the old, crooked alleys and admiring the gorgeous flowers adorning the balconies and patios of the Andalusian houses. Walking home at night on these tiny streets is something magical, romantic, and peaceful. While Madrid has some streets like this, it is such a big city that I barely ever walk through them. Luckily, when we stay in Seville with GowithOh, we always rent a place right in the center!
4. The River
The Guadalquivir River might not be the most beautiful in Spain, but the bridges crossing over it and the popular Triana neighborhood are absolutely lovely. Having a walk and a glass of wine along the river was always something sure to brighten any day. I wish that Madrid would develop the area along its small river to create something similar, but I know that day is a long way off.
5. The Alcazar
As a resident of Seville I enjoyed free access to monuments like the Cathedral and the Alcazar (the old Moorish fortress). The fortress was one of my favorite places to visit. The gardens are simply magical, and the peacocks walking around give it a touch of the absurd. I didn't take advantage of them nearly enough while living there, and to this day I crave sitting down on one of the stone benches with a good book.
6. Tostadas
It's silly, but I really miss Seville's breakfasts-- the famous tostada (toast). Because it is so cheap, many people in Seville eat breakfast out everyday, and we used to do the same. I'd order a media tostada with cured ham, tomato, y extra virgin olive oil-- preferably on a mollete, a flat bread from Malaga. A delicious (and nutritious) way to start my days, if I was really hungry, I'd add a glass of fresh squeezed orange juice. In total the tostada and a coffee cost me around 1.80€ and with the orange juice around 3.00€ in total. Can you beat that? Unfortunately in Madrid, a tostada with cured ham for breakfast is pretty rare, and will often cost you double of what you pay in Seville.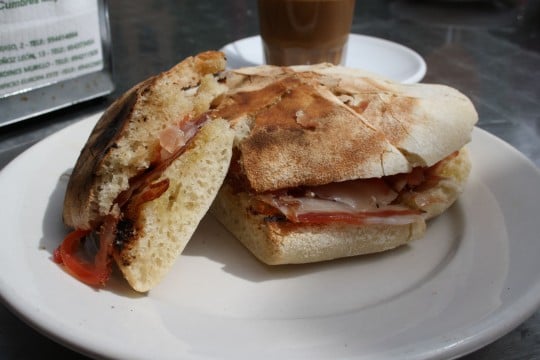 7. Spontaneous flamenco
This one is hard to explain-- you just have to experience it for yourself. But in Seville (and much of Andalusia) it is really common to see people break into spontaneous flamenco or Sevillanas (a similar style song and dance). People will starting clapping, dancing, and even playing the guitar in the most random places. It's a beautiful, passionate thing that always gives me the chills!
Seville will always hold a special place in my heart, and I'll always love going back. Do you have a special place you'll always miss?
Update!
I might not be moving back to Seville long term, but I'll be back starting in April 2015 for the launch of Devour Spain's Seville Food Tours! Our delicious and fun food tour in Seville is something I can't wait to share with people. If you'll be visiting Seville please check us out! Also, if you're hunting for that perfect place to stay in this amazing city, click here for some recommendations!