I don't know if I'll ever stop comparing Seville and Madrid. The food, the prices, the weather… it's a bad habit! It's not to say that after a few days in Seville I'm not happy to come back up to the capital, but there is something very special about the city of orange blossoms and cheap tapas that also makes me sad to return.
This time we were heading down to Seville for a friend's wedding, and decided to stay a few extra days courtesy of Wimdu, a company that offers apartment rentals all around Spain. While looking through the offerings there was everything from large, simple apartments that would sleep eight people, to tiny studios that looked like they were out of a home decor magazine. I chose our apartment for two reasons: location and terrace. Ironically, it was located on Calle Sol, only a couple of buildings down from my very first apartment in Seville, and a great (nostalgic) location for both exploring the city and arriving from the train station. It also had an enormous terrace, ideal for soaking up the sun that has been missing in Madrid lately!
It was the first time Ale and I had returned to Seville together since moving in with his parents in Cadiz right before our wedding nearly two years ago. I'd been back on my own and he'd been back alone too, but we'd never managed to coincide. For that reason, I wanted the weekend to be extra special, and having the apartment on Calle Sol brought back lots of good memories.
We were a lot busier than we'd imagined with wedding preparations and events, but we still got to explore and eat our way around town. Take a look at the highlights of our weekend in Seville:
The Wedding
We had a great time at the traditional Seville wedding– complete with a gorgeous church, lots of fascinating fascinators, and food and wine aplenty. I was too busy dancing to take pictures, but lets just say that after I threw this rice at 12:00 in the afternoon I didn't get home until the next day!
Food & Drink
Everyone who knows me knows that I go to Seville to eat and drink! Here is what we enjoyed this time:
Update!
After missing the delicious food in Seville for so long we started offering food tours in Seville as part of Devour Spain. We would be delighted to have you along!
Sightseeing
You may be wondering what exactly we would go sightseeing for since we lived in Seville for nearly three years, but believe me when I say that the city is always full of surprises and beautiful little corners. This time we had the chance to try out Past View, a really fun and unique way to learn about the city. We were on a guided tour, and at certain points we'd strap on our headset and play a video that was a true glimpse of the past.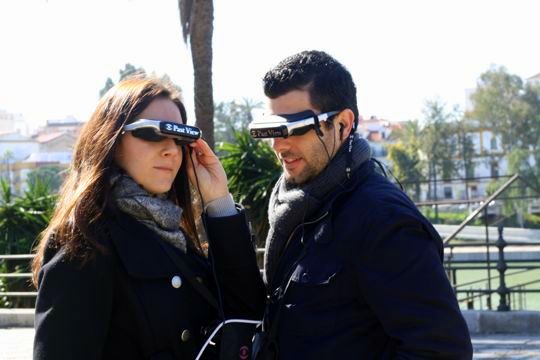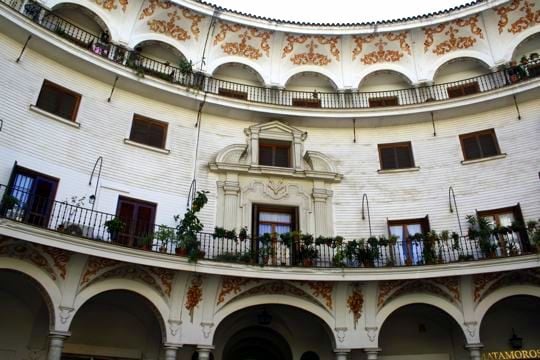 With a nostalgic sigh Ale and I made our way back to the train station on Sunday afternoon. My time in Seville flew by this time, and I barely had the chance to truly catch up with my former home. But that's okay, because it gives us an excuse to come back soon!
Do you have a special city somewhere that makes you sad to leave?