This blog post was originally posted on December 10, 2015 and was updated on December 13, 2017.
Spain becomes a true winter wonderland come Christmastime, complete with lights, decorations and delicious food. But of course, the holiday season also means buying gifts for friends and family. If you're stumped for ideas, these eight ideas for memorable Christmas gifts from Malaga will come in handy.
One of the best ideas for gift giving is something unique from one of your vacations (who doesn't love searching for a unique treasure when they travel?). That said, if you're traveling to Malaga—or if you live here and are racking your brains to think of what to bring the folks back home—there are a few keepsakes that truly stand out.
8 Perfect Christmas Gifts from Malaga
1. Sweeten up with a bottle of wine
You really can't go wrong with a good bottle of Malaga sweet wine. It's one of the most typical drinks from the area, and you can impress your friends telling them that the Queen of England specifically ordered it on her 88th birthday. You don't need to wait until you turn 88, though—this wine is delicious served as an aperitif or with some Christmas cookies as a dessert.
See also: The complete guide to local wines in Malaga
2. Liquid gold for the kitchen
It seems that everyone is starting to cook with extra virgin olive oil these days. That's a good thing, too, because it's Spain's "liquid gold." Here in Malaga there are lots of farms that produce local olive oil, and it's delicious on toast, drizzled over fresh tomatoes, or pretty much any other way you can think to use it. If you're looking for a gift for a foodie family member, this is the way to go!
See also: Spanish extra-virgin olive oil 101
3. Painted ceramic treasures
One of the most beautiful Christmas gifts from Malaga are painted ceramics. You can find little plates, decorative spoons, and more all hand-painted with typically bright Andalusian colors. There's something for everyone—just remember to get it wrapped in bubble wrap for the plane ride!
4. Go nuts!
If you've ever wandered down Calle Larios or taken a stroll through the local markets in Malaga, you know that almonds are grown locally. Any of the sweets made with almonds—including cookies, turrón (a nougat-like bar typical at Christmas) or even the nuts themselves—make great Christmas gifts from Malaga.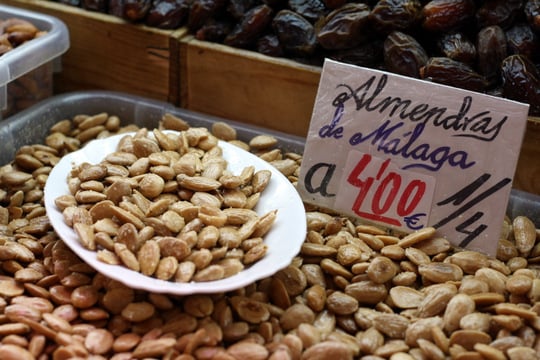 5. A touch of Andalusian elegance
Spanish shawls make perfect Christmas gifts from Malaga if you're looking to impress. These beautiful accessories come in every color of the rainbow, and Spanish women use them when they get dressed up to keep the chill off. You can find them hand embroidered in silk or polyester—there's something for every price point!
6. Picasso for a present?
Pablo Picasso is Malaga's most famous son. If you have an art lover on your gift list, head to the Picasso Museum shop or the Fundación Picasso to buy a special gift commemorating the man himself. You can never go wrong with a print, which, if you find the right frame, can really make for a nice Christmas gift from Malaga.
7. Flowers that last forever
The biznaga is something you'll only find in Malaga. This flower is handmade from jasmine blossoms, and in the summer months, you'll find men in traditional dress selling them in the historic center. They smell wonderful and are great at warding off mosquitos! All year long, you can find biznaga brooches and pendants, which make elegant Christmas gifts from Malaga.
8. New Beer for the New Year
Craft beer has recently become a hot topic across Spain, but Malaga boasts a few brews that are worth giving as a gift (especially if you have someone interested in microbrews in your circle of friends.) Check out Cabra Azul (Calle La Cuesta, 13) or Malaqa (Calle del Alcalde Guillermo Rein, 158), but don't forget to do a taste test before committing to one!
Learn more: All about craft beer in Malaga
Pin me!