There's no better place to spend a week than Malaga. The Costa del Sol capital was practically made for discovering piece by piece, at the laid-back pace locals are so famous for. Spending 7 days in Malaga will suit you well if you're looking to slowly explore the city, relax on the shore and even take a day trip or two. Here's your guide to the perfect seaside week!
The Perfect Itinerary for 7 Days in Malaga
Day 1: Picasso Museum, Cathedral, tapas crawl
Start your 7 days in Malaga by taking some time to pay tribute to one of the city's greatest icons. The Picasso Museum (Palacio de Buenavista, Calle San Agustín, 8) is the perfect way to learn about the great Malaga-born painter and see some of his best works. A visit to the museum couples nicely with some time spent at the home where the legendary artist was born (Plaza de la Merced), just a short walk away.
From there, it's time to explore one of Malaga's great sights that towers over the city center. The unique cathedral (Calle Molina Lario, 9) inspires curiosity with its unique asymmetric design. Due to its single tower, locals colloquially refer to the structure as "la manqueta" ("the one-armed woman"). The outside is impressive enough, but it's well worth the small entrance fee to check out the stunning interior as well.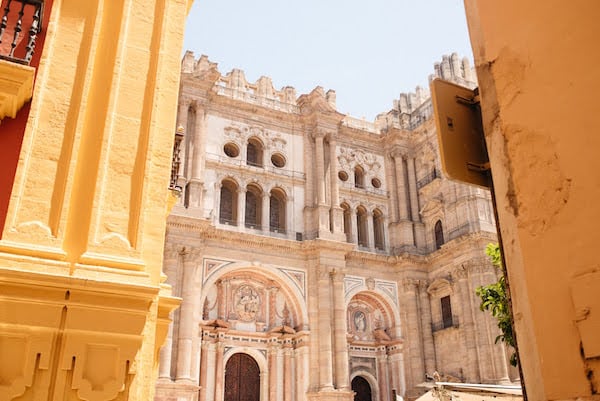 End the first of your 7 days in Malaga by heading out for a tapas crawl. You're in Spain, after all, where tapas are more than just food—they're a way of life!
Day 2: Roman Theater, Alcazaba, Gibralfaro Castle
It's the second of your 7 days in Malaga! Start things off by stepping thousands of years back in time at the Roman Theater (Calle Alcazabilla, 8). This remarkably preserved remnant of Roman times is free to visit and well worth some time spent exploring. Be sure to check out the excellent interpretation center as well for more context into the history of this great site.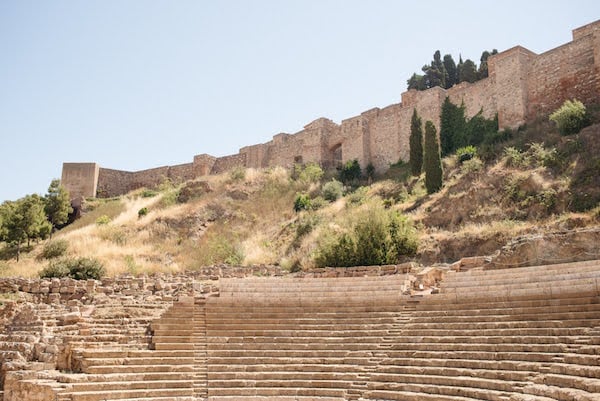 Many of the materials from the Roman Theater were later used in constructing the Alcazaba (Calle Alcazabilla, 2), which is the next stop on your itinerary. A stunning fortress left over from Moorish rule, there's no shortage of beauty to be seen within its walls, and as you make your way up to the top of the structure, you'll be rewarded with lovely views of the city and sea.
Finally, end the day by taking in the sunset from Gibralfaro Castle (Camino Gibralfaro, 11). Another important Moorish construction, this castle was home to an integral scene during the Christian reconquest of the city. You can purchase a combined ticket to the castle when you buy your Alcazaba ticket, but keep in mind that the monuments are not connected. There is a bus that goes to the top, or you can walk if you prefer—the ascent is steep but offers lovely views along the way, and you can take all the time you need.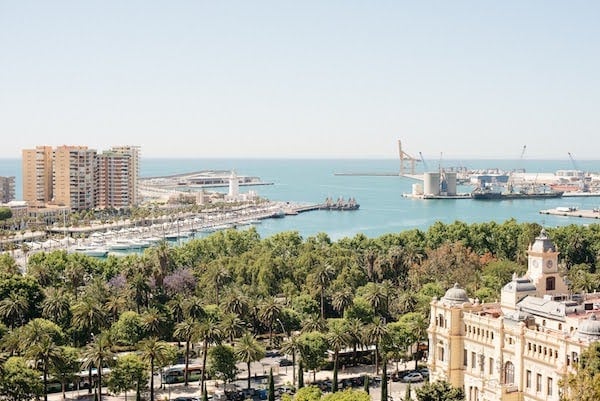 Day 3: Atarazanas Market, Carmen Thyssen Museum, Arabic Baths
On your third of 7 days in Malaga, start things off at the epicenter of local cuisine: the Atarazanas Market (Calle Atarazanas, 10). The building itself is an architectural wonder that seamlessly blends Moorish arches and design with a 19th-century industrial look. Home to dozens of stalls selling the freshest Mediterranean products, the market does tend to get quite crowded later in the day. However, if you go first thing in the morning, your only company will be the vendors and a smattering of locals doing their morning shopping.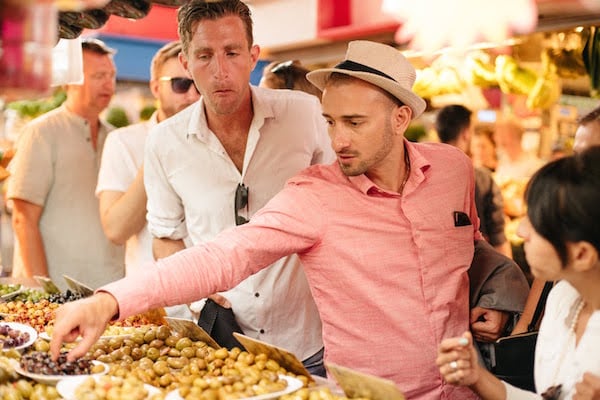 After exploring the grand market, head to the Carmen Thyssen Museum (Calle Compañía, 10). Set inside a stunning Renaissance palace, the museum houses more than 200 Spanish masterpieces, mainly from the 19th century. Art fans in Malaga may seek out Picasso, but shouldn't miss this jewel of a museum either.
Before heading out for another evening tapas crawl, relax and unwind at Malaga's Arabic Baths (Calle Tomás de Cózar, 13). The gorgeous Moorish-style architecture and calming atmosphere will take your breath away and make you feel as if you've stepped back in time. Treat yourself to a massage to complete the experience!
Day 4: Day trip to Nerja
One of the great things about Malaga is its privileged location right on the Costa del Sol, which makes it easy to reach some of the most beautiful parts of southern Spain in the blink of an eye. There are many great day trips you can take from the city, but one particular standout is the charming coastal town of Nerja. At just an hour's bus ride outside the city, it makes for a perfect escape halfway through your 7 days in Malaga.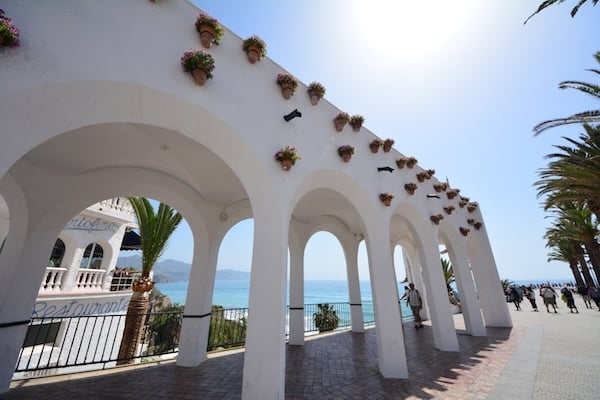 Once a sleepy fishermen's village, Nerja has revitalized itself as a summertime hotspot for Malaga locals and visitors alike, but it still retains its humble, authentic charm. Explore the prehistoric caves and soak in the stunning Mediterranean views from the Balcón de Europa before heading down to the beach to relax.
Day 5: Soho neighborhood
Once you've arrived back in Malaga refreshed and recharged from your day away, stray off the beaten path by exploring the lesser-known Soho neighborhood. A true hidden gem among Malaga's many distinctive barrios, this revitalized area between the Alameda Principal and the port was considered run-down and declining not too long ago, but the opening of dozens of creative spaces and gastrobars in recent years has breathed new life into the area.
Despite its small area, Soho is home to many of Malaga's best small art museums and galleries. The Center of Contemporary Art (Calle Alemania, s/n) is a particular standout and should not be missed. Entrance is free and gets you access to the hottest works by some of the best Spanish and international artists on the scene today. Even as you walk along the street, you'll be wowed by the many incredible murals and street art painted by promising local talents.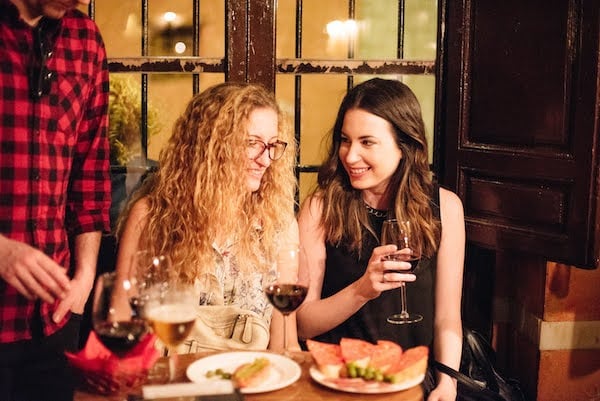 Soho is home to more than just great art—you'll also find some of Malaga's best modern cuisine here. Chow down on contemporary, innovative tapas and craft beer at one of the neighborhood's many trendy eateries. Then, head up to the terrace of the Room Mate Valeria hotel (Plaza Poeta Alfonso Canales, 5) to enjoy one of the best sunsets in Malaga at their rooftop bar and pool.
Day 6: Port area and beach
The word "port" may conjure up images of an industrial shipyard at first. While Malaga's port is certainly one of the biggest and most important in Spain, the area around it is surprisingly beautiful and makes for the perfect place to start your day by the shore. Recently renovated with a contemporary style and pristine, modern architecture, it's a lovely area for a morning stroll.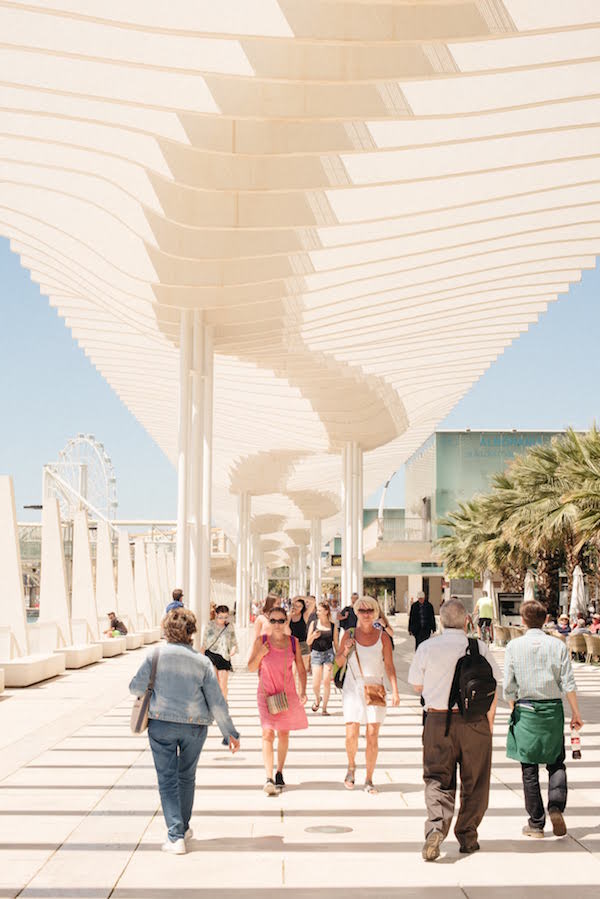 From there, it's time to hit the beach! There's no shortage of incredible beaches in Malaga. If you prefer to stay close to the city, head to La Malagueta or La Caleta, but if you take the bus out to one of the further beaches like Rincón de la Victoria or La Misericordia, you'll escape most of the touristy crowds!
No matter which beach you end up at, be sure to chow down on espetos when you get hungry. There's not much to this popular seaside delicacy, found only in Malaga and the surrounding towns: freshly caught sardines are skewered and cooked to perfection on a grill made out of a boat, seasoned only with olive oil and sea salt. That's it—so simple, yet so delicious! You can find espetos at any of the chiringuitos (beachside bars) along the shore.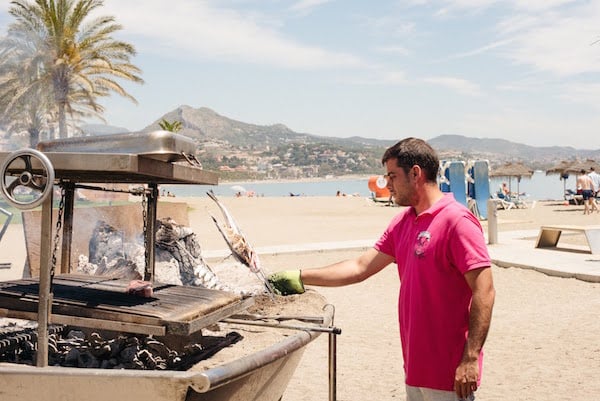 Day 7: Day trip to Ronda
Can you believe your 7 days in Malaga are up? Make the most of your final day by taking one last escape to one of the most stunning towns in Malaga province. You've already experienced the gorgeous coast of Nerja, now take some time to explore the inland, ruggedly beautiful mountain village of Ronda.
Dramatically built on top of a deep gorge, Ronda is home to many iconic sights including the sprawling Puente Nuevo bridge, a historic center dating back to Moorish times, and one of Spain's oldest bullrings. The town's modest size means it's easy to see in one day, and you'll have plenty of time to enjoy tapas at one of the many incredible little bars smattered around town.
Not ready to leave? Here's your itinerary for 10 days in Malaga.
Pin me!