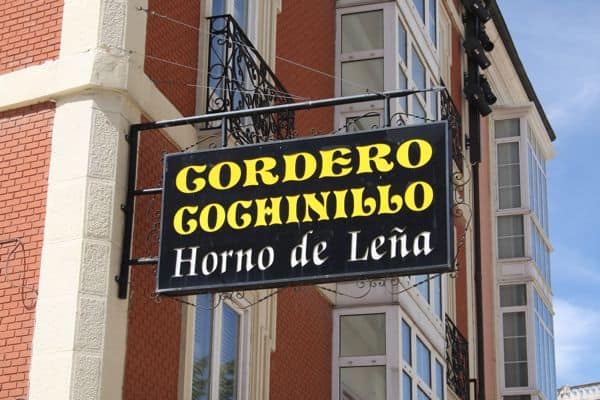 After our wonderful day in Burgos, our road trip took us through the vineyards of La Rioja, all the way to its capital, Logroño. Our original plan was to stop at one of the many wineries in the area to sample the world famous Rioja Wine, and then to explore the city with Logroño's lovely Liz-- she was going to take us pincho hopping at her favorite bars. But, due to the changes in our plans, we only had time for a quick stopover; enough time for a walk around town, some pictures, and, most importantly, a delicious lunch.
Despite arriving armed with a list of tips for eating in Logroño from Liz, we were set on eating the lechazo (roast suckling lamb) that we had passed up the night before. I did a quick search and found Asador Herventia, a restaurant known for lechazo and cochinillo (roast suckling pig) located right in the center of Logroño. It had mixed reviews, but most agreed that the food was outstanding.
When we arrived at the restaurant it was 2:30 on a Sunday-- I thought it would be busy. Upon seeing only two other diners I got a bit nervous. But over the next hour the dining room filled up. The service was excellent, and the food was delicious! It was a bit pricey (40€ per person including appetizer, wine and dessert) but cost the same as the other asador restaurants we had considered.
Here is what we ordered:
They served these gazpacho shooters as an amuse-bouche, a small bite before the meal. Light and refreshing, I wanted more...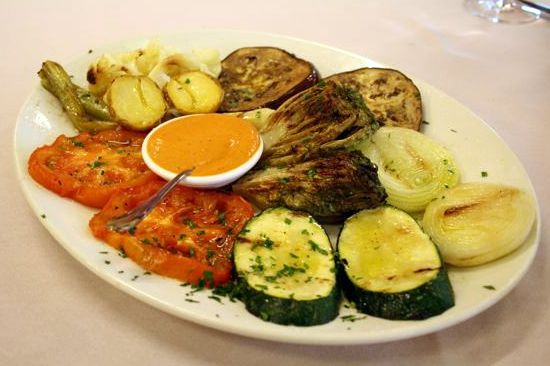 We decided on a healthy appetizer of grilled vegetables. The mix of vegetables presented were cooked to perfection, drizzled with high quality olive oil, and served with creamy romesco sauce.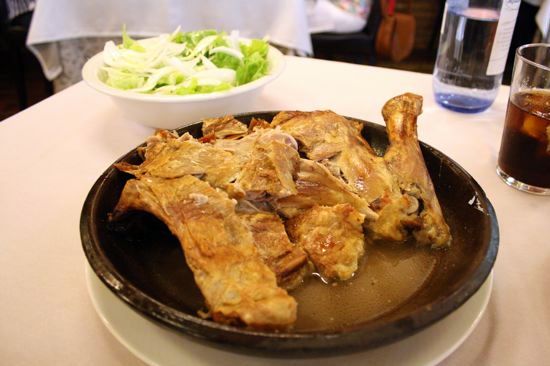 The main event was the roast suckling lamb, served as ¼ kilo for two people. Tender and falling off the bone, the lechazo was full of flavor. Asador Herventia serves the lamb with nothing more than a salad to accompany it. Some reviewers complained about the lack of potatoes, but I think that potatoes would have actually taken away from the delicious meat-- not to mention they would have occupied valuable space in my stomach! As it was, I couldn't even finish my half.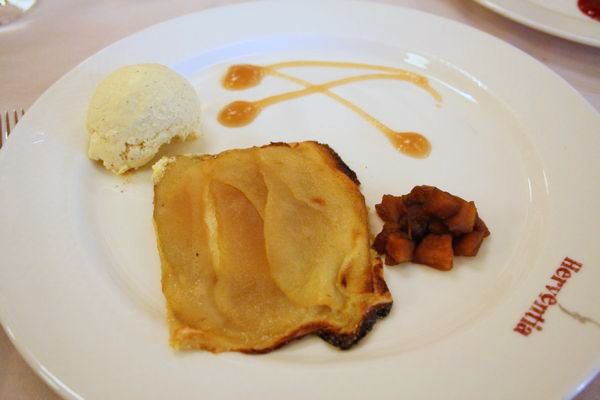 For dessert I decided on the pear tatin, which proved to be the perfect choice. It wasn't too heavy and was the perfect size. I enjoyed every bite!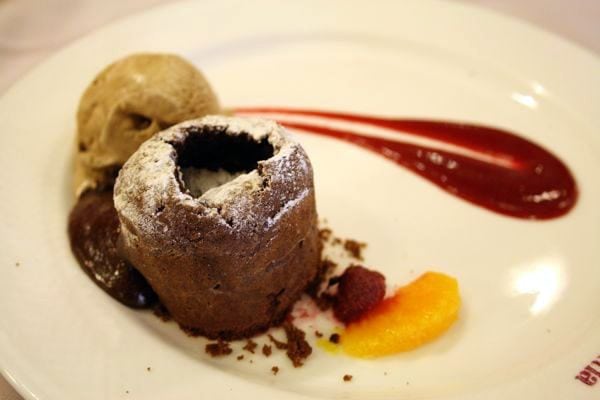 Ale opted for the molten chocolate cake with coffee ice cream. He obviously enjoyed it-- didn't even save me a bite!
After our fantastic lunch we rolled out of the restaurant, eager to see a bit more of Logroño before hitting the road. Luckily, we were already in the center and only a short walk brought us to the Cathedral and one of the main squares. We had a coffee while admiring the cathedral and people watching.
Soon enough our time in Logroño was up; we had to get back on the road to be able to make it to Zaragoza that night. Although I didn't see much of Logroño, I realize that Liz is right-- there isn't much to see! She mentions that Logroño is great for food (agreed!) and that it serves as a great base for exploring the region: La Rioja wineries, small town festivals, hiking etc. I look forward to going back soon and drinking much more La Rioja wine.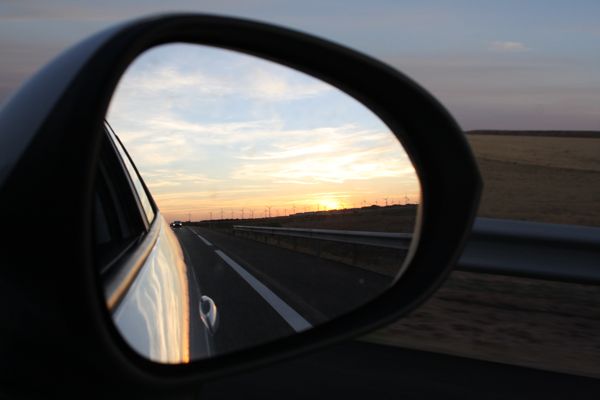 Back on the road with Logroño behind us. Time to explore Zaragoza!
Have you ever tried a lechazo asado?