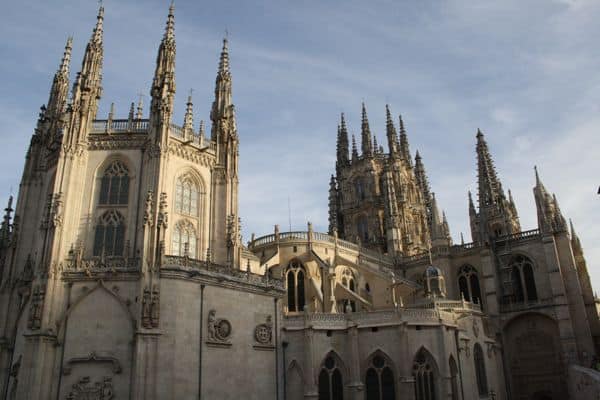 A few weeks ago I described a road trip I had planned: Madrid – Zaragoza – Logroño – Burgos – Madrid. Since Ale had to work in Zaragoza, we figured it would be a great opportunity to visit some parts of Spain we hadn't yet been to. As usual, our plans changed around a bit. The dates we were supposed to travel changed, his work days were moved from Thursday and Friday to Monday and Tuesday, and I had reserved a few food tours, limiting my availability as well. But, despite the changes, we were determined to take our route... even if that meant doing it backwards!
Our first stop would be Burgos, a town known for its local cheese, blood sausage, and gorgeous cathedral (a UNESCO World Heritage Site), in other words a place I was predisposed to enjoy!
Without really even meaning to, we ended up doing Burgos on a budget-- although it hardly seemed that way. So if you are looking for a quick escape, or a weekend trip from Madrid I strongly urge you to consider Burgos. It was a perfect budget destination.
Stay
We stayed at the Meliá Burgos, which is currently running a summer special for 49,90€ per night. Located right across from the cathedral, with views of both the cathedral and the lovely Arlanzón River, it was an ideal location for a quick visit. It is also right next to the renowned Museum of Human Evolution, somewhere we definitely plan to stop on our next visit. The rooms were comfortable and clean, although quite outdated and with questionable "artwork" on the walls (think passion of the Christ scenes and naked cherubs). Overall, I would definitely stay here again, as long as I wasn't planning on spending too much time in the room.
Eat
We really weren't planning on making our short trip to Burgos a budget stay. I wanted to eat a lechazo asado (roast suckling lamb), a generally expensive dinner and a specialty in Burgos. After some Tripadvisor research, I had narrowed down our choices to the modern Restaurante 24 de la Paloma or the more traditional Casa Ojeda. Each of those places would have easily cost 40€ per person with wine. But when it came time for dinner, we realized we really weren't in the mood for a formal, multi course meal. We had also read about the wonderful tapas at Bocaos, located right aside the cathedral, and decided to check it out. It was fantastic and inexpensive (we spent a total of 30€ with wine and had to take home some of the food!). Stay tuned for a post about our meal there.
See
Honestly, unless you are in Burgos for two days or longer, you can just walk around the town, taking in the lovely sights. We were impressed by the tranquil Arlanzón River, the incredible Burgos Cathedral, the Puerta de Santa María Arch, the wide terraces sprawled throughout the center, and the incredible bakeries around town. If we'd had more time we may have paid the entry to tour the cathedral (7.00€) or to visit the Museum of Human Evolution. But without spending a penny (okay, I did spend a few euro on marzipan pastries and coffee!) we felt like we saw a lot of amazing sights.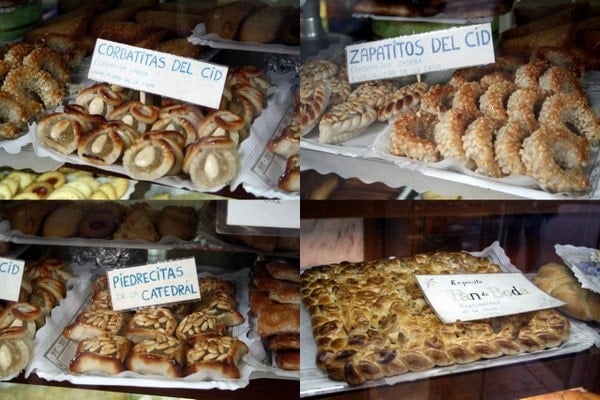 Get There
We arrived by rental car, but you can easily get there by bus or train as well. The high-speed train from Madrid takes about 2 hours and 20 minutes (the same as driving) and costs 70€ for a return ticket. The normal train takes twice as long but costs half the price! The bus takes about 2 hours and 45 minutes and costs 35€ for a round trip ticket. You can see that, for two people, renting a car is a great option!
I would strongly encourage a visit to Burgos. It has been one of the most gorgeous small Spanish cities I've seen. If you'll be visiting from Madrid and are considering car rentals, you may want to consider the recent offer from Holiday Autos: Up to 15% off all car rental bookings! Just book before the end of August and use the car between August 18th and  September 30th (2012).
Holiday Autos has been around since 1987 but I only just recently discovered them. They usually supply cars by Avis, Alamo, or Hertz (we booked an Avis car for this trip) and even offer chauffeurs if requested-- although Ale was my chauffeur for this trip!
Check out their special offers here.
The only regret I have about Burgos is not being able to stay a bit longer. I literally enjoyed every minute I was there, but in total we spent less than 24 hours in the city! I'm 100% positive we will visit again in the future.
Have you ever been to Burgos?