There is nothing better than ending a leisurely Spanish lunch with a Crema Catalana and a strong café solo. Never heard of this delicious Spanish dessert? Read on for its fascinating history and the authentic Crema Catalana recipe!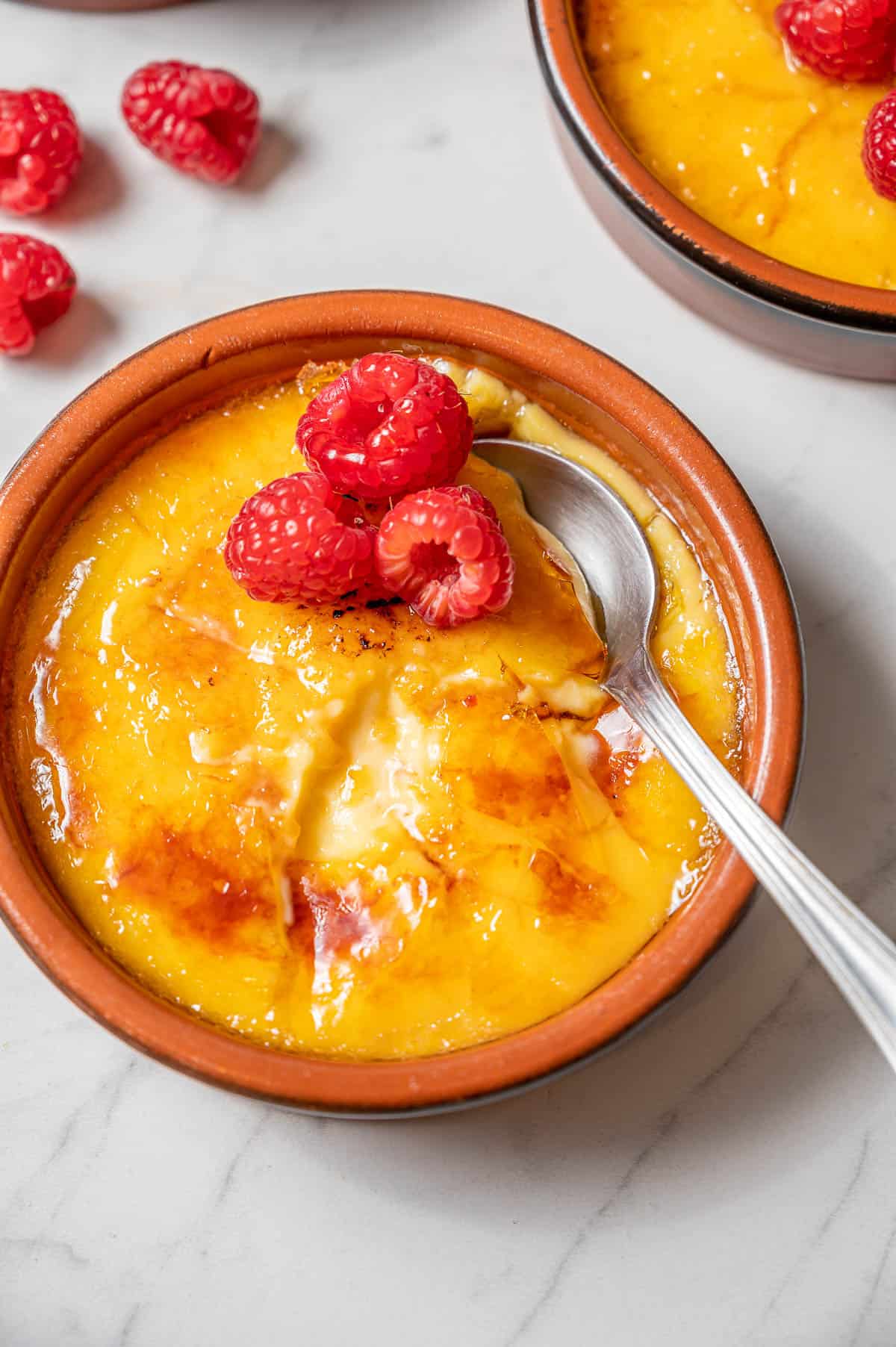 I was always afraid of making Crema Catalana for some reason. This quintessential Spanish dessert just seemed too complicated.
But it turns out that making homemade Crema Catalana could not be easier. Apart from having to wait for the custard to chill, there's nothing difficult about it!
This Crema Catalana recipe is adapted from Claudia Roden's The Food of Spain-- one of my favorite Spanish cookbooks!
Crema Catalana (for those unfamiliar) is Spain's version of creme brûlée. Or, as many Catalans would argue, creme brûlée is France's version of Crema Catalana!
Watch how to make homemade crema Catalana (just 1 minute!)
Despite which came first, they generally differ in that Crema Catalana is made with milk versus cream, and often incorporates lemon peel and cinnamon. It's also not made using a bain-marie (a water bath, or baño maría in Spanish), which means it's arguably much easier to make than its French cousin. And, I guarantee you, it is to die for when made well!
Love Spanish desserts? See my 12 top Spanish desserts here!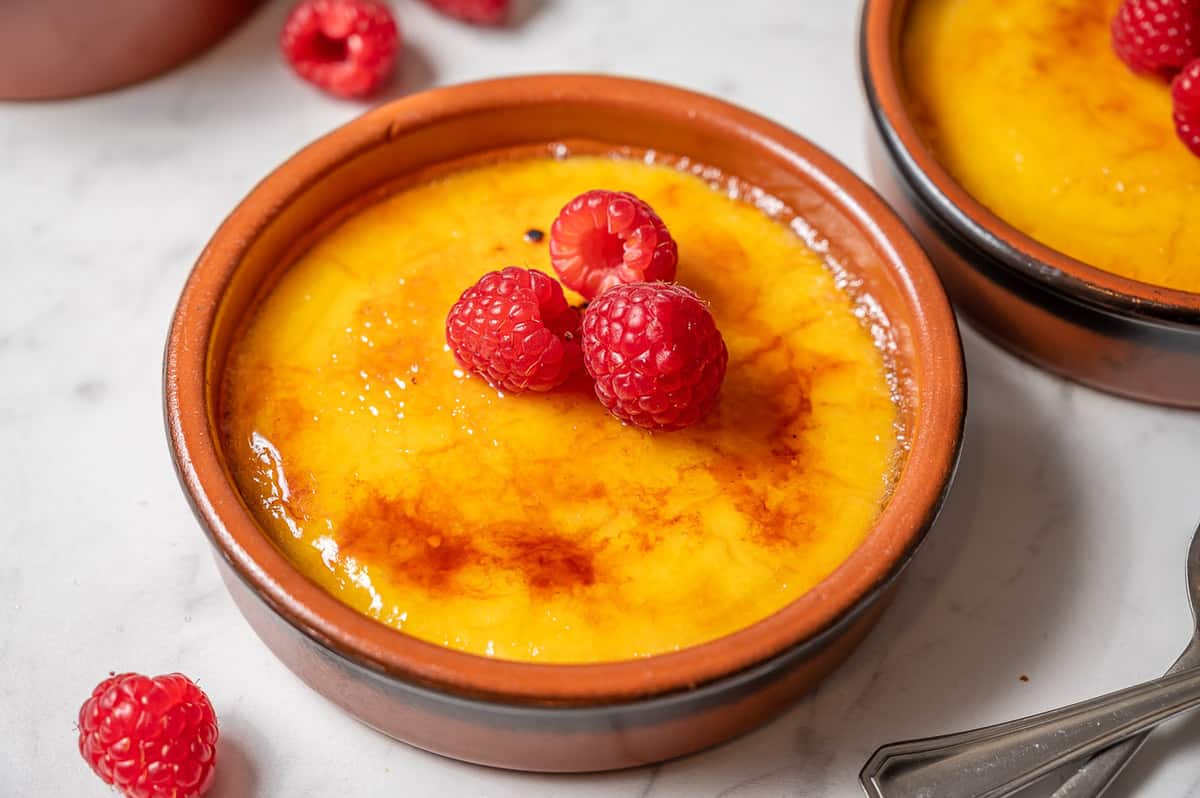 Key Ingredients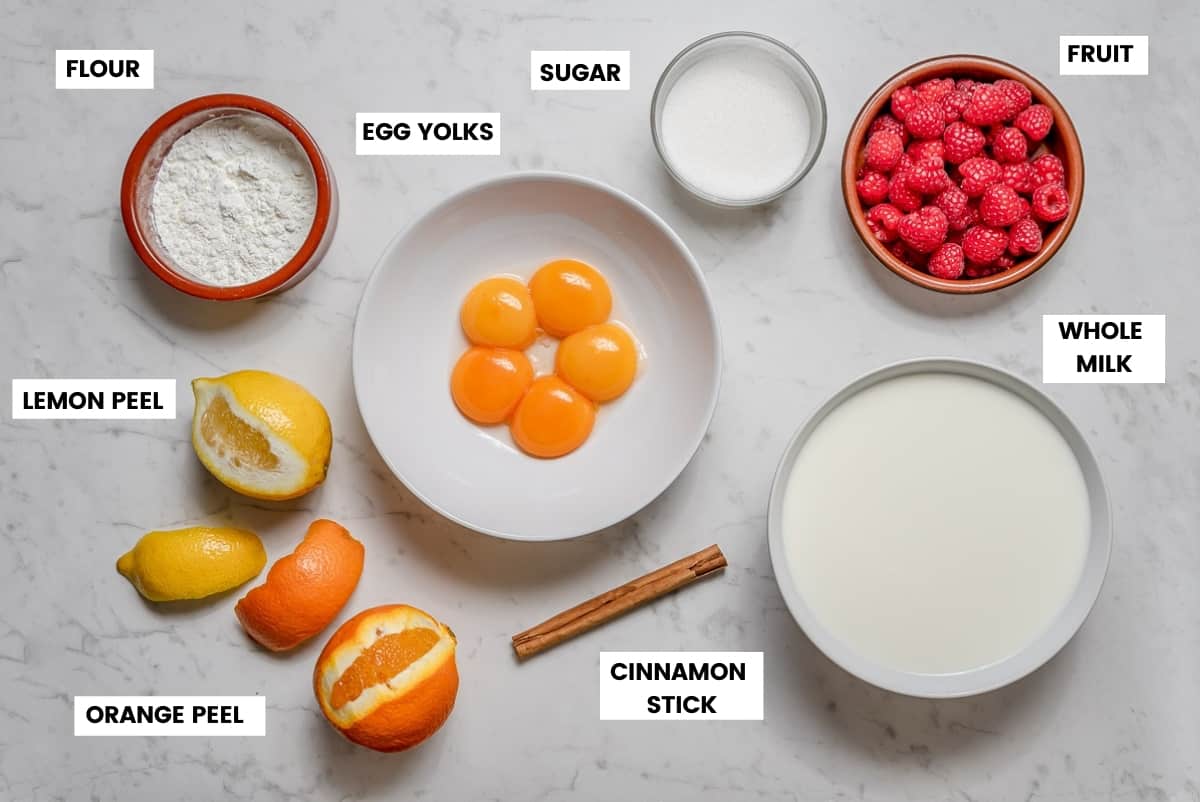 Key Ingredients: Milk, cornstarch, lemon and orange peel, cinnamon stick, egg yolks, sugar, fruit (optional).
Ingredient Notes & Substitutions
Milk: You must use whole milk to ensure you'll get a creamy and delicious Crema Catalana that sets properly. One of the main differences between Crema Catalana and Creme Brulee is the use of milk instead of cream. So if you want to use cream, go ahead -- but you might be making the French dessert by accident!
Citrus Peel: Another of the key ingredients are lemon and orange peel to flavor the Crema Catalana. Make sure to get a piece of the peel (and not just the zest).
Cinnamon: Cinnamon is the final defining characteristic of Crema Catalana. In France, you're likely to see vanilla used instead. Feel free to substitute once again, though it'll be a French-Spanish hybrid!
Egg Yolks: The genius behind this creamy, eggy custard. Use the best quality large egg yolks you can find!
Sugar: I like to use superfine sugar to get a creamy (not grainy) custard and a thin layer of crunchy caramel topping. But you can use normal sugar without issue, it may be a bit more grainy, however.
Crema Catalana Recipe: Step by Step
What I love about this traditional Crema Catalana recipe is that it has very few ingredients (you probably have them all on hand!) and is super simple to make. The hardest part is waiting for the custard to set. Here is my step-by-step tutorial (keep scrolling down for the full printable recipe card with exact quantities).
Steps 1-2: To begin, heat the milk along with the citrus peels and cinnamon stick until it comes to a slow boil. Dissolve the cornstarch in a splash of water.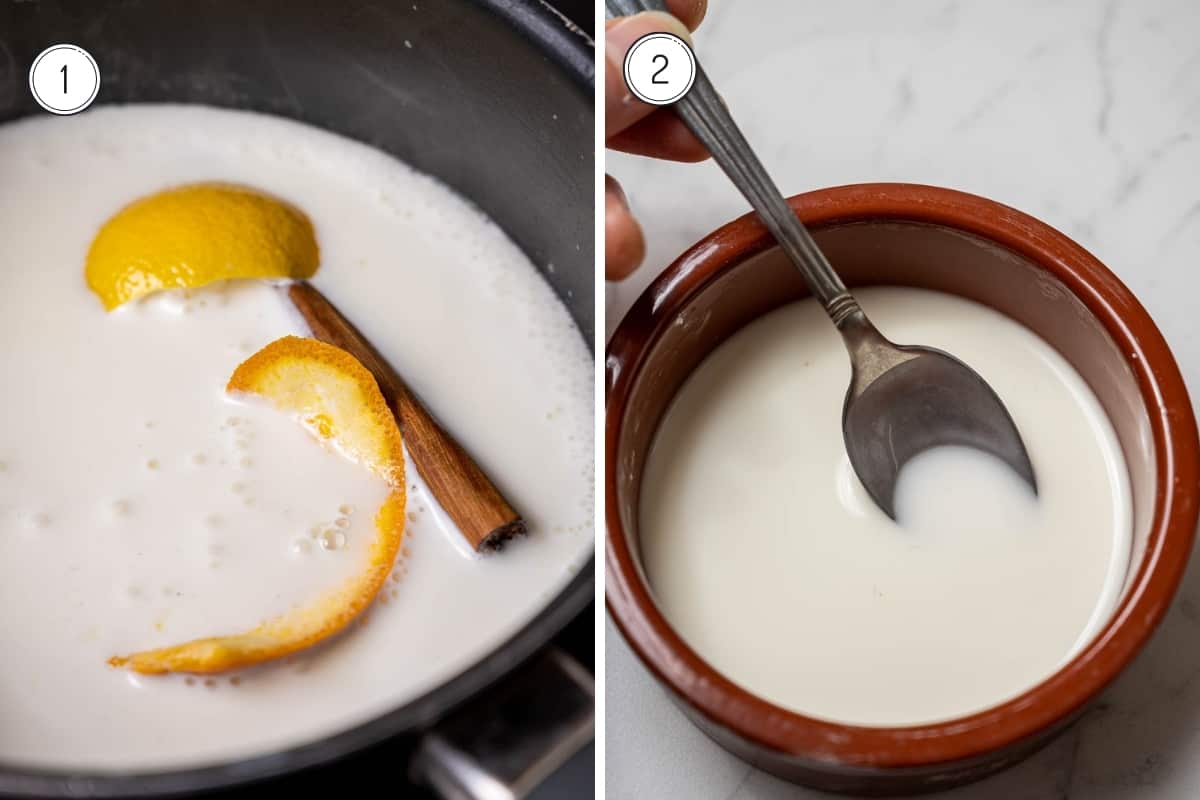 Steps 3-4: Add the sugar to the egg yolks and whisk until pale yellow.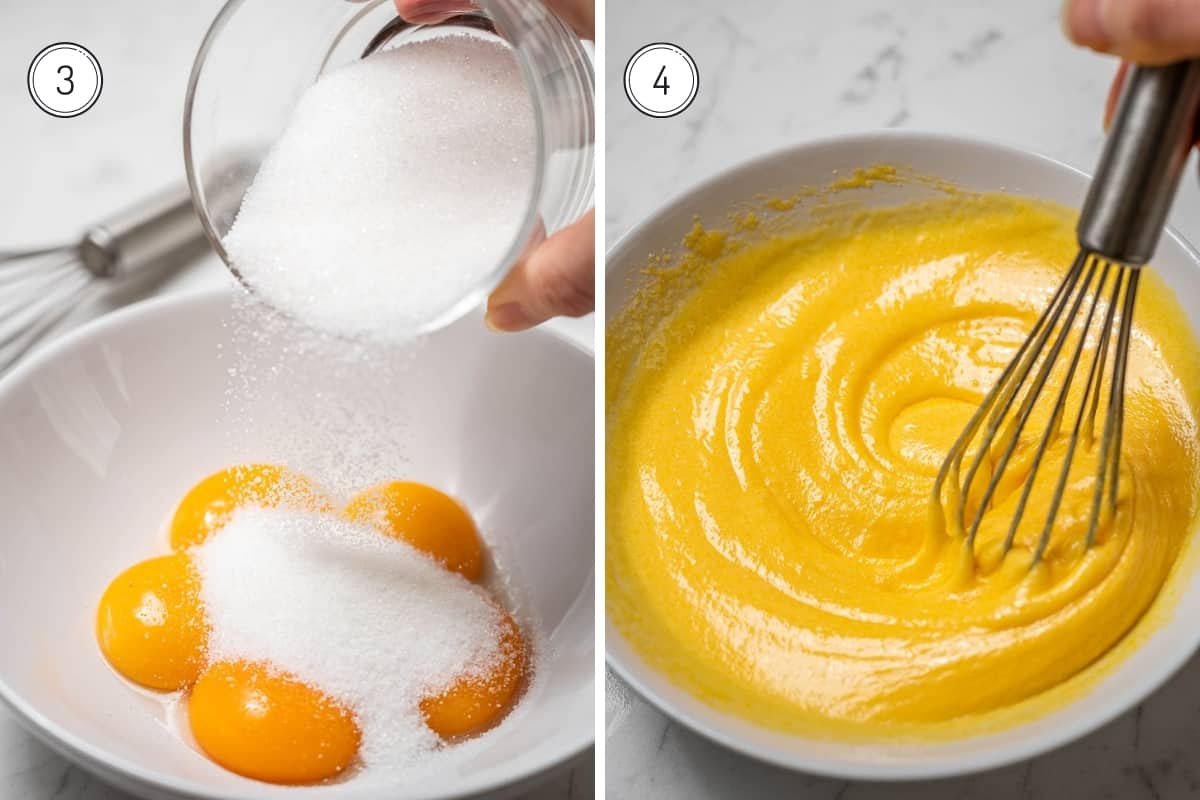 Steps 5-6: Add the cornstarch and a spoonful of the warm milk and keep whisking.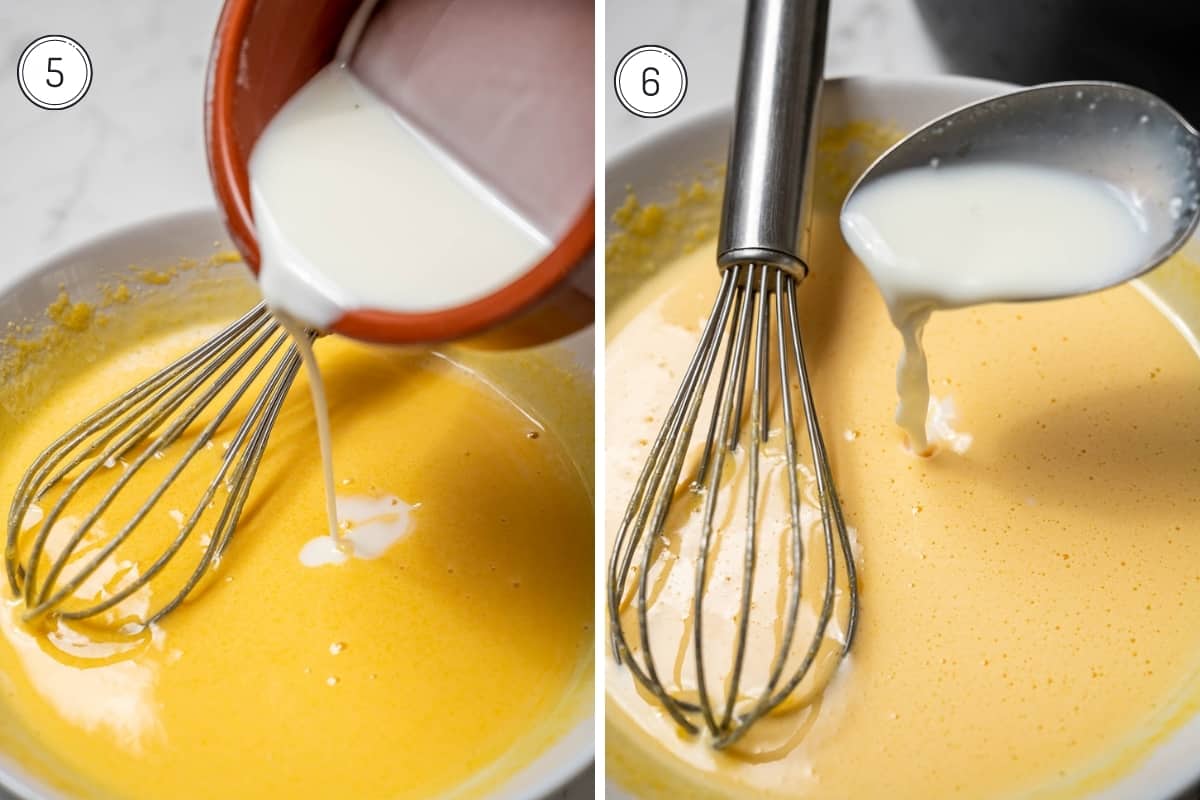 Steps 7-8: Next, remove the citrus peels and cinnamon stick from the milk. Then slowly whisk in the egg mixture. Whisk quickly so that the eggs don't scramble!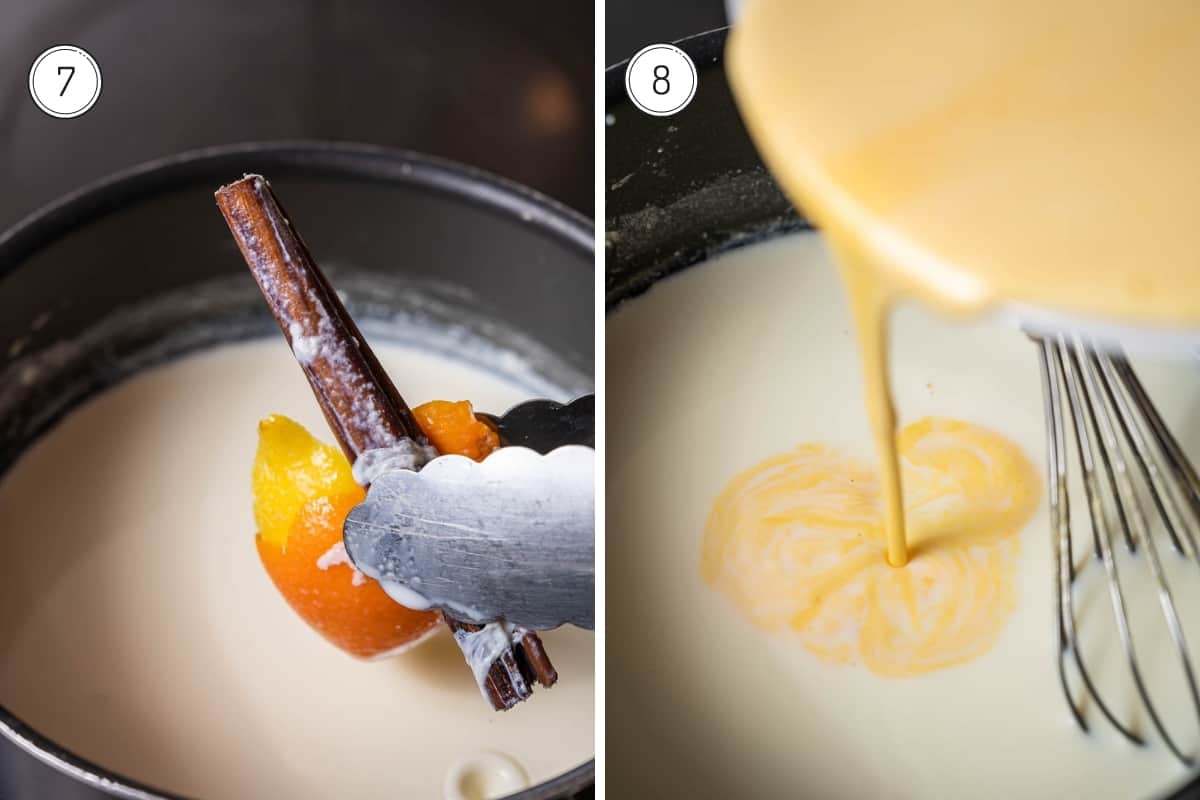 Steps 9-10: Keep whisking the mixture over a low heat until thick like pudding. Your custard is done! Now pour it into your serving ramekins (I love using traditional clay dishes).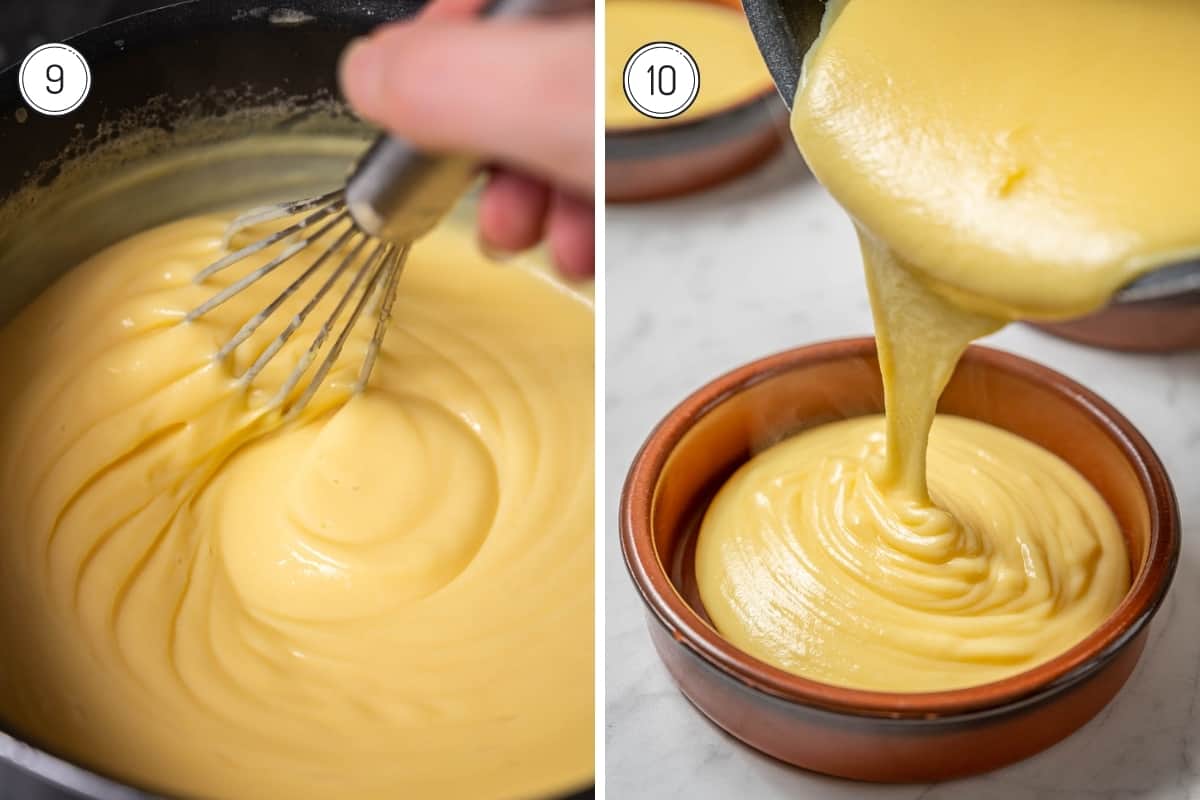 Steps 11-12: Cover each serving with plastic wrap (make sure it clings directly to the custard). Refrigerate for 4 hours (ideally overnight). Then unwrap, and sprinkle a layer of sugar on top.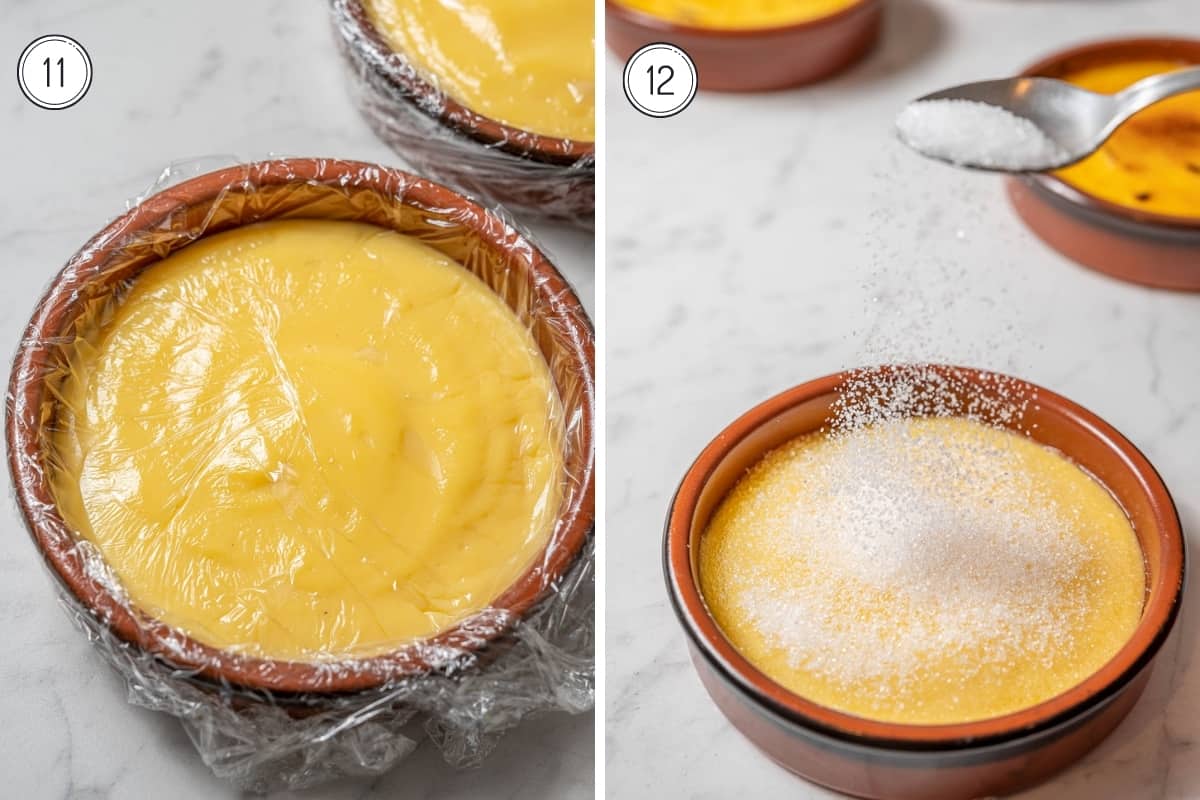 Steps 13-14: Get out your blowtorch (or use a traditional iron rod like in Catalonia) and burn the sugar until caramelized. Some people prefer a darker crust, others lighter -- it's up to you!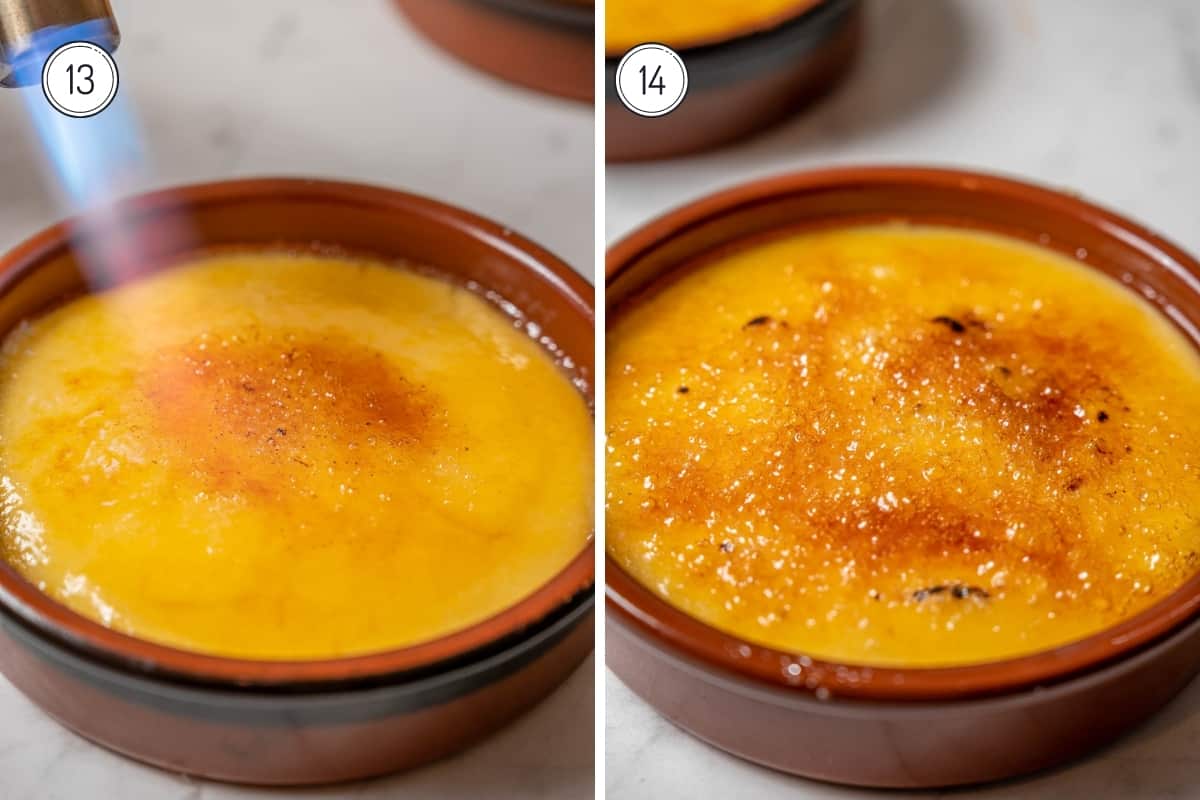 And that's it! It may seem like quite a few steps, but it comes together in less than 30 minutes! Like I said, the only difficult part is that four hour wait...
Serve alone or with fresh berries (and a strong café con leche of course!).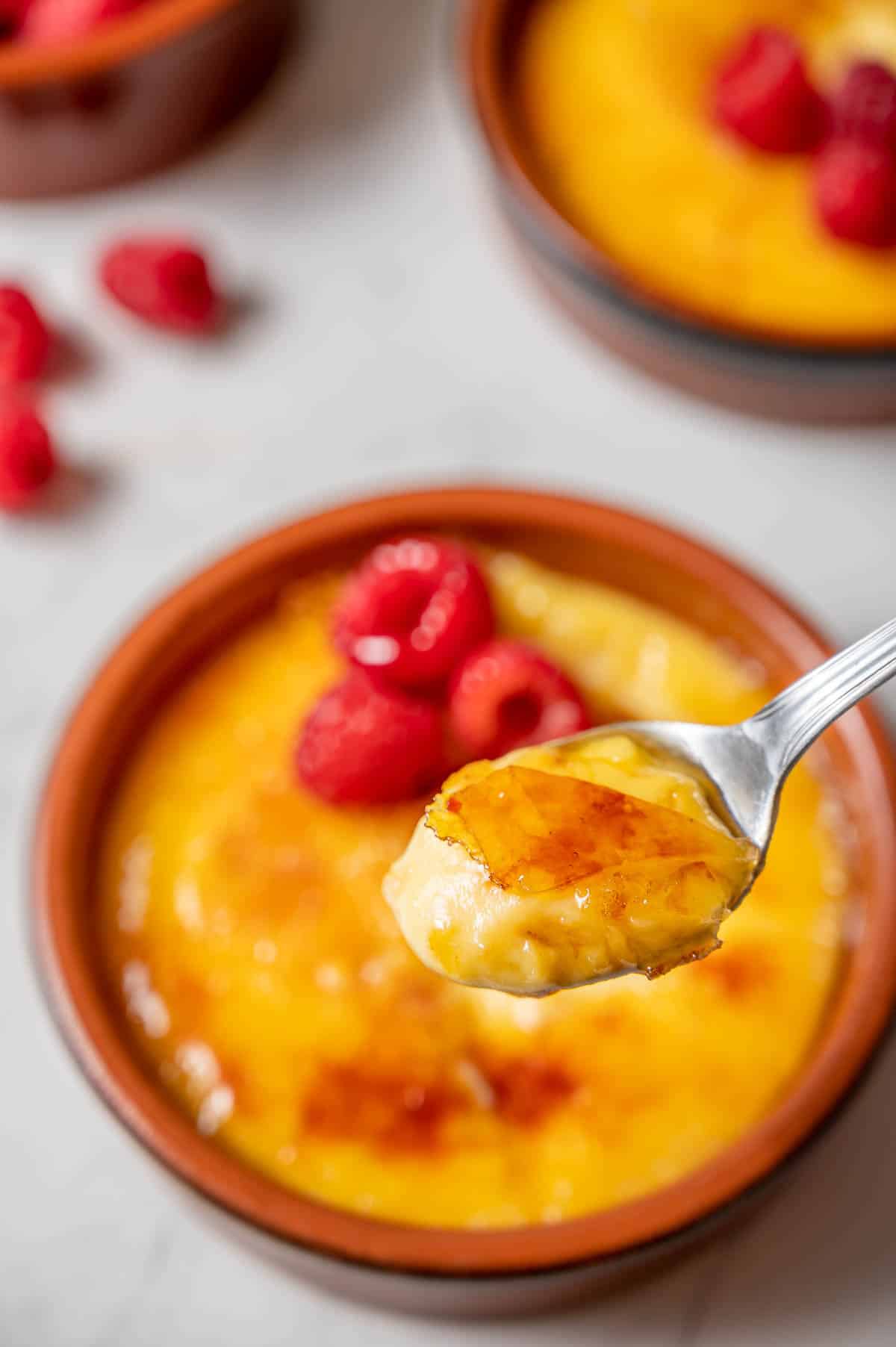 Recipe Tips & FAQs
What's the difference between crema catalana and creme brulee?
Both crema catalana and creme brulee are custards that are topped with sugar and caramelized. However, there are some key differences.

Crema Catalana is a Spanish dessert from the region of Catalonia. It is flavored with citrus peel (lemon and orange) and cinnamon. Creme brulee is a French dessert that is flavored with vanilla bean. Additionally, Crema Catalana uses whole milk in the recipe, while creme brulee is cream based. Lastly, crema catalana does not need to bake in the oven in a bain marie (water bath) as it is cooked on the stovetop, while creme brulee does.

It's also interesting to note that crema catalana is one of Europe's oldest desserts on record. It was mentioned in the famous medieval Catalan cookbook Llibre de Sent Soví (published in 1324!). References to creme brulee didn't appear in print until centuries later, in the 1691 cookbook Cuisinier royal et bourgeois.
How can I caramelize crema catalana in the oven?
If you don't have a blowtorch or a hot iron handy, you can caramelize the crema catalana in the oven. Put it under the broiler (the hottest possible top heat) until you see the sugar melting and crystalizing. Make sure your dish is oven safe for high temperatures and keep a close eye on it -- it can burn in an instant! It might not get as caramelized as the other methods, but it will definitely work.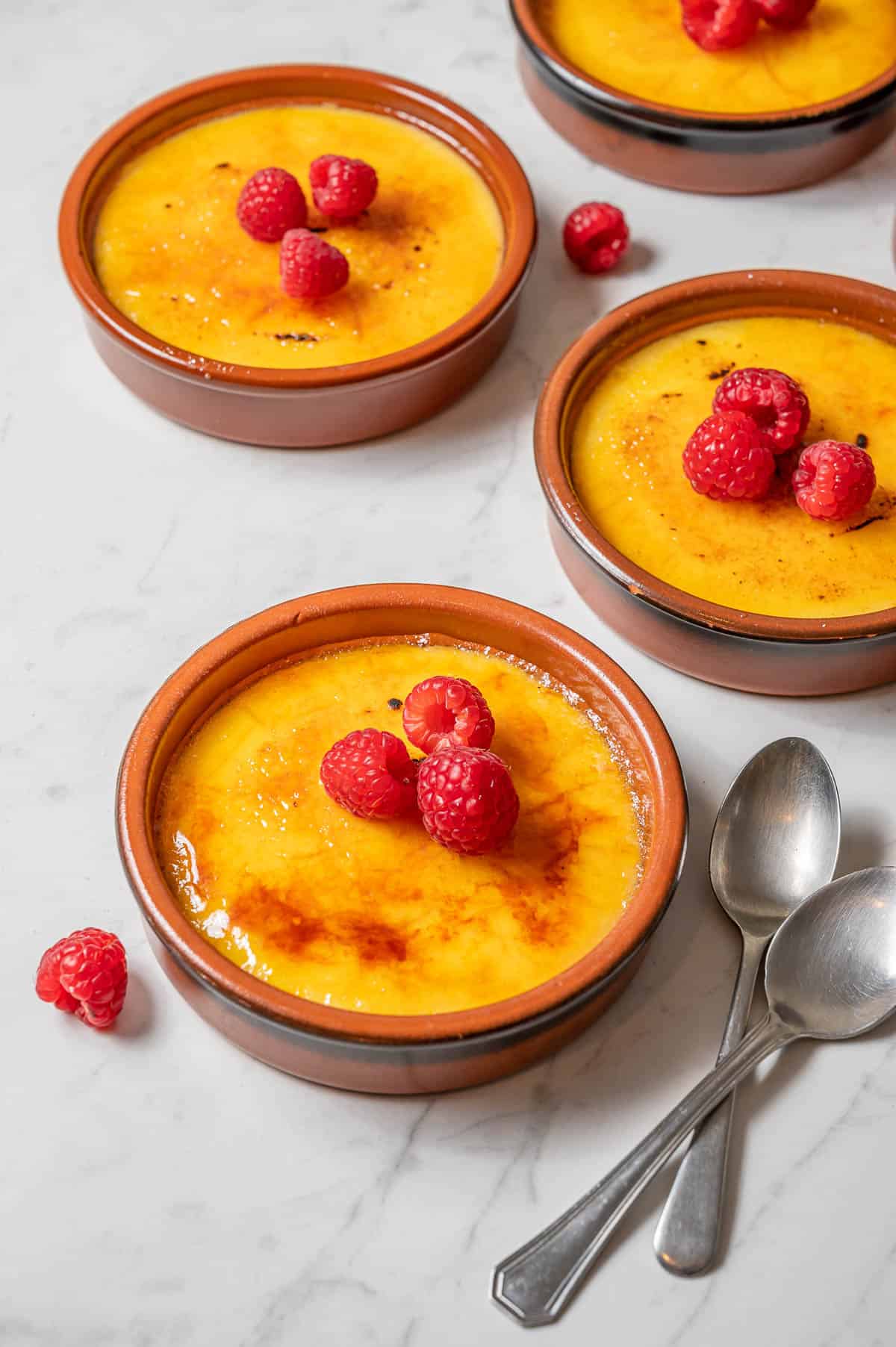 Serving Suggestions
Crema Catalana is usually served as dessert, after a hearty lunch. Generally, you will drink a strong coffee alongside -- either an espresso, cortado, or café con leche. You might also opt for a dessert wine, but remember, it should be even sweeter than the dessert! A Spanish Moscatel, Pedro Ximenez, or Cream sherry would do the trick!
More Top Spanish Desserts
Hungry for more? Sign up for my free weekly newsletter and receive a new Spanish recipe once a week! Join today and get my FREE Spanish ingredient essentials guide!
Ingredients
2

tablespoons

of cornstarch

(15g)

2 ½

cups

of whole milk

(600 ml)

A big slice of peel from a lemon and an orange

note: not the zest, but rather big slices of the peel

1

cinnamon stick

5

large egg yolks

½

cup

superfine sugar

(100g) if you can't find superfine, don't worry, it'll just be a bit more grainy

Additional sugar to caramelize on top

Fresh fruit

like figs, raspberries or strawberries to top
Instructions
Put the milk on the stove in a small saucepan, along with the citrus peels and the cinnamon stick. Slowly bring to a boil.

Dissolve the cornstarch in a splash of water and set aside.

While the milk is slowly heating, beat the egg yolks with the sugar, until the mixture turns pale yellow. Beat in the dissolved cornstarch and a spoonful of the hot milk.

Remove the citrus peels and cinnamon stick from the hot milk, and lower the heat.

Slowly add the egg yolk mixture to the milk, making sure to keep stirring so that the eggs don't scramble!

Stir constantly over a low heat, until the mixture has thickened.

Remove from the heat and pour the mixture into traditional clay dishes or ramekins.

Allow the custard to cool, and then cover in plastic wrap and chill the crema catalanas for about four hours (preferably overnight).

Before serving, I like to let mine come to room temperature (unless it's summer-- that would be too hot!). Then sprinkle a thin layer of sugar on top of each ramekin. Spread the sugar out by tilting the ramekins in all directions. Caramelize with a small kitchen blowtorch (though the truly authentic crema catalanas are made with a hot iron (see photo below).

Top with fresh fruit (optional) and enjoy!
Notes
Make sure to use whole milk for a creamy crema Catalana. Heavy cream can also be substituted.
Make sure to refrigerate for at least four hours so that the Crema Catalana fully sets. 
Decorate and serve with seasonal berries or fruit for an extra special effect!
Nutrition
Calories:
195.57
kcal
|
Carbohydrates:
27.34
g
|
Protein:
5.68
g
|
Fat:
7.31
g
|
Saturated Fat:
3.33
g
|
Cholesterol:
172.92
mg
|
Sodium:
51.84
mg
|
Potassium:
164.76
mg
|
Fiber:
0.67
g
|
Sugar:
23.45
g
|
Vitamin A:
414.98
IU
|
Vitamin C:
2.91
mg
|
Calcium:
143.92
mg
|
Iron:
0.55
mg
Update Notice: This post was originally published on January 25, 2016, and was updated with new text and photos on April 12, 2021.
That wasn't so hard now, was it? If you try this Crema Catalana recipe, let me know what you think!
Photography by Giulia Verdinelli