Bring Your Appetite to Bocaos Restaurant
Burgos was the first stop on our road trip, and it didn't disappoint. Known for fantastic Spanish classics like Queso de Burgos (a delicious fresh cheese), Morcilla de Burgos (black pudding with rice) and top quality oven roasted meats, I should have known it would offer some excellent dining choices. Despite our plans to eat a lechazo asado (roast suckling lamb) we found ourselves in the mood for tapas. Luckily, the people on Tripadvisor were raving about various tapas restaurants right in the center of the city. We opted for Bocaos, located next to the cathedral and full of people enjoying tapas and pinchos.
With such a great menu it was difficult to decide what to order! We were so hungry and everything at Bocaos sounded delicious. After much debate, we decided to try the following:
While waiting for the dining room to open (we were so hungry that we tried eating at 8:30, silly us!) we tried some pinchos. I ordered smoked trout and a mild cheese (I forget the name) topped with a delicious pear jam. Ale tried the pastel de cabracho, a fish and vegetable pâté atop crispy bread.
Once seated, we started with a huge salad-- a blend of local lettuces, baked goat cheese, blueberries and walnuts. Most Spanish restaurants don't offer much variety when it comes to salads, so it was wonderful to see seven tempting salads offered at Bocaos.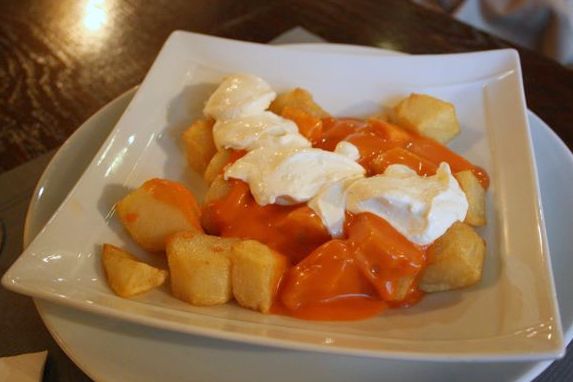 I told Ale not to order the patatas bravas, as I'd already eaten them that afternoon! But he was really in the mood, and ordered them anyway. I'm glad-- while the bravas sauce was nothing special, the alioli was to die for. I'm now on a mission to recreate such delicious alioli at home... stay tuned!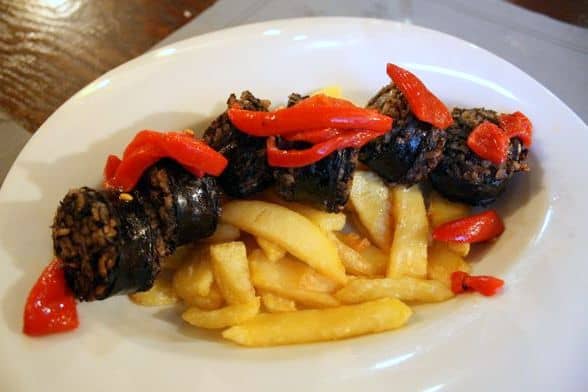 The next dish was the famous Morcilla de Burgos-- black pudding AKA blood sausage with onions, lots of spices and rice. For a long time I thought I hated morcilla (the more traditional kind is still growing on me) but the Morcilla de Burgos is incredible. Creamy and crunchy (because of the rice) it was perfect with the homemade french fries and roasted peppers at Bocaos.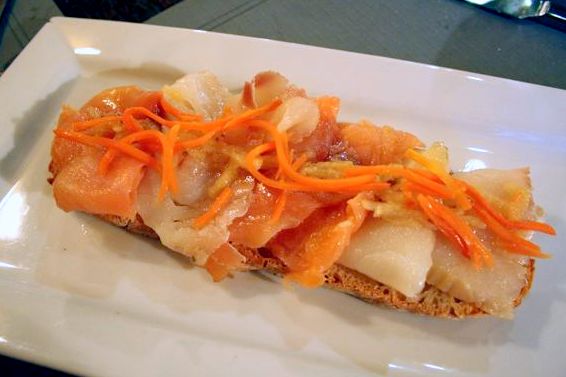 We didn't have enough room for our last dish, a tosta (long toasted bread) topped with smoked salmon and cod and a bit of apple compote and shredded carrots. Luckily, Bocaos offers take-away and didn't think it was at all strange that we asked for it "to go" (not a common request in Spain). They even boxed the toast up for us in a "real" takeout box! Ale enjoyed it the next morning for a quick breakfast before we hit the road.
Dinner with wine (no dessert) cost around 30€ in total. We were stuffed, but would have loved to return to try one of their amazing looking egg dishes. Overall, we really enjoyed our meal at Bocaos and the service was also very good. I'm glad we changed our mind about the asado and gave this place a shot instead. The dining room was lacking a bit of ambience, but aside from that everything was fantastic.
If you are interested in visiting Burgos, it is only a short trip from Madrid and easily accessible by car, train, bus-- or even by private jets charter to the recently opened Burgos Airport! Basically, there is no excuse not to visit lovely Burgos and experience its fantastic cuisine yourself. From budget travelers walking the Camino de Santiago to luxury travelers with their private jets, Burgos really does have options for everyone, and its beauty is simply priceless!