Fall in love with the humble anchovy with David's authentic Spanish Gilda recipe -- the pepper, olive, and anchovy skewer famous from Basque Country.
The humble Gilda, one of the best pintxos in San Sebastian!
Pintxos are perfect for when you're hosting a party. They always taste good (who doesn't love bread topped with tasty things?) and they're always easy to make (again; it's usually bread and toppings). Plus, being able to put together an evening of authentic Basque bites will always impress your guests!
And of all the Basque pintxos you can make, is anything ever going to beat the Gilda?
This traditional Basque pintxo is the perfect appetizer, whether you're bar hopping in San Sebastian or back home enjoying a glass of intoxicatingly delicious (and deliciously intoxicating) Spanish vermouth.
But what's in a Gilda?
At first glance, it's nothing special, just a toothpick skewer of briny olives, a salt-cured anchovy, a pickled green guindilla pepper, and (sometimes) a gherkin pickle or sundried tomato.
But add them all together and you get a mouthful of salty, acidic, and umami-rich deliciousness that will make your saliva flow as you reach for your aperitif.
It's no wonder that you see so many locals walk into a tapas bar and order una gilda with their first drink of the evening.
So why not try and recreate it at home to bring the flavor of Spain into your own hora del vermut?
A Pintxo Called Gilda
While most pintxos bars in San Sebastian are famous for just one or two pintxos, everyone serves a Gilda. It's arguably the most iconic food in the city!
So what's with the name?
Legend has it that the Gilda was first created by the owner of Bar Casa Vallés, a classic local tavern in San Sebastian. Señor Vallés had a habit of serving olives, salted anchovies, and pickles to his guests when they ordered their vermouth or a porrón of wine. When one of his customers skewered them all together on a toothpick, a classic was born.
They named the new pintxo after Rita Hayworth's most famous on-screen character; Gilda.
My Gilda recipe is for one serving, so just repeat for as many skewers as you need! (And trust me, you'll always need more than one - even if it's just for you!).
You can also jazz up your own Gilda by adding in other garnishes. A hard-boiled quail egg is a great addition, as well as small pieces of soft cheese and sun-dried tomatoes. Make it your own!
And if you've got people coming over, why not throw a pintxos party? See my other pintxos recipes for inspiration.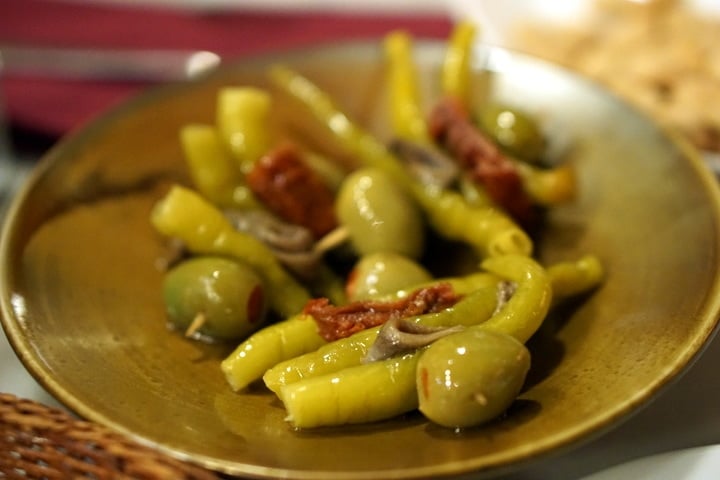 How to Make a Gilda Pintxo (Pepper, Olive, & Anchovy Skewers)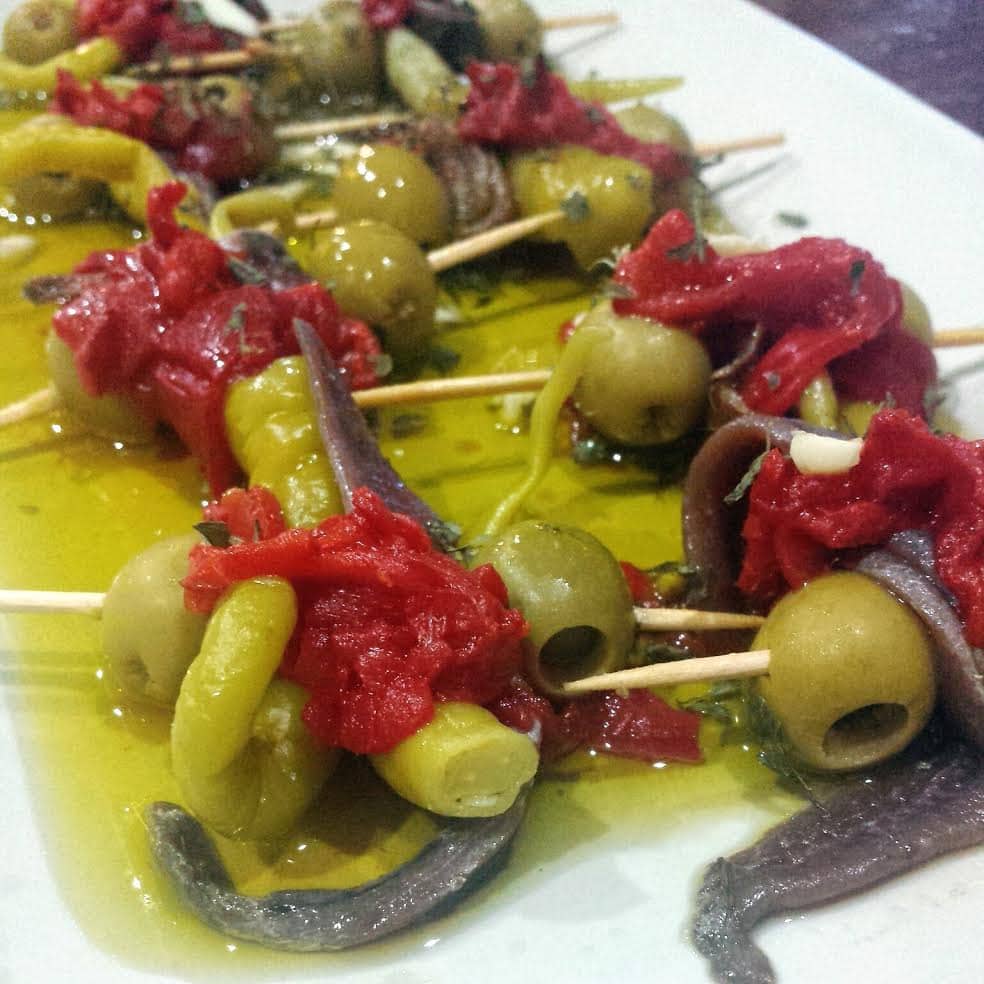 Easy Spanish Gilda Recipe - Pepper, Olive, & Anchovy Skewers
This Gilda recipe makes the perfect Spanish appetizer to serve on a night of pintxos! It's salty, acidic, and delicious, perfect for pairing with cocktails or Spanish vermouth.
Print (images optional)
Pin
Rate
Ingredients
1

small pickled gherkin

or a small chunk of your favorite pickle

2

guindilla pickled peppers

you can substitute a small chunk of pepperoncini

1

pitted green olive

1

salted anchovy fillet

The better quality the better this pintxo will be! Ideally go for a good brand that comes from the refrigerated section. Ortiz is a good brand that can be found in online shops around the world.
Instructions
Drain the olives and pickles, and remove the stalk of the guindillas. If the gherkins are too large for one mouthful, slice them in half.

Start by skewering the gherkin on a toothpick.

Next, skewer one extreme end of the anchovy fillet, followed by the guindilla peppers.

Skewer the other end of the anchovy fillet. The anchovy should now be threaded through the peppers.

Finish it by skewering the olive on top, and then dress your skewers in a bit of extra virgin olive oil.
Nutrition
Calories:
11.15
kcal
|
Carbohydrates:
0.24
g
|
Protein:
0.85
g
|
Fat:
0.8
g
|
Saturated Fat:
0.13
g
|
Cholesterol:
2.4
mg
|
Sodium:
99.6
mg
|
Sugar:
0.03
g
How did you make this Gilda Recipe your own? And where is your favorite version in the Basque country? Let me know in the comments!
Pin me!