Melissa and I share a soft spot for Argentine empanadas, having both studied abroad in Buenos Aires (in my case, many years ago!). I love Spanish empanadas as well, but there is something magical about a good Argentine-style baked empanada.
I'm so happy Melissa decided to share her homemade beef empanadas recipe, I can vouch it's the real thing!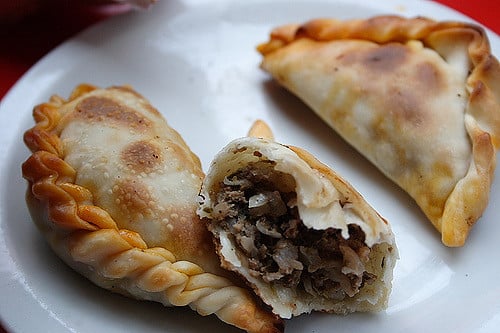 No matter where you are in the world, you're likely to find a local specialty consisting of something savory and delicious wrapped in dough.
In Spanish speaking countries, it's called an empanada. And despite the many variations this word encompasses, there's one kind that will always have my heart... try this basic beef empanadas recipe, and you might just feel the same way!
Essential empanada terminology
In Spain, this word is not as simple as it seems. You might think you know what it means until you encounter every shape and size of "empanada" imaginable, all labeled with the same name.
Empanada is a catch-all term that describes a wide variety of different takes on the central concept: some type of meat, fish, or other filling enclosed by dough and then baked or fried.
The main distinction in this case comes down to geographical origin. The traditional Spanish empanada originated in the region of Galicia, and resembles a flat, rectangular pie. It's often filled with tuna and tomato sauce or another kind of seafood.
See also: Baked Tuna Empanada Recipe
Latin American empanadas—known as empanadillas in Spain—can be round, semi-circular, or oblong, and vary just as widely when it comes to fillings.
Depending on the country, the dough might consist of wheat, corn, yuca, or even plantain. It could contain anything from pork to chorizo to spinach and cheese.
But my favorite remains the baked, beef-filled variety that hails from Argentina, where my empanada education began.
Buenos Aires beginnings
Not so long ago, I was an eager college student studying abroad in the far-off land of Buenos Aires. In fact, my semester there played a big role in my choice to move to Madrid after graduation. I loved being able to speak Spanish every day and discover a new culture, with all of its quirks, traditions, and (naturally) food.
Argentina is famous for its beef, whether in the form of premium steaks or minced into the ultimate empanada filling. And empanadas are everywhere you look in Buenos Aires: in bakery windows, on every menu, even packed in pizza boxes and delivered to your door. Beef, of course, is the most common flavor.
Fun fact: the fillings are distinguishable by different shapes and ways of folding the dough—many places provide a diagram to help you tell them apart!
The hazy origins of my beef empanadas recipe
I first learned how to make empanadas in the Argentine wine country of Mendoza, while staying at a hostel that offered free unlimited Malbec every night. As a result, I was a bit tipsy during the empanada-making class in the hostel kitchen.
I distinctly remember forcing my brain to absorb the most important details: the ingredients, spices, and tricks of the trade. Somehow I succeeded.
Nearly four years later, I still know that basic beef empanadas recipe by heart.
I've added a few of my own tweaks and twists to perfect it, but each bite of these empanadas still brings me straight back to Argentina. I make them for family holidays, friendly gatherings, and any other excuse I get. They're the perfect crowdpleaser and fun-to-eat treat—especially when accompanied by a good Malbec.
The ultimate Argentine beef empanadas recipe
Making empanadas is an art, a skill, and an all-around good time. From prepping the filling to folding the dough, each step is essential to achieve the perfect result. See for yourself by trying my beef empanadas recipe; practice makes perfect!
Argentine Beef Empanadas Recipe
This is a classic beef empanadas recipe I learned in Argentina. Enjoy them as an appetizer, a main dish, or a savory snack!
Print (images optional)
Pin
Rate
Ingredients
Olive oil

2

cloves

of garlic

1

medium onion

1

lb

of ground beef

about 500 g

1

teaspoon

Salt

1

teaspoon

Pepper

1

teaspoon

Cumin

½

teaspoon

Chili powder or hot paprika

you can increase if you like a lot of heat.

¼

teaspoon

Cinnamon

just a pinch!

½

cup

of green olives

⅓

cup

of walnuts

⅓

cup

of raisins

1

hard boiled egg

1

raw egg yolk

Pre-made dough or pie crust
Instructions
Preheat oven to 375 degrees Fahrenheit (190 degrees Celsius).

Chop the walnuts and toast them in the oven until golden brown.

Heat the olive oil in a large pan over medium heat.

Chop the garlic and onion, and add them to the pan.

Sauté until the garlic and onion are soft and aromatic.

Add the ground beef to the pan and season generously with the spices.

Sauté until the beef is cooked through (don't overcook!).

Chop the olives and egg into small pieces.

Mix the toasted walnuts, olives, egg, and raisins into the beef.

Taste and add more salt, pepper, and spices as necessary.

Cut the dough into discs approximately 6 inches (15 cm) in diameter.

One by one, place a spoonful of the beef mixture in the center of each disc.

Wet your fingers with water and dab it onto the perimeter of the disc (to help it stick).

Fold the disc in half with the beef inside, and press the outside edges together to close it.

Fold or press the edge of the disc into the desired design.

Place the empanadas on a large baking tray or cookie rack, lined with parchment paper.

Beat the egg yolk in a small bowl, then brush a light coating onto the outside of each empanada.

Bake for 20-25 minutes, or until the dough turns a light golden brown.

Let cool before serving (I've learned this the hard way)!
Notes
The hardest part of making authentic Argentinian empanadas is folding the edges. You can look up tutorials online, or just use the tines of a fork to create a simple design.
You can either make your own dough or buy it. While some places sell pre-made empanada shells, any store-bought pastry dough works fine. Just make sure you get enough—4 or 5 regular pie crusts should be sufficient for a full recipe.
Nutrition
Calories:
138.08
kcal
|
Carbohydrates:
15.83
g
|
Protein:
4.87
g
|
Fat:
7.77
g
|
Saturated Fat:
2.29
g
|
Cholesterol:
29.33
mg
|
Sodium:
94.37
mg
|
Potassium:
147.34
mg
|
Fiber:
7.73
g
|
Sugar:
0.58
g
|
Vitamin A:
76.82
IU
|
Vitamin C:
1.04
mg
|
Calcium:
147.17
mg
|
Iron:
1.79
mg
What do you think? Is it the best beef empanadas recipe? I'd say so!