The first time I tried a tuna empanada, I was extremely disappointed. I'd recently moved to Spain and still had loving memories of the empanadas I'd enjoyed while living in Argentina-- baked and served piping hot, filled with oozing meat, cheese, corn... The brick-like chunk of greasy dough and smelly tuna that was plopped down on my plate (cold) didn't quite compare. I took a couple of bites and proceeded to pass on the empanadas de atún for the next year or so. Little did I know I was missing out on a delicious Spanish snack.
As it often seemed to happen the first years I lived here, it was at my mother-in-law's house where I finally fell in love with the empanada de atún. Obligated to take a slice, I begrudgingly helped myself with forced enthusiasm. And it was good-- really good. But it's not that her tuna empanada recipe is anything to write home about; in fact, she uses pre-made dough and prepares the whole thing in less than 15 minutes. But it was light years ahead of what I'd tried in that sketchy tapas bar!
I'd been wanting to make a homemade tuna empanada since then, but kept making excuses. It was one of those recipes that intimidated me. It sounded like a lot of work, and a long time to spend in the kitchen! But as usual, I was wrong. I used the baked tuna empanada recipe from my favorite Spanish cookbook, and made some adjustments.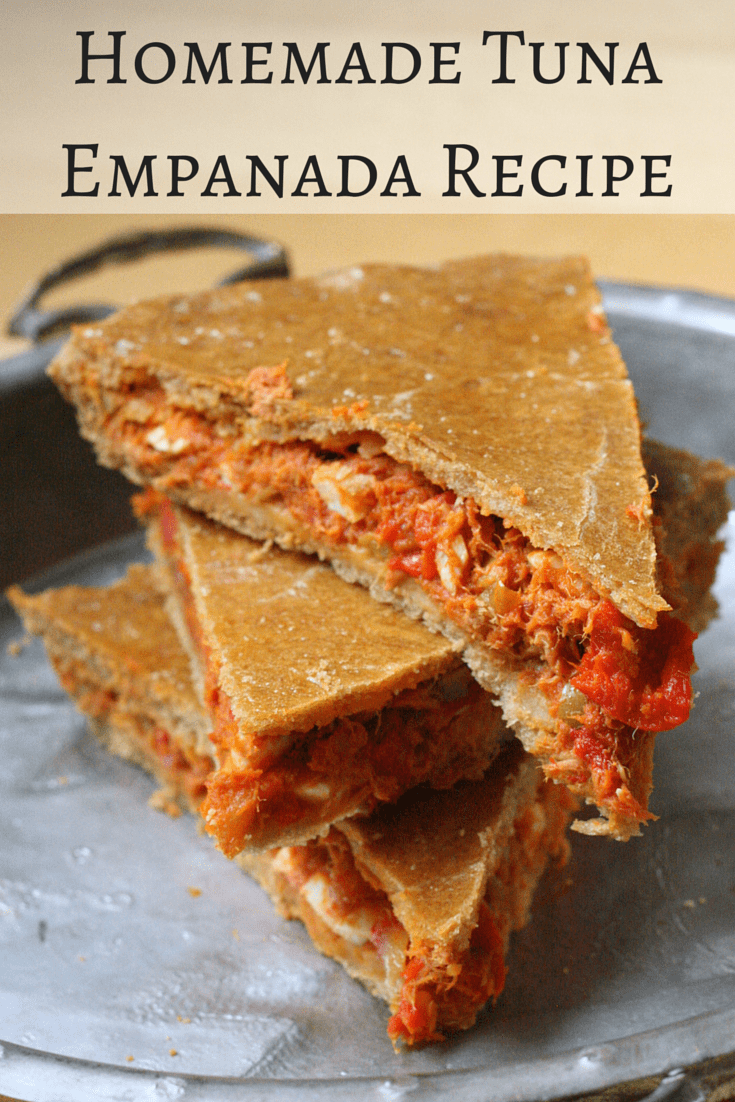 The result was a slight twist on the classic Galician empanada recipe that will be a highlight of my personal Spanish recipe collection for years to come. Easy and delicious, my husband swore it was the best he'd ever tried (and I'd wholeheartedly agree). We still have to explore the empanadas in Galicia one day, but until then this will do!
Baked Tuna Empanada Recipe (Empanada de Atún)
Try this authentic baked tuna empanada recipe for a delicious and homemade Galician empanada.
Print (images optional)
Pin
Rate
Ingredients
Empanada Dough
1

egg

1

teaspoon

baking soda

½

cup

olive oil

½

cup

Spanish hard cider

a dry cider or a dry white wine

½

teaspoon

salt

2 ¼

cups

of flour

you may need more to roll the dough later

1

egg

separated
Empanada Filling
1

large onion

chopped

1

cup

of roasted red peppers

drained and roughly chopped

1.5

cups

of tomate frito

a homemade tomato sauce made with sautéed tomato, garlic, onion and pepper that is pureed with a bit of sugar -- you can substitute diced tomatoes and one tablespoon brown sugar

2

tablespoons

of olive oil

14

ounces

of canned tuna

drained

24

chopped green olives

the manzanilla variety if buying in Spain

2

hard boiled eggs

chopped

1

teaspoon

Worcestershire sauce or anchovy paste

you can always mash up a cured anchovy here

1

tablespoon

honey

1

teaspoon

sweet paprika

1

teaspoon

cumin

Salt to taste
Instructions
To make the pastry dough, beat the egg in a large bowl and add in the baking soda, olive oil, wine or cider and salt.

Add in the flour, little by little, and when it gets too difficult to continue mixing with a fork, use your hands. It should be a soft dough (but not sticky). Make it into a ball and cover in plastic wrap for one hour at room temperature.

To make the filling, heat about two tablespoons of olive oil in a heavy frying pan and cook the onions until soft and starting to caramelize. Add in the roasted red peppers and fry for another two minutes or so, and then add the tomato sauce.

Lower the heat to a slow simmer and cook for about 15 minutes, stirring often.

Add in the tuna, chopped olives, chopped eggs, Worcestershire sauce (or anchovy paste), honey and paprika. Taste and adjust the salt.

Preheat the over to 350°F (175°C) and divide the dough in half, with one half slightly bigger than the other. Grease an 11 inch pan with oil and roll out the larger half of the dough so that will completely cover the bottom of the pan and the edges.

Using your rolling pin, transfer the dough to the pan and gently mold it to fit the pan without stretching the dough. Trim the edges if necessary.

Beat the egg white and brush over the the dough.

Bake the base for 10 minutes and then remove and let cool.

Once cool enough (10 to 15 minutes) cover with the tuna filling.

Roll the other half of the dough large enough the cover the top of the empanada and make sure the edges meet.

Brush the empanada with the beaten egg yolk mixed with one teaspoon of water.

Bake in the oven for 40 minutes and serve hot or cold.
Nutrition
Calories:
409.35
kcal
|
Carbohydrates:
34.89
g
|
Protein:
17.34
g
|
Fat:
22.27
g
|
Saturated Fat:
3.54
g
|
Cholesterol:
105.41
mg
|
Sodium:
1149.38
mg
|
Potassium:
376.24
mg
|
Fiber:
2.56
g
|
Sugar:
5.53
g
|
Vitamin A:
612.88
IU
|
Vitamin C:
12.37
mg
|
Calcium:
50.99
mg
|
Iron:
3.81
mg
It may seem like a lot of work, but I promise you this is the easiest tuna empanada recipe I've found where the dough is made from scratch. The longest part is waiting the 40 minutes for the empanada to finish cooking! It's especially difficult because it smells so good...
If you liked my baked tuna empanada recipe, you'll probably love:
What's your favorite empanada filling?