Today Lindsey shares helpful tips on how to eat a great paella in Barcelona -- it's not as easy as you'd think!
Great paella in Barcelona is tricky to find (believe it or not) but the places highlighted below guarantee you a fantastic, local experience. They might not all have a seaside view, but they're where you have to go for the best paella in Barcelona!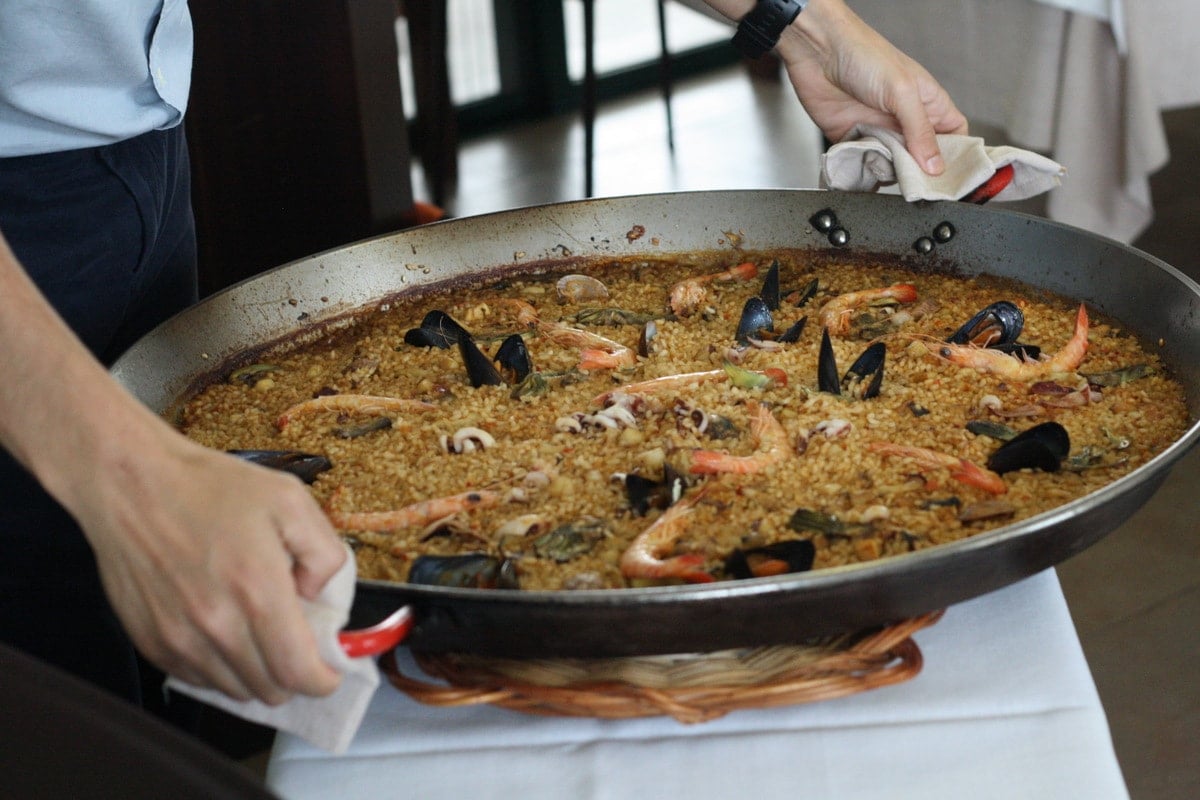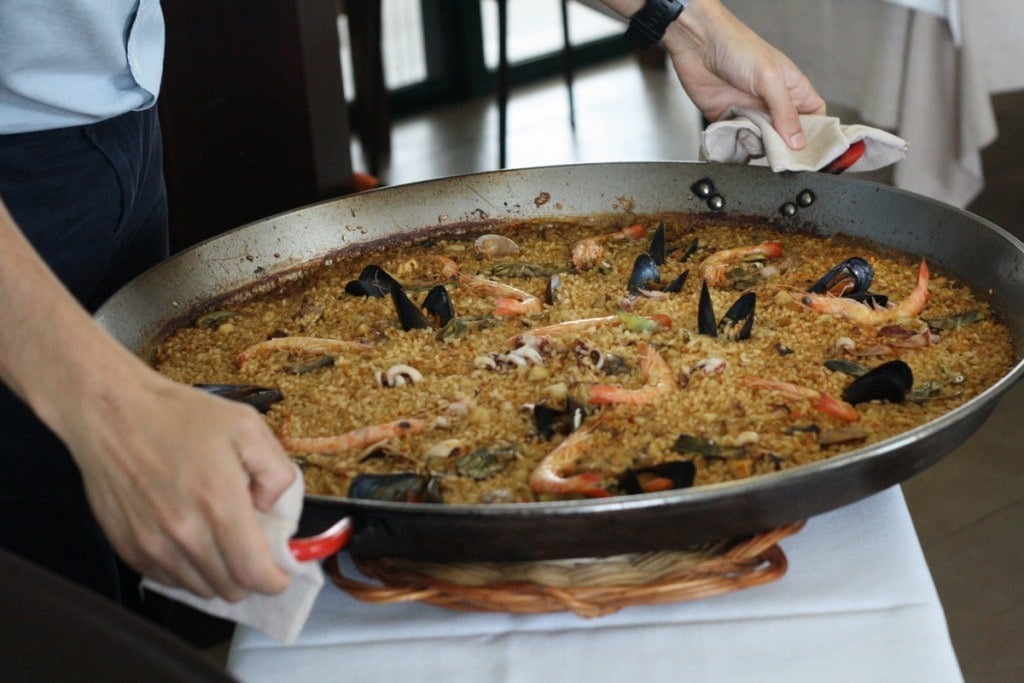 There's a situation I run into all too often here in Spain. I'll meet first-time visitors who are eager to try (what they think is) one of the most representative items of Spanish cuisine: paella. They'll find a seat at a restaurant boasting the best paella, often accompanied by sun-faded photos of bright yellow rice.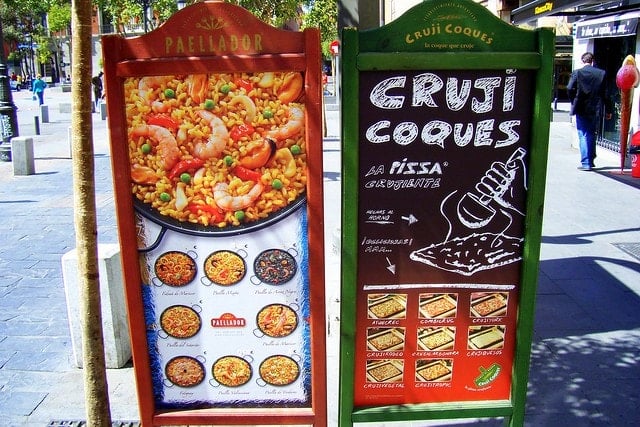 In only five minutes, their meal will appear. Nearly fluorescent, it's a far cry from what they were expecting. They wrinkle their nose in disappointment and write paella off as overrated. But that couldn't be farther from the truth!
It's true that good paella can be hard to come by, especially in large touristy cities like Barcelona. But it does exist...
A onetime hearty peasants' meal cooked over open fires out in the fields of Valencia, Spain's most iconic rice dish has all too often been relegated to the status of tourist fare. Which is sad, because when done right, paella really does represent the best of Spain and its cuisine: prepared with love using simple, high-quality ingredients, it keeps families and friends around the table for hours, savoring the food and conversation.
Read more: What is authentic paella?
But it is possible to find good paella in Barcelona, as long as you look hard enough—and know what to look for in the first place. Read on for everything you need to know about seeking out this classic dish in the Catalan capital.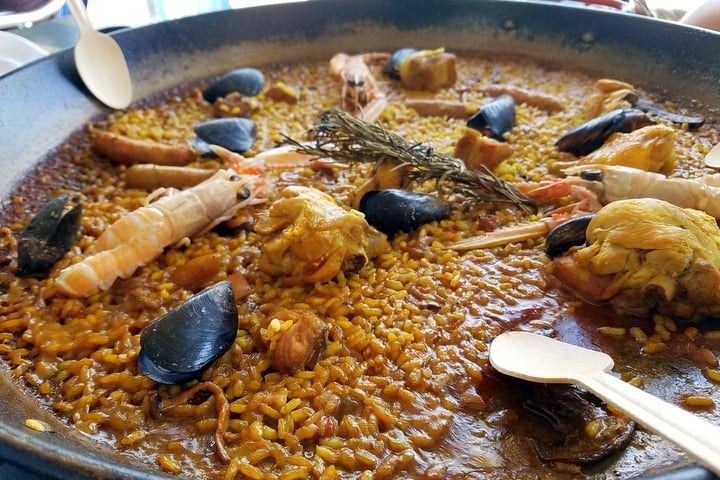 How to Spot Authentic Paella in Barcelona
"Authentic" is the key word here. You'll find lots of places serving paella in Barcelona, but only a small percentage of them are worth eating at. If you're not sure whether or not the paella you're considering is worth it, here are a few things to look out for.
Don't Miss: Lauren's full eating guide to Barcelona
Are there giant photos of paella outside the restaurant?
As I mentioned before, this is a sure-fire sign of a touristy spot. Locals already know what they're eating, so the visual cues are mostly there for visitors.
Does the restaurant serve paella all day, every day?
A good paella takes time to make. As a result, many local places will offer it only once or twice a week at most, usually during lunchtime on weekends. Paella is quite a heavy and filling dish, so you'll never see locals eating it for dinner. If you see a restaurant serving paella 24/7, there's a good chance they're getting it premade and frozen, then simply reheating it once your order comes in.
An exception to this rule is a place that brands itself as an "arrocería," or describes itself as having an "especialidad en arroces"—that means that rice dishes are the specialty of the house, and they know what they're doing. If a place is famous for its paella, you'll usually know through subtle cues like this.
How long did it take for your paella to be served?
Authentic paella should take at least 25 minutes to prepare. If you see it coming out of the kitchen five minutes after you order it, run.
How many people does the paella serve?
Made-to-order paellas are often cooked in large batches to ensure quality. As a result, many worthwhile places require a minimum of two people per dish. While not all individual servings of paella are bad, seeing "mínimo 2 personas" is generally a good sign.
What ingredients were used, and how was the rice cooked?
Authentic paella is made with short-grain rice (often arroz bomba or arroz calasparra) and served in the same large, round dish it was cooked in. You'll be able to tell if the rice was prepared in the dish or simply scooped into it by checking to see if it adheres just a bit to the bottom of the pan. When done especially well, this forms a crispy bottom layer called socarrat.
See Also: Amy's tips for spotting a great restaurant in Spain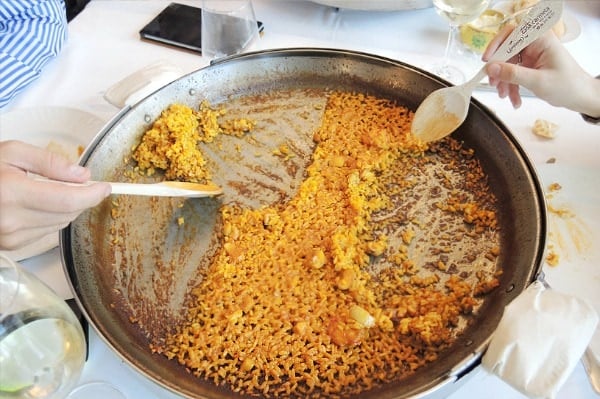 Top Spots for Authentic Paella in Barcelona
1. Can Ramonet
A friendly, welcoming restaurant tucked away in the backstreets of the Barceloneta neighborhood, Can Ramonet (Calle Maquinista, 17) got its start as a wine shop nearly 300 years ago, making it one of the areas oldest bars! Its restaurant is relatively new (if being established 60 years ago can be considered "new") in comparison, and the place has done a marvelous job of adapting to the changing pace and lifestyle of the city while adhering to its traditional cuisine and values.
Rice is one of the house specialties here, and whether you go with the vegetable variety, a seafood version, or the house specialty, you can guarantee that it'll be made with fresh, locally sourced ingredients—including seafood caught off the coast just a few blocks away!
2. Xiringuito Escribà
Few places offer the quintessential Barcelona dining experience as much as a chiringuito. These beachside bars offer great food, great drinks, and great vibes, all from unbeatable seaside locations.
Xiringuito Escribà (Avenida del Litoral, 62) isn't your average chiringuito—it's better. Rather than sticking with the casual atmosphere of the typical beach bars, they've upped the ante and given the spot a more sophisticated (but by no means formal) atmosphere, perfect for those who want to enjoy some of the best paella in Barcelona in a breezy beachfront spot. Be sure to stick around for dessert after the meal—the owner is part of the famed Escirbà family, who also run one of Barcelona's most famous bakeries.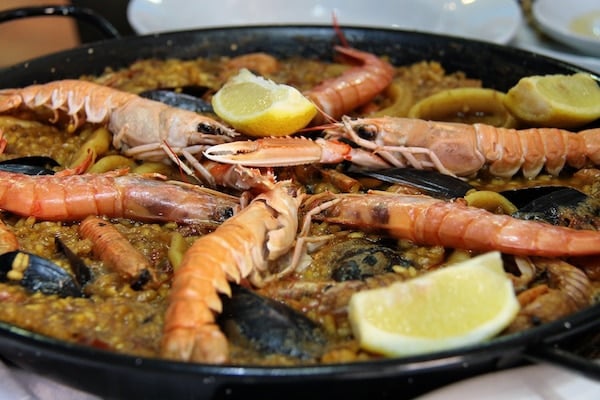 3. La Perla
A bit off the beaten path in the Poble Sec neighborhood, La Perla (Paseo de la Exposición, 62) serves up traditional Catalan cuisine in a cozy, unpretentious setting. Their homestyle, made-to-order dishes come in generous portions (perfect for sharing!) and are guaranteed to make you fall in love at first bite.
While everything you eat here is sure to be tasty, be sure to give their famous rice dishes a try. Few places in Barcelona boast the same quality-quantity-price ratio across the board when it comes to rice. Besides the better-known paella, they also serve up a fabulous arroz caldoso (rice swimming in hearty broth) and arroz meloso (a happy medium in between paella and caldoso, similar to an Italian risotto in consistency).
4. El Racó de l'Agüir
Just 120 people call the tiny village of Cuatretondeta home. Decades ago, that number also included the Agüir family, who left the town in between Valencia and Alicante and headed north to Barcelona, where they opened their first restaurant.
Unsurprisingly, this spot run by a family from the homeland of Spain's most famous rice dish also serves up some of the best paella in Barcelona. El Racó de l'Agüir (Carrer de Tamarit, 117) is the type of place where you'll immediately feel at home, from the friendly service to the off-the-beaten-track location in Sant Antoni. And that's not to mention the fabulous home-cooked rice dishes—try their famous traditional paella, or go with the house specialty, arroz al horno (baked rice).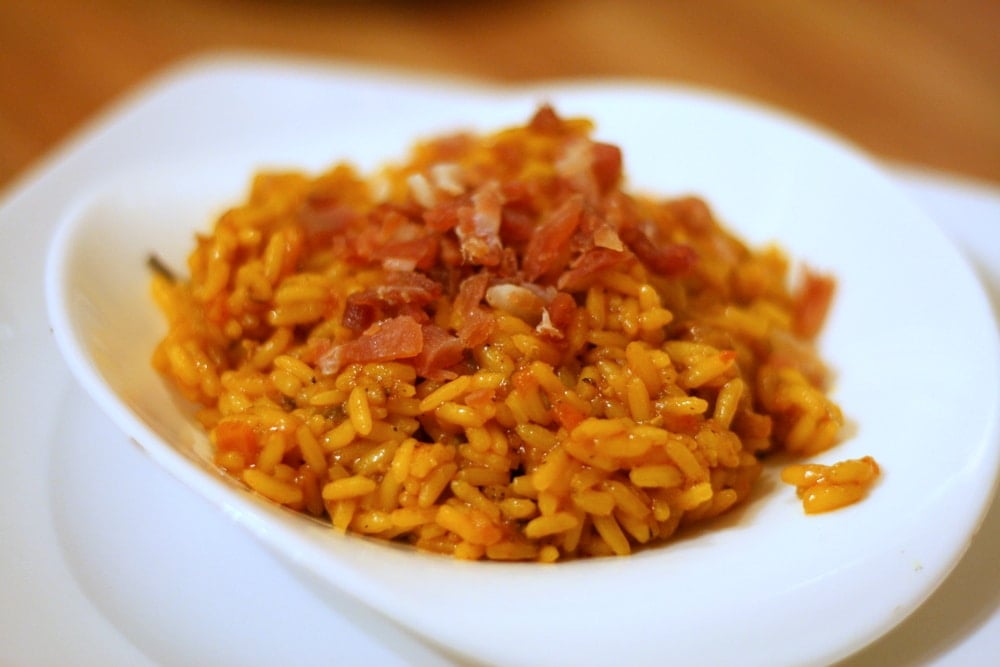 5. Arrosseria Xàtiva
Since opening their original location in 2001, the rice at Arrosseria Xàtiva has become so famous that they've since opened two more spots. Each location offers a unique feel and experience, but no matter which one you decide on, you're in for a treat.
Prepared in the traditional style with rice straight from Valencia itself, this paella is the real deal. The rest of their menu is also of note, consisting of homestyle Mediterranean dishes prepared with high-quality, seasonal ingredients to ensure that each bite is the best it can be.
Try some of the best paella in Barcelona on a food tour!
Looking to try some of the best paella in Barcelona and much, much more? A food tour is a perfect solution--not only will you try paella, but you'll also taste 12+ other traditional local bites!
Devour Barcelona's Tastes & Traditions of Barcelona experience takes you to some of the best-loved spots in two emblematic Barcelona neighborhoods (El Born and Barceloneta), including one of the spots on this list! Which one will it be? You'll just have to come along on tour and find out for yourself—and that's just one of the fabulous tastes you'll experience throughout a full morning of foodie fun.
Watch: Lauren & James try authentic paella in Barcelona
Pin me!