See those tacky tourist traps with giant, sun-faded pictures of paella? Walk right past those! You see, like any major attraction in Spain, the Alhambra is surrounded by restaurants catering specifically to tourists. That usually means high prices and low quality. However, there are also plenty of authentic hidden gems—you might just have to look a little harder. If you're not sure where to eat near the Alhambra, consider one of these spots that are sure to please both locals and visitors alike.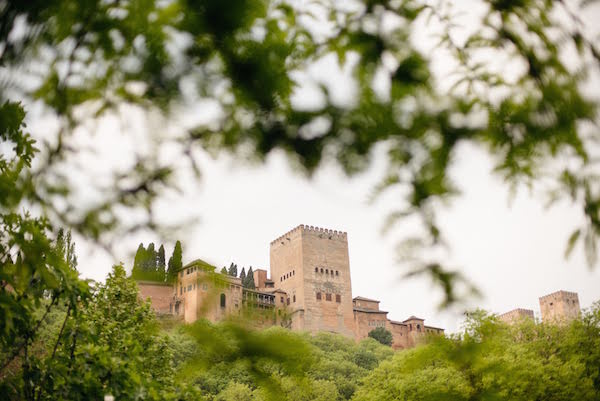 Where to Eat near the Alhambra in Granada
1. La Mimbre
If you're wondering where to eat near the Alhambra, look no further than La Mimbre. This spectacular restaurant boasts an unbeatable location inside the complex itself! Feast on traditional Andalusian delicacies such as oxtail stew and habas con jamón with a personal, innovative touch. If the weather is nice, be sure to sit outside on the beautiful terrace. While not the cheapest dining option, the quality fits the price.
Address: Paseo del Generalife, 18
2. Jardines Alberto
Humble Mediterranean cooking in a spectacular setting awaits you at Jardines Alberto. Located in a beautiful 19th-century home, this incredible restaurant is just steps away from the Generalife gardens. Enjoy delicious homemade recipes straight from the menu del día (locals' favorite way to eat lunch out: two courses, bread, a drink and dessert all for one low price!). If you're not sure where to eat near the Alhambra that would fit nicely into your itinerary, this is the place to be.
Address: Paseo de la Sabica, 1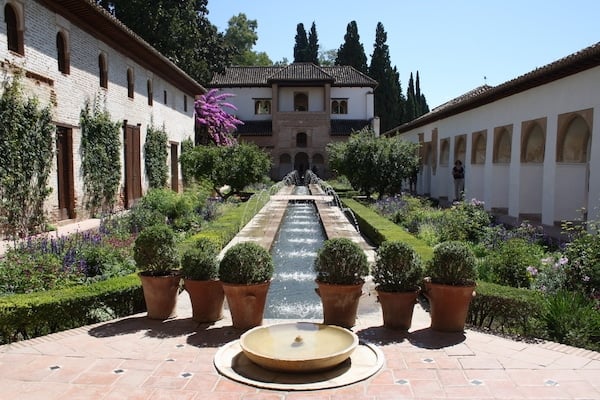 3. Restaurante Hotel Guadalupe
A stunningly large picture window across the hotel façade of Hotel Guadalupe will help you remember that you're dining in the shadow of one of the most spectacular monuments in the world. The restaurant at this hotel is popular both for its proximity to the Alhambra as well as for its rich Andalusian cuisine. The spacious dining room is quiet and peaceful, making it the perfect place to enjoy a pleasant, relaxing lunch or dinner if you're wondering where to eat near the Alhambra that isn't too noisy.
Address: Paseo de la Sabica, 30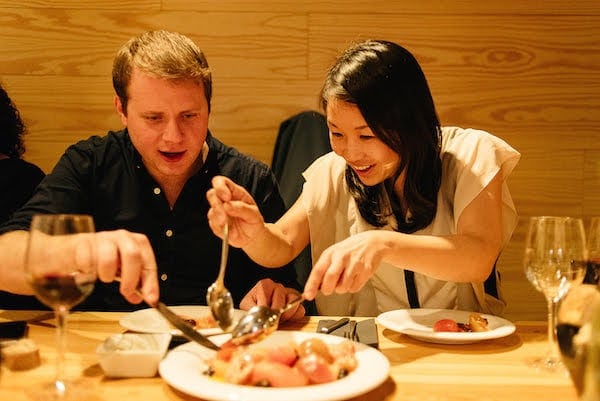 4. Las Tomasas
In addition to its wonderful terrace with spectacular Alhambra views, Las Tomasas prides itself on quality. All of their dishes are prepared with seasonal ingredients fresh from the market, making it a truly local establishment. Its simple elegance is classy yet unpretentious and the friendly staff will immediately make you feel at home. Accompany your meal with a selection from their extensive wine list for the best experience!
Address: Carril de San Agustín, 4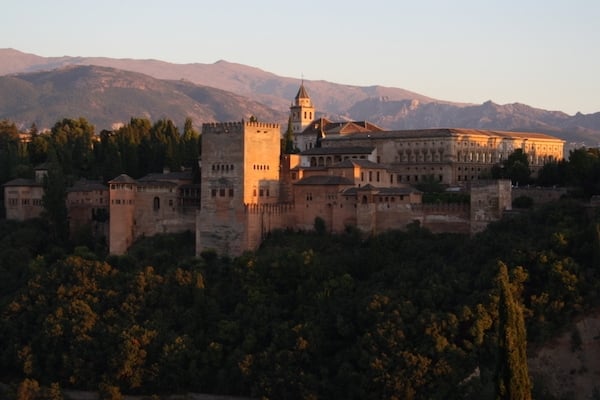 5. Mirador de Morayma
Tucked away into the ancient Moorish quarter known as the Albayzín, you'll find this wonderful little restaurant set in a typical Granada-style house. If you're wondering where to eat in Granada for not just Andalusian but also granadino dishes, Mirador de Morayma is the place to be. Their menu is almost exclusively dedicated to typical foods from Granada, such as the famous tortilla de Sacromonte. Be sure to try their own organic wine, produced in vineyards near the Alpujarras!
Address: Calle Pianista García Carrillo, 2
See Also: Discover when to visit the Alhambra in this complete seasonal guide.
Pin me!