Today I share with you my Spanish family's authentic gazpacho recipe. Traditional Spanish gazpacho is easy to make, super healthy, and delicious! It's usually served as an appetizer or even a drink.
My recipe comes straight from Andalusia and it truly the best gazpacho recipe out there for the traditional version. I hope you enjoy it!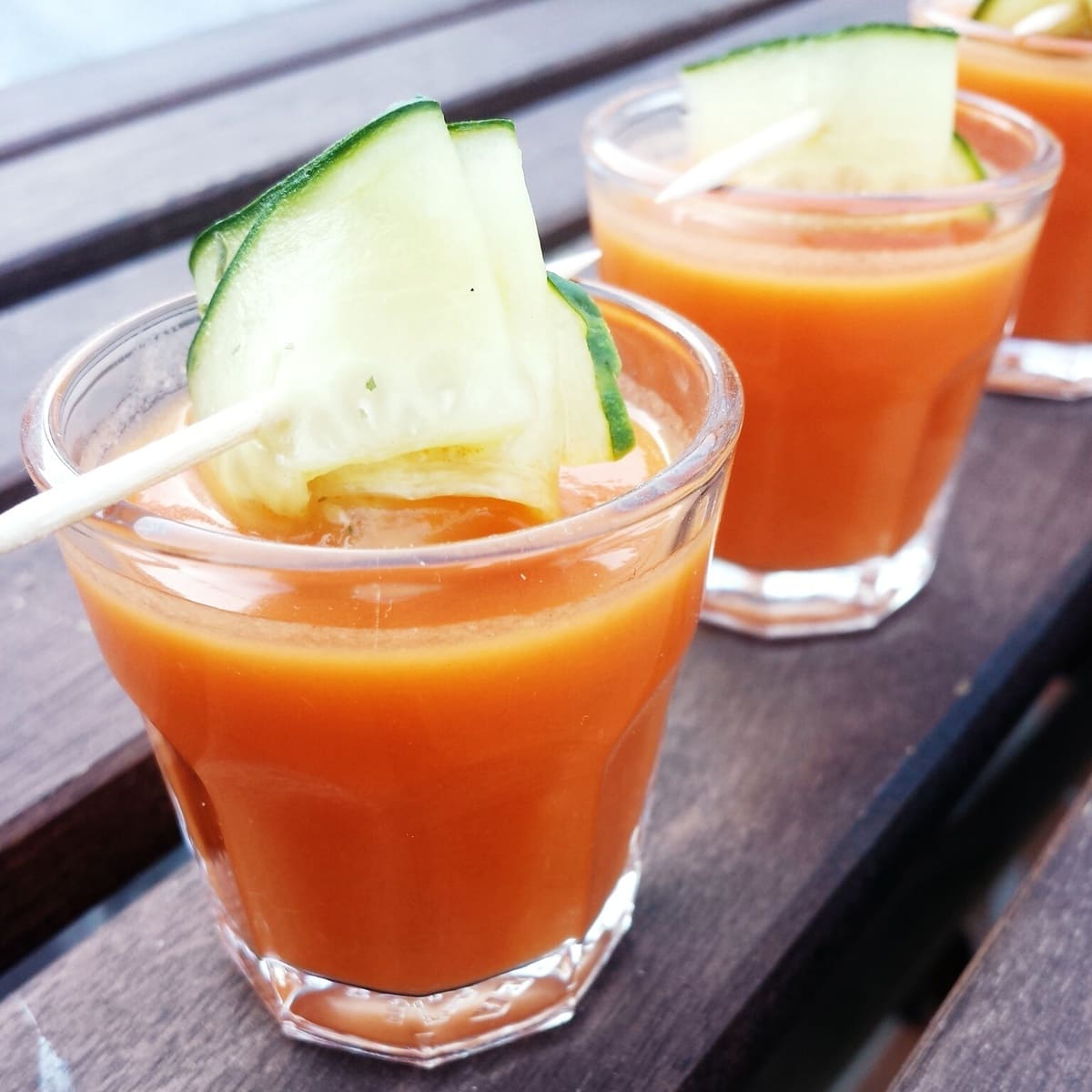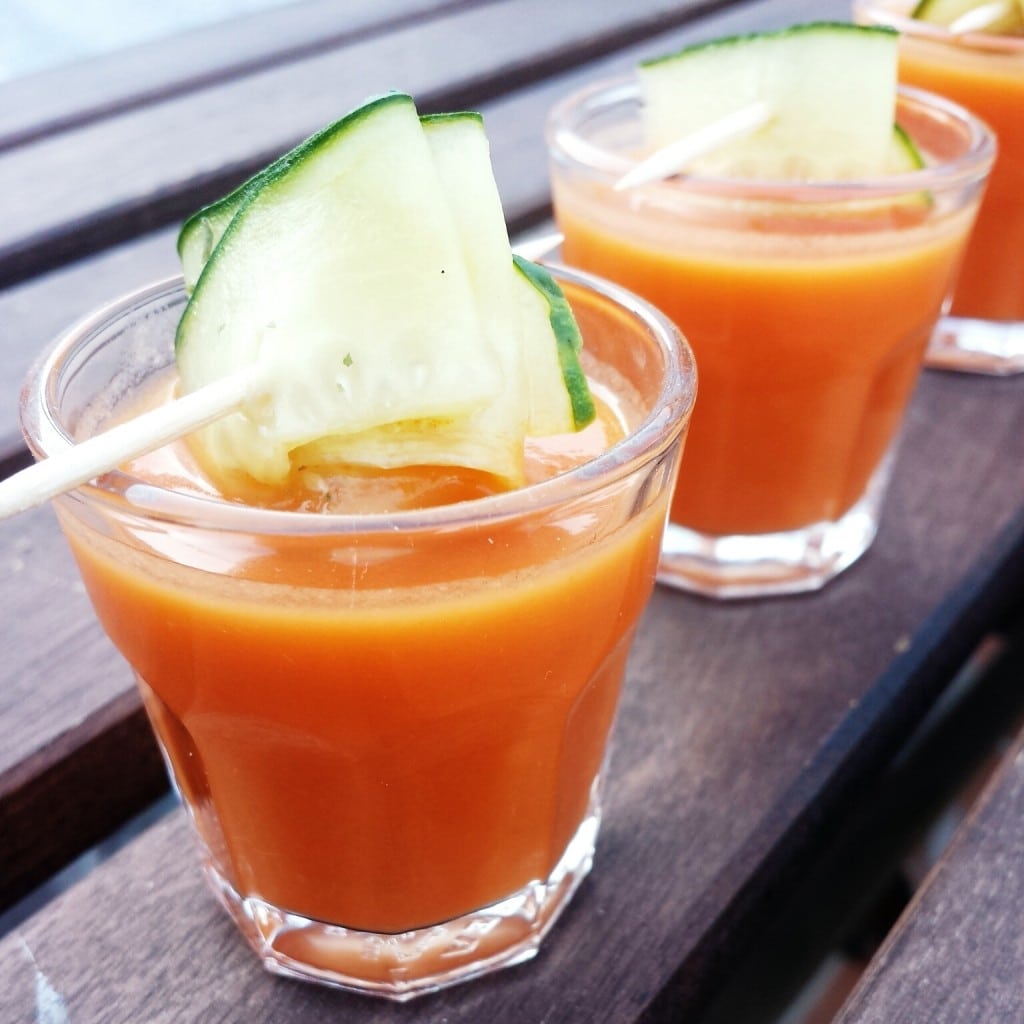 I hated gazpacho the first time I tried it.
I was having lunch with my host family in Granada when my host mom, Josefina, plopped down a big glass of orange gazpacho.
Josefina, in spite of her claims to have once owned a restaurant, was not known among the study abroad students for her skills in the kitchen. In fact, her gazpacho was one of the first things she had made completely from scratch since we had been there!
I took a sip of the lukewarm concoction and tried my best to like it– but I just couldn't. Bland and boring, it was like warm, runny tomato juice served in a glass.
Fast-forward five years
Yes, it took me nearly five years to return to Spain and try Spanish gazpacho again. But I'm so happy I did.
As someone who had become obsessed with gazpacho's creamy cousin salmorejo, I decided it was about time to give traditional gazpacho another chance. After all, my Spanish friends would swear by the stuff– according to any Spaniard, gazpacho is the best cure for a cold, flu, hangover, break-up… whatever is wrong, gazpacho will fix it!
Searching for the best gazpacho recipe
I decided to investigate, and proceeded to read at least 20 different Spanish gazpacho recipes from my cookbook collection and favorite Spanish recipe sites.
I blended a few different versions together to come up with what may be the best Spanish gazpacho recipe ever.
What is key about this version of gazpacho is its potential to be eaten from a bowl (versus sipped from a glass) with lots of delicious toppings. This makes it more like a traditional cold soup and less like a vegetable juice.
Optional Gazpacho Toppings
As I explained, the most traditional way to eat gazpacho in Spain is by drinking it from a glass. But I love eating it from a bowl with toppings.
My favorite topping by far is Granny Smith apple. It sounds strange, but the tart apple really compliments the gazpacho.
Other ideas for gazpacho toppings:
Marinated cherry tomatoes
Avocado
Tart cherries
A sweet nectarine
Strawberries
Red onion and cilantro
Raw red bell pepper
Cucumber
So if you think you don't like Spanish gazpacho, please try it again. If I could end up loving it, you probably can too!
Authentic Gazpacho Recipe – The Best Spanish Gazpacho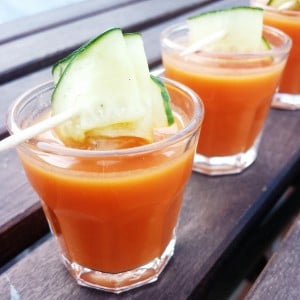 Gazpacho Recipe
The best Spanish gazpacho recipe I've ever tried. After years of thinking I hated Spanish gazpacho, I finally came around with this recipe!
Print (images optional)
Pin
Rate
Ingredients
6-7

medium tomatoes

the quality of the tomatoes is one of the most important factors in the taste, use vine-ripened when possible, and don't use the green salad tomatoes!

1

green Italian pepper

the long type, not a bell pepper

1

cucumber

½

of a small white onion

1

clove

of garlic

not too big

1/4

cup

Extra Virgin Olive Oil

again, quality is important

A splash of Sherry vinegar

Vinagre de Jerez, although red or white wine vinegar can be substituted

A pinch

or two of salt

Optional toppings: diced cucumber

diced green apple, diced onion, diced pepper, croutons, & hard-boiled eggs
Instructions
Wash and dry all of the vegetables very well—if you prefer to peel the tomatoes you can, although I usually leave the skin on.

Cut the tomatoes into 4 slices (leaving the core behind) and put into your blender.

Halve, core, and de-seed the pepper. Cut it into a few slices and add to the blender.

Peel the garlic and slice it in half. Remove the core (which often results in bitterness when not cooked).

Cut the onion into a few slices and add it to the blender too.

Peel the cucumber and cut it in half. Add half to the blender and save the other half for a topping.

Blend the vegetables at a high speed until it is completely pureed.

Add the salt and vinegar and, while blending on a slow speed, slowly add the olive oil.

Taste and adjust salt and vinegar. If the texture is too thick for your liking add some cold water.

Refrigerate and serve VERY cold! Add as many (or as few) toppings as you like.
Nutrition
Calories:
177.63
kcal
|
Carbohydrates:
12.13
g
|
Protein:
2.56
g
|
Fat:
14.1
g
|
Saturated Fat:
1.94
g
|
Sodium:
85.63
mg
|
Potassium:
622.11
mg
|
Fiber:
3.6
g
|
Sugar:
7.73
g
|
Vitamin A:
2522.36
IU
|
Vitamin C:
66.92
mg
|
Calcium:
32.11
mg
|
Iron:
0.86
mg
It is really that simple– a 15-minute power meal! Fresh vegetables mix together to create a delicious and refreshing cold soup with this traditional Spanish gazpacho recipe.
Gazpacho is now my favorite light dinner on a hot summer night, and leftovers make a great start to the next day!
Try my twists on this gazpacho recipe
Over the years I've done a lot of experimenting! Try these twists on the classic gazpacho for something different.
Does anyone else have their own Spanish gazpacho story– a food that you didn't like at first taste but that you now couldn't live without? Please share it below!
Pin me!