My authentic Spanish sangria recipe is the best and easiest sangria recipe that exists. Make sangria the Spanish way with my tips!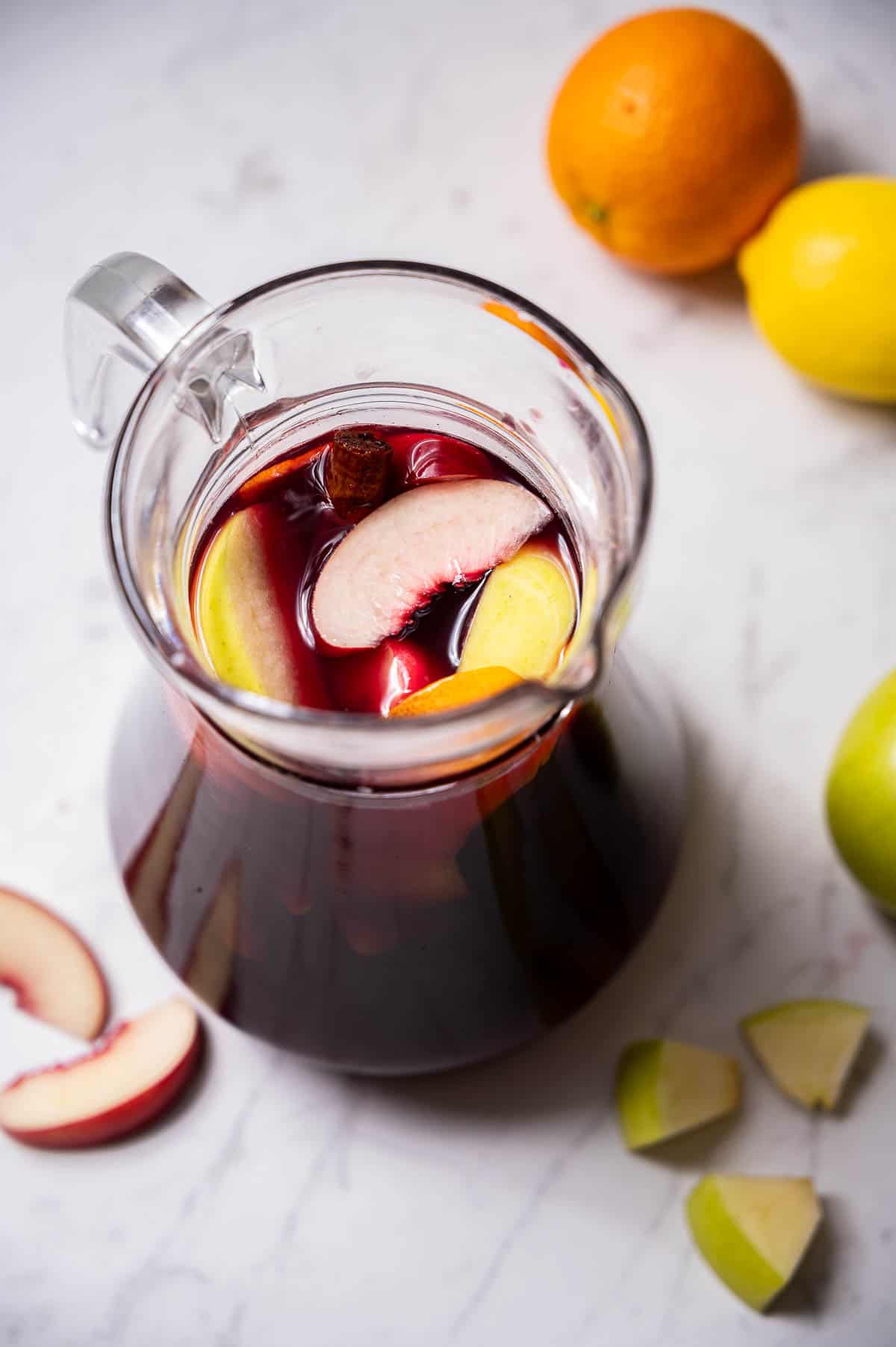 Spanish sangria– it's one of Spain's most popular yet misunderstood drinks!
Tourists love it, locals barely drink it… here's the scoop on traditional Spanish sangria and what I'd consider the best red sangria recipe I've tried!
Read to the end for some twists on Spanish sangria– I'm always trying new recipes.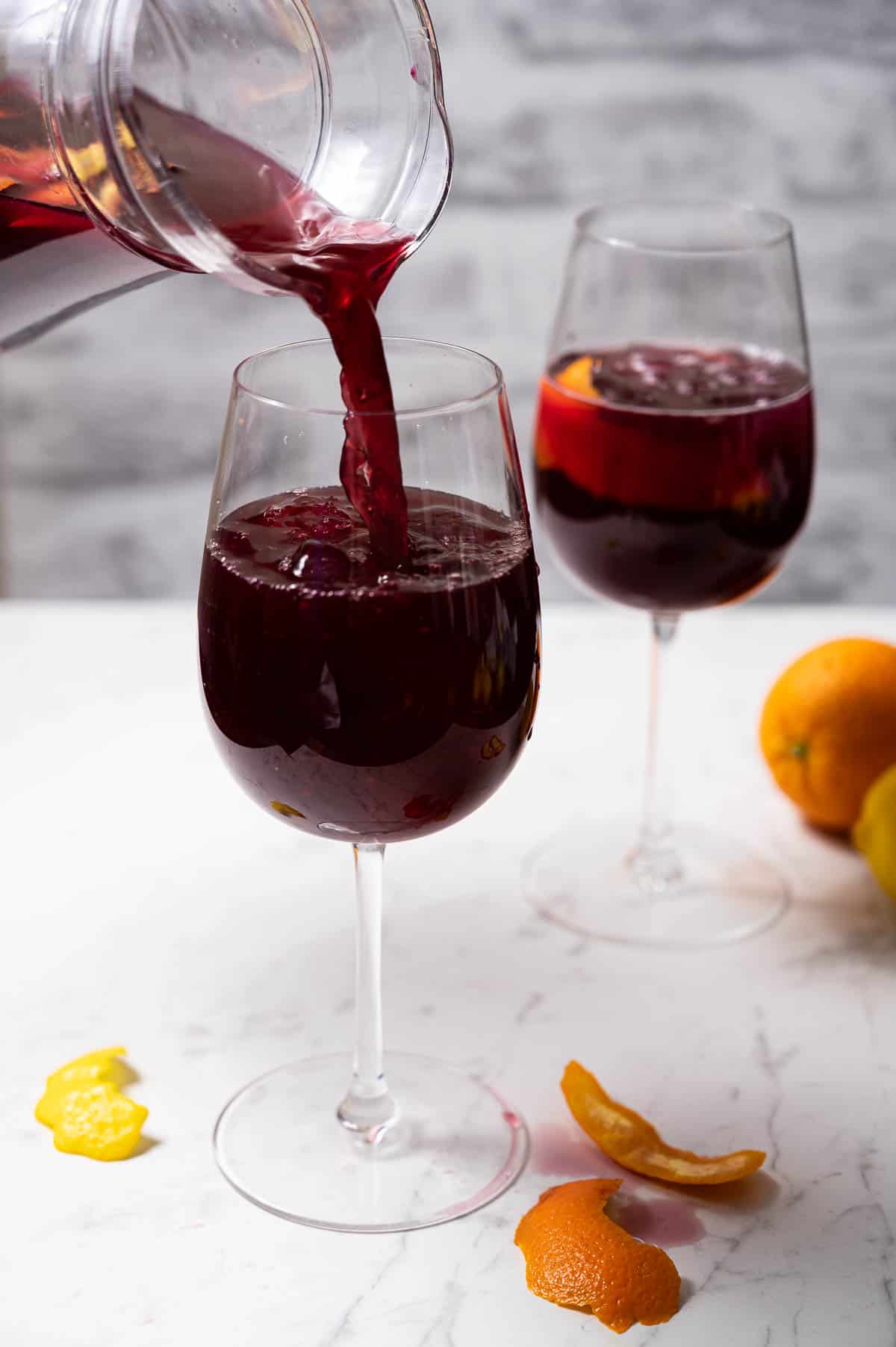 In the time before food blogs and TripAdvisor, tourists came to Spain expecting little more than paella, sangria, and flamenco, opting to eat microwaved paella over traditional tapas and to watch choreographed flamenco instead of enjoying a Spanish style night out.
While these types of tourists still exist, people are definitely savvying up and food and travel icons like Anthony Bourdain set a clear path for anyone to enjoy the local specialties.
But while the modern tourists bounce around looking for Spain's best craft beers or tasting our popular gin tonics, what has become of the classic pitcher of sangria? Is sangria even Spanish? Is it just a tourist trap and a way to use bad wine?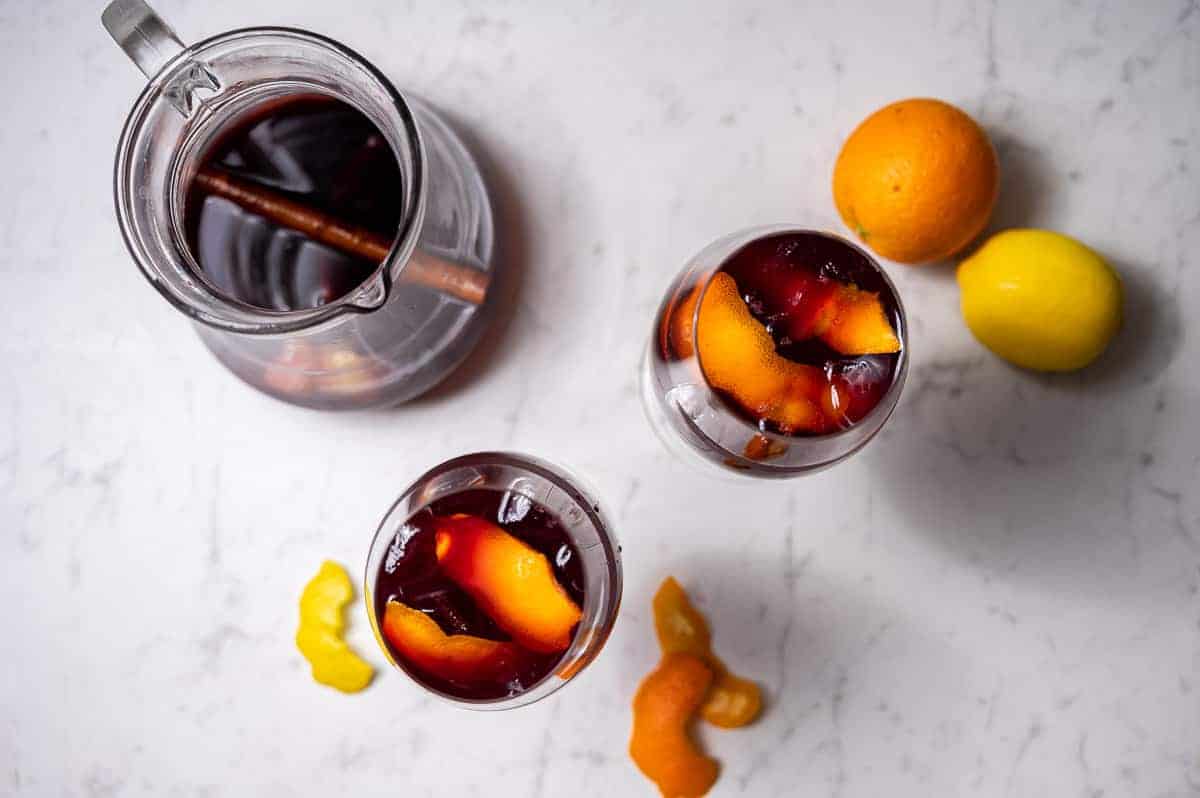 Where is sangria from?
Sangria is indeed Spanish. The word comes from "sangre" (blood), alluding to the red color of the drink.
The history of sangria is pretty straightforward — when the Romans inhabited the Iberian Peninsula over 2,000 years ago they planted a lot of grapes to make wine. At this time water wasn't always safe to drink, so it was common practice to fortify it by adding some alcohol to kill off the bacteria.
The first sangrias were a product of this practice, and likely a mix of wine, water, herbs, and spices. Anything to make what they were drinking taste better!
Fast forward a couple thousand years, and many food historians believe sangria became popular after its debut at the 1964 New York World's Fair. It was offered at the Spanish Pavilion, and Americans took note of this sweet and delicious red wine punch. Soon recipes were printed in cookbooks, and American bartenders were making sangria their own.
In many ways, this is still the story today. In most of Spain, sangria is not something locals drink often. And when they do, it's likely purchased pre-made — from the same part of the supermarket you'd find the soft drinks.
Occasionally people do make their own sangria, and there are many bars serving their version of sangria to tourists. But locals will usually prefer the simpler tinto de verano drink in the summer.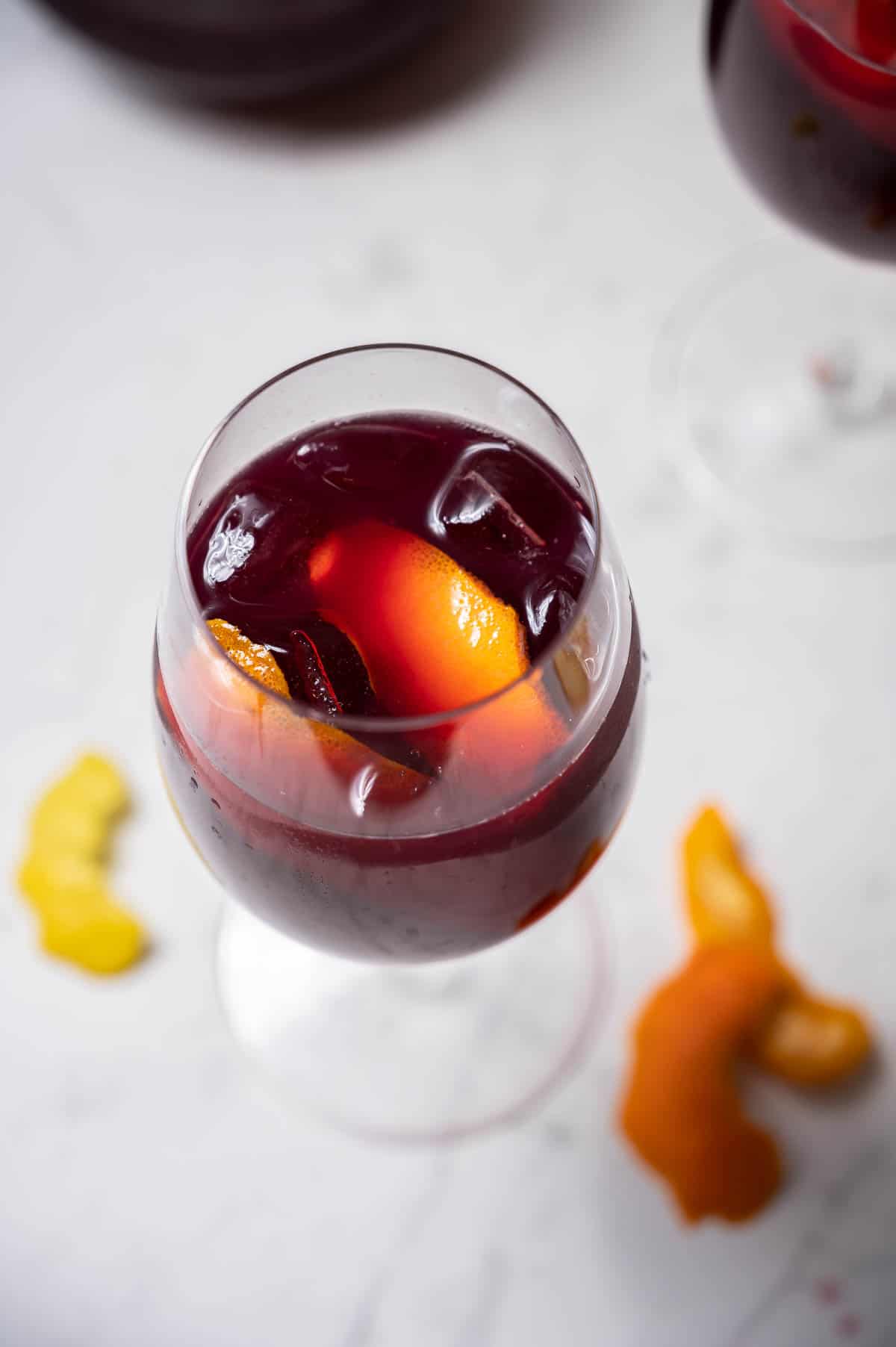 For these reasons, I give some of the credit for sangria's popularity to the Americans (which may seem a stretch to some), as after the 1964 New York World's Fair American cocktail aficionados took the sangria they'd sampled at the Spanish pavilion and elevated it to the delightful combinations you'll find in American cocktail bars today (green apple and sake sangria anyone?).
In the end, sangria is simply the name for a wine based cocktail— although I'd let cider and sake slide in there too. But here in Madrid, you won't find too much variety. The capital of Spain is often respectful to the classic Spanish recipes, and the traditional Spanish sangria recipe is no different.
So today we are talking about classic sangria — the traditional red sangria recipe that you'll find in most Spanish tapas bars.
Watch how to make traditional Spanish sangria (1 minute video!)
Sangria Ingredients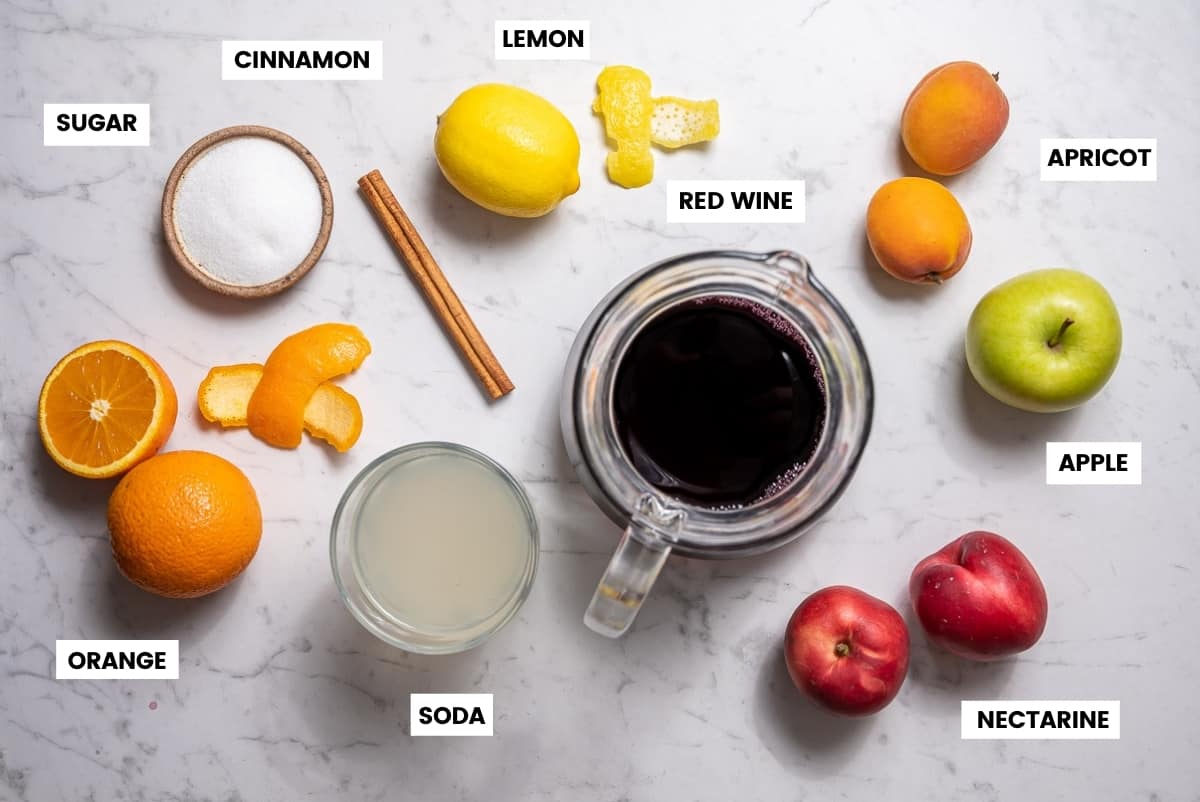 Key Ingredients: Red wine, lemon, orange, cinnamon stick, sugar, apple, nectarine, and soda.
Ingredient Notes & Substitutions
Red Wine: Use a decent young and fruity table wine — something you would definitely drink on its own, but one that isn't too complex (or expensive!). It's important that it's good quality (otherwise your hangover will be awful), and also important that it isn't overly oaky in flavor. That's why a fruity young red wine works best. You can, of course, sub other wines — but then it becomes a different sangria. See below for options!
Fruit: The most common fruit you see in red sangria in Spain is by far citrus fruit. Lemon and orange are key ingredients in the majority of Spanish sangrias. Other fruits you may see (and are optional) are peach or apricot and green apple.
Spices: Usually traditional sangria recipes keep it simple and stick to a flavorful stick of cinnamon. But you can add star anise, nutmeg, ginger, cloves… the options for experimentation are endless!
Sugar: Again — totally optional. Taste it without sugar and if you need it to be a bit sweeter, add it little by little. I prefer adding it in the form of simple syrup, as it incorporates better.
Soda: You guessed it, it's optional! The truly traditional Spanish sangria recipe is actually lacking any carbonation. That's because carbonated drinks weren't even invented when sangria got its start! But if you like the extra fizz, add a bit of soda water or lemon soda to your sangria, right before drinking.
Extra Alcohol: If you want your sangria to pack more of a punch, add a couple of ounces of Spanish brandy or vermouth. My favorite sangria bars in Spain add vermouth to their sangria jugs.
How to Make Traditional Sangria: Step by Step
Making sangria is super simple! I've outlined the most detailed version in the recipe found below (but you can omit the optional ingredients and it will be even easier!).
Step 1: Make a simple syrup. I like to use a 1:1 ratio for mine. Let it cool while you prepare the rest of the sangria.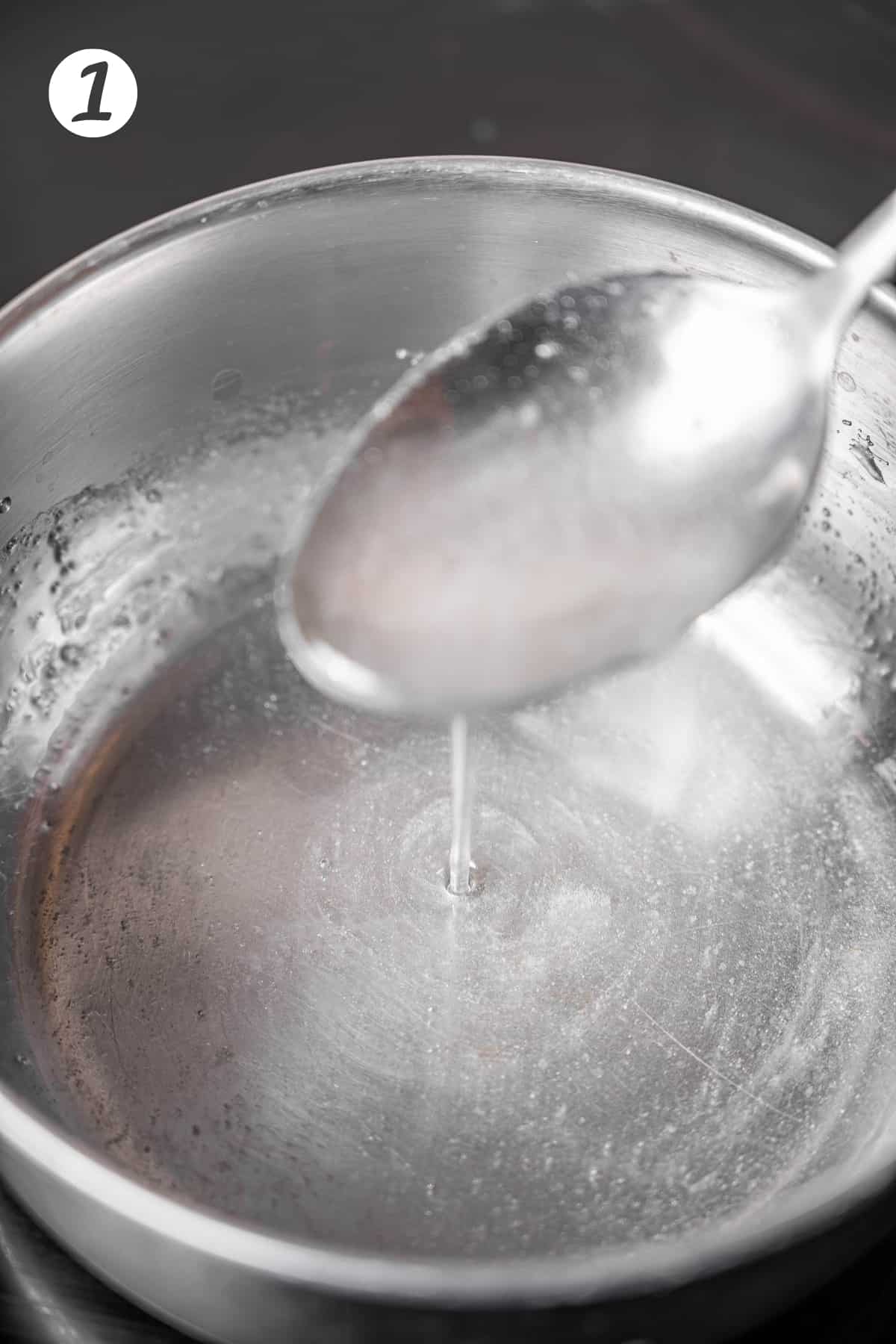 Steps 2-5: Take your citrus fruit (I use lemon and orange) and peel the rind. Then juice the fruits.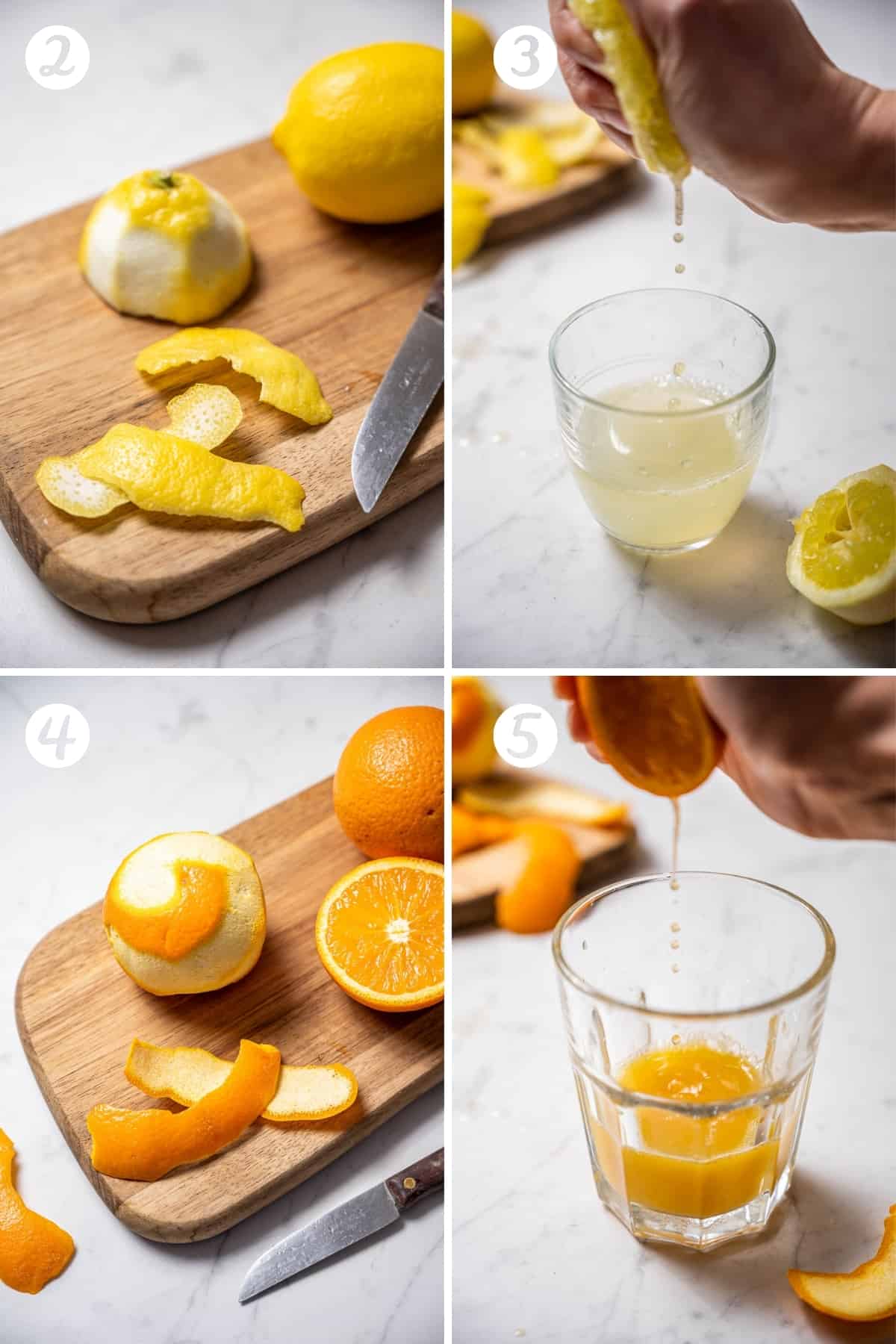 Step 6: Now you just combine everything! Put your wine into a big pitcher (or pot) and add all of the citrus juice, peeled rinds, and simple syrup (if using).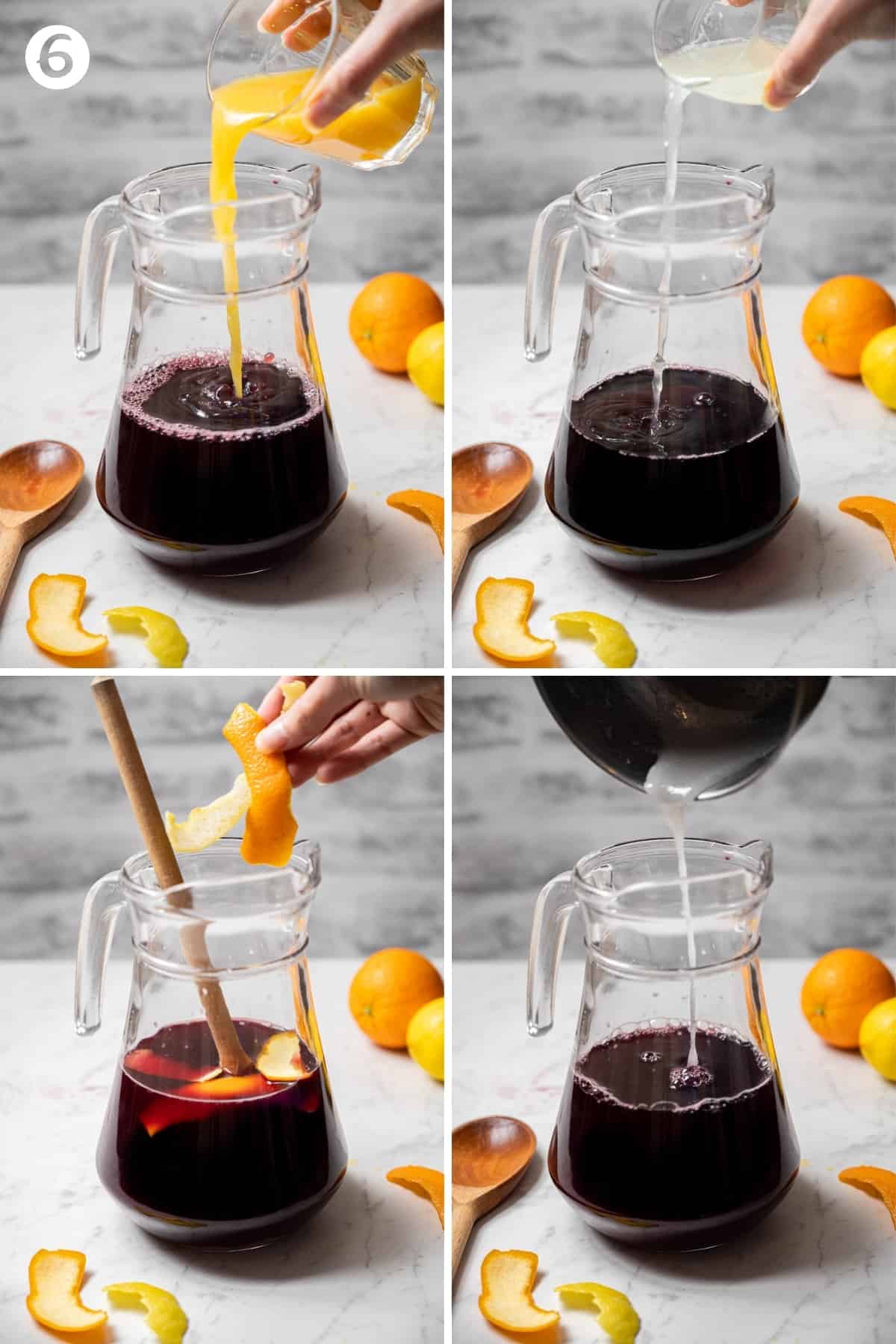 Steps 7-8: Now give it a stir and add your spices (I use a cinnamon stick), any additional fruit, and brandy or alcohol (if using). Add the soda (if using) right before drinking.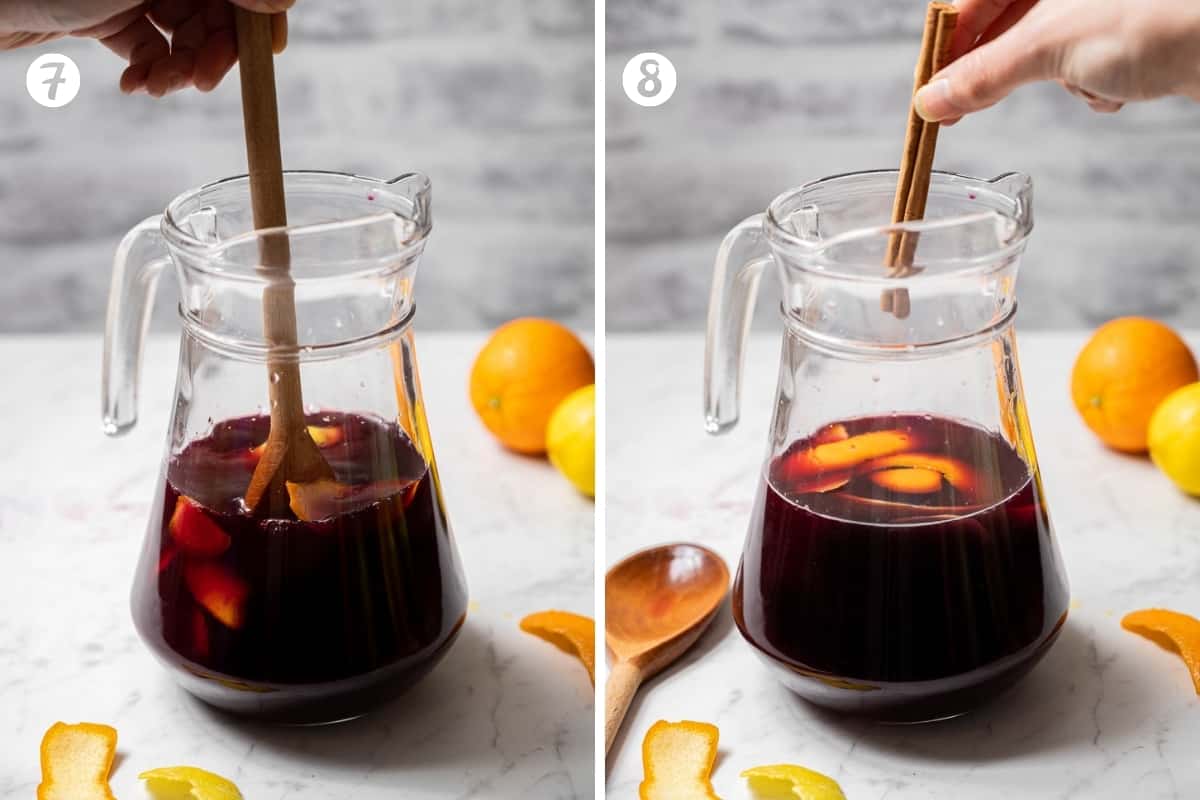 Step 9: Voila! A traditional Spanish sangria to enjoy with your favorite tapas.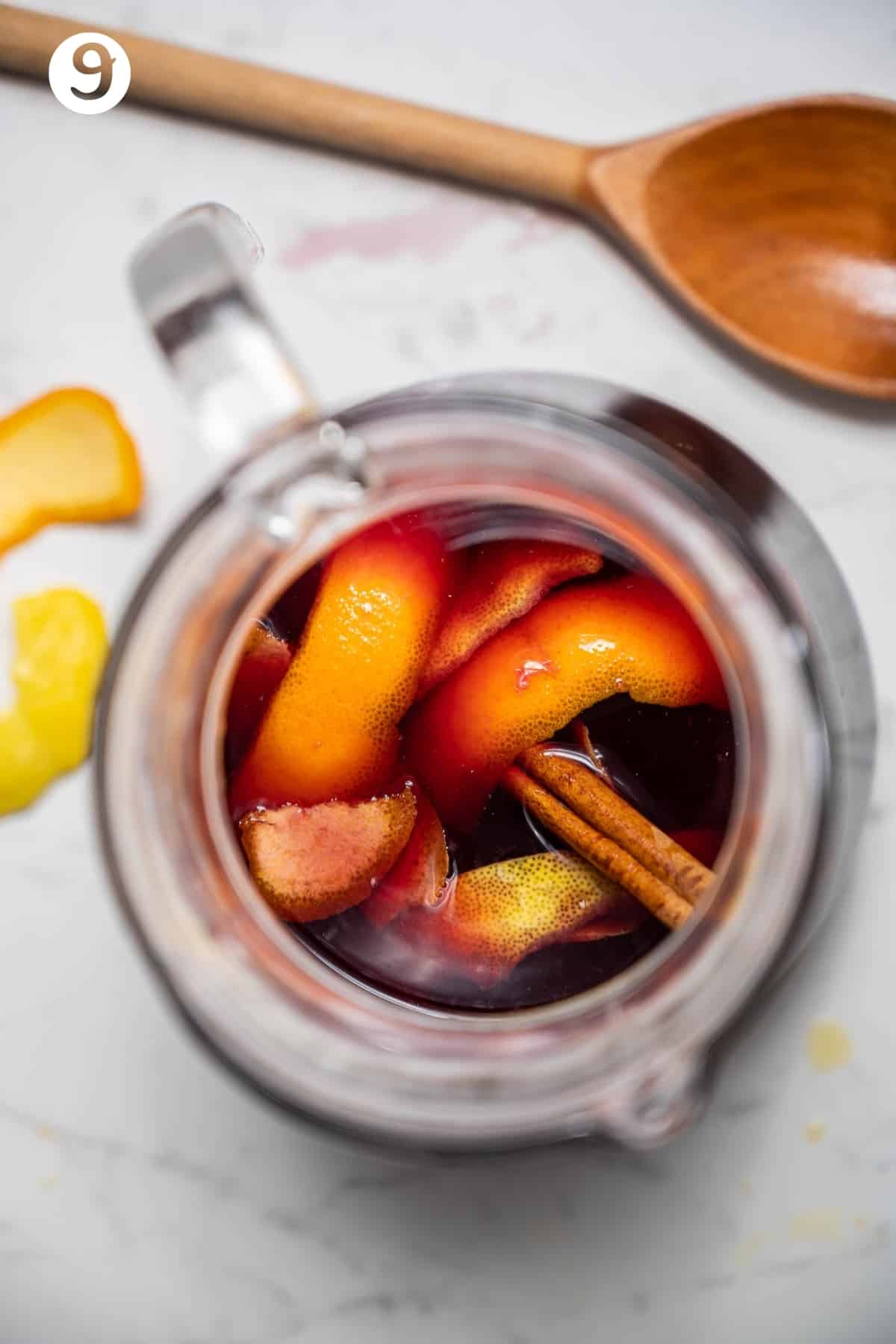 Recipe Tips & FAQs
What is sangria made of?
Traditional Spanish sangria is made with red wine, water, herbs, spices, and fruit. Today's sangrias have a wide variety of ingredients, and each recipe is different. Soda and brandy are common modern additions.
What is the best wine for sangria?
The best wine for making sangria is a young and fruity red wine. Any Spanish tempranillo wine would be perfect. You don't want anything aged, and you want to make sure the wine is good quality to avoid a hangover.
Does sangria need brandy?
Traditional sangria recipes do not include brandy. Brandy is an optional ingredient in sangria that will make the cocktail stronger because of the higher alcohol content.
Is Sangria high in alcohol?
Classic sangria is not very high in alcohol (less than a glass of wine). The reason is it is basically diluted wine. If you add hard alcohol like brandy, however, the alcohol content goes up.
Is Sangria high in sugar?
Traditional Spanish sangria only includes sugar present in the wine and in the fruit added to the sangria. So it is not a very high-sugar beverage. But some people add additional sweeteners, so it depends on the recipe.
Can I make sangria in advance?
Yes! Sangria can be made ahead of time, and it actually tastes better that way. I recommend making sangria the night before serving it, which gives the fruit plenty of time to macerate and release their flavors. Then, right before serving, add the soda (if using).
How long will homemade sangria keep in the fridge?
I recommend keeping sangria no more than two days in the fridge. By that point the fruit is past its prime.
Serving Suggestions
Sangria is the perfect beverage while enjoying a variety of Spanish tapas. Some of my favorite tapas to make with a pitcher (or two!) of sangria are: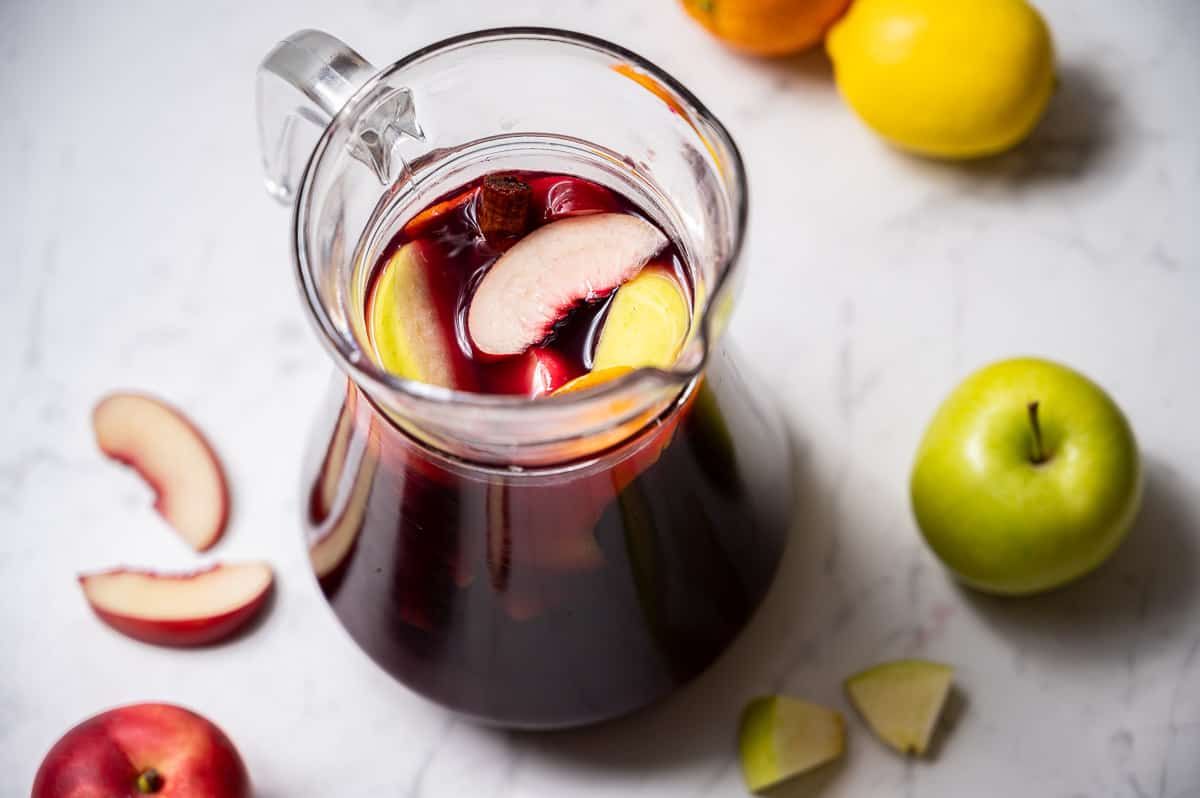 More Sangria Recipes
Like the idea of sangria, but looking to stray from the classic red wine version? Try one of these other delicious sangria recipes!
Hungry for more? Sign up for my free weekly newsletter and receive a new Spanish recipe once a week! Join today and get my FREE Spanish ingredient essentials guide!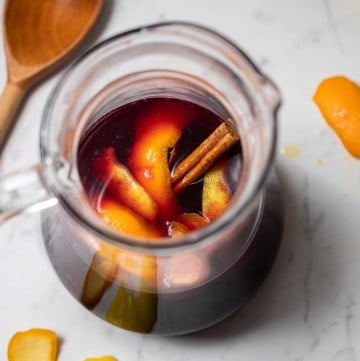 Best Traditional Spanish Sangria Recipe
This traditional Spanish sangria recipe is quick and easy to make, and delicious to drink on a hot summer day!
Print (images optional)
Pin
Rate
Ingredients
1.5

bottles of young table wine

don't waste top quality wine on sangria but don't use something that's sure to give you a hangover either!

2

oranges

1

lemon

1

cinnamon stick

3

tablespoons

sugar

optional

1

green apple

optional

2

peaches or apricots

optional

Carbonated beverage

lemon soda, orange soda, or soda water (optional)

2

ounces

brandy or vermouth

(optional) you could sub any hard liquor of your choice
Instructions
If using the sugar (which will make a sweeter sangria than if you omit), dissolve the sugar in two tablespoons of water over a low flame to create a clear simple syrup. Let cool.

Wash the oranges and cut off thick pieces of rind before juicing the oranges.

Juice the oranges.

Wash the lemon and cut off pieces of rind before juicing the lemon.

Juice the lemon.

In a large pitcher or bowl, stir together the wine, simple syrup, orange juice, lemon juice, and brandy (if using), and add in the pieces of lemon and orange rind. If making a truly traditional Spanish sangria, simply add the cinnamon stick and let sit at least two hours (preferably overnight) before serving over ice. This allows the sangria to take on the aromas of the fruit rind and cinnamon stick.

If you want to make a slightly more modern version (still not anything too crazy!) add in chopped up chunks of green apple and peach. For the modern version you can also top off with a carbonated beverage (lemon soda, orange soda, or soda water) right before serving for some bubbles.
Nutrition
Calories:
186.18
kcal
|
Carbohydrates:
17.42
g
|
Protein:
0.46
g
|
Fat:
0.12
g
|
Saturated Fat:
0.02
g
|
Sodium:
9.12
mg
|
Potassium:
230.74
mg
|
Fiber:
1.65
g
|
Sugar:
11.36
g
|
Vitamin A:
26.88
IU
|
Vitamin C:
13.42
mg
|
Calcium:
27.54
mg
|
Iron:
0.81
mg
Update Notice: This post was originally published on May 15, 2014 and was republished with new text and photos on March 12, 2021.
Photography by Giulia Verdinelli
Like this recipe? Watch the web story!
What's your favorite sangria recipe?