Today Melissa takes on a controversial topic- the best tapas bars in Madrid! While my list might be different, I agree that all the places here are well worth a visit. In a city like Madrid the options are endless, so stay tuned for a part two one day!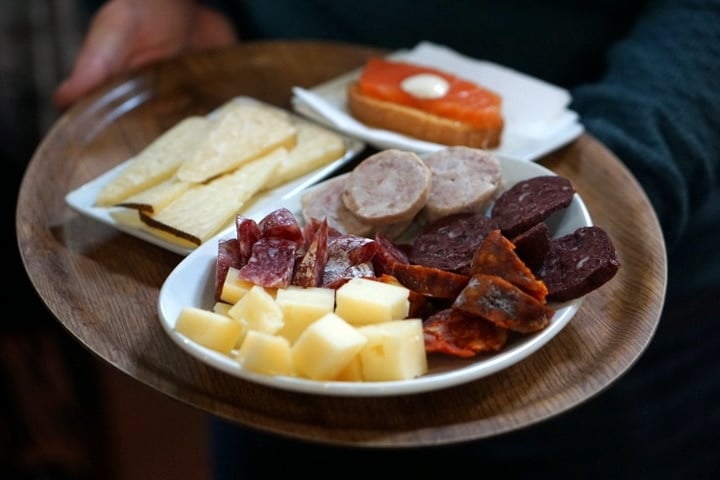 Tapas are one of Spain's biggest cultural exports to the rest of the world. When people around the globe think of Spanish cuisine, these little treats are right up there with paella and sangria. But not all tapas are created equal, and the concept itself can mean many different things.
The Spanish capital is without a doubt one of the best places to experience traditional tapas firsthand. But when choosing where to go, the options can be overwhelming. Madrid has nearly 15,000 restaurants and bars—one for every 211 inhabitants—according to a recent study.
So how are you supposed to know which places are the real deal, and which are tacky tourist traps? When in doubt, listen to the locals. You can start by taking a tour of some of my personal favorites. Here are a few of the best tapas bars in Madrid!
See also: The best tapas tours in Madrid
The Best Tapas Bars in Madrid
After hours of eating my way through the city, these bars have become my go-to spots for tapas and drinks. Check them out for yourself to create your own personalized tapas tour in Madrid!
Cervecería Cervantes
Cervecería Cervantes is one of those classic spots that doesn't look like much... but trust me when I say you'll be pleasantly surprised. Its novelty value comes from the dozens of beer cans from all over the world that adorn its walls. But its true value has much more to do with the delectable tapas served up alongside perfectly poured brews. Enjoy the juicy olives and high-quality cured meats and cheeses—they're among the best I've tasted in Spain.
Casa Alberto
A total institution in the Huertas area, this classic bar lures passerby with its traditional bright red facade. It's known as one of the best places in Madrid for vermut de grifo (sweet Spanish vermouth on tap). And at Casa Alberto, torreznos (fried pork rinds) are always close at hand. Stand at the bar for a few glasses of vermouth and light tapas, or grab a table to settle in for a real feast. Everyone who's been will undoubtedly agree that this place is among the best tapas bars in Madrid.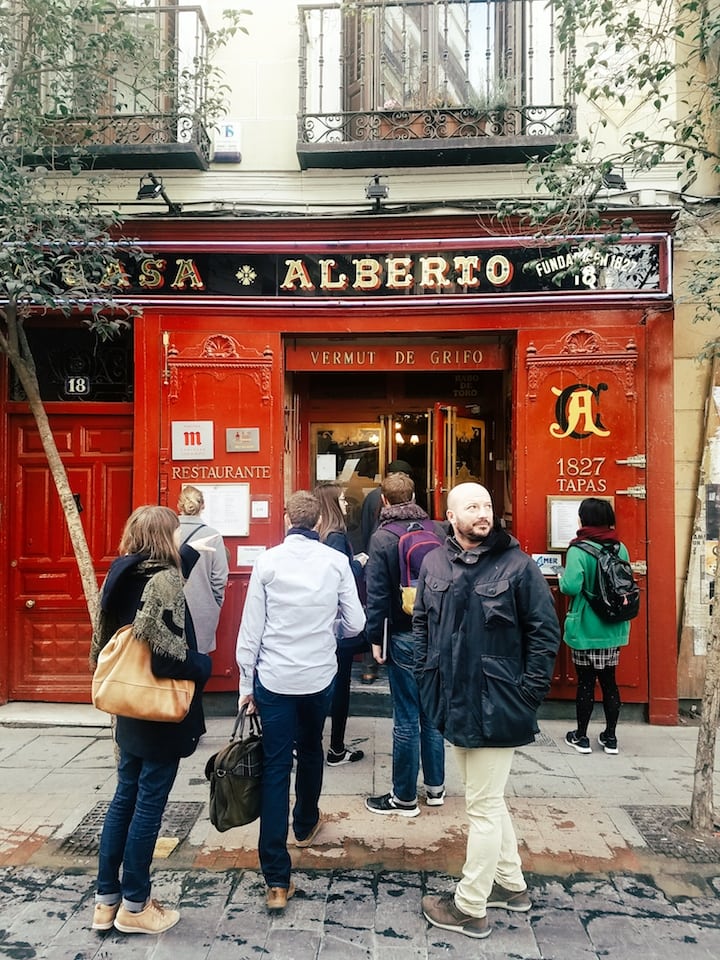 See also: The ultimate guide to Spanish vermouth
Lamiak
Tapas can vary greatly throughout the Iberian peninsula, as evidenced by the legendary Basque pintxos (or pinchos). These consist of a slice of bread topped by various combinations of exciting ingredients (ham, cheese, veggies, cod, prawns, egg, etc.) and held together by a toothpick. At Lamiak, on La Latina's famous Calle Cava Baja, you'll find some of the world's best pintxos outside of Basque Country. Try the lacón (roasted ham) with melted cheese or the goat's cheese with caramelized onions... heavenly.
Casa Lucío
Just a few meters from Lamiak is Casa Lucío, yet another classic spot that's bursting with history. On Calle Cava Baja tapas bars are a dime a dozen—but do yourself a favor and pick this one. Their specialty is huevos rotos (fried potatoes topped with runny eggs and your choice of meat). But you can't go wrong with any of the classics here: croquettes, Padrón peppers, artichokes with ham, and much more.
See also: The top 12 foods to try in Spain
Taberna La Concha
You'll also find this quaint and quirky spot on Calle Cava Baja. Squeeze into the tiny space by the bar, or go downstairs to sit and stay a while. One thing that sets La Concha apart is the gluten-free menu available upon request; but that's hardly its only attraction. Order a tosta topped with anything from cecina (cured beef) to duck with orange, or a bigger plate to share. This place is all about fusion, putting an international twist on classic tapas like anchovies with pesto, salmon with tzatziki, and meatballs in Thai green curry.
La Venencia
This hidden gem may have become a bit of a secreto a voces (open secret), but that doesn't make it any less charming. Tucked away on a narrow street in Barrio de las Letras, La Venencia seems not to have changed in the last 50 or so years. It's dark, dusty, cramped, and cozy, and the choices are limited to five kinds of sherry and a few different tapas. Don't come here for a fancy meal; come here for an authentic experience and a taste of something new. I recommend sampling each sherry and ordering a plate of mojama (cured tuna) and some Manchego cheese. It's life-changing.
See also: Enjoy tapas like a local - Madrid tapas tour
Mesón del Champiñón
Right in the bustling, historic heart of Madrid, this hole-in-the-wall bar offers all kinds of tapas... but the real reason to come here is in the name. Mesón del Champiñón essentially means "Tavern of the Mushroom," but perhaps "Temple of the Mushroom" would be more appropriate. Their claim to fame is grilled mushrooms, swimming in olive oil, garlic, lemon juice, and parsley and topped with a bit of chorizo. If you can bring yourself to order anything else, they also offer classics like fried squid and boquerones (fresh anchovies in vinegar).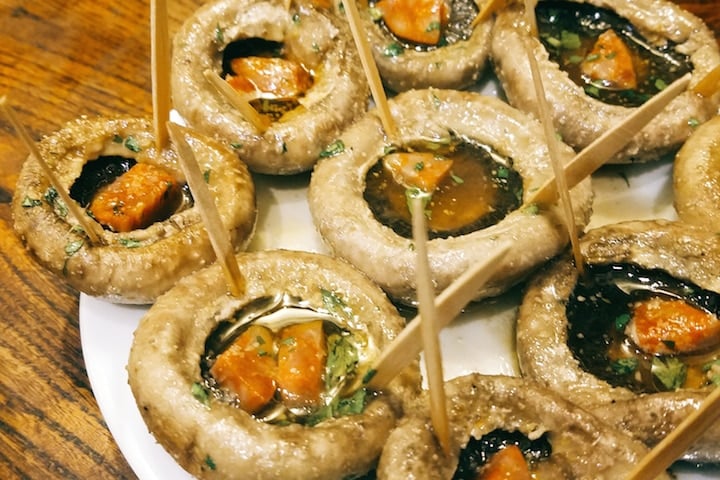 Mercado de San Fernando
Alright, so this isn't exactly a tapas bar... it's more like a collection of them, all under one roof. The local food market of Lavapiés is great for grocery shopping, but even better for bar hopping. There's an Asturian sidrería, fresh seafood, craft beer, Rioja wine, local vermouth, and several international spots as well. If you want to try a bit of everything—or if your tapas crawl has been cut short by bad weather—join the loud and always festive crowd at Mercado de San Fernando.
Have you tried all of these places yet? What do you think are the best tapas bars in Madrid? Tell us in the comments!
Pin me!