Scenic, hilly Granada is a biker's dream come true, but the terrain isn't so challenging that it should only be left to the pros! Granada is an easy-to-navigate city made all the better when seen from a bike. Here's where to rent bikes in Granada as well as some of the city's best routes for getting around on your bicicleta.
Renting Bikes in Granada
There are various bike rental companies in Granada. Read on to find out which is best for you.
Rent-a-Bici: These top-quality bikes are perfect for navigating Granada and its surroundings. Asa  a bonus, they even offer bike delivery and pickup to and from most hotels in Granada for free!
Price: 2 days (minimum): €50
Granada Rent a Bike: One of the most popular options for renting bikes in Granada allows you to personalize your bike pickup and drop-off points.
Address: Carretera de Alhama, 54, Churriana de la Vega
Price: Depends on bike, from €20/day
Cycle Sierra Nevada: This is a great option for renting bikes in Granada if you want to explore the beautiful region surrounding the city. Their home base in the heart of the Alpujarras is the perfect place to start a longer bike trip.
Address: Calle Poqueria 2, Casa No 6, Vélez de Benaudalla
Price: Depends on bike
Riding Bikes in Granada
The city of Granada lends itself mostly well to biking. While there are some hills, it's the perfect way for new bikers to challenge themselves without feeling overwhelmed. However, even more experienced cyclists will appreciate the relaxed pace of riding in the city and admiring the beautiful sights.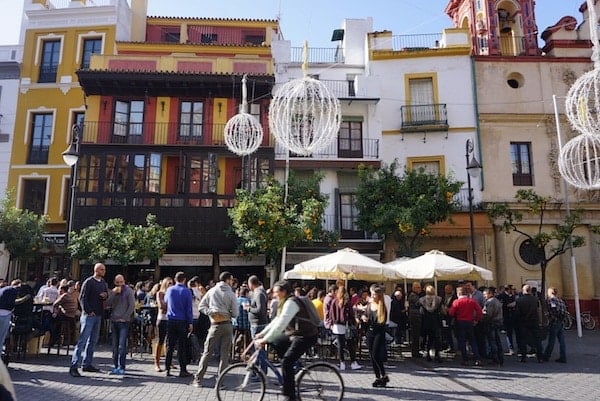 For those road or mountain bikers who want to get out of town, the entire province of Granada is a biker's dream come true. Challenging hills, beautiful views and great weather make for an unforgettable biking experience.
In the summer, be sure to visit one of the highest-rated bike parks in Spain! Sierra Nevada Bike Park  offers one-of-a-kind cycling for everyone from beginners to experts from June through September. They've recently revamped their routes and created all-new experiences to make the park better than ever. More than 30 kilometers of bike paths span from 2,100 to 3,000 meters high, and there are seven downhill circuits as well.
For those more intrepid bikers, there are several long distance routes that allow you to see the best of Granada province as well. One local favorite is the Granada TransAndalus route, which takes you across nearly 300 kilometers of pure, beautiful terrain. The stunning mountain views and quaint, picturesque villages make for incredible scenery along the way.
See Also: The complete guide to public transportation in Granada.
Pin me!