Wondering where to eat in Granada? Below I'll share my favorite spots for tapas, breakfast, international cuisine, wine, and more! I'll also tell you the foods and drinks everyone should try when visiting this gorgeous city!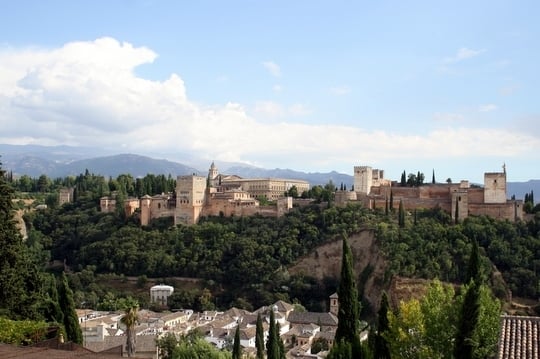 A little-known (and slightly embarrassing) fact about me is that after studying abroad in Granada for four months as a student, I was convinced Spanish food was quite lacking!
How could that be?
I was living with a host mom who cooked frozen foods and rice salads. I knew that this didn't represent the way all Spanish people cooked, but she somehow convinced me that Spaniards didn't eat much meat (we had chicken once throughout my stay).
So I survived on free tapas and kebabs. While this may sound glorious to some, the reality wasn't so great. Granada is famous for including a "free" tapa with every drink, but they generally are not top quality—and definitely not very nutritious!
And kebabs, as delightful as they may be, can sometimes make you feel like you've swallowed a large brick. Simply put, I had no idea where to eat in Granada (or what to order!).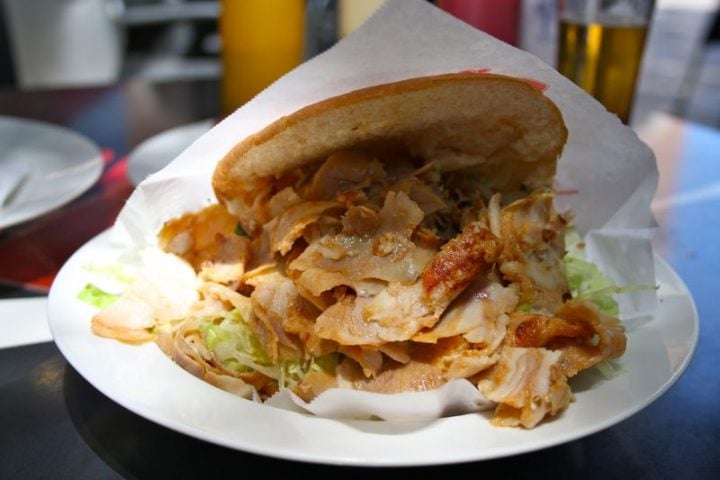 But, luckily, only a few years later, I became borderline obsessive about finding the best places to eat when I traveled. And Granada was no exception.
Since my time studying abroad, I've been back to Granada over 20 times, eager to make the most of every meal on each visit. Here are my tried-and-true recommendations—if you have other suggestions, please add them to my list in the comments!
Below you'll find some of my personal favorite places to eat in Granada, which I update each time I visit.
And if you haven't booked a hotel in Granada yet, check out these posts:
Granada Tapas 101
Granada does tapas quite differently than other cities...
In Granada, tapas are "free." I put free in quotes because many argue that their price is included in the elevated cost of your beverage—either way, they come with each and every drink (alcoholic or not). They are generally small dishes and get better and better with every round. This entices people to stay put instead of going on a tapas crawl!
Other portion sizes that people often order (and pay for) are:

Media raciones (half plates/portions)
Raciones (full plates/portions)

Prices in Granada range greatly, from under €2 for a cheap glass of house wine to over €4 for a glass of something special. Your free tapa can be as simple as cheese, or something more elaborate like stews and rice dishes.
Look around first; some tapas bars will let you choose your tapa! So look at what others are being served and don't be shy about asking. Worst case scenario you can't choose and will just have to stay for another drink or two!
Don't hesitate to order larger portions. It's easy to get caught up in the idea of the "free" tapas—but if you are hungry and want some say in the matter, order a media ración or full ración to share. These plates will ensure you don't leave hungry.
What to Eat in Granada – Top 15 Must-Try Foods & Drinks
Here are some of the most typical foods in Granada, which I consider among this city's most incredible bites.
Read More: Living Like a Local in Granada
Fried Fish (Pescaíto Frito)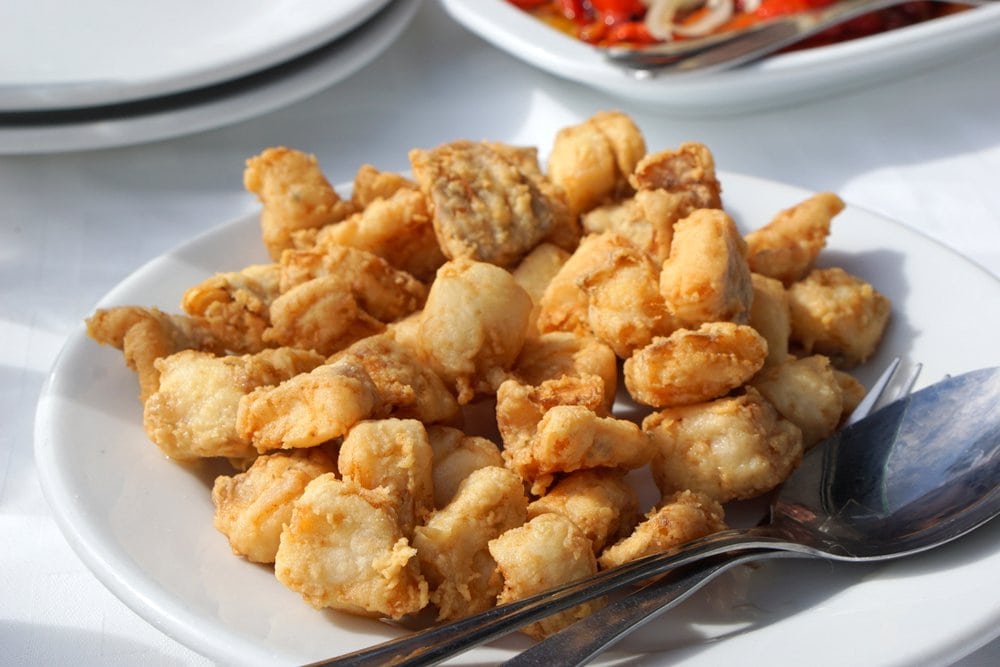 Granadinos love their fried fish, and enjoy it in small fish fry tapas bars and takeaway stalls called freidurías. Here are some common fish you'll find on a menu:
Bacalao: Cod
Merluza: Hake
Gambas: Shrimp
Tortillitas de Gambas: Tiny shrimp fritters
Calamares del Campo: Fried peppers and onions (vegetarian-friendly)
Calamares: Calamari/squid rings
Choco: Thick slices of squid
Huevas: The roe sacks of different fish
Cured Ham (Jamón de Trevélez)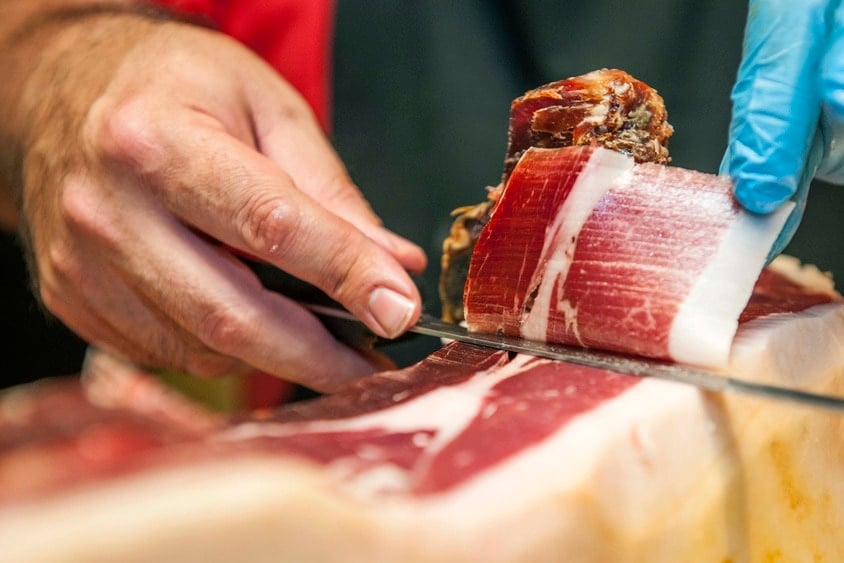 The mountainous region of Las Alpujarras (southeast of Granada) is home to some of the area's best ham. This is not Iberian acorn-fed ham, but rather a ham called jamón de Trevélez. It comes from a white-hooved pig and is air-dried in small ham factories that dot the region.
The actual village of Trevélez is the highest in all of mainland Spain! You can find ham on just about everything in Granada (if you're a vegetarian, start practicing "sin jamón, por favor")!
Read More: The Beauty of Las Alpujarras
Extra Virgin Olive Oil
While the Andalusian regions of Jaén and Córdoba may be the most famous for olive oil, Granada can definitely hold its own, and some wonderful producers are found less than an hour from the city. Make sure the restaurants you're visiting have aceite de oliva virgin extra for your salad and bread!
See More: Guide to Spanish Olive Oil
Moroccan Food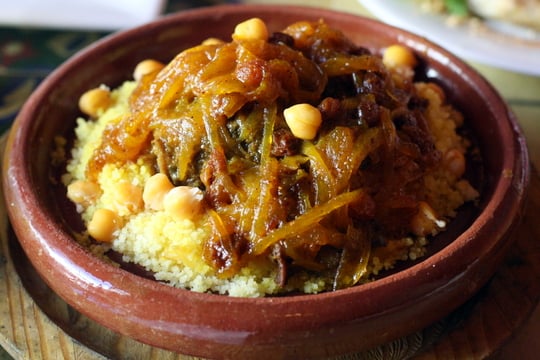 Granada is one of the best places in Spain to eat authentic Moroccan dishes. Some of them actually originated in Granada—not Morocco—when it was still part of Al-Andalus. See my restaurant recommendations below to taste some of the city's best.
Kebabs
As a student city, Granada has a thriving kebab scene. As I said earlier, I survived for four months on free tapas and kebabs! In my opinion, the best kebabs in Spain come from Granada!
Arabic Sweets (Dulces Árabes)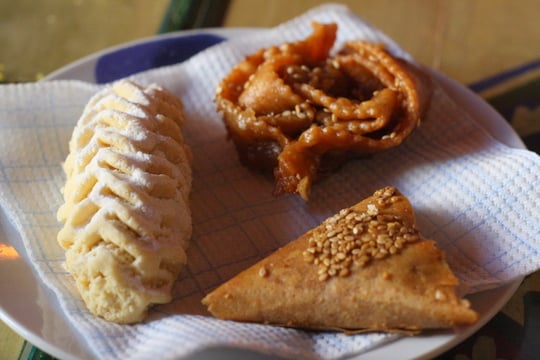 In Granada's tea shops and kebab windows, you'll also find dulces árabes. These are pastries like baklava and other sweets made of phyllo dough, nuts, and honey or sugar syrup.
Tea (Té)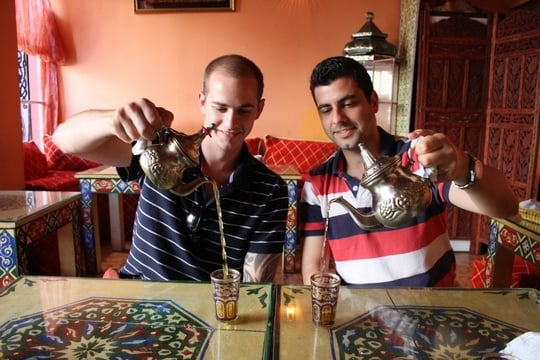 When I was a student in Granada I went out nearly every night (my classes the next day didn't start until 3 p.m.!). But it wasn't always for a beer or wine—often I visited a tea shop for a pot of steaming hot tea. My favorites were the classic mint tea and the milky spiced té pakistaní (which reminds me of chai).
Migas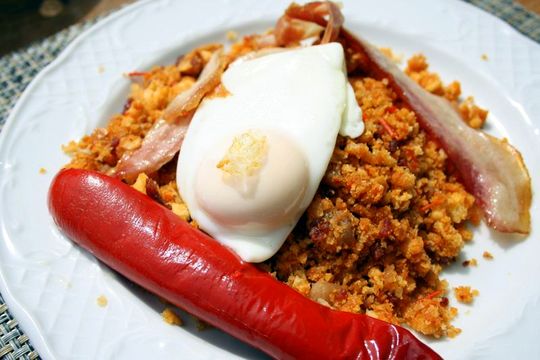 Made using stale bread as the body of the dish (kind of like American stuffing), the Granada version of migas (common to the Alpujarras area) also includes garlic and is usually topped with a grilled green pepper and local sausages.
Plato Alpujarreño
Another traditional dish from the mountains consists of a hearty combination: blood sausage (morcilla), pork loin (lomo), sausage (longaniza), cured ham (jamón), potatoes (papas a lo pobre), and a fried egg. This is a dish you need to be hungry to eat—but it's so satisfying!
Read More: Typical Food from Las Alpujarras
Toast with Tomato (Tostada con Tomate)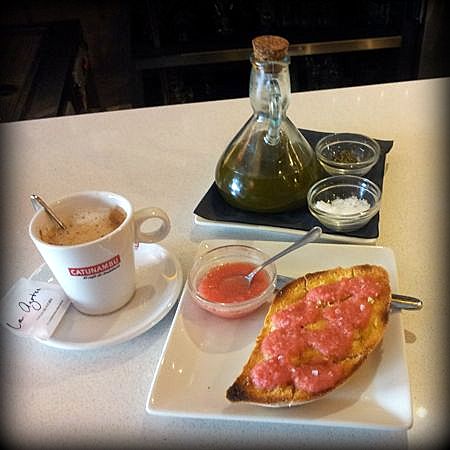 Although they're common throughout Spain, the proximity of Granada to delicious tomatoes makes this an especially great place to enjoy your breakfast toast with freshly grated tomato and extra virgin olive oil. Some places also do homemade jams—worth asking!
Churros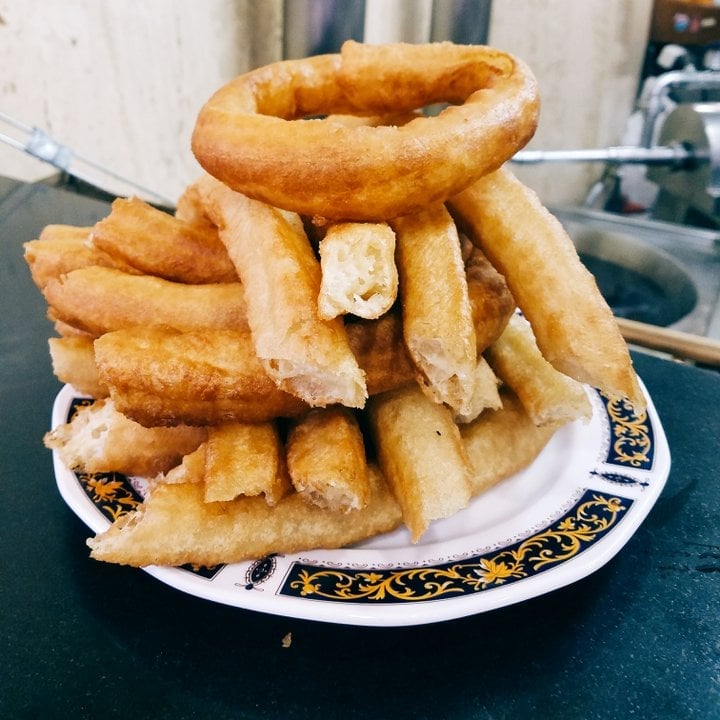 I adore the fluffy style of churros that are common in Granada. Perfect dipped in sugar (I prefer this to the thick mugs of chocolate), you can find them in Granada's churro cafés in the morning (from about 8 a.m. to noon) and afternoons (about 5 to 8 p.m.).
Broad Beans Sautéed with Cured Ham (Habas con Jamón)
A really common tapa in Granada is broad beans and ham. Simple—but totally delicious. I'd never really eaten broad beans before moving to Spain, but now I'm hooked!
Meatballs (Albóndigas)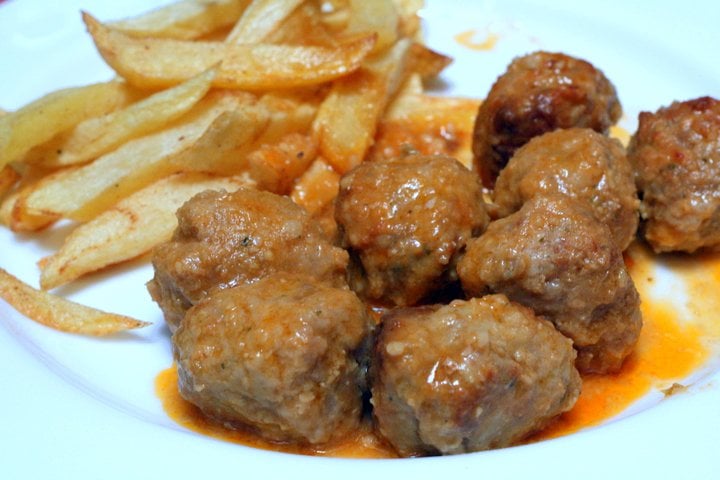 The word albóndiga comes from Arabic; we know this because it starts with "al." I have a feeling that meatballs have been a part of Granada's cuisine for many years. Luckily we can still find delicious meatballs at many local tapas bars.
Piononos
Granada's signature pastry (with origins in Al-Andalus as well), these homemade delights are a must-try. They consist of a delicate sponge cake soaked in milk and spices, which is wrapped around sweet custard. They're perfect with coffee.
Pomegranates (Granadas)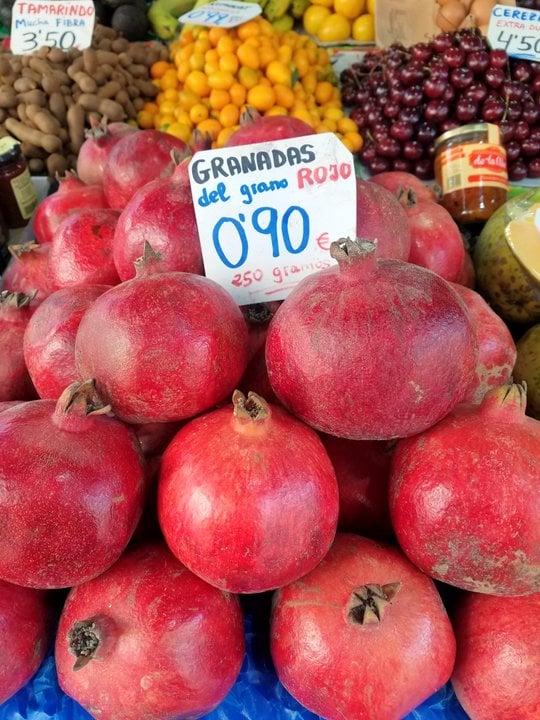 If you're lucky enough to visit when pomegranates are in season (fall/winter) don't hesitate to taste the namesake fruit of this city! Other delicious winter fruits are persimmon (kaki) and custard apple (chirimoya).
Where to Eat in Granada – The Best Tapas Bars, Restaurants & Cafés
Restaurante Más Que Vinos
This lovely little bar/restaurant is around the corner from the main streets and really worth a visit. Their wine list is decent and reasonably priced, and their tapas are made using top ingredients.
When we saw a slice of cheese on bread as our first tapa we were a bit disappointed—but then it turned out to be the most delicious bite of cheese we'd had in a long time!
Calle Tundidores, 10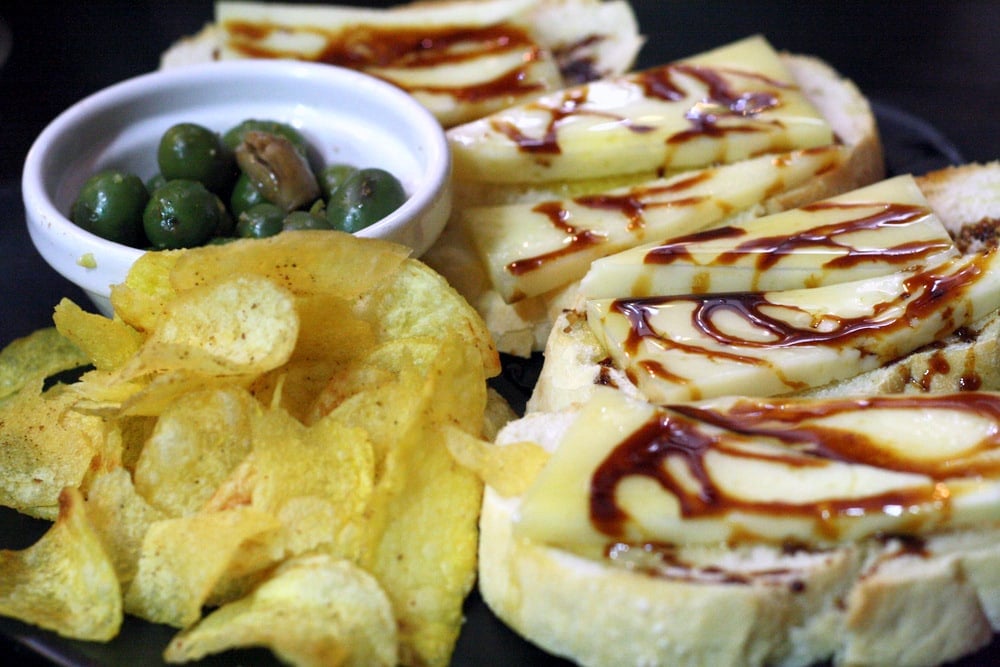 Pastelería López-Mezquita
Pastelería López-Mezquita is one of the city's most historic pastry shops and a great place to taste the Granada specialty, a pionono.
Calle Reyes Católicos, 39
Heladería Los Italianos
Famous for their Italian-style gelato, Los Italianos is considered the best ice cream in Granada by locals. Try their locally inspired flavors—like pionono!
Calle Gran Vía de Colón, 4
Taberna La Tana
A tiny hidden gem with an impressive number of wines by the glass. Try something local (Granada makes some great wines!) and learn about their wide selection.
Placeta del Agua, 3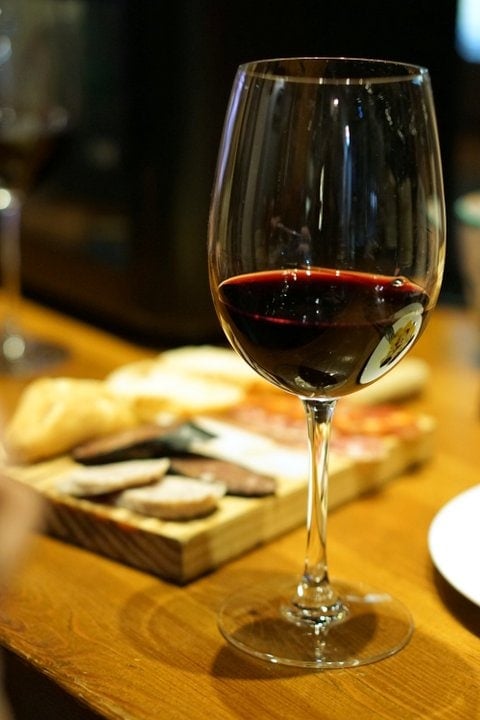 Bodegas Castañeda
One of the most authentic "old-man bars" in Granada (go in at aperitif time and you'll understand why we use that term!), this is a must-visit for a drink while in town.
You have all the standards of an old-fashioned Spanish bar, grumpy waiters and enormous wine barrels included. I usually stop here for a drink only (as the tapas leave a lot to be desired).
See Also: Best Historical Bars in Granada
Calle Almireceros, 1–3
Bar Los Diamantes
The most famous fried fish tapas bar in town. Cram in and enjoy a caña (small beer) with a generous free tapa. It doesn't get much better than this!
Plaza Nueva, 13
Tajine Elvira
My favorite restaurant for authentic Moroccan food in Granada, this place started out as a tiny hole-in-the-wall run by a husband-and-wife team, and has now moved down the street to a slightly larger space. Go for a tea, couscous, and tagine—and don't miss the pastela.
Calle Elvira, 46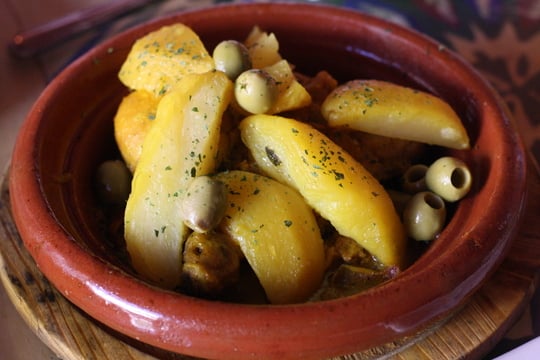 Om Kalsum
One of the most famous tapas bars in town, here you'll receive a Moroccan-inspired free tapa with your drink. I think the quality is hit or miss, but it's definitely fun when you need a break from all the jamón!
Calle Jardines, 17
La Botillería
One of the most-loved tapas bars by locals, this is a great place to enjoy a glass of wine and a tapa (or two!). They also have great homemade desserts, which is a rarity in Granada!
Calle Varela, 10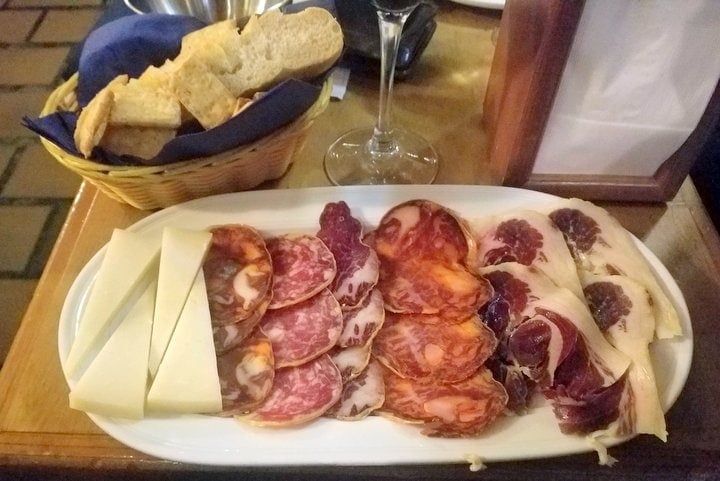 Gran Café Bib-Rambla
One of my favorite places in town for freshly fried churros, this bar sits at one corner of Granada's gorgeous Plaza Bib-Rambla. It's definitely worth a visit in the morning at the height of the breakfast rush to see the local way of life.
Plaza de Bib-Rambla, 3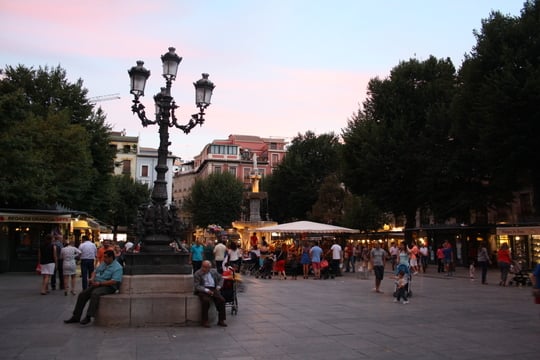 Casa de Vinos La Brujidera
Hidden away right outside the city center, this tiny wine bar is perfect for a night of tapas and wine. Go early to get valuable bar space, and stick around since the tapas definitely improve each round.
Calle Monjas del Carmen, 2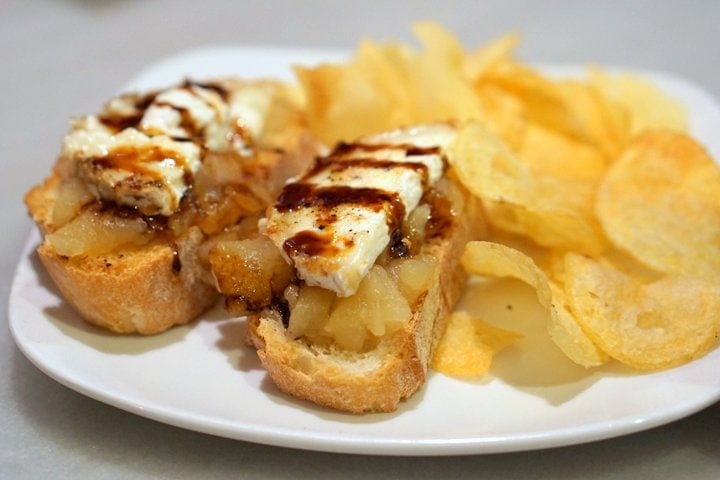 Café 4 Gatos
I'm not an expert in the tapas bars and restaurants of the Albaicín area, but I do love Café 4 Gatos for breakfast. Their toasts are enormous and delicious, and they have options you don't find at more traditional places.
Placeta Cruz Verde, 6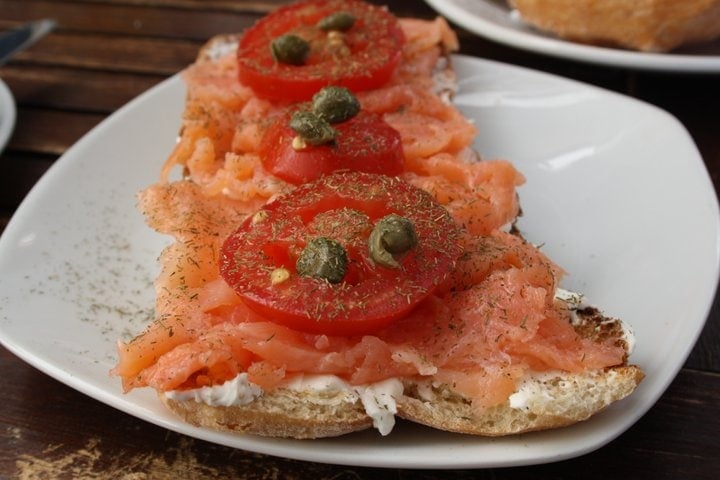 See Also: The Best Spots for Brunch in Granada
El Trillo
For beautifully presented food in a quiet corner of the Albaicín, you can't go wrong at El Trillo. This is not a tapas bar, but rather a restaurant. I recommend dining in the pretty courtyard—make a reservation!
Callejón Aljibe de Trillo, 3
Taberna Catavinos
One of my favorite tapas bars in Granada, this small place is located near the university and is worth seeking out. We usually order a few raciones to share, and also enjoy the tapas that come with our wine. They have a large selection of wines and are happy to help you decide.
Calle San Miguel Alta, 35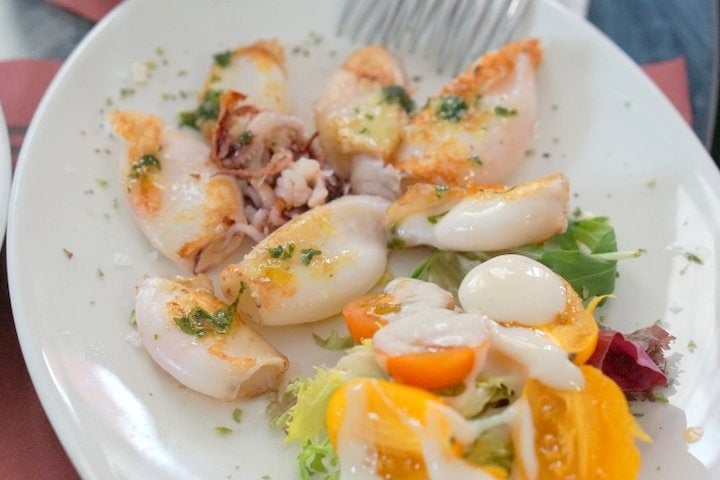 La Trastienda
This shop/tapas bar is a bit odd—you have to sneak under the bar to get to the back room! The front of the place is a small deli, specializing in gourmet products. If you sit in the back room you can enjoy cured meats and cheeses with wine or vermouth.
Plaza de Cuchilleros, 11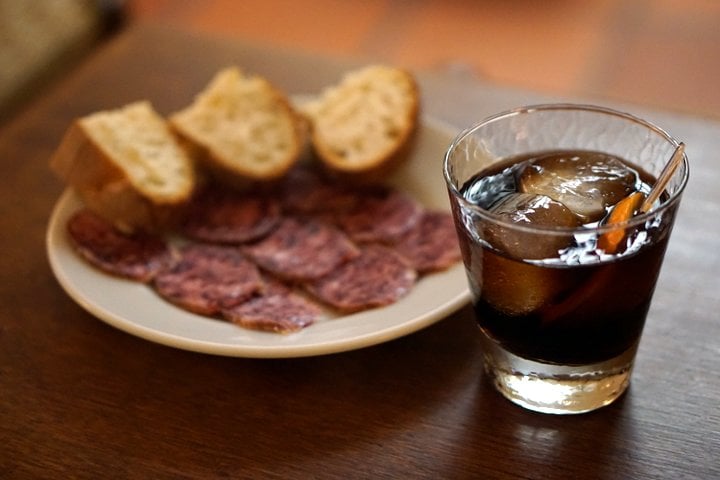 Read More: Where to Eat Near the Alhambra
Eating in Granada – Know Before You Go
Some restaurants add a bread and service charge to the bill, which ranges from €1 or less per table to €2 per person, depending on the place. If you don't want bread brought to the table, specify "sin pan por favor," though unfortunately sometimes you'll still be charged. Feel free to complain if this is the case, though the easiest thing to do is to eat like a Spaniard and enjoy your bread!
Don't take offense when waiters are running around and slam down your drink—it's not rude, just a part of the show they put on! You often have to be assertive to get a waiter's attention—feel free to signal them over. This is not rude. Don't expect to be asked if you want a second drink, more food, the check, etc. Just be assertive and ask!
You aren't required to tip in Granada, but rounding up the bill and leaving up to 10% for excellent service is definitely appreciated (I always tip my servers). Waiters work hard and earn a very low monthly wage.
BYOT—bring your own toilet paper! Granada's best tapas bars get busy and the bathrooms often lack toilet paper—especially in the ladies' room. Go prepared with a pack of tissues to be safe.
Learn to love the afternoon merienda. From around 5:30 to 7:30 p.m. you'll see locals having a drink and a bite to eat in local cafés, churro bars, and pastry shops, instead of having dessert right after a meal. And remember—an afternoon snack at 7:30 means dinner is late! Do as the locals and don't dine before 9:30 p.m.!
My opinion of Granada has definitely changed over the years! I went from thinking that the food was pretty awful to loving my visits here—precisely because of the food! While you do have to seek out the good places, when you find them the value for money is great, and the products are excellent.
I'm so excited to share the culinary history of this incredible city (Andalusian cuisine fascinates me) and mix these stories and recipes into more posts about Granada!
For now, you can check out my posts about boutique shopping in Granada, tips for visiting the Alhambra, and more.
Love Spanish food? Sign up for my free weekly newsletter and receive a new Spanish recipe once a week! Join today and get my FREE Spanish ingredient essentials guide!