Santiago de Compostela is the perfect place for a quiet luxury getaway and offers a variety of charming, unique places to stay. If you are someone who looks for special accommodation when you travel, don't miss this list of the best boutique hotels in Santiago de Compostela.
Best Boutique Hotels in Santiago de Compostela
1. Hotel Gastronomico San Miguel
Well-located just a stone's throw away from the famous cathedral of Santiago, this comfortable, cute boutique hotel with only 16 rooms is perfect for a stay in the Galician capital. This is one of the best boutique hotels in Santiago de Compostela because of its cozy ambiance, great location, friendly staff, and lovely courtyard garden! The hotel lives up to its gastronomic name with a fantastic restaurant that serves up delicious Galician dishes and local wines.
Address: Praza San Miguel dos Agros, 9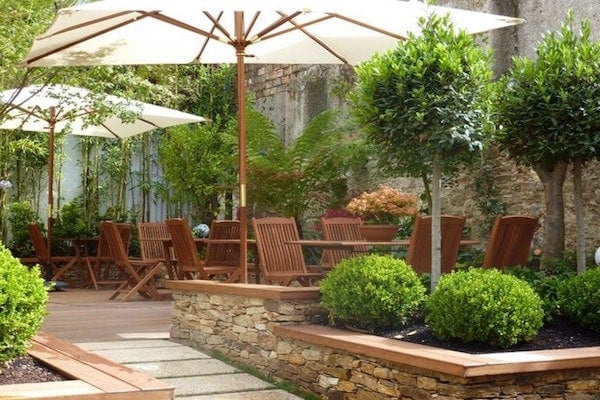 2. Altair Hotel
This chic boutique hotel is a great place to relax away from the crowds. But it's central enough to walk around Santiago's historic center. Beautiful stone walls and woodwork are an authentic feature in the hotel. The breakfast variety is sure to hit the spot before exploring the nearby cathedral or one of the many local museums.
Insider's Tip: Book a top floor suite for a fantastic view of the city when you wake up in the morning!
Address: Loureiros Street, 12
3. Boutique Hotel Literario San Bieito
This quirky hotel prides itself on its amazing service. You can indulge in tea, coffee, and snacks at any time day or night in the breakfast room. Guests can enjoy the use of a Smart TV and a tablet in every room. Its name as a "literary hotel" comes from the fact that there's a large collection of e-books from local, national, and international authors to enjoy! It's consistently voted one of the best boutique hotels in Santiago de Compostela.
Address: Rua San Bieito 1
4. Capitol Boutique Hotel
This charming hotel boasts cool décor and a great location just on the edge of the historic city center but only a 10-minute walk to the cathedral. Its comfortable, modern rooms and bathrooms are a welcome sight after a day of shopping, sightseeing or museum-hopping! You can enjoy a delicious breakfast in the breakfast room on the ground floor before heading out to start your day in the city. If you come by car, you can even park in the hotel's garage for a small fee. The excellent service and high-quality accommodation and features make this a great boutique hotel in Santiago de Compostela.
Address: Concepcion Arenal 7
Now that you've found the perfect place to rest your head in the city, what about the perfect place to indulge in the great local gastronomy? Don't miss our Santiago de Compostela food guide.
Did we miss your favorite boutique hotel in Santiago? Leave it in the comments!