If you're like me, your love affair with Spanish food was probably love at first bite. And after a blissful period of eating your way around Spain, you'll probably find that the food will take the top spot on your list of things you miss. However, the foodie fun doesn't have to stop there—why not learn to recreate your favorite Spanish recipes at home? Thanks to these fabulous cooking classes in Malaga, you can do just that. Get ready to learn the magic behind your favorite bites!
Top Cooking Classes in Malaga
1. A Cooking Day
Set in an idyllic farmhouse in the quaint countryside just outside the city, A Cooking Day provides some of the most authentic, down-home cooking classes in Malaga. Owner and Malaga native Mayte welcomes guests into her family's home for unforgettable culinary experiences that take inspiration from her own grandmother's recipes. She'll show you the secrets behind some of the most beloved traditional dishes in a friendly, welcoming environment where you'll immediately feel at home.
There are several different courses available, including an organic cooking class and a two-day market & cooking experience. The menu for each class changes seasonally to reflect the freshest local products available.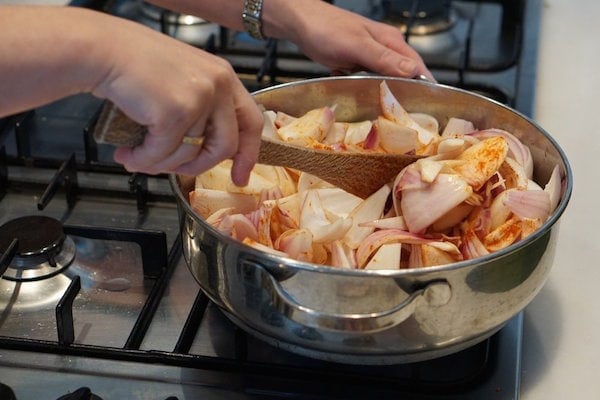 2. La Rosilla
Get ready to leave the busy city behind and immerse yourself in charming rural Spain. At La Rosilla's Cooking & Culture Days, you'll get off the beaten track—about 40 minutes from the city, to be more specific—and get to the root of pure, simple and delicious Spanish cooking.
The day starts with breakfast in a traditional cafe before you head out to the beautiful country home where the course takes place. You'll enjoy your meal al fresco (weather permitting) with stunning mountain views and plenty of time for sobremesa (the Spanish tradition of sharing good conversation around the table long after the meal has ended). There's no better way to spend a leisurely day!
3. Andalucía Experiencias' espeto workshop on the beach
Have you really been to Malaga if you haven't tried espetos? These salty sardines, grilled to perfection on old fishing boats, are the quintessential staple of local cuisine. The best part? They're not that hard to make!
Andalucía Experiencias' espeto workshop starts off with a tour of one of Malaga's most charming and traditional fishermen's quarters. You'll also make a brief visit to the fascinating maritime museum and see how the boats are made before heading back to the beach to learn the secret to grilling the perfect espetos and try it for yourself. And of course, the experience ends with a beachfront dining experience, during which you'll devour the espetos you made.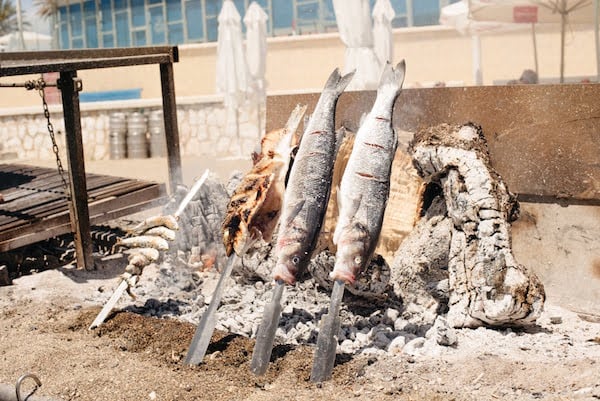 4. Spain Food Sherpas
One of the top cooking classes in Malaga immerses you in the heart of the city's food scene. Spain Food Sherpas offers both tapas and paella cooking classes, both of which start off with a visit to the vibrant, colorful Atarazanas Market, as well as a traditional ultramarinos shop. Here, you'll pick up the ingredients straight from the proud local producers whose families have sold these fresh products for generations.
From there, it's off to their state-of-the-art cooking space to prepare your recipes! The tapas class places a focus on malagueño dishes, whereas the paella class will show you how to create Spain's most recognizable dish. Both cooking classes include wine and olive oil tastings, so you can learn even more about the flavors and aromas of southern Spain.
5. AIL Malaga Spanish & Cooking Classes
Plan on staying here longer than a few days and want to brush up on your Spanish? Say no more—AIL Malaga's Spanish & Cooking Classes are just what you're looking for. Courses run from one to three weeks and include both Spanish lessons in a traditional classroom setting, as well as hands-on cooking opportunities in the kitchen. By the end of this unique two-in-one experience, you'll have mastered the basics of the Spanish language as well as its cuisine! If you're looking for one of the best cooking classes in Malaga that will help you improve your language skills as well, this is the perfect fit for you.
See Also: 10 typical foods from Malaga you'll want to taste again and again
Pin me!