This blog post was originally posted on April 8, 2016 and was updated on November 9, 2017.
Malaga may be more famous for its sweet wines (think Pedro Ximenez or Moscatel,) but in recent years, the region has undergone a revolution of sorts. With delicious and sophisticated red and white wines coming from areas such as Ronda, Malaga now boasts one of the most diverse, up-and-coming winery scenes in all of Spain.
Whether you consider yourself a wine aficionado, or simply want to taste a variety of delicious wines from the southern region, check out these fabulous Malaga wine tours and add one of them to your Andalusian adventure.
Top Malaga Wine Tours Worth Taking
Tannin Trail
A Tannin Trail Wine and Food Tour gives you a great insight into Andalusian wine, right in the heart of some of the region's most fascinating wineries. With doorstep pickup in Malaga's city center, you'll travel in style to local boutique vineyards where passionate professionals will show you the true art of winemaking.
Their experiences include full day trip to nearby Ronda, which includes red, white and rosé wine tastings. Each glass of wine comes with carefully selected tapas pairings, and if you're still hungry after all those tasty treats, you can opt in for lunch straight from the winemaker's kitchen to finish off the day! Alternatively, you'll be given time to explore beautiful Ronda and the fascinating Moorish architecture of the city.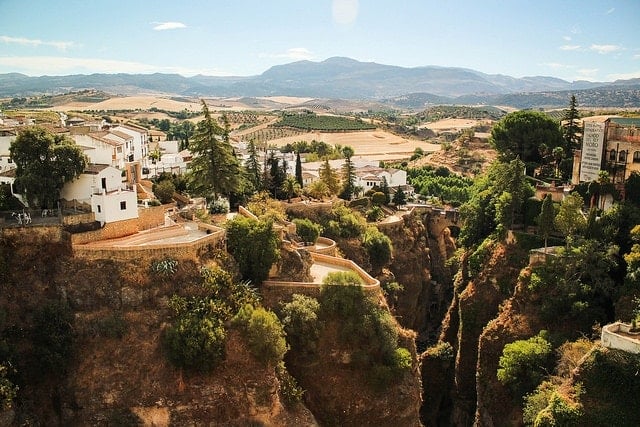 Cellar Tours
If you want your entire Andalusian adventure organized for you and for your holiday to center on delicious food and wine, a Cellar Tours experience is the way to go! This tour provides comprehensive weeklong routes through all of the southern region's main cities, visiting the sites and tasting local specialty wines and food along the way.
With the experience starting in Malaga, venture into the city for some delicious tapas before your adventure begins. You'll travel to Seville, Córdoba, Jerez and Ronda, with VIP private tours and tastings at a number of prestigious estates en route, before returning to our beautiful city.
What's the mode of transport? Chauffeured Mercedes of course, to go along with the luxurious hotels you'll stay in during your trip—this truly is the ultimate VIP wine tour in Malaga!
Wine Tourism Spain
Another luxury Malaga wine tour is Wine Tourism Spain's Private Malaga Wine Tour. You'll head deep into the Malaga Mountains, sampling some of the province's most traditional wines in one of the oldest wineries in the province. This off the beaten track gem offers spectacular views and scenery as you sip award-winning vinos. The experience also includes a visit to one of the typical white villages of Malaga, where you'll try delicious homemade tapas.
Learn more: Top wines to order in Malaga
Pin Me!
Photo Credit: The Travel Addict Diaries