I'm on a recipe kick and although I'm mainly posting about ways to add a Spanish twist to your Thanksgiving menu, I'd be doing the world an injustice if I didn't share my mom's best apple crisp recipe. This has been her secret until now, but I have permission to share 🙂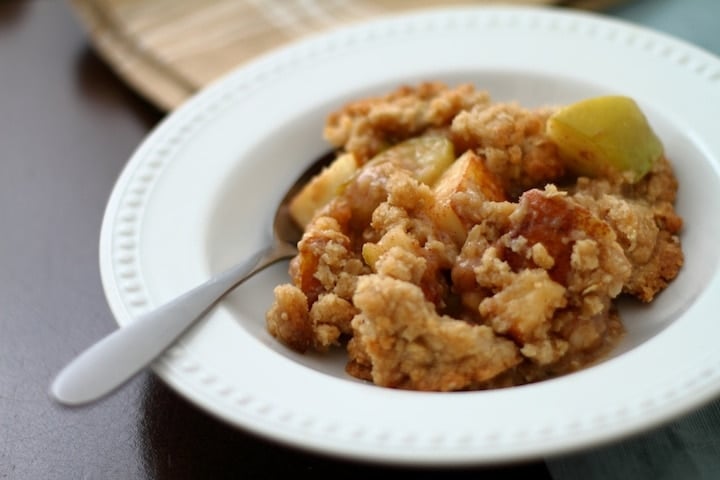 Apple crisp is my definition of fall in Massachusetts. I think back to visiting the local apple orchard, and choosing from 20+ different types of local apples while sipping on hot cider. And those apples... they're one of the things I miss most about home (along with fall foliage of course!). There are so many types, each with a distinct taste, and all so delicious.
My mom's apple crisp was always one of my favorite desserts growing up. She'd make it on Sunday nights in the fall, and we'd enjoy it after dinner. Sometimes I'd eat it for breakfast the next day too (I don't know if my mom ever knew that).
I think it's the best apple crisp recipe I've tried-- it's simple, crunchy and buttery-- and heavenly with good vanilla ice cream on top.
So forget the apple pie this year-- try my apple crisp recipe instead!
Spanish wine pairing: In honor of International Sherry Week, I'm going to pair this apple crisp with a Pedro Ximenez. Why? Well, Pedro Ximenez is one of the world's sweetest wines (around 350 natural grams of sugar per liter!). And the rule is, pair sweet with sweet. My mom's apple crisp is very sweet, and the creamy vanilla ice cream balances things out. PX is amazing with vanilla ice cream-- making it all come together! The key here is finding a PX with complexity and acidity. I had a bottle of Colosia Pedro Ximenez around the house and it paired perfectly. Enjoy!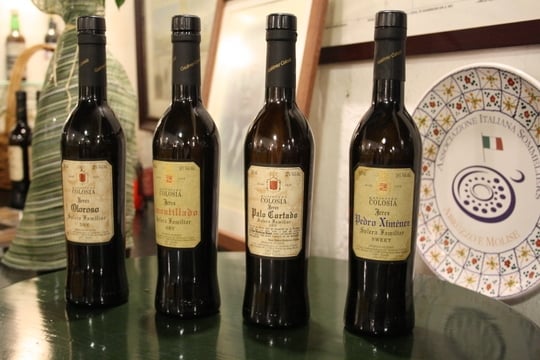 Best Apple Crisp Recipe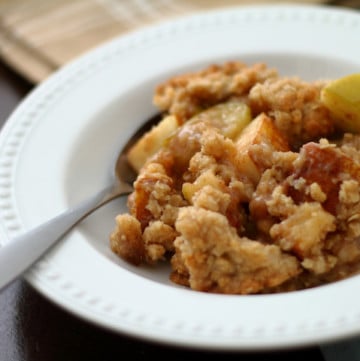 Ingredients
6

Granny Smith apples

1

cup

200 g sugar

¾

cup

90g flour

⅓

cup

80g butter, at room temperature

¼

cup

60ml water

1

teaspoon

5g ground cinnamon

½

teaspoon

2.5g fine salt
Instructions
Preheat your oven to 350°F (180°C)

Peel the apples and cut them into medium chunks. You should get about 10 chunks per apple -- it's okay if they aren't uniform. Make sure they aren't too small or you'll get applesauce instead of apple crisp! And if they're too large they'll be dry.

Place the apple chunks in a baking dish (8 inches). Drizzle the water over the apples, evenly.

Evenly sprinkle with the cinnamon and salt.

In a small bowl, mix together the flour and sugar.

Add the room temperature butter and mash with the back of a fork. You want to make a chunky paste with plenty of crumbs too.

Cover the apples with this mixture.

Bake for about 40 minutes until the top is golden brown and the apples are bubbling.

Serve with real vanilla ice cream (get the good stuff!) and a glass of Pedro Ximenez
Nutrition
Calories:
371.76
kcal
|
Carbohydrates:
70.66
g
|
Protein:
2.21
g
|
Fat:
10.69
g
|
Saturated Fat:
6.56
g
|
Cholesterol:
27.11
mg
|
Sodium:
198.17
mg
|
Potassium:
211.46
mg
|
Fiber:
4.97
g
|
Sugar:
52.23
g
|
Vitamin A:
413.43
IU
|
Vitamin C:
8.37
mg
|
Calcium:
19.63
mg
|
Iron:
0.94
mg
More delicious dessert recipes
What do you think? Are you a fan of apple crisp, or do you prefer apple pie? I hope my mom's best apple crisp recipe comes in handy this year!