Here in Spain, fried calamari is one of the most loved tapas. Today I'll show you how to prepare an easy Spanish calamares fritos recipe from home! All you'll need is calamari (squid), flour, lemon, and some seasoning. For super tender calamari, I also use my mother-in-law's secret ingredient (milk!). So go ahead and treat yourself to delicious fried squid rings at home — they're easier than you may think.
It's lunch time in Cadiz and my mother-in-law brings out a heaping plate of golden rings. It's time for her delicious calamares fritos. These golden, crispy rings of fried squid are one of my favorite tapas.
And like most traditional Spanish tapas, they're simple to prepare at home.
The trick (as usual) is to get great quality calamari. If you're in Spain, this should be easy — you can get fresh calamari at nearly any supermarket. If you're located elsewhere, no worries. Most supermarkets these days sell very good quality frozen squid. And freezing squid before cooking tends to make it even more tender, so it's perfect for this recipe!
When we eat fried calamari in Spain, it's usually one of many dishes. It may be part of a large fried seafood platter, or part of a tapas feast. It's common for both lunch and dinner — and even enjoyed in sandwich form! That's right, the bocadillo de calamares (fried calamari sandwich) is Madrid's signature sandwich and a must-try recipe.
But today we're focusing on the squid rings themselves — I'll show you how to make Spanish fried calamari using a whole squid, and share my tips for great results every time.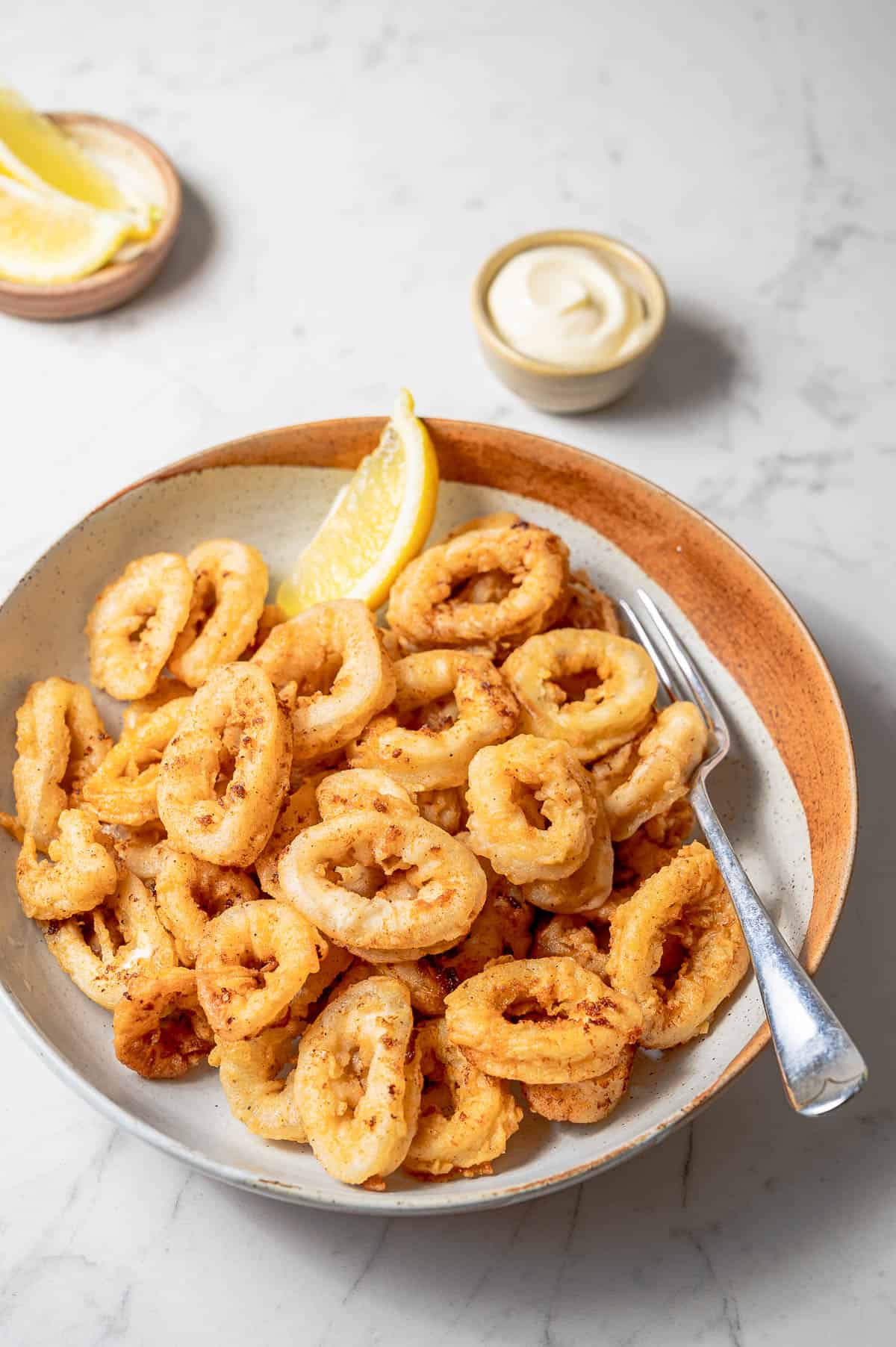 Key Ingredients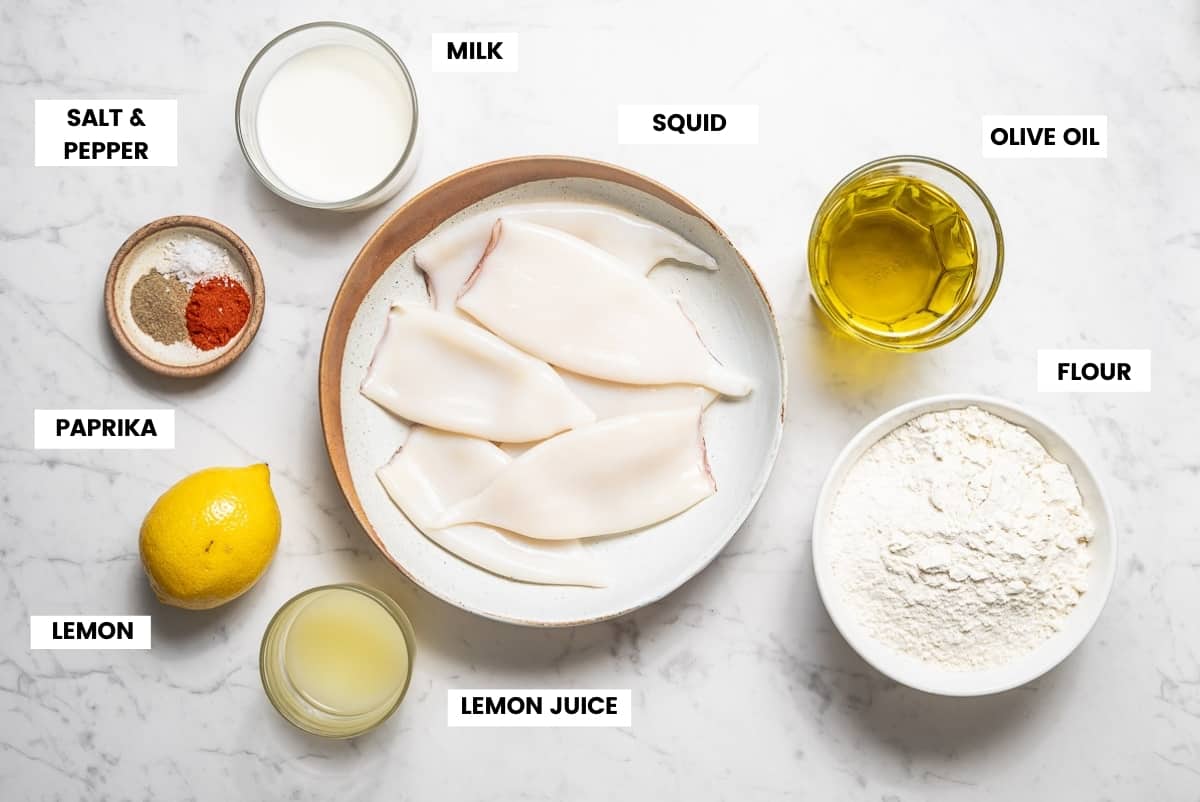 Key ingredients: Squid, lemon, flour, paprika, pepper, salt, milk, olive oil.
Ingredient Notes & Substitutions
Squid: I like buying whole fresh squid. If I'm in a hurry I even ask the fishmonger to clean and cut it into rings. But sometimes I take it home whole and do it myself — there's something I enjoy about cleaning squid! If that's not you, no worries. Plenty of places sell frozen rings which are easy to work with and still delicious. If you can't find squid you can substitute cuttlefish cut into strips (called chocos fritos in Spanish).
Flour: I use all-purpose flour here, but a great gluten-free option is chickpea flour. You could also go the extra mile and use some breadcrumbs too (either egg + breadcrumbs or flour + egg + breadcrumbs) but I don't find the extra breading adds much!
Spices: This recipe keeps this simple with black pepper and paprika. Spice things up with a little cayenne pepper.
Milk: My mother-in-law uses milk to tenderize the squid. But feel free to skip this step if you can't have milk. Or you can use lemon juice instead!
Olive Oil: Frying in good quality olive oil (preferably extra virgin) is key to getting true Spanish style calamares fritos.
Easy Fried Calamari: Step by Step
Making homemade fried calamari is easy! Follow these simple steps for restaurant-quality calamares fritos every time.
Steps 1-2: First you need to tenderize the calamari for the best results. Cover the calamari rings with milk or lemon juice (pictured below) and leave marinating for 30 minutes. You can leave them in milk for a few hours if you prefer. In the meantime, mix flour, salt, black pepper, and paprika in a large bowl.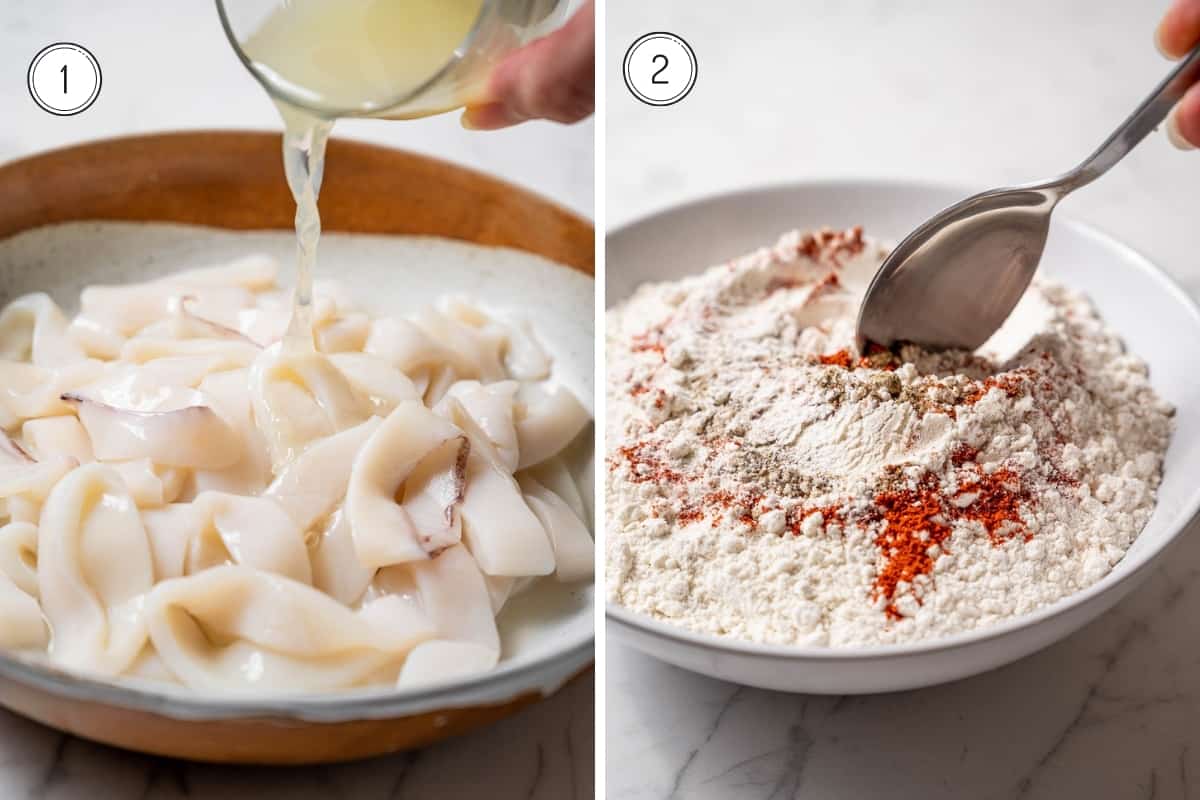 Steps 3-4: Next, dry the calamari rings on paper towels. You need to dry them fully — any extra moisture will mix with the flour and stop the calamari from becoming nice and crispy. We don't want that! Then, cover each ring with the flour mixture.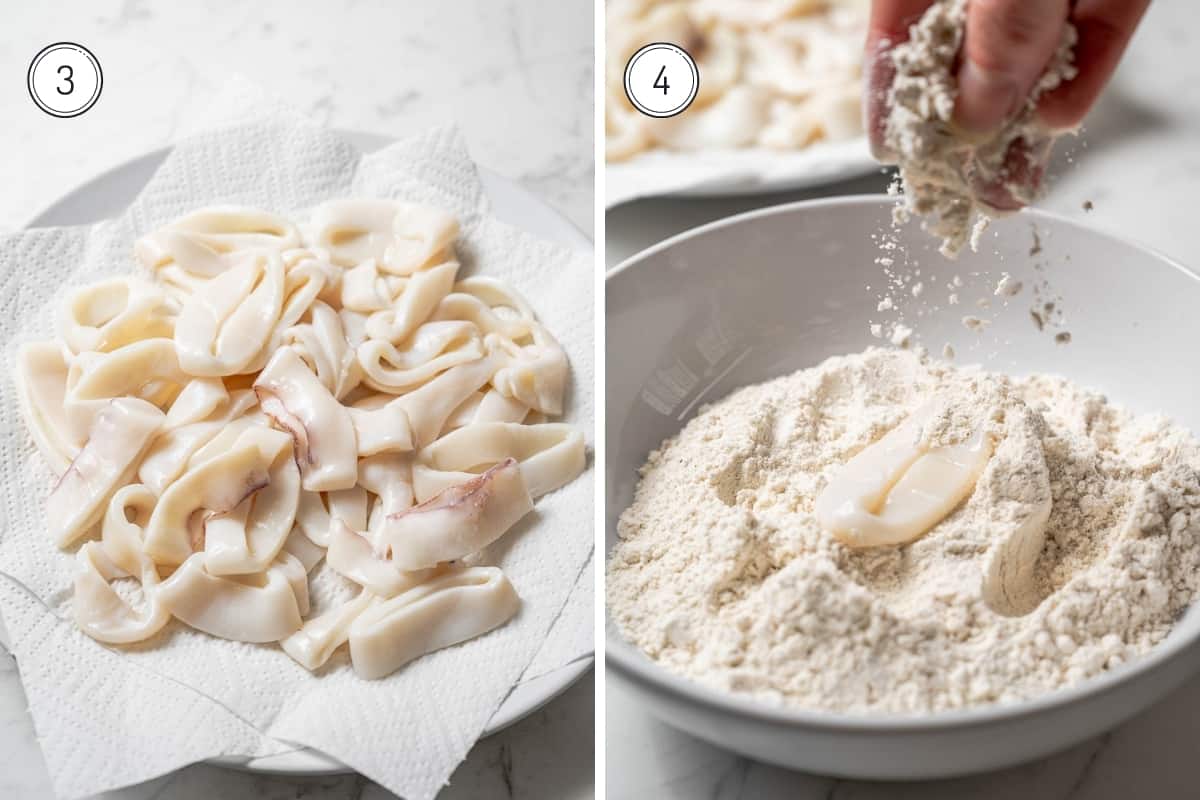 Steps 5-6: Now, quickly dip the calamari ring in milk and then back in the flour. This double coating (when done right) results in super crispy and delicious calamares fritos.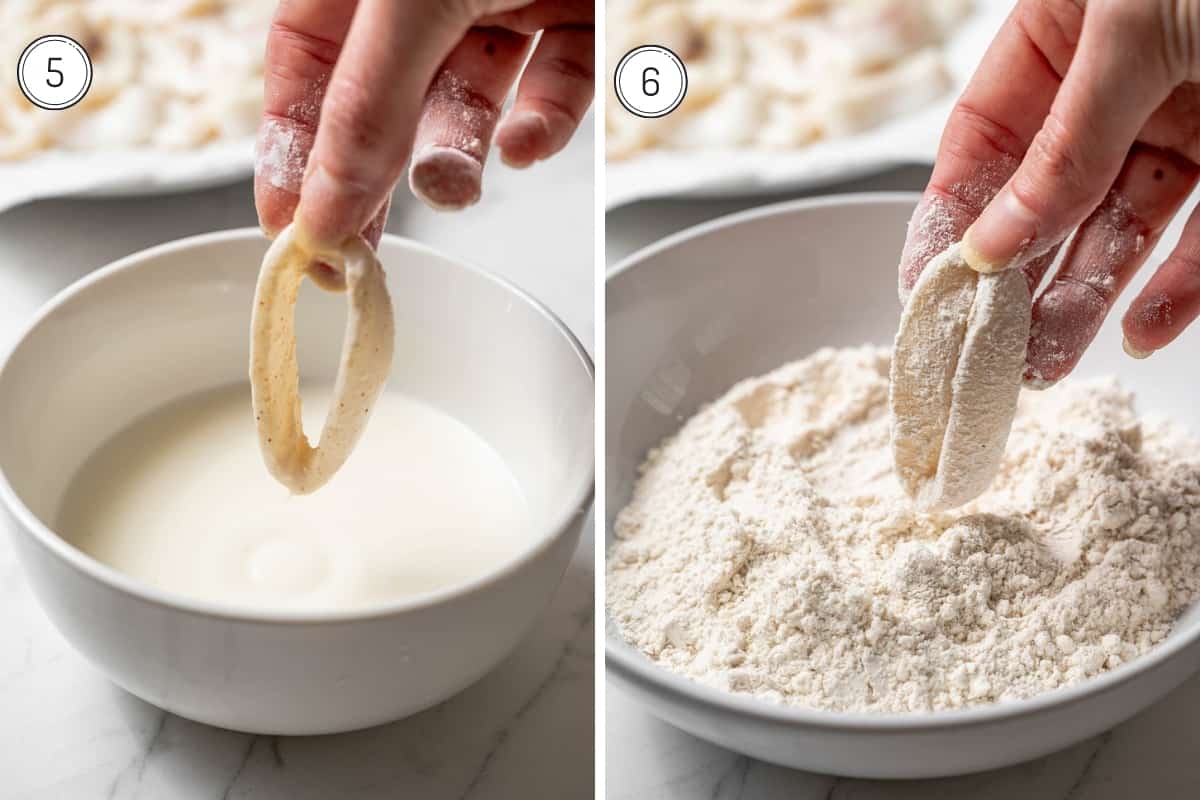 Steps 7-8: Heat a frying pan with olive oil until very hot (but not smoking) and deep fry the squid rings in batches. Don't overcrowd the pan. Fry for about two to three minutes and remove with a slotted spoon.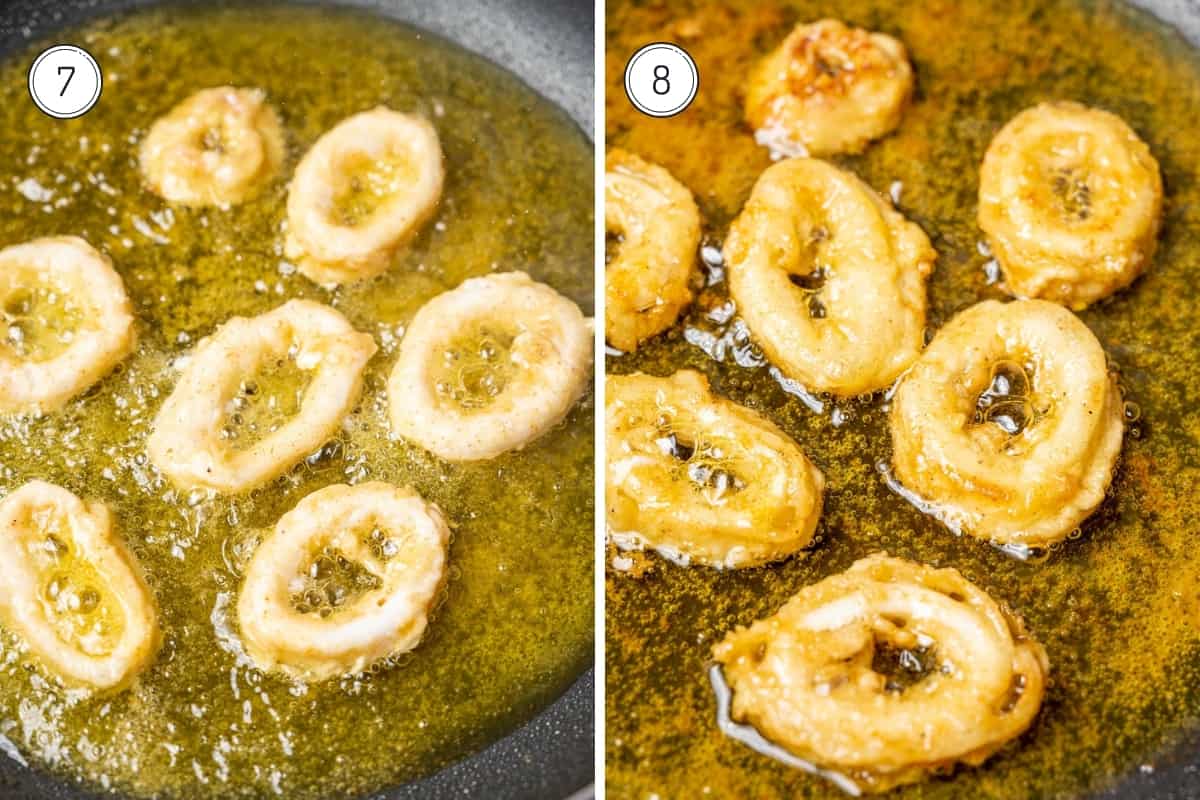 Drain excess oil onto paper towels and sprinkle with sea salt. Serve with lemon wedges and alioli dipping sauce (optional, but delicious!).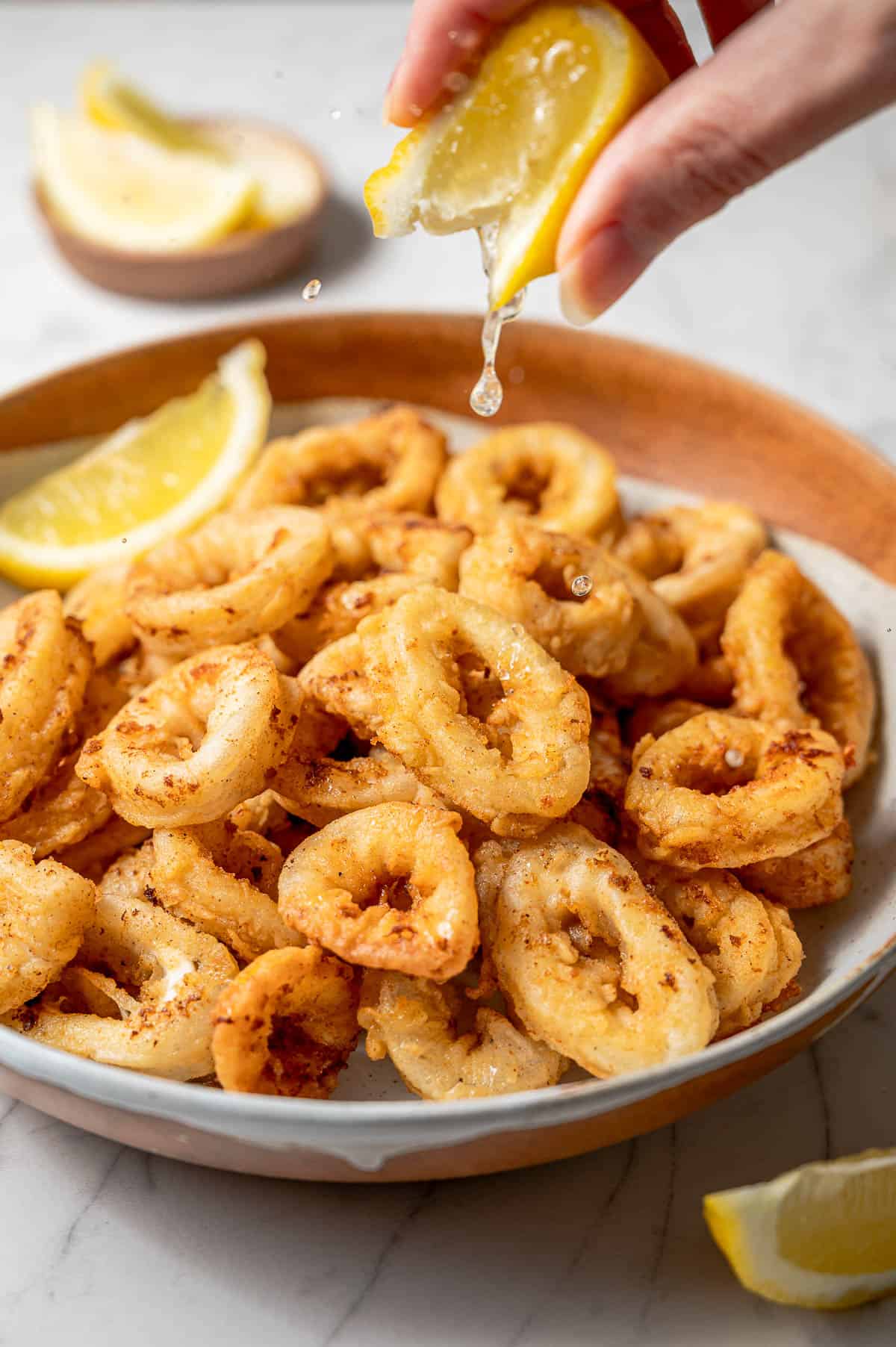 Recipe Tips & FAQs
Here I try to answer common questions about making fried calamari. If you have a question I haven't answered, leave me a comment below!
Can I use frozen calamari rings to make fried calamari?
If you can't get a hold of fresh squid, don't worry! You can use frozen calamari rings to make fried calamari without any issues. Simply defrost the calamari before using it by placing it in the fridge a few hours before cooking.
What is the best coating for fried calamari?
The best coating for fried calamari isn't too heavy. It should stick to the calamari and become super crispy when fried. The ideal coating is flour — either all-purpose or chickpea flour. For more flavor the flour can be mixed with spices such as black pepper, paprika, garlic powder, or cayenne pepper.
How can you make gluten free fried calamari?
Making gluten free fried calamari is super simple. You need to find garbanzo (chickpea) flour. Then just follow the same recipe below.
How do you make calamari tender?
One of the tricks to getting tender calamari rings every time is to marinate the raw squid rings in milk or lemon juice. After cutting the squid into rings simply cover with milk or lemon juice and marinate for about 30 minutes. If using milk you can leave it even longer (if using lemon juice stop after 30 minutes so that the squid doesn't cook from the acid of the lemon). These methods will help tenderize the squid and keep it from getting too chewy when you bite into it later.
Is calamari squid or octopus?
Calamari is squid! Squid and octopus are both cephalopods, but they are quite different. Squid are usually smaller than octopus and more tender when cooked.
How do you clean calamari?
Cleaning calamari is fun! You'll need to remove the inedible cartilage, ink sacks, and heads, or just ask to have them cleaned for you before you buy them. Here's a video of how to do this.
Serving Suggestions
Serve homemade calamari with an assortment of other Andalusian foods and tapas, or as a simple standalone appetizer. I love to mix fried foods like ham croquettes and fried eggplant with honey along with Spanish cold tapas like ensaladilla or marinated carrots. Mix and match as you like!
Plate your calamares fritos with some simple fresh lemon wedges and a sprinkle of sea salt, and if you would like a dipping sauce, try some garlicky alioli.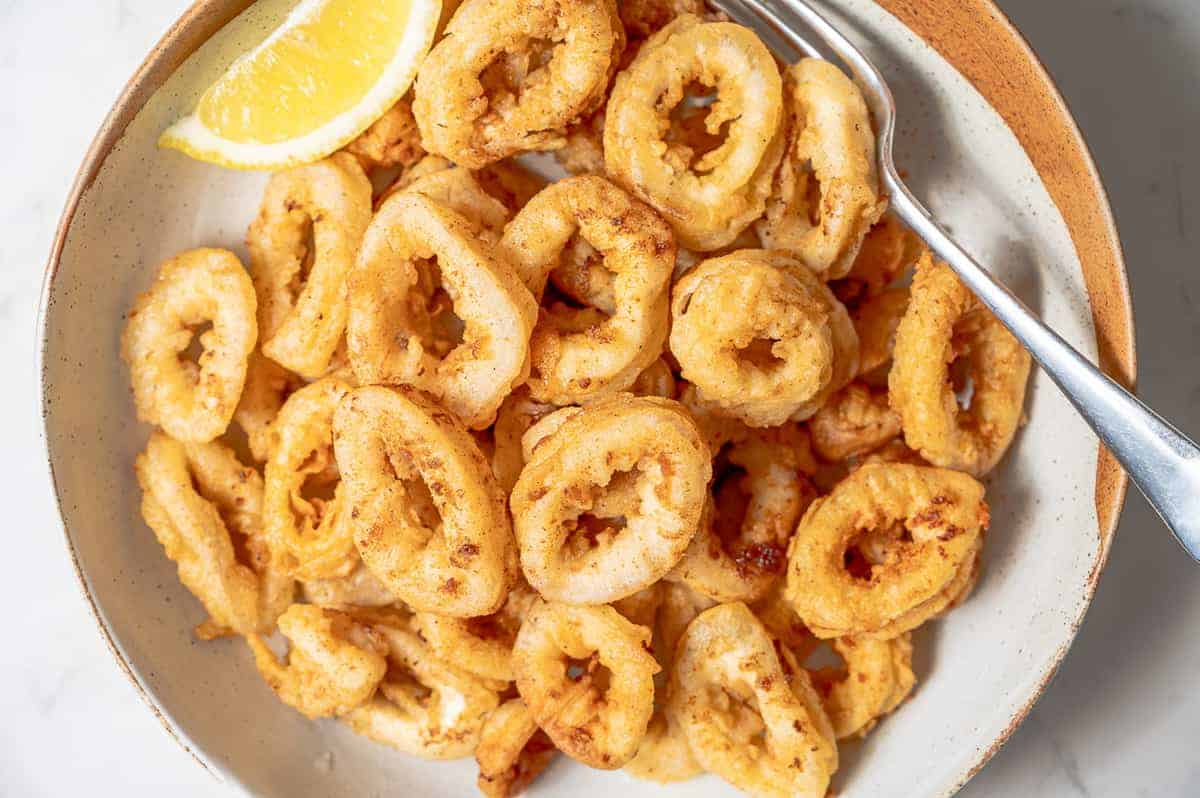 More Easy Tapas Recipes
If you loved this delicious calamares fritos recipe — try these other Spanish tapas!
Hungry for more? Sign up for my free weekly newsletter and receive a new Spanish recipe once a week! Join today and get my FREE Spanish ingredient essentials guide!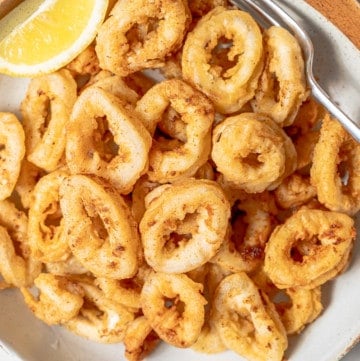 Fried Calamari Recipe (Calamares Fritos)
This Spanish fried calamari recipe is easy and delicious! With just a handful of ingredients and a few simple steps, you'll have restaurant-quality tapas in no time!
Print (images optional)
Pin
Rate
Ingredients
1

pound

of squid

cleaned and cut into rings (about 1/2 kilo)

juice from 1 lemon or enough milk to fully cover the squid

2

cups

all-purpose flour

(240 g)

1/2

teaspoon

smoked paprika

(2.5 g)

1/2

teaspoon

black pepper

(2.5 g)

1

pinch

of salt

1/2

cup

whole milk

(120 ml)

2

cups

of olive oil

or enough for frying in the pan you use

1

lemon

sliced into wedges, for serving
Instructions
Slice the cleaned squid into rings about half an inch thick. Move to a mixing bowl and pour over the lemon juice or milk. I prefer the milk method, but you can use whatever you have on hand. Set aside for 30 minutes to tenderize the squid.

Meanwhile, combine the flour, paprika, salt, and black pepper together in a bowl. Pour half of the mixture into a second bowl. Pour the 1/2 cup of milk into a third bowl.

When the squid has finished tenderizing, drain off the liquid. Dry the squid with paper towels. You don't want any extra moisture.

Place a large skillet over medium-high heat and pour in the olive oil to a depth of just over half an inch.

When the oil is hot, prepare the squid one piece at a time by dunking it in the first bowl of the flour mix, then in the milk bowl, then in the second bowl of the flour mix.

Fry in groups (careful not to overcrowd the pan) for 2-3 minutes or until golden brown on both sides.

Serve hot, with wedges of lemon or homemade alioli.
Notes
For extra tender calamari make sure to marinate the squid in either milk or lemon for at least 30 minutes before frying. If using milk you can marinate for a few hours — even overnight. With lemon juice, limit the time to 30 minutes or they'll cook from the acid.
For gluten-free fried calamari simply substitute chickpea (garbanzo) flour. They're delicious!
You can use frozen calamari rings as long as you defrost them first and remove extra moisture with paper towels.
These are best served immediately, but you can eat leftovers for up to two days. Store in the fridge in a sealed container and reheat in a hot oven for a few minutes. 
Nutrition
Calories:
478.2
kcal
|
Carbohydrates:
31.12
g
|
Protein:
21.89
g
|
Fat:
29.65
g
|
Saturated Fat:
4.57
g
|
Cholesterol:
266.23
mg
|
Sodium:
70.17
mg
|
Potassium:
385.52
mg
|
Fiber:
1.75
g
|
Sugar:
1.81
g
|
Vitamin A:
200.48
IU
|
Vitamin C:
19.64
mg
|
Calcium:
72.7
mg
|
Iron:
2.61
mg
Update Notice: This post was originally published on May 20, 2020, and was republished with new text and photos on April 20, 2021.
Did you try my fried calamari recipe? What's your favorite Spanish seafood tapas dish? Let me know in the comments below!
Photography by Giulia Verdinelli