David and I met in Andalusia, where fried calamari is one of the most loved tapas. Today he shows us how to prepare his calamares fritos recipe from home!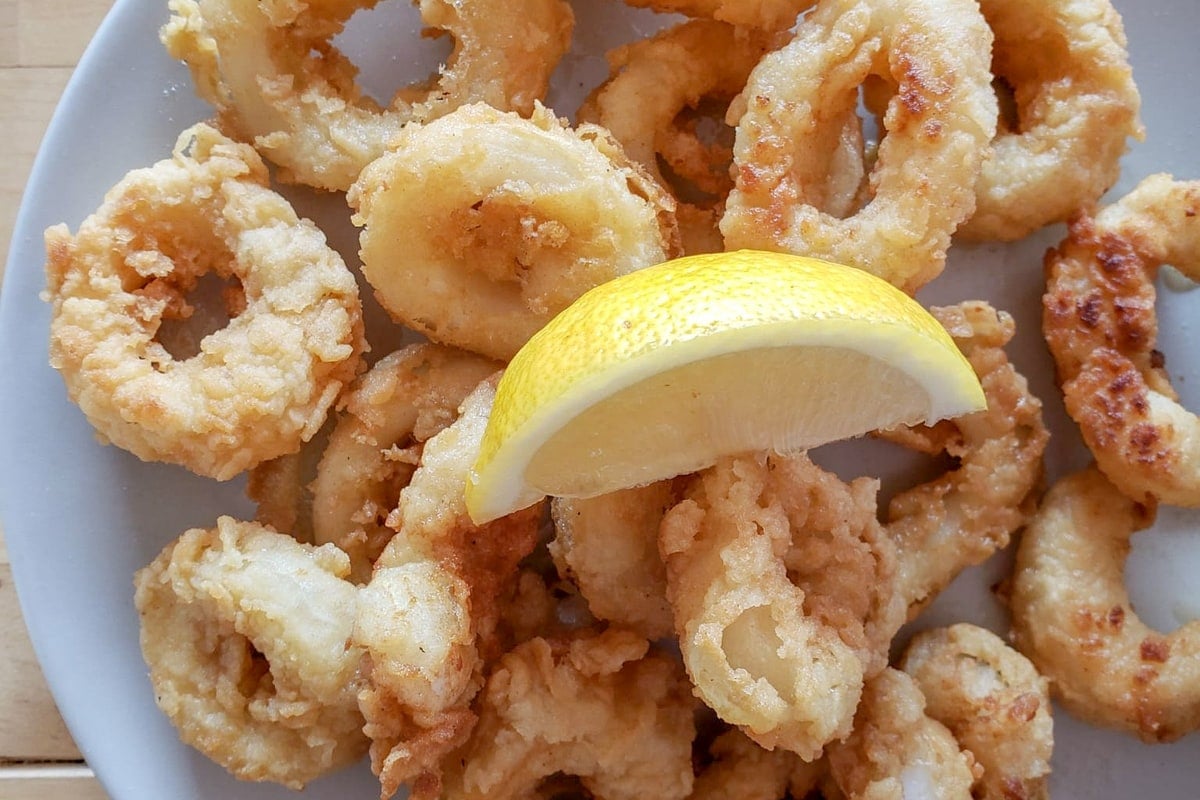 For me, Sunday lunch in Seville isn't complete without a big plate of calamares fritos. These golden, crunchy rings of fried squid are a tapas bar staple in sunny southern Spain, and one of my favorite things to eat!
Like most of the best tapas dishes, there's nothing complicated about calamares fritos.
Just take rings of squid (calamari), fry them, and… that's it! Spanish cooking is delicious because it's simple, honest, and made with local ingredients. We may eat a lot of fried food (but it's actually healthy!), and that's why you order a bunch of different tapas dishes!
Fried calamari rings are the perfect pairing to a warm bowl of Seville's other specialty, espinacas con garbanzos (spinach and chickpea stew).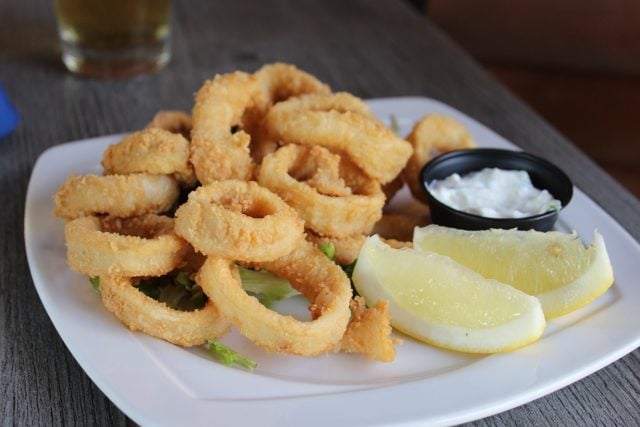 If you can't get a hold of fresh squid, don't worry! This recipe works equally well with frozen calamari. Whether it's fresh or frozen, just remember to clean the squid before cooking. You'll need to remove the inedible cartilage, ink sacks, and heads, or just ask to have them cleaned for you before you buy them. Here's a video of how to do this.
While the recipe is simple, it's important to give yourself time to let the squid soak in the lemon juice before frying. This will help tenderize the squid and keep it from getting too chewy when you bite into it later!
You can serve your Spanish fried squid as part of a tapas board, or as an appetizer! I like to serve calamares fritos with just some simple fresh lemon wedges and sea salt, but you can also add some garlicky alioli and still be authentically Spanish.
Spanish Fried Calamari Recipe
Calamares Fritos Recipe (Spanish Fried Squid)
This Spanish fried squid recipe will make you a plate of calamares fritos just as good as any tapas bar in Spain! With just a handful of ingredients and a few simple steps, delicious fried seafood has never been easier.
Ingredients
1

pound

about a 1/2 kilo of squid, cleaned

Juice of 1 lemon

2

cups

240g of all-purpose flour

1/2

teaspoon

2.5g of smoked paprika

1/2

teaspoon

2.5g of black pepper

1

pinch

of salt

1/2

cup

125ml of milk

2

cups

of olive oil

or enough for frying in the pan you use

1

lemon

sliced into wedges, for serving
Instructions
Slice the cleaned squid into rings about half an inch thick. Move to a mixing bowl and pour over the lemon juice. Set aside for 30 minutes to tenderize the squid.

Meanwhile, combine the flour, paprika, salt, and black pepper together in a bowl. Pour half of the mixture into a second bowl. Pour the milk into a third bowl.

When the squid has finished tenderizing, drain off the lemon juice.

Place a large skillet over medium-high heat and pour in the olive oil to a depth of just over half an inch. When the oil is hot, prepare the squid one piece at a time by dunking it in the first bowl of flour mix, then in the milk bowl, then in the second bowl of flour mix. Fry in groups (careful not to overcrowd the pan) for 2-3 minutes or until golden brown on both sides.

Serve hot, with wedges of lemon.
Nutrition
Calories:
358.13
kcal
Carbohydrates:
32.96
g
Protein:
21.74
g
Fat:
15.77
g
Saturated Fat:
2.46
g
Cholesterol:
264.83
mg
Sodium:
64.4
mg
Potassium:
386.92
mg
Fiber:
2.5
g
Sugar:
1.77
g
Vitamin A:
160.56
IU
Vitamin C:
33.95
mg
Calcium:
61.91
mg
Iron:
2.67
mg
Did You Make This Recipe?
Tag @spanishsabores on Instagram and share your results!
What's your favorite Spanish seafood tapas dish? Let me know in the comments below!