One of Spain's most traditional tapas is boquerones en vinagre -- vinegar cured marinated anchovies. Read on for the recipe and how we enjoy these delicious fish here in Spain.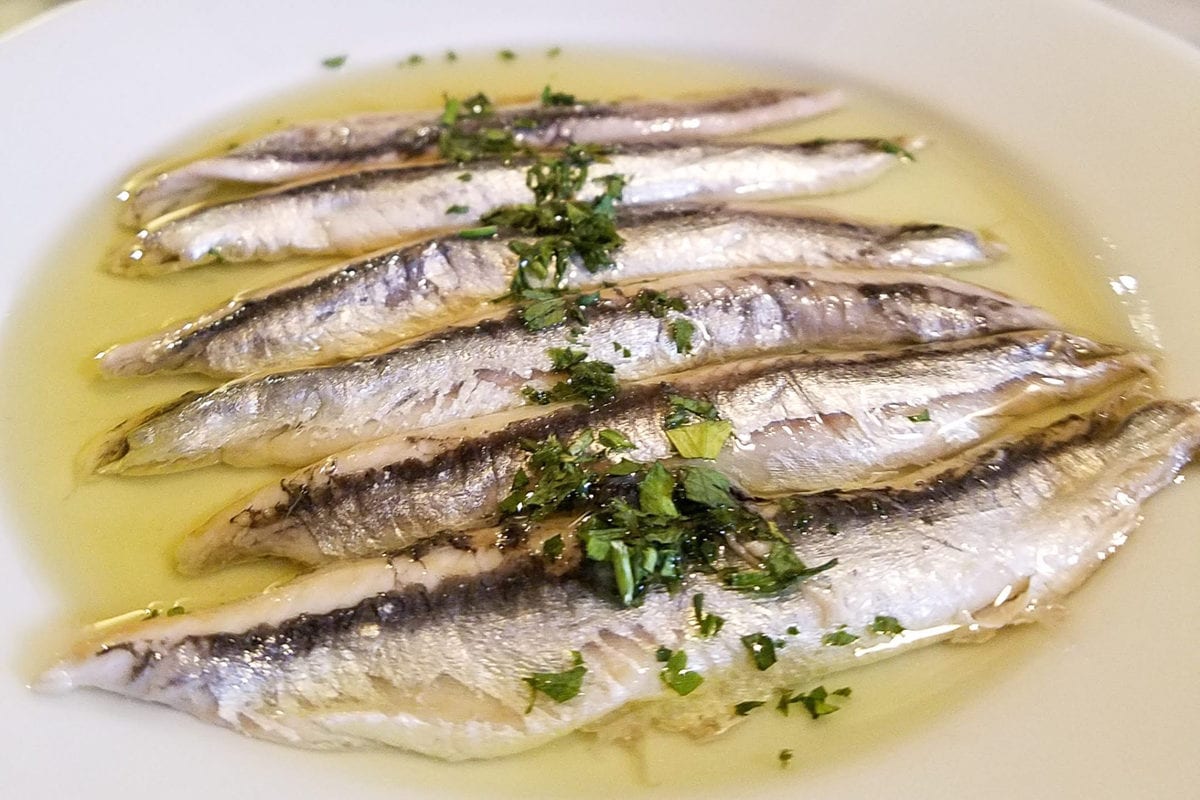 Spaniards love their anchovies. Prepared in many different ways, they're a common tapa throughout the entire country.
How to eat anchovies in Spain
Here in Spain, we prepare anchovies in many ways:
Anchoas are the brown, salt-cured anchovies that come in a can. They range in price from one euro to nearly 50 euros for a small can!
Boquerones fritos are fried fresh anchovies. They're usually battered and deep-fried. In Madrid, they are often served as a tapa with your beer. They're delicious!
Boquerones en vinagre are vinegar cured, or pickled, anchovies. They're a strong taste but once you try them you crave them! They pair well with Spanish vermouth.
While these fish are popular in all of Spain, anchovies are especially popular in Malaga, a part of Andalusia in southern Spain. Here the locals are even called boquerones!
This has a lot to do with the fact that Malaga is a city by the sea and one of the most plentiful fish has always been the boqueron, or anchovy.
How to make boquerones en vinagre
These fresh white anchovies are marinated in vinegar and later dressed with garlic, parsley, and olive oil. They go surprisingly well with a chilled glass of Spanish white wine -- verdejo, albariño, or even fino sherry would work well.
In Spain, it's generally rather easy to get your hands on pre-made boquerones en vinagre. You can order them as a tapa at almost any bar, and they even sell them prepared in the fish section of the market or grocery store.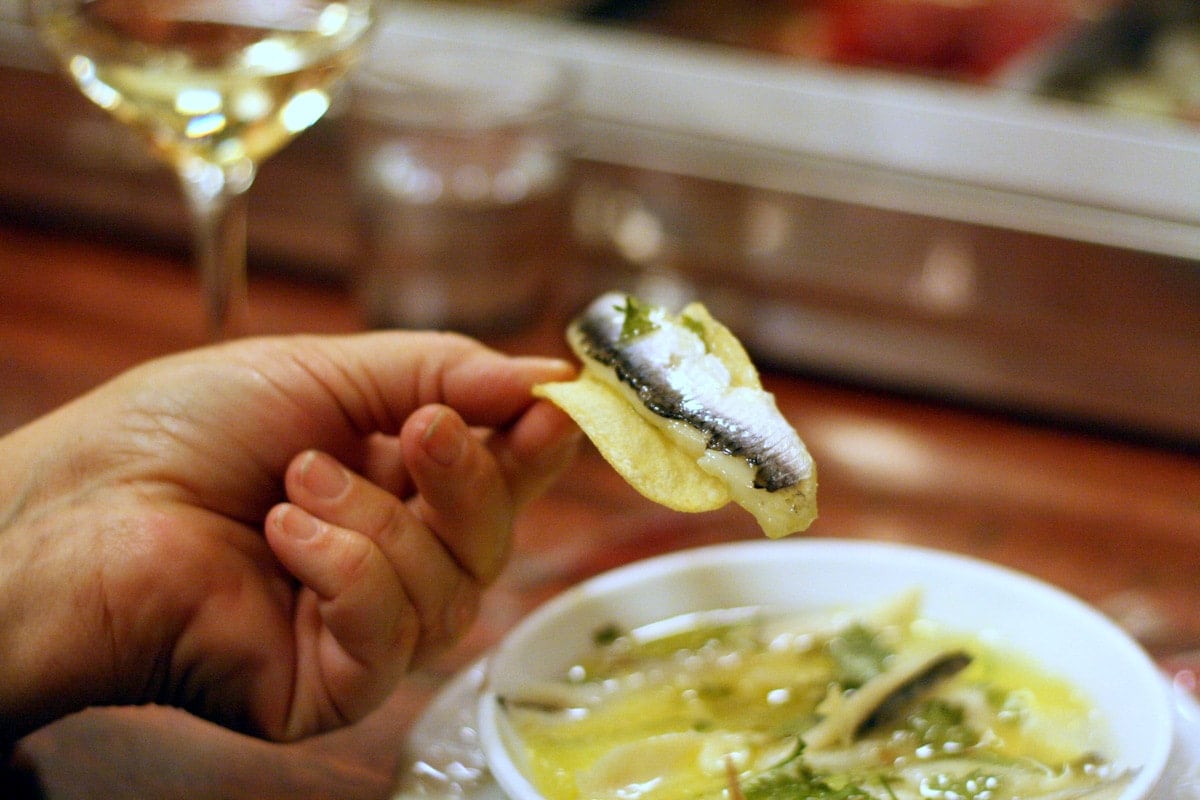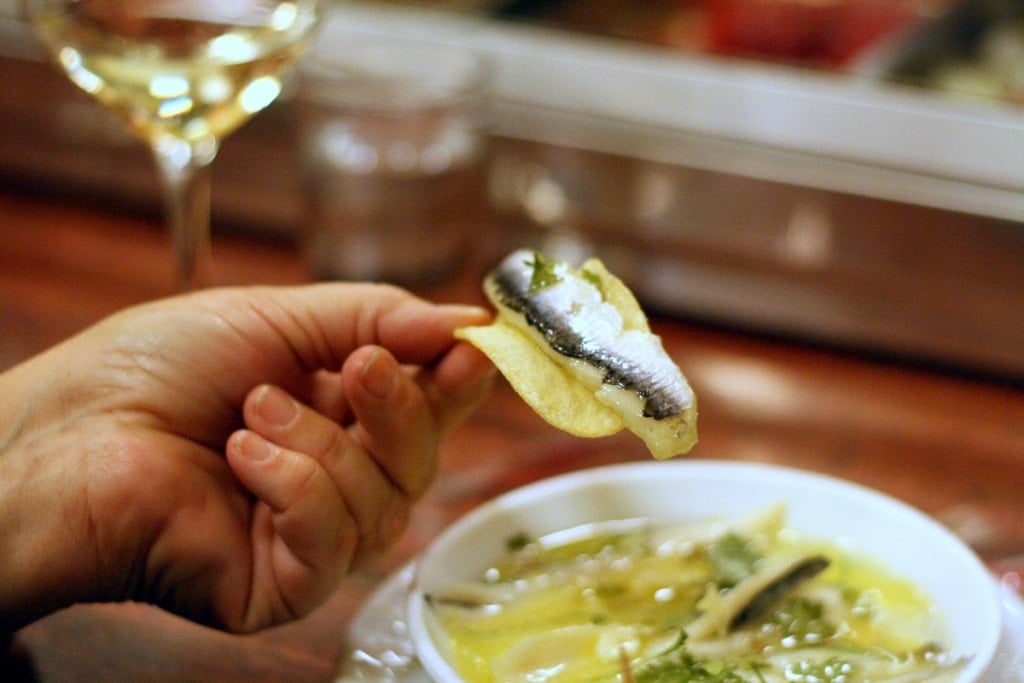 And even if you want to make them on your own, the fishmonger will do the hard work of cleaning the anchovy for you.
But don't despair if this is not the case where you are located. A little extra work and waiting time shouldn't stop you from enjoying these delicious little fish! Just make sure to plan ahead because a traditional recipe for boquerones en vinagre takes about six hours from start to finish.
Though time-consuming, this boquerones en vinagre recipe is worth the effort!
Boquerones en Vinagre Recipe
This delicious boquerones en vinagre recipe makes the perfect marinated anchovies -- a traditional Spanish tapa.
Print (images optional)
Pin
Rate
Ingredients
2

lbs

fresh anchovies

(900 g)

5

cloves

garlic

1

cup

extra virgin olive oil

(240 ml)

2

cups

white wine vinegar

(+ ¾ cup water) (480 ml of vinegar and 175 ml of water)

5

sprigs of parsley

salt

to taste
Instructions
First, clean the anchovies. If the fishmonger can do this for you -- great! If not: remove the heads, innards, and spine from the anchovies, and cut them into fillets.

Rinse the anchovy fillets in cold water and pat them dry with paper towels. Lay them flat in a glass baking dish.

Place the fresh anchovies in the freezer for three hours (this is to protect from anisakis -- in Spain, this is taken seriously and all fish is frozen before cooking. Check if the anchovies were already frozen when you buy them, and if they were, skip this step!)

After you remove the anchovies from the freezer, add the vinegar and water until all the anchovies are fully submerged. Cover the dish tightly with plastic wrap and allow the anchovies to marinate in the refrigerator for 2-3 hours. They should be white when finished. If you leave them too long they'll become tough.

Once done marinating, drain away the vinegar and water.

Finely chop the garlic and parsley and sprinkle it over the anchovies.

Pour the olive oil over the anchovies in the baking dish until covered. These will taste best when left to marinate with the garlic and olive oil overnight, but you can enjoy right away if you wish!

Enjoy the boquerones en vinagre on their own, or with a bit of delicious bread.
Yes, it takes time and patience, but this recipe for boquerones en vinagre is really a dish that will surprise you! The flavor is intense and it pairs perfectly with a chilled glass of Spanish white wine.
Anchovy lover? Don't miss these Gilda skewers -- olives, anchovies, and pickled peppers!
Let me know if you make these marinated anchovies at home and how you like them!