Spain's northwestern region, Galicia, has a really fascinating culture, encompassing Celtic-sounding bagpipes, beautiful blue-and-white porcelain, and all the routes of the Camino de Santiago pilgrimage. But my favorite part about Galician culture is the food, be it seafood or even something more vegetarian and carb-heavy. Living here has given me a taste of the countless festivals that are held each year in celebration of a single dish or meat. Most began only in the past fifty years, perhaps because after centuries of Galicia languishing as Spain's poorest region, modern times have made plentiful food something worth throwing a party over. If you're ever planning a jaunt up to this unique corner of the country, make sure to plan your trip around visiting one of these delicious festivals!
See Also: 27 Popular Spanish Festivals
February
Feira do Cocido de Lalín: Every year on the Sunday of the week before Carnival celebrations, Lalín (in the dead center of the region) puts on a big fair for a stew that is also popular throughout Spain, cocido. Composed of any and all parts of the pig (think shoulders, ribs, ears, etc.) as well as chorizo, chickpeas, potatoes, and greens, the cooked ingredients for this grand stew are served sans broth on a huge platter.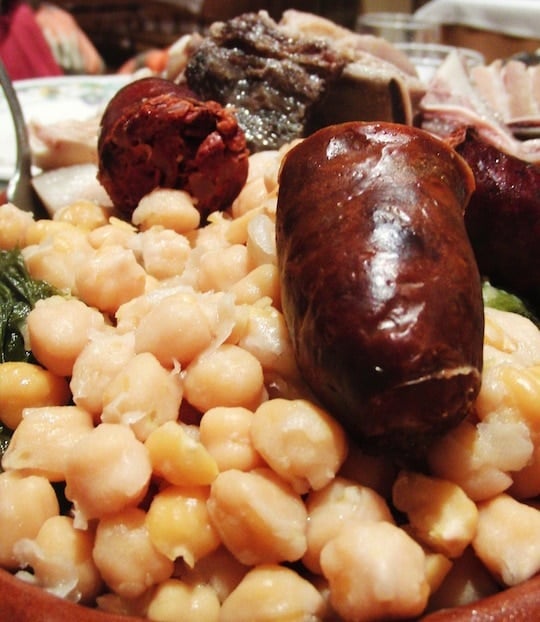 March
Festa do Queixo de Arzúa: Arzúa, a village along the Camino de Santiago between Lugo and Santiago de Compostela, is famous for its tender, almost-spreadable white cheese. The food and music festival celebrating this centuries-old tradition of cheese-making is held the first weekend of March.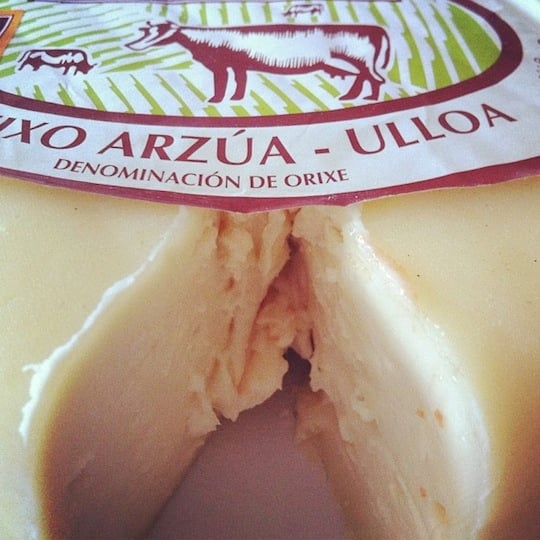 Festa da Filloa de Lestedo: On the first Sunday of Lent you can get a taste for one of the most typical Galician pastries made during the Carnival season: filloas. Pronounced "fee-YOE-ahs," these thin, crêpe-like pancakes can be eaten plain, with a sweet filling like honey, or with wine-stewed chorizo. Go to the parish of Lestedo in Boqueixón (about half an hour from Santiago) to try them!
May
Festa da Tortilla Xigante: This "festival of the gigantic omelet" takes place in Carcacía, a parish of Padrón to the southwest of Santiago. Held on the weekend closest to San Isidro Labrador's feast day (May 15th), this Guinness-record-breaking feat involves 1,200 kilos of potatoes, 8,000 eggs, 50 kilos of chorizo, 250 liters of oil, and 30 kilos of salt.
June
Festas de San Xoán: The night before St. John's feast day (June 24) is a major celebration across Galicia where people set up cacharelas (bonfires) in various city plazas. Wine flows and sardines are roasted over the bonfires, which a few brave souls jump over to protect against meigas or evil spirits.
July
Festa da Navalla (Illa de Arousa): The tiny island of Arousa may be connected to the mainland by a single causeway, but it's still the site of an important festival celebrating navallas or long, skinny razor clams. Between July 25th and 28th, grilled razor clams, paella, tortilla, and empanada (meat pie) take over the village.
August
Festa da Empanada de Allariz: Empanadas, thin meat pies of onions, peppers, and fish sandwiched between two layers of pie dough, are all the rage in the village of Allariz (south of Ourense) the third weekend of August.
Festa do Pemento de Padrón: Tiny, mild peppers from Padrón, southwest of Santiago, are super-typical in Galicia: some are spicy, most are not (as the saying goes). On the first Saturday of August folks from Padrón and elsewhere flock to the parish of Herbón where over 3,000 kilos of these green, bite-sized peppers are fried and served with crunchy sea salt.
Festa do Pulpo do Carballiño: Right outside the inland city of Ourense is the village of O Carballiño, where every second Sunday of August residents celebrate a festival dedicated to octopus. Slow-boiled, snipped into medallions, and garnished with smoked paprika, olive oil, and salt, the popular dish of pulpo á feira draws visitors from all over Galicia and Spain.
Festa do Viño Albariño: A festival on the first Sunday of August in the town of Cambados (near Pontevedra) centers on Albariño wine, a deliciously fruity white wine made only in Galicia.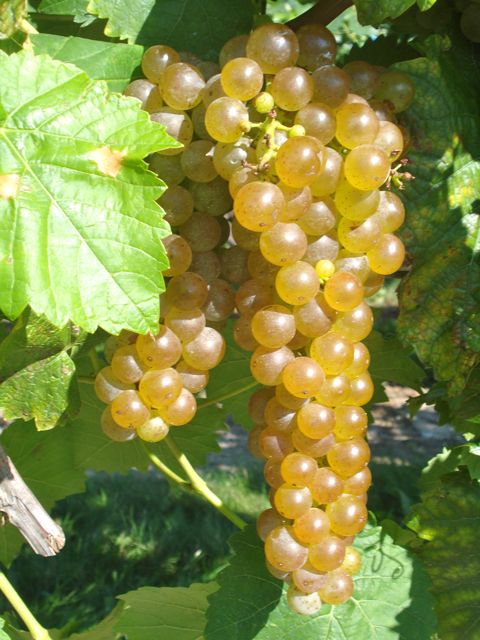 October
Festa do Marisco do Grove: Although Galicians love their pork and sausages, they love their seafood more. In the town of O Grove—situated on a peninsula in an inlet of the sea called the Ría de Arousa—seafood is king for the first third of every October. The festival's main focus is on the mussels raised there in the ría as well as the flat, diamond-shaped fish called rodaballo (turbot). Of course, in this famous festival you're sure to find crabs, clams, and all sorts of crustaceans, too!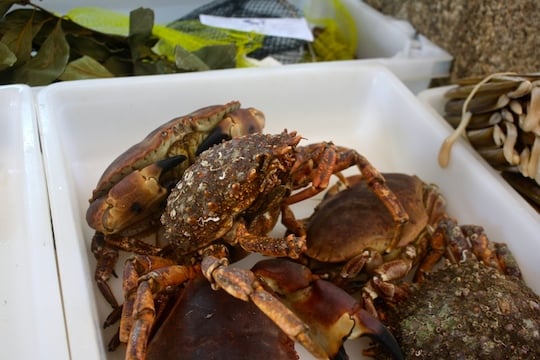 Festas de San Froilán de Lugo: The inland provincial capital of Lugo has its annual town fair in early October dedicated to San Froilán, but it may as well be dedicated to San Pulpo because octopus is the main dish in this festival. In Lugo's fairgrounds half a dozen casetas get set up, temporary restaurants housed in sturdy tents. Things get so busy you need to have reservations just to have a table inside! Still, I've eaten the best, most tender octopus of my life in Lugo during San Froilán.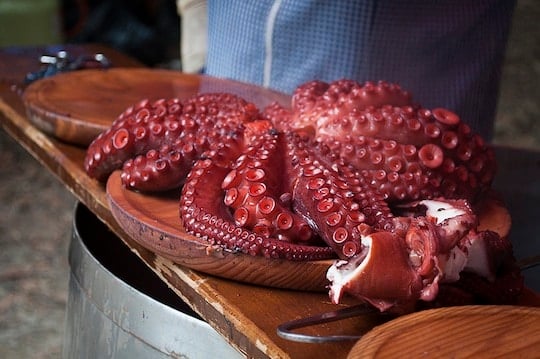 November
Magosto: Between All Saints Day (November 1st) and the feast day of San Martín (November 11th), Galicians have a kind of harvest festival that centers on eating roasted castañas or chestnuts. Although it's a tradition across northern Spain, Magosto is particularly important here because before the arrival of corn and potatoes from the Americas, chestnuts made up most of the Galician diet's carbohydrates. My school celebrated by roasting some chestnuts, barbecuing some chorizo, and eating lots of chestnut flour-based desserts. Throughout the fall in cities across Galicia you can always find sometime roasting chestnuts in portable ovens, serving the sooty seeds in rolled-up paper cones.
These thirteen festivals don't even begin to summarize the dozens upon dozens of food festivals there are in Galicia. If you're interested in a specific meat or dish, you can browse the various festivals by ingredient on the Galician yellow pages.
About the Author: Trevor Huxham teaches English at an elementary school in a small coastal village but calls the capital city of Santiago de Compostela home. When he's not teaching, you can usually find him hunting down the next best free tapa in town or sharing a plate of octopus with friends. Follow his stories and photos of life abroad and travels across Spain on his blog, A Texan in Spain, on Instagram, or on Twitter.
Which Galician food festivals would you most like to attend?
Photo credits: Amio Cajander, Jr, Roger Casas-Alatriste, Elsergietenapuros, En busca del sol