A massive tomato fight. Burning enormous, elaborate sculptures that take a year to build. Jumping over newborn babies.
The best Spanish festivals are like nothing you've ever experienced before, and make worthy additions to any traveler's bucket list.
Spain's reputation as a passionate, fun-loving destination is well deserved. From close-knit celebrations in small villages to massive affairs that draw visitors from across the world, you're almost guaranteed to find a fiesta happening somewhere in Spain every week of the year.
The best part: there really is something for everyone when it comes to Spanish festivals. Whether you're up for a massive food fight, prefer something more low-key like watching solemn processions, or anything in between, there's a traditional Spanish festival you'll love!
27 Unique Festivals in Spain
1. La Tomatina
La Tomatina has earned its title as one of the craziest Spanish festivals. Once a year at the end of August, thousands gather in the small Valencian town of Buñol to throw tomatoes at one another in the name of tradition and fun!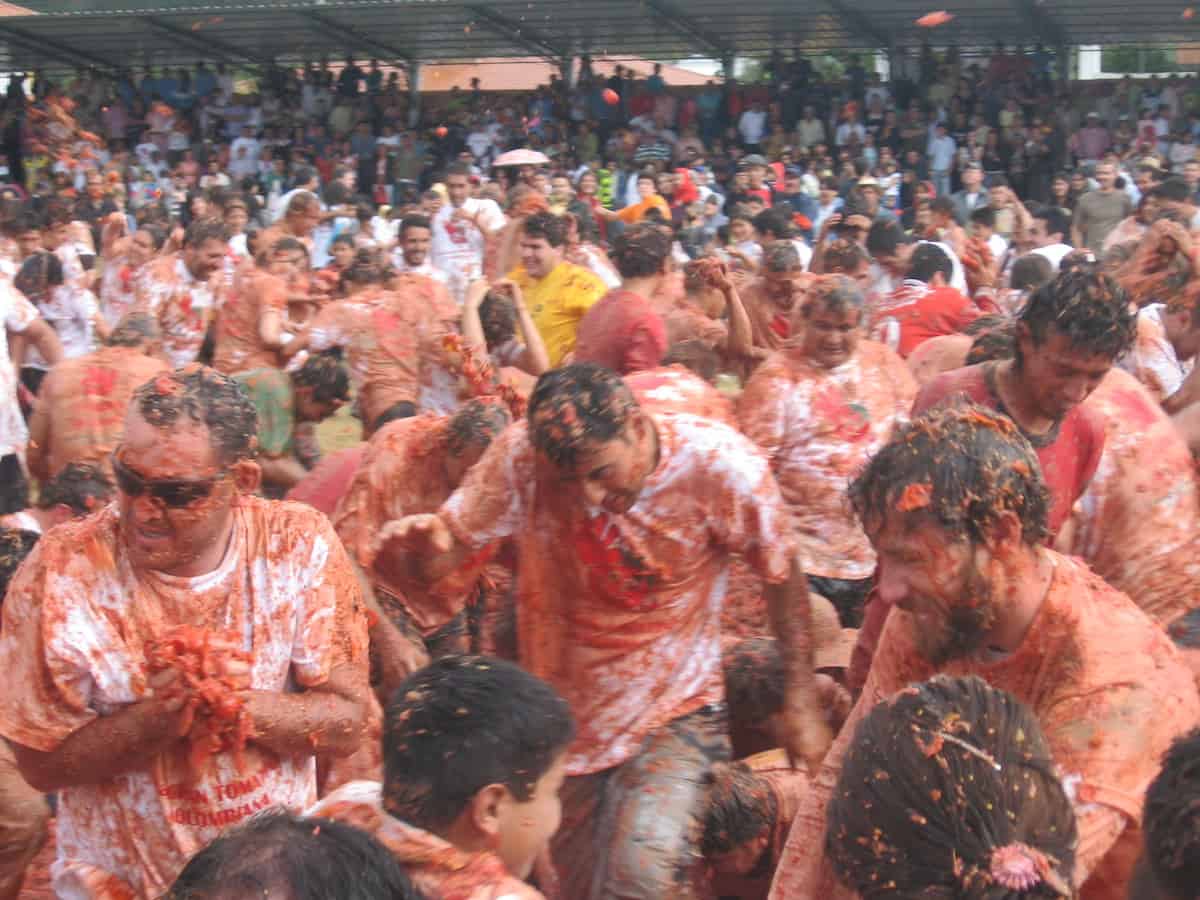 2. Las Fallas
Visit the city of Valencia in mid-March to experience its biggest fiesta, Las Fallas. For four days, the city transforms into a carnival of huge paper-mâché figurines, performances, fireworks, and bonfires.
This famous Spanish festival finishes with a display of huge bonfires that burn up all the figurines in a spectacle you have to see to believe.
3. Carnival
Parades and performances fill the air with the buzz of celebration in February or early March, when huge open-air Carnaval parties take over the streets.
Tenerife, Cadiz, and Sitges host the most famous carnivals in Spain. Make your way to one of these towns, get dressed up, and prepare to dance through the streets all night long.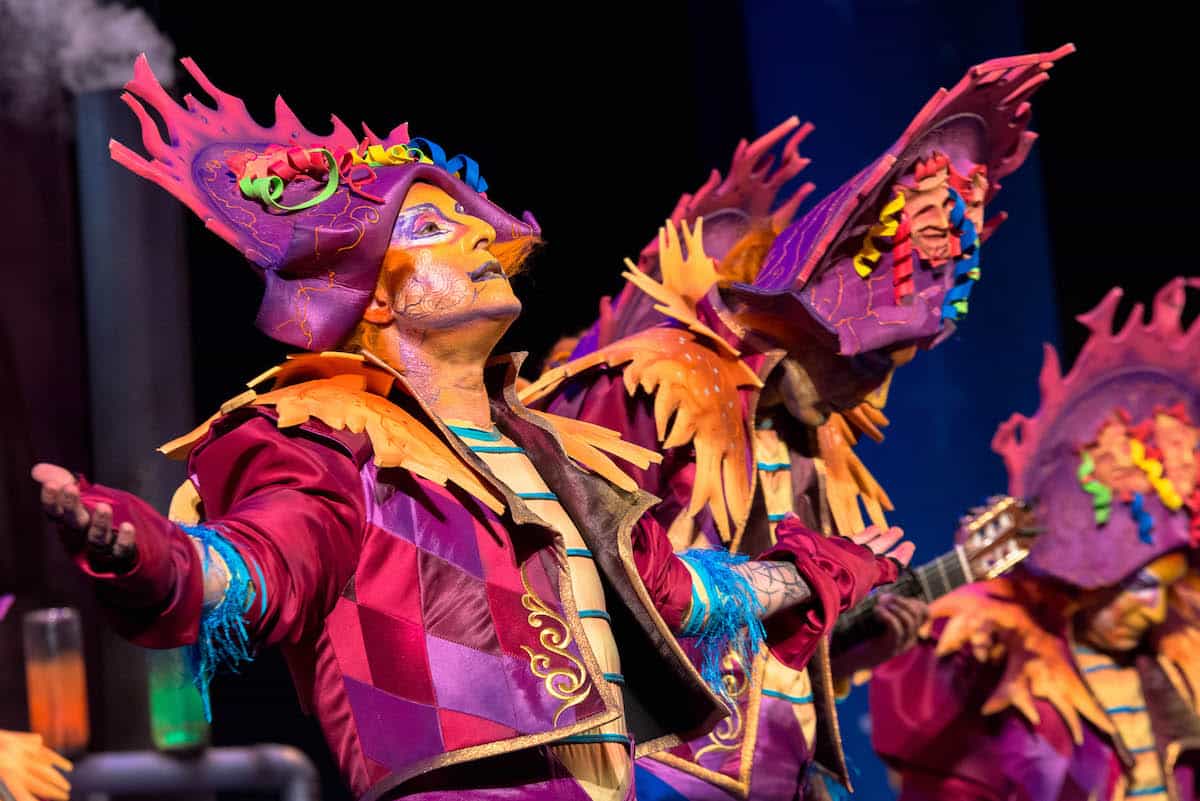 4. La Feria de Abril
One of the most popular festivals in Seville—and all of Spain—the Feria de Abril (April Fair) begins on a Monday night as thousands of light bulbs strung through the fairgrounds light up. This kicks off the weeklong celebration that includes dancing, singing, and delicious food and wine.
Many female attendants wear traditional Andalusian trajes de gitana (flamenco dresses), making the event even more authentic. This is one Spanish festival you truly can't miss, so save the date (it kicks off two weeks after Easter) and experience it for yourself.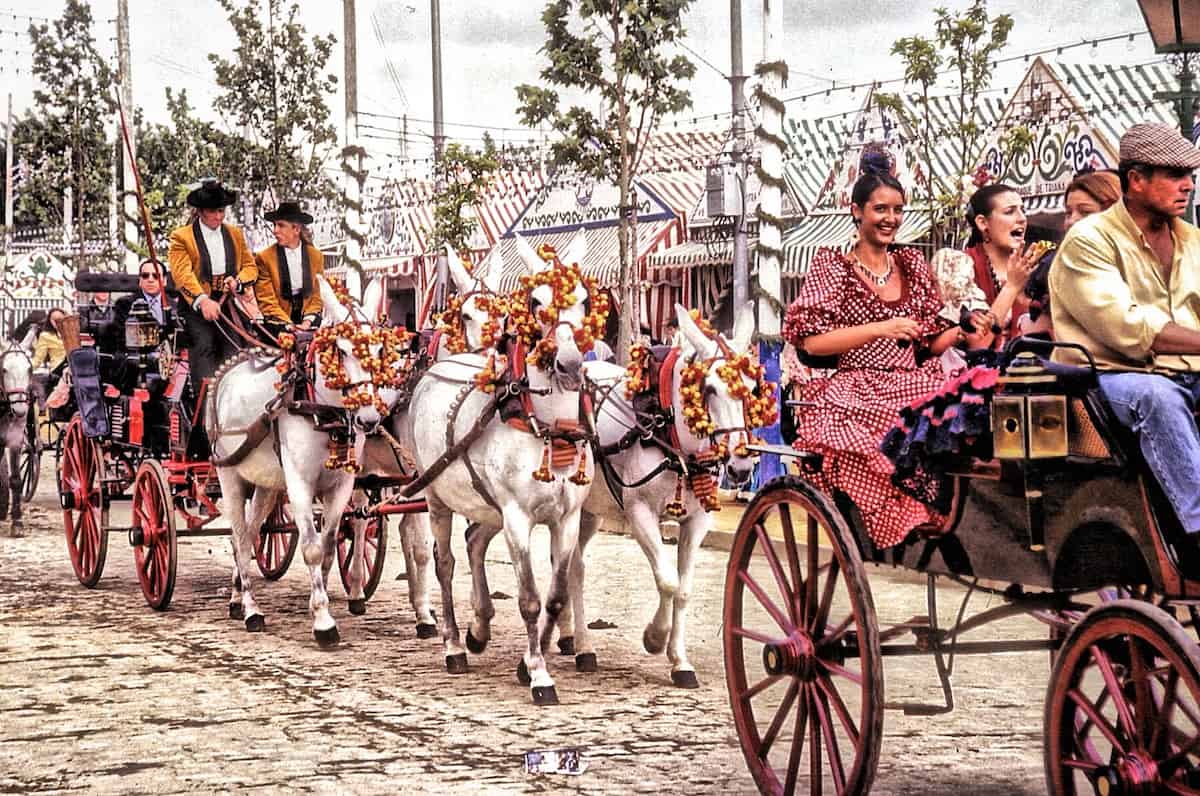 5. San Fermín
Memorialized for eternity in Ernest Hemingway's The Sun Also Rises and Death in the Afternoon, San Fermín is perhaps the most famous Spanish festival known throughout the world. The famous running of the bulls makes this one of the craziest and most unforgettable of Spanish festivals. But if you head to Pamplona for the festivities, be sure to check out the other events, including live music, a parade of giants, and traditional dance performances.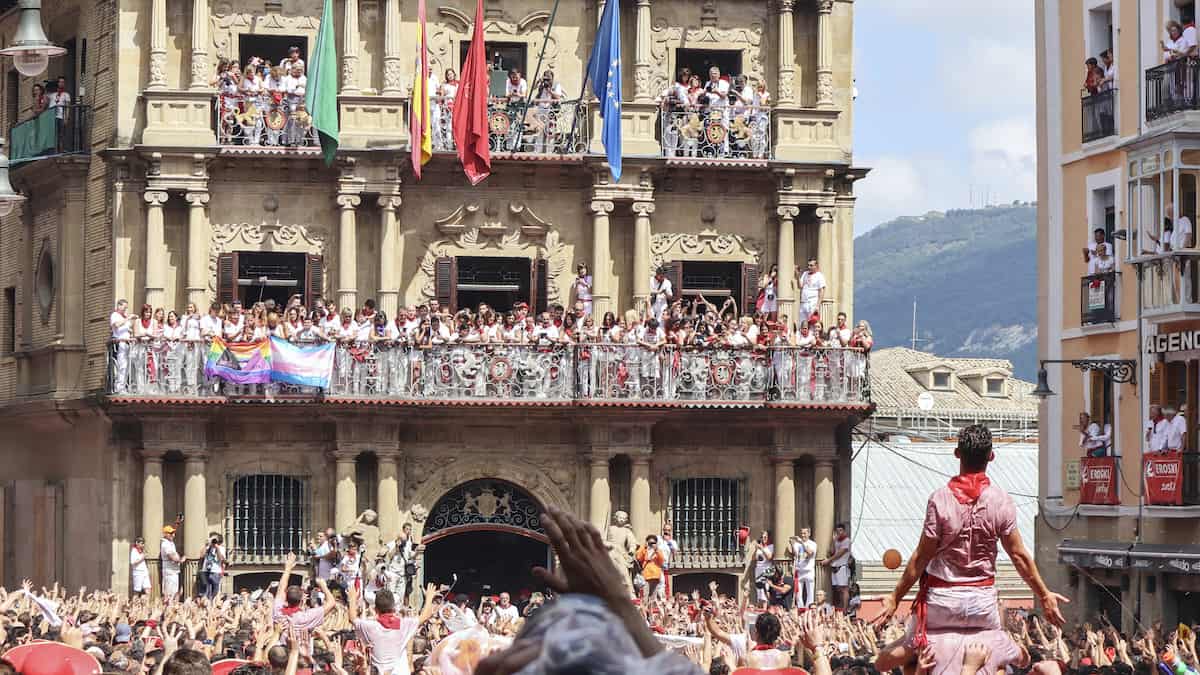 6. Día de los Reyes Magos
Unlike in the United States, Spaniards exchange Christmas gifts on January 6. This celebrates and commemorates the arrival of the Three Wise Men to Bethlehem, bearing gifts for the baby Jesus.
On the night of the 5th, almost every Spanish town organizes cabalgatas, or parades, in which the Three Kings walk or ride through the streets and throw candy to the children. The next morning, kids receive their presents that the kings brought them the night before.
This Spanish festival also includes a delicious sweet — the Spanish King's Cake or roscón de reyes.
7. Festa Major de Gràcia
This 8-day festival is held yearly in August throughout the streets of Barcelona's Gràcia neighborhood. Over a million people descend on the area to enjoy free outdoor concerts and various family activities.
With the festival come beautiful decorations, with every street covered in colorful decorations and lined with little shops to buy your festival souvenirs.
8. Els Enfarinats
As part of the Día de los Inocentes mischief on December 28, thousands of people gather in Ibi, Alicante for the pure joy of throwing eggs and flour at one another. Like the Tomatina festival, Els Enfarinats will leave you covered in food and bent over laughing. What could be more fun than tossing eggs and powder all over your fellow revelers?
9. La Raima
The food-throwing fun doesn't just end with La Tomatina and Els Enfarinats. Residents and visitors of Pobla del Duc, Valencia get together every year after the grape harvest has finished to reward their hard work… by throwing grapes at one another.
If you like to get your hands a little dirty, head to this famous Spanish festival and finish out your day with wine from the previous year's harvest!
10. Wine Battle of Haro
No list of crazy Spanish festivals would be complete without the infamous Haro wine battle. Haro is located in the region of La Rioja, home to the most famous wine in Spain, and every June the town erupts with wine drinking competitions and the Batalla de Vino (the wine battle).
At 9 a.m., everyone gathers for the procession and Mass that start the day. But the minute that Mass ends, get ready for an explosion of wine fighting fury!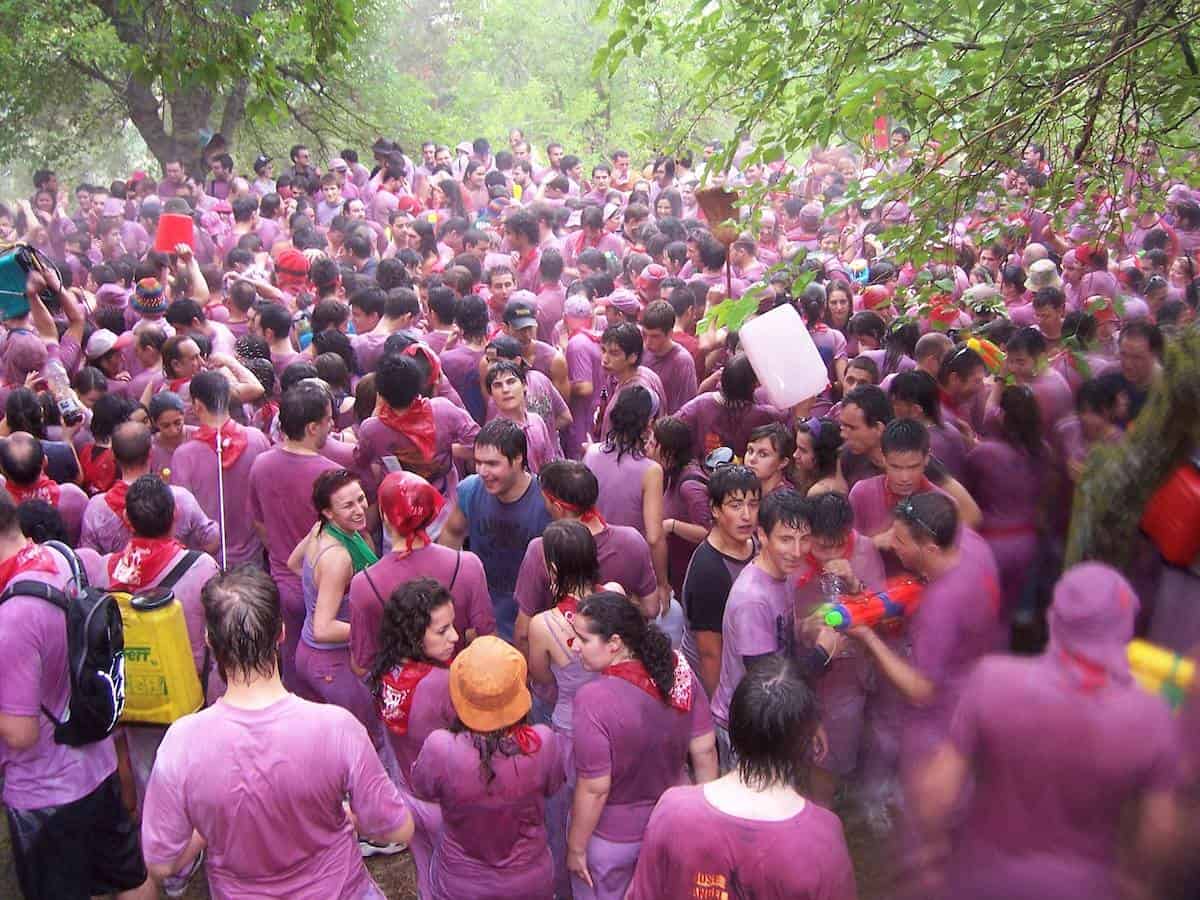 11. Holy Week (Semana Santa)
You don't have to be religious to appreciate the stunning processions that parade through the streets of Spain during the week leading up to Easter. Consisting of massive floats depicting Jesus and the Virgin Mary, dozens of hooded penitents, and a brass band or two, each Holy Week procession draws thousands of spectators that line the streets for hours as they pass by.
Holy Week is celebrated all over the country, but a few cities—Seville, Malaga, Toledo, and Valladolid among them—are especially famous for their processions. If you're eager to see Semana Santa at its best, head to one of those cities.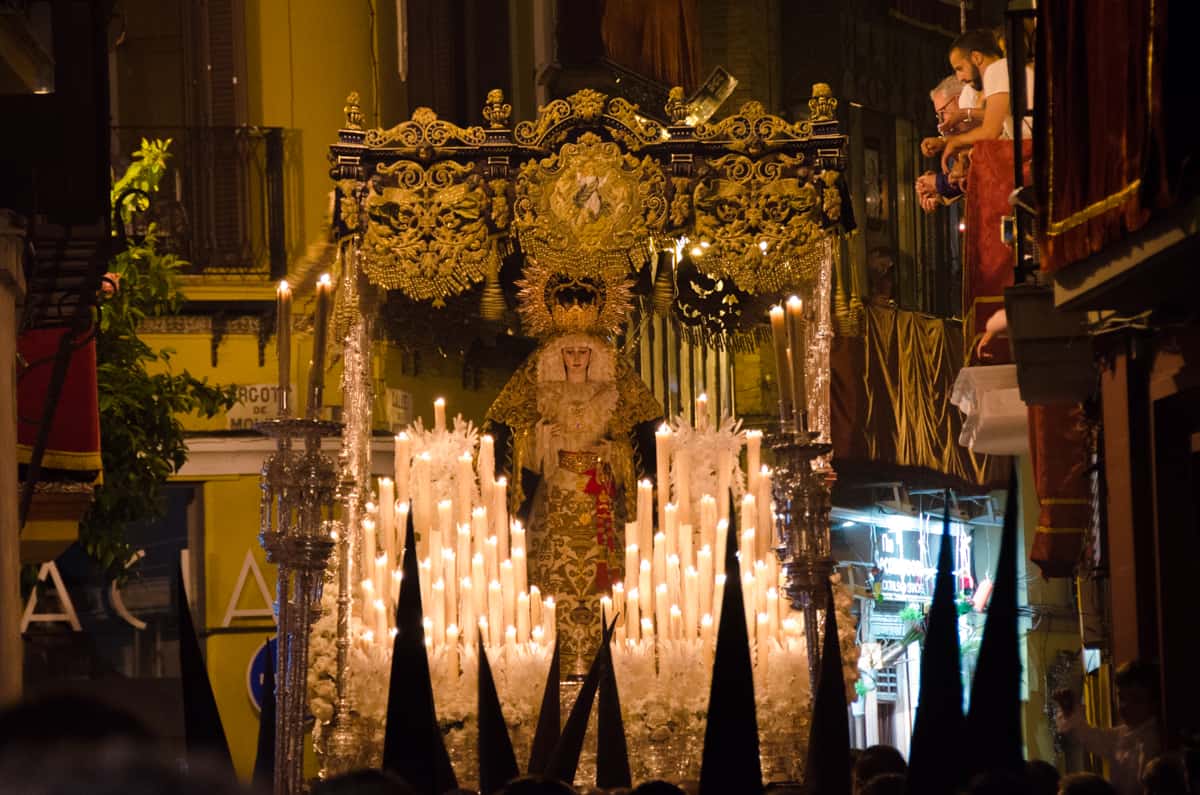 12. Córdoba Patios Festival
Springtime in Andalusia is unlike anywhere else in the world. If the multiple local ferias and Holy Week processions weren't enough, you won't want to miss the colorful patios festival that takes place in Córdoba in early May.
The inclusion of interior courtyards, or patios, in homes in Córdoba dates back centuries to the city's Moorish days, but the first public celebration of them wasn't until the early 20th century. During the festival, hundreds of people line up to step inside the elaborately decorated patios, with prizes awarded to the best and most beautiful.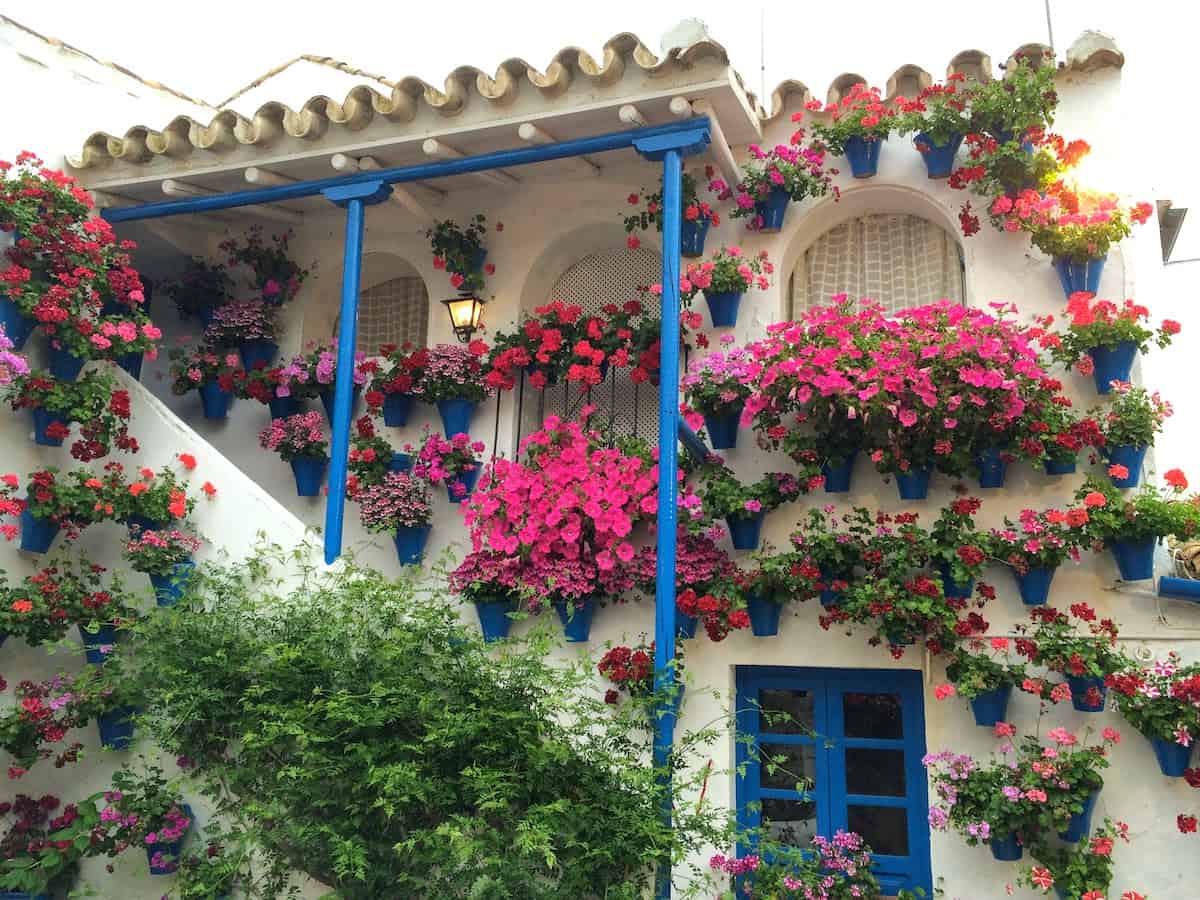 13. Feria del Caballo
Seville isn't the only city with a springtime fair worth checking out. A few weeks later, Jerez de la Frontera hosts its annual Feria del Caballo—a lesser-known yet equally enjoyable Andalusian feria worth checking out.
As the name suggests, there are plenty of beautiful horses to be found at the Feria del Caballo as locals in traditional dress ride throughout the fairgrounds. Order a pitcher of rebujito (a cocktail made with manzanilla sherry and 7up) to share as you watch the colorful and authentic celebration come to life around you.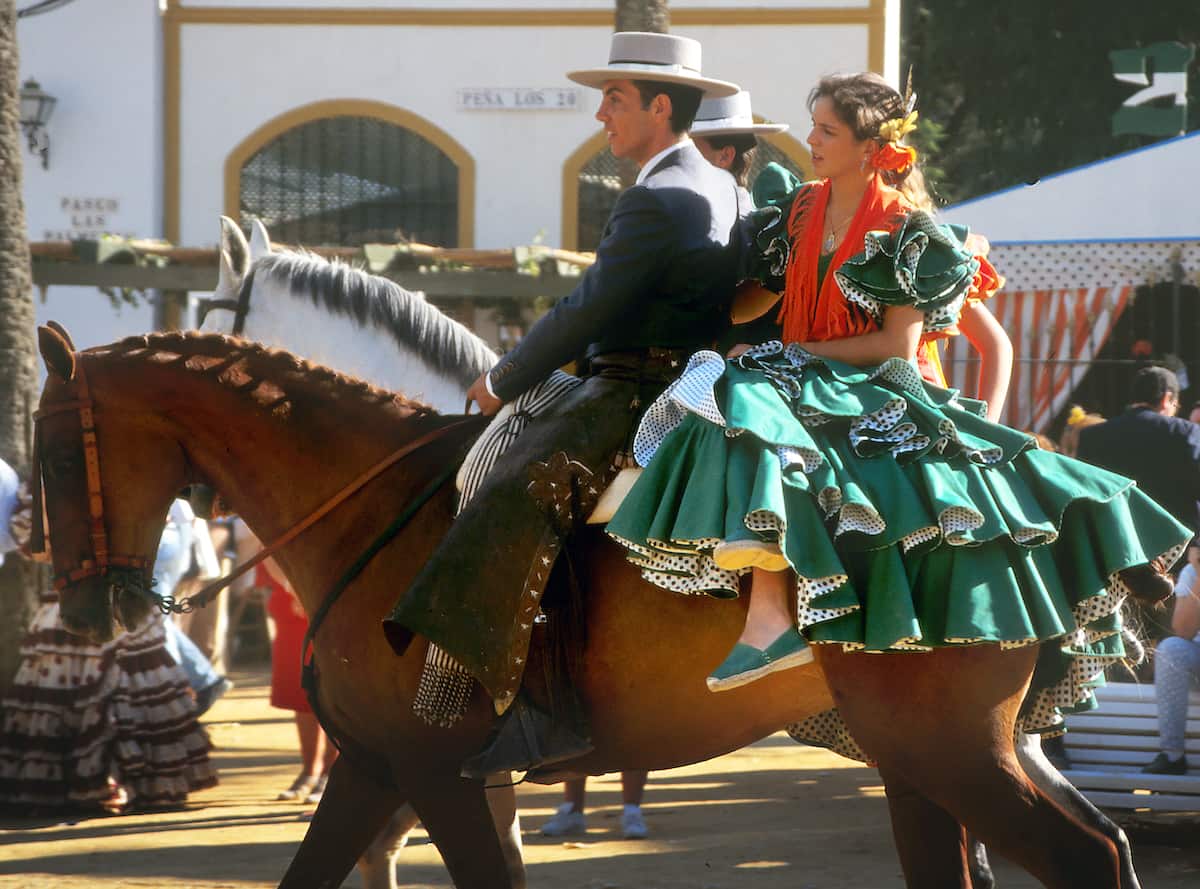 14. Malaga August Fair
Yet another noteworthy Andalusian feria, Malaga's local fair takes place several months after most of the others, in August. That gives it an inherent bonus: you can head to the beach to relax when you need a break from the fair!
What makes Malaga's fair especially great is that much of it takes place in the city center during the daytime. At night, the festivities move to the fairgrounds, which are still easily accessible on public transportation.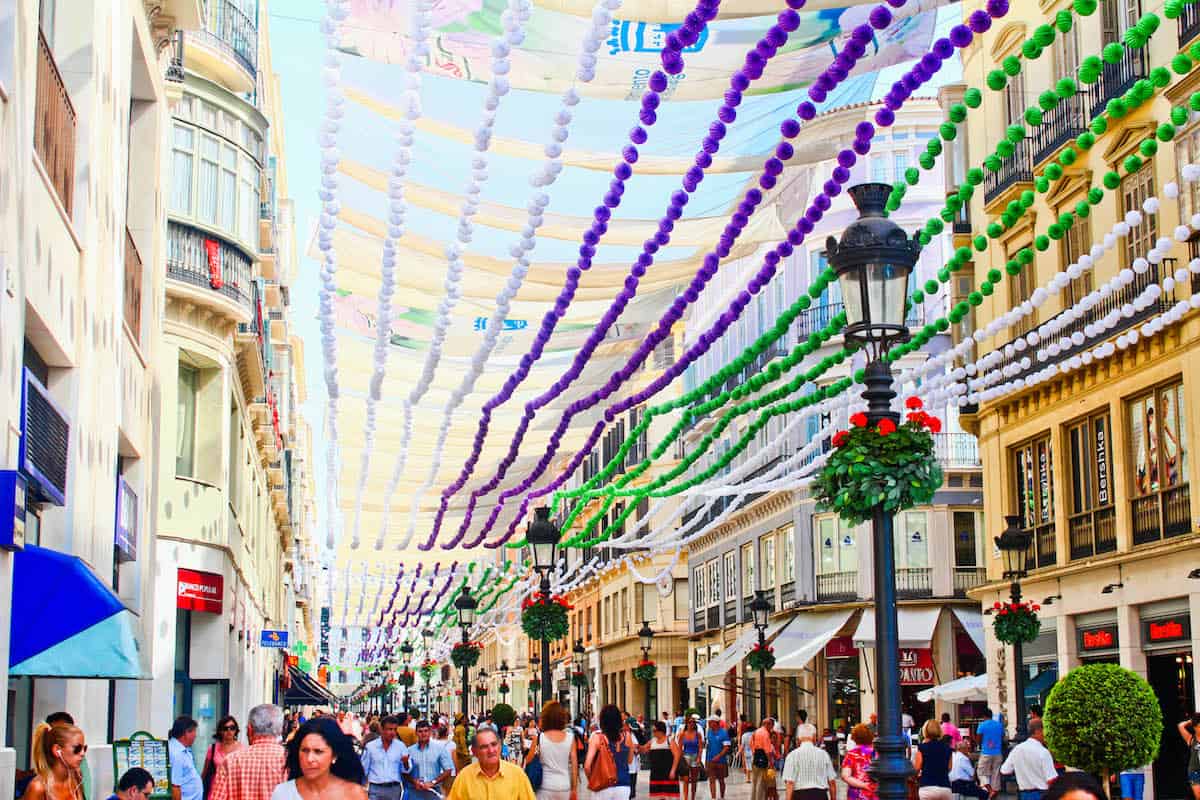 15. Noche de San Juan
Is there any better way to kick off summer than with bonfires and fireworks on the beach?
That's exactly how many coastal cities in Spain ring in the warmest months of the year. On the night of June 23—the eve of the feast of St. John the Baptist—locals in cities such as Barcelona, Alicante, Almeria and more head to the beach for an evening of celebrations.
The festivities look a bit different in each city, but in general, expect lots of fire, an abundance of food and drinks at nearby chiringuitos, and maybe even a midnight swim at one of the first Spanish festivals of the summer.
16. Semana Grande
Semana Grande literally translates to "big week" or "great week," and there couldn't be a more fitting name for this week of festivities in San Sebastian and Bilbao. A celebration of the Basque Country's one-of-a-kind culture, this festival comes complete with concerts, traditional Basque sporting events, and an international fireworks competition. It takes place in mid-August every year, so if you're still not convinced to spend part of your summer up north, you will be now!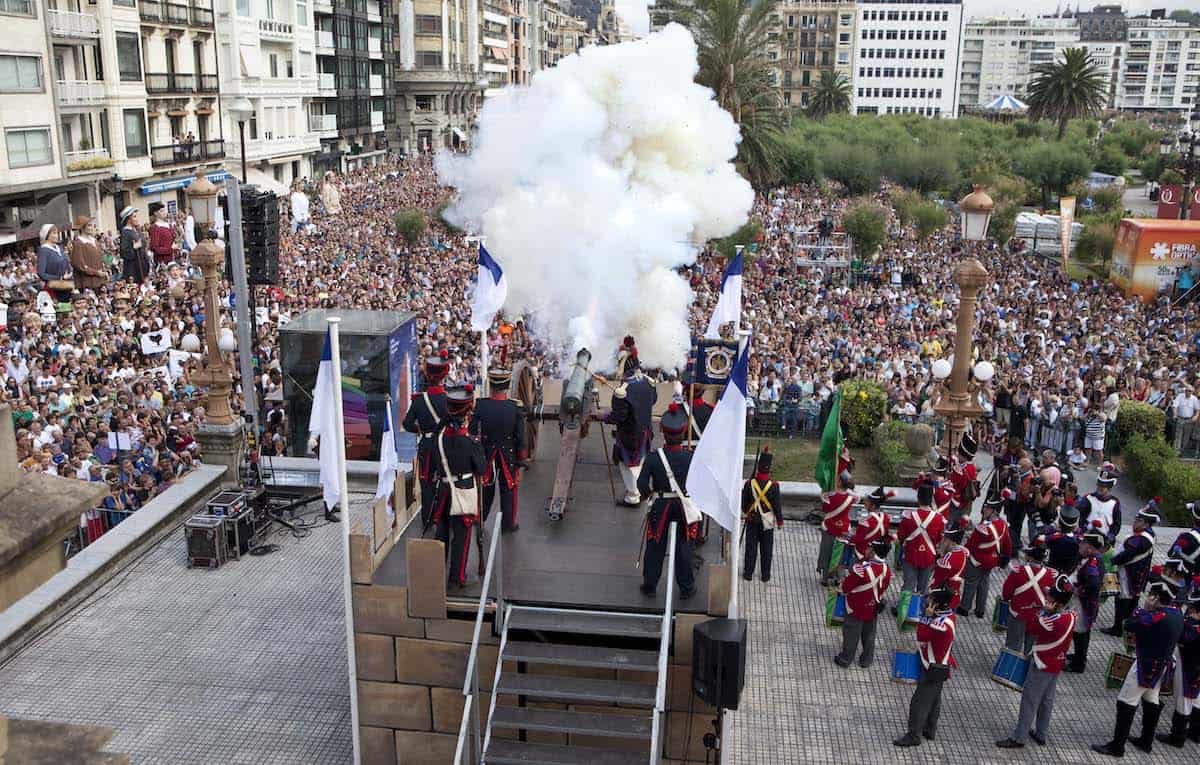 17. Tamborrada
Another emblematic Basque festival is San Sebastian's Tamborrada, a 24-hour drum festival celebrating the feast day of the city's patron saint. Every January 20, dozens of local drum troupes play their way through the streets. Expect lots of music, dancing, and traditional Basque food at this vibrant celebration.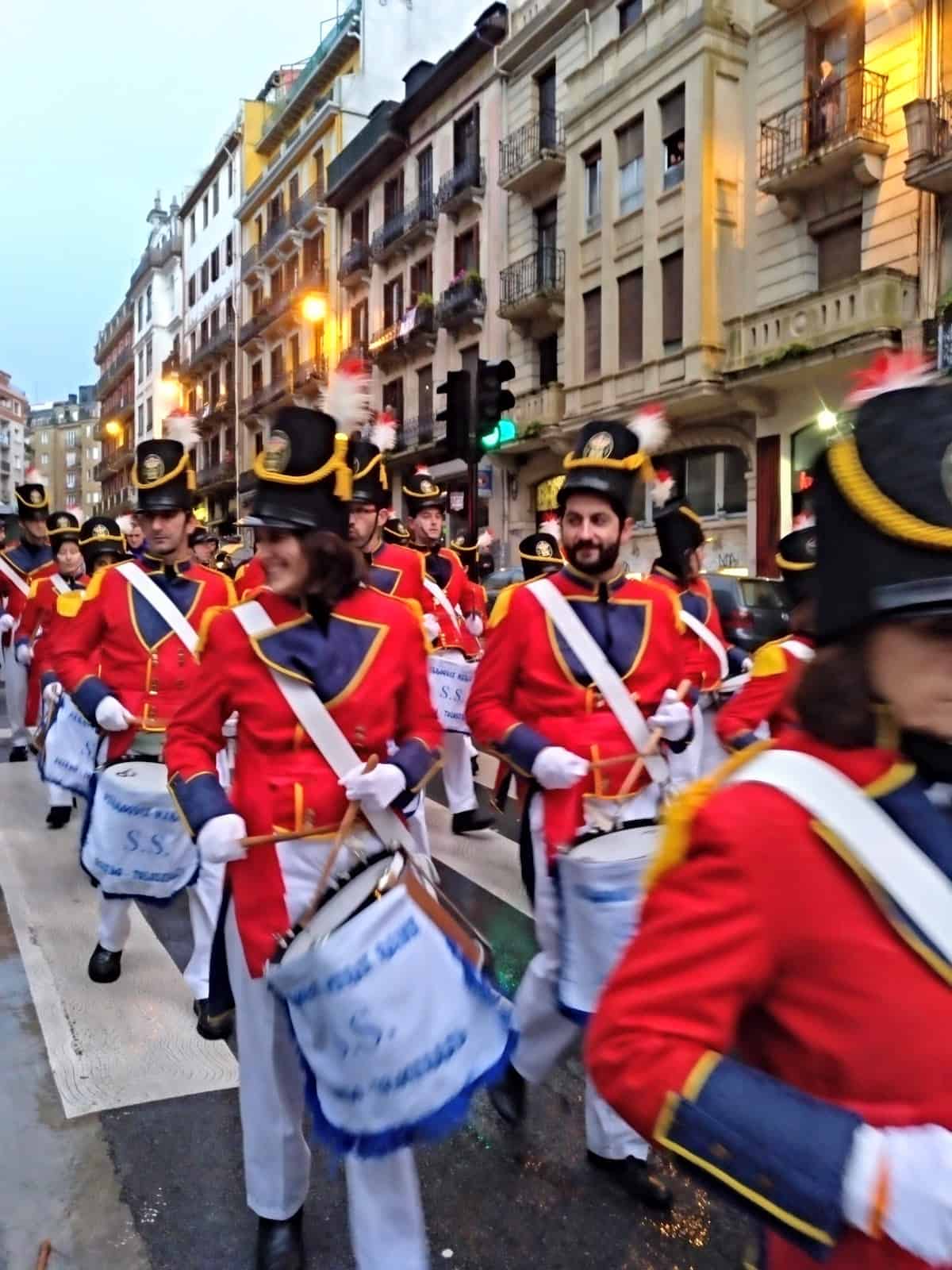 18. El Colacho
The town of Castrillo de Murcia has an unconventional way of welcoming babies born the previous year into the world: by jumping over them!
The El Colacho celebration, which takes place in mid-June, dates back to the 17th century and is meant to be a sort of baptism. Men dressed in costumes representing the devil tear through the village streets before leaping over the babies, who have been laid out on a mattress. Afterwards, the babies are sprinkled with rose petals and returned to their parents, having effectively been protected from evil by the unorthodox ritual.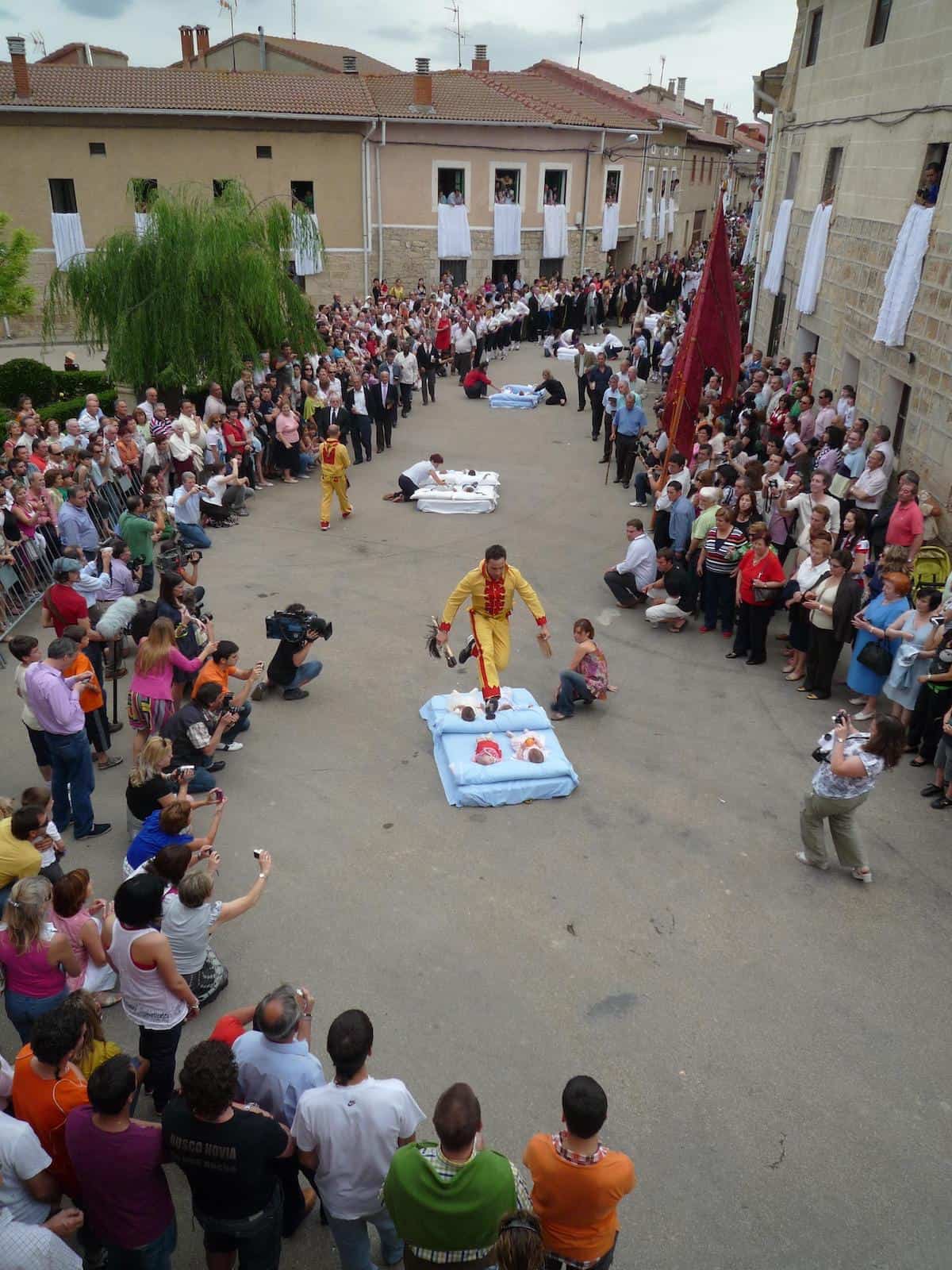 19. Sant Jordi Festival
Forget Valentine's Day—in Catalonia, love is celebrated on the festival of Sant Jordi!
On April 23—the feast of St. George, or Sant Jordi in Catalan—stalls selling books and roses line the streets in cities and towns throughout the region. Traditionally, men gave women roses and women gave men books, but today the norms are a bit more relaxed. No matter who gives and receives which gifts, this celebration of love and literature is one of the most special Spanish festivals.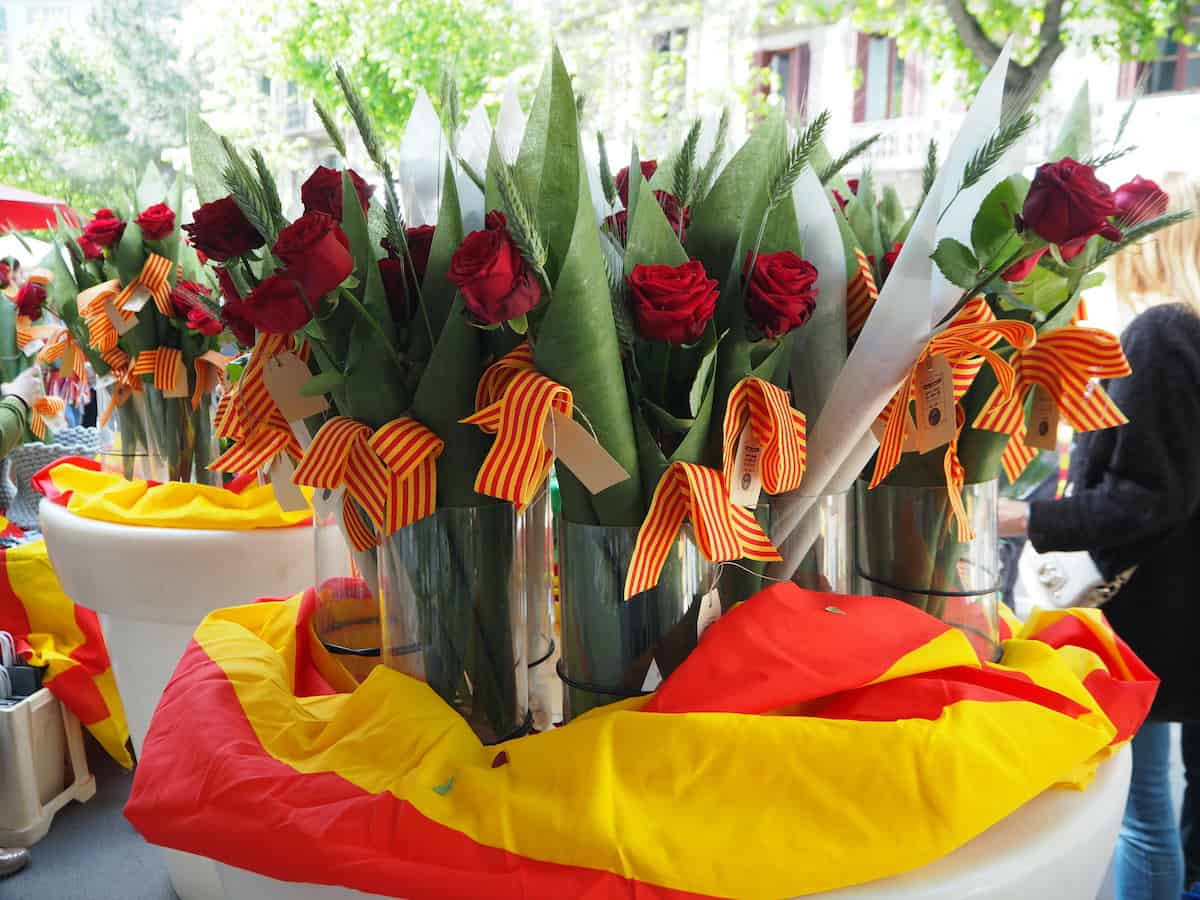 20. San Isidro
May 15 is one of the most important days on Madrid's calendar—it marks the feast day of San Isidro. The city celebrates with a colorful multi-day festival that perfectly bridges the classic and the contemporary.
At this Spanish festival, locals dress in traditional costume and dance the chotis, a typical dance from Madrid. Live music performances and activities for all ages help contribute to the festive atmosphere. Don't forget to try the rosquillas—it wouldn't be San Isidro without these delicious emblematic donuts!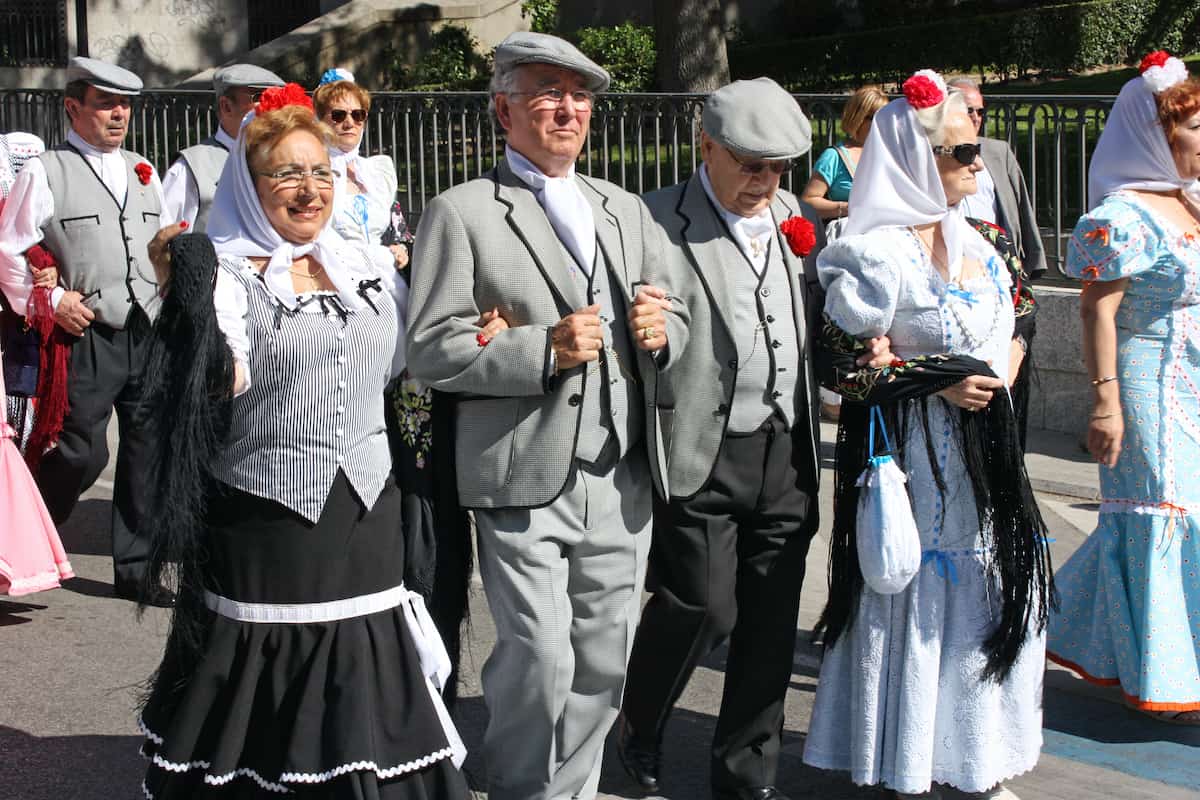 21. Jerez International Flamenco Festival
Flamenco has its roots in Andalusia, and Jerez is considered to be one of the most emblematic places to experience this iconic art form. Every year in late February and early March, flamenco professionals from across the world descend on the city to teach and perform at the International Flamenco Festival.
If you want to take your love of flamenco to the next level, this is one of the best Spanish festivals out there. Over the course of several weeks, you'll have the chance to experience concerts, impromptu performances, workshops, and classes led by the biggest names in the flamenco game. It's about so much more than just watching a show—at this celebration of flamenco, you'll be immersed in it fully.
22. Near Death Festival
The official name for this quirky Spanish event is the Fiesta de Santa Marta de Ribarteme—but that just doesn't have the same ring to it.
The Near Death Festival takes place in a small Galician town every year in late July. On that day, people who have had near-death experiences in the past year come from near and far to be paraded through the village in coffins carried by their loved ones.
Though it's definitely one of the more unique Spanish festivals, at the end of the day, it's a way to celebrate life. And of course, since so many Spanish and Galician festivals are themed around food, there's plenty of pulpo to go around.
23. San Sebastian Film Festival
For nearly 70 years, film buffs and industry professionals have descended on San Sebastian every September to take part in the city's famous film festival. With nearly a dozen categories selected to showcase a diverse array of films and creators from across the world, the festival is a celebration of talent from all walks of life. Come for the world-class films; stay for the insightful panels and discussions led by many of the participants.
24. La Mercè
The biggest street party in Barcelona takes place in late September in commemoration of La Mercè, the local patron saint. It's a colorful and vibrant multi-day party marking the end of summer and welcoming fall, all while celebrating the best of Catalan culture.
La Mercè is full of jaw-dropping spectacles you have to see to believe: giants parading through the streets, gravity-defying human towers, and the correfoc ("fire run") that lights up the streets.
25. Día de la Hispanidad
The thing about many traditional Spanish festivals is that they're incredibly regional, but not in the case of Día de la Hispanidad. Even if you don't speak Spanish, you may have guessed from the name that this is a day to celebrate all things Spanish—and as a result, it's the most important national holiday.
Día de la Hispanidad is celebrated on October 12. The most important celebration takes place in Madrid, complete with a military parade and a flyover by the Spanish Air Force. Elsewhere in the country, the festivities tend to be more low-key, but Spaniards still take advantage of the holiday to celebrate with family and friends (and plenty of food).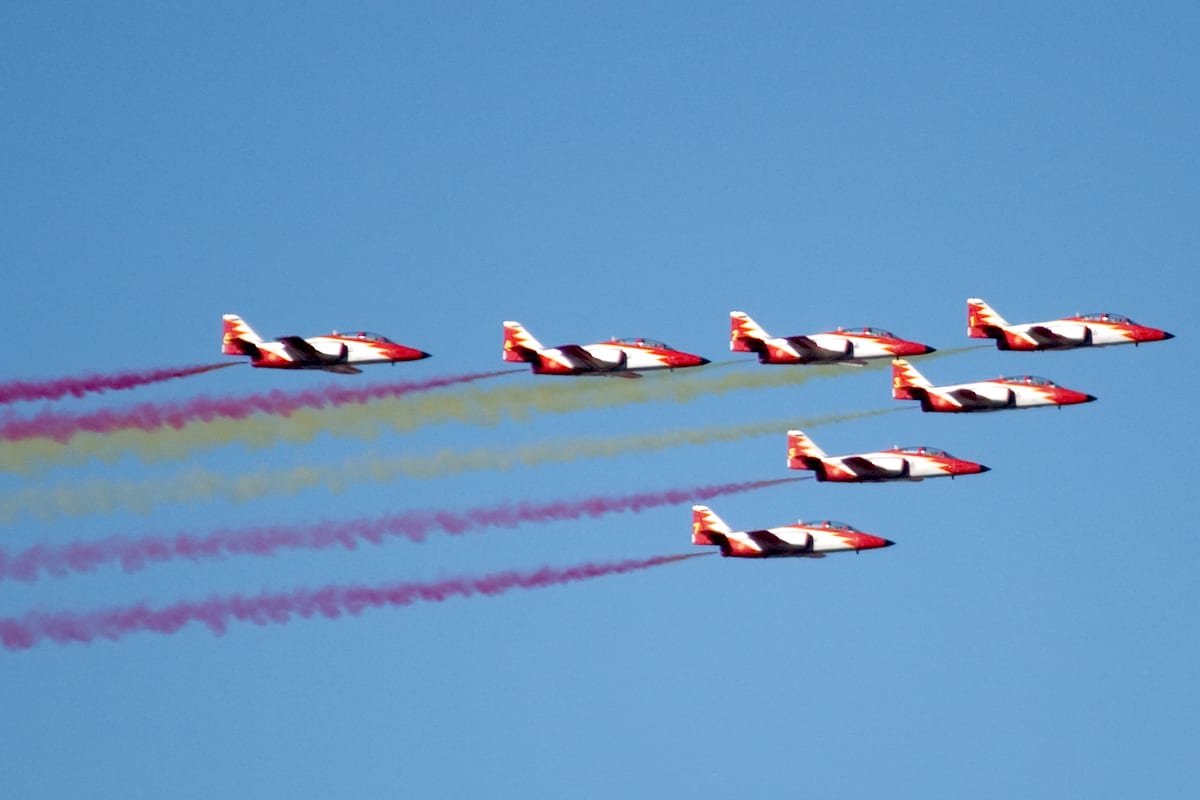 26. All Saints' Day
Halloween may be a relatively new concept in Spain, but All Saints' Day is definitely not. November 1 is a day for Spanish families to pay tribute to lost loved ones. Many do so by visiting cemeteries to lay flowers on their graves.
While solemn, this Spanish festival is a day to connect with family and friends, and eat plenty of delicious food as well. Roasted chestnuts and swet potatoes are classic snacks on All Saints' Day. And in Catalonia, locals typically enjoy panellets (small marzipan-based treats).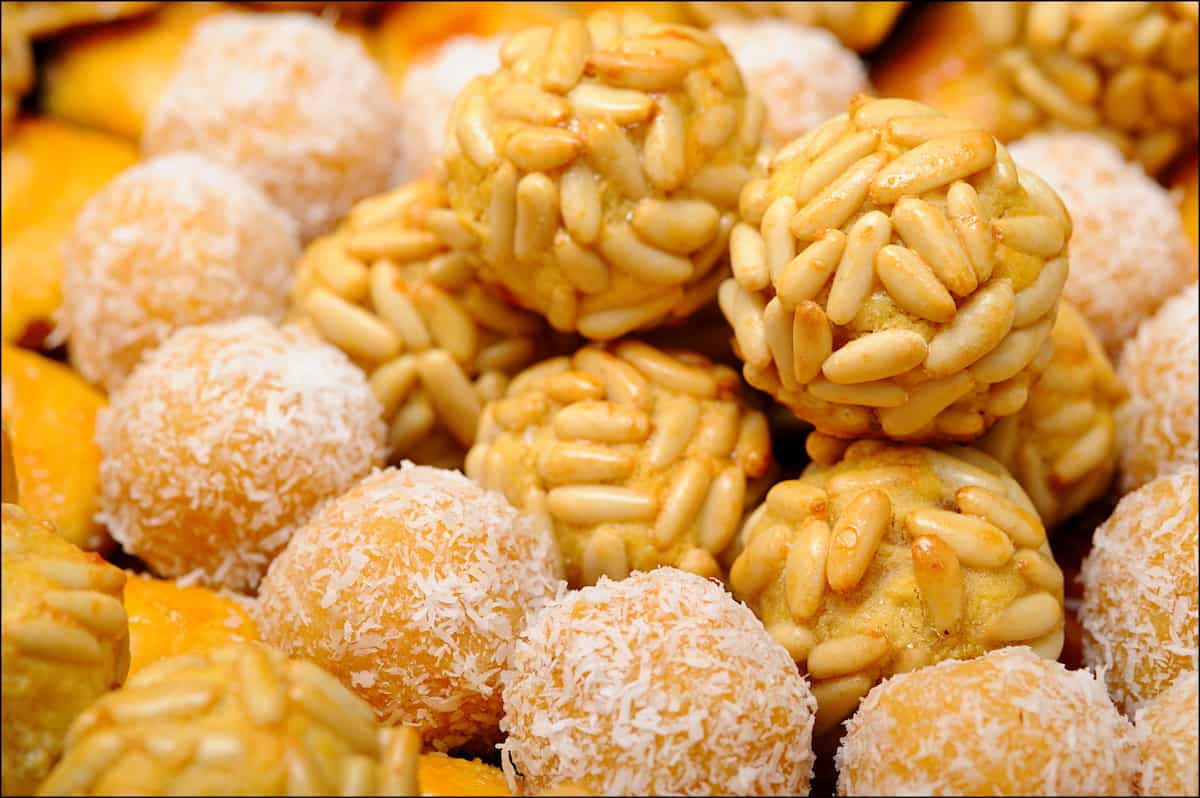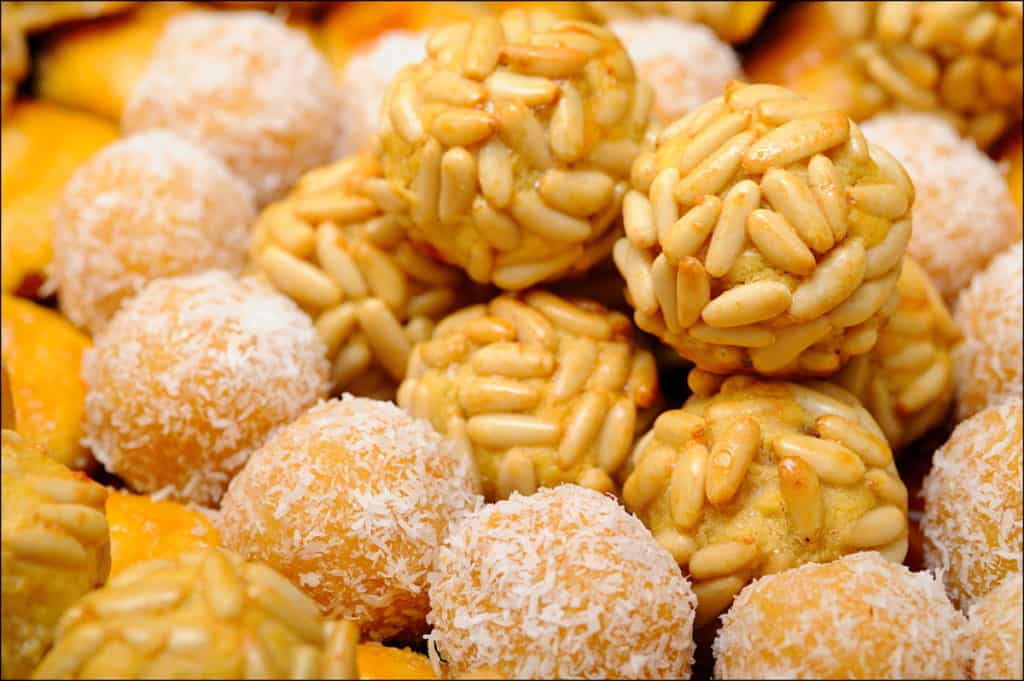 27. Día de los Santos Inocentes
Rounding out our list of traditional Spanish festivals is one that's rooted in jokes and good fun. El Día de los Santos Inocentes is Spain's answer to April Fool's Day (though it takes place on December 28). Family and friends spend the day playing practical jokes on each other, adding yet another festive date to the Spanish holiday season.
Spanish Festivals FAQs
What are the main festivals in Spain?
As you can see, many of the most important Spanish festivals are actually very much tied to a single region! The most important national holidays are Three Kings Day on January 6 and Día de la Hispanidad on October 12. Christmas, New Year's, and Holy Week are also important throughout the country.
What is Spanish fiesta?
Fiesta literally means "party" in Spanish, and many of the official names of Spanish festivals include it in their name to indicate that it is a celebration.
Update Notice: This post was originally published on April 28, 2018, and was republished with new text and photos on March 5, 2021.
Love Spanish food? Sign up for my free weekly newsletter and receive a new Spanish recipe once a week! Join today and get my FREE Spanish ingredient essentials guide!