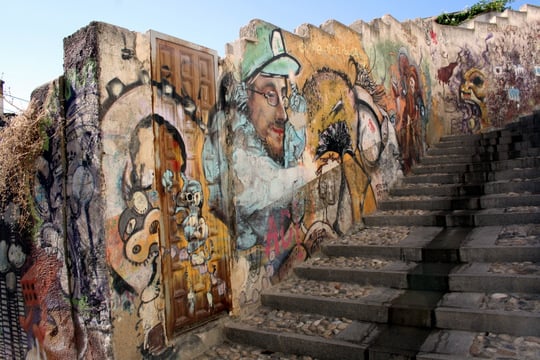 In a very last minute decision last week, I boarded an Alsa bus down to Granada. My sister and brother-in-law were in town visiting, and our plans for an overnight in Cuenca quickly turned into an AirBnB reservation for two nights in the Albaicín. I wasn't complaining-- Granada is one of my favorite cities in the world and I hadn't visited for nearly two years!
We had two and a half days to explore the restaurants, tapas bars, and tea shops, to taste as many dulces árabes as possible, and to visit the enormous Alhambra complex. But I wanted to see something more.
Granada is famous for its graffiti. When I studied abroad there in 2007 I didn't know this, but I still remember the first time I turned a corner and was met with some of the most incredible street art I'd ever seen. Later, I tried in vain to find it again-- but it had disappeared in the windy streets of the Albaicín.
This time I was convinced I'd find it with the help of (what else but) the internet. Among sites like Tripadvisor and the millions of travel blogs out there, I was sure there would have been someone offering a "Best Graffiti in Granada" or "Where to See Graffiti in Granada" type of post.
But, alas, I couldn't find it. Sure, I found a Granada graffiti tour being offered by the Oasis Hostel (but we didn't have the time to take it), and I also found some graffiti themed blogposts (without street names). I was lost.
Not to mention the fact that I was alone in my quest-- Alejandro claims he hates graffiti (I say it's since he's never seen the good stuff) and remained skeptical that it was as impressive as I described.
We were running out of time on our last day when I begged my travel mates to take a steep hill up to our apartment rental in the Albaicín. They rolled their eyes, but followed me. And there it was-- graffiti art. It was old art, and surely not the city's most impressive. But I'd finally found some. I ran around snapping pictures while they waited for me in the hot sun. Ten minutes later we continued up the hill.
When I got back to the apartment and took a look at what I'd photographed, it hit me-- I had no idea what street I'd been on. So the cycle continues, and I have no advice for people looking for graffiti in Granada!
On my next Granada visit I will definitely take the graffiti tour. I'd love to see the work of the city's famous "El Niño de las Pinturas"-- often compared to London's famous Banksy.
For now, I leave you with what I did see, somewhere up in the Albaicín...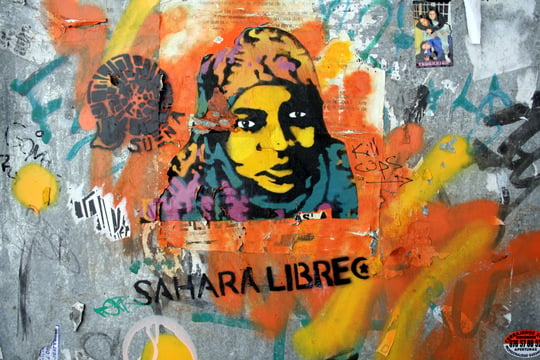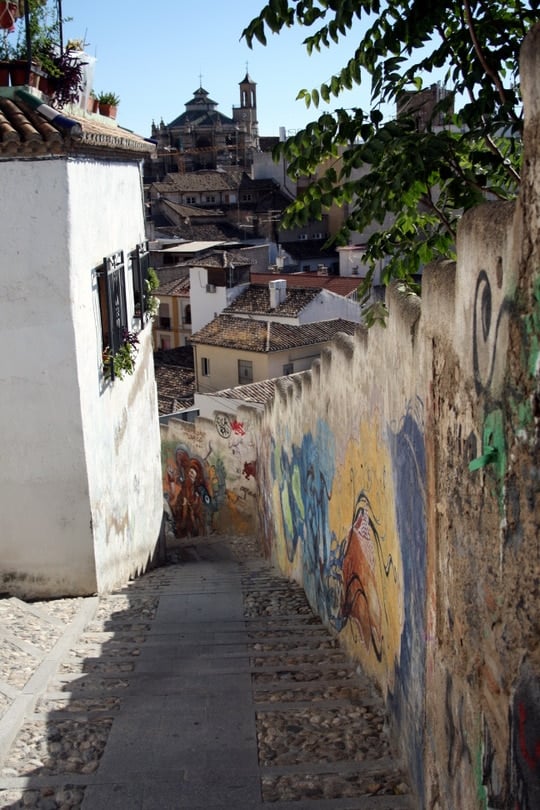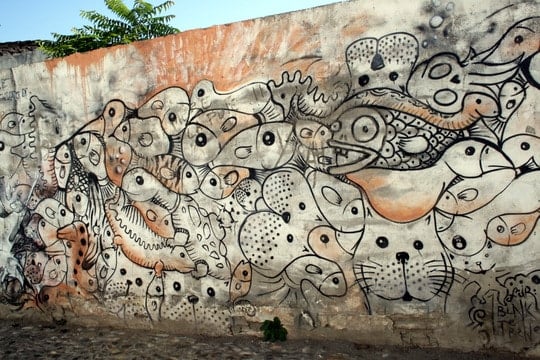 Have you seen graffiti in Granada? Do you know where it was located? If so, please leave addresses in the comments so that we can visit the art in future trips!
If you want to see more Spanish street art check out this post featuring graffiti in Zaragoza.