Los Miradores Trail in Cercedilla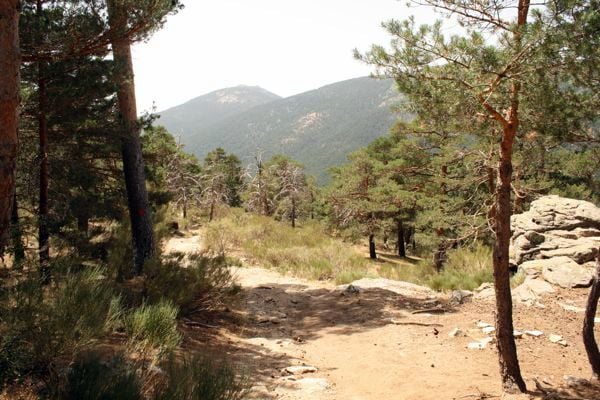 Hoping to escape the brutal Madrid heat, Ale and I headed out last Friday for a short hike in the Madrid mountains, La Sierra de Guadarrama. I figured that if we went high enough, it might even get chilly (I packed a sweater just in case!). Inspired by a one of my food tour clients who recommended this hike, I planned to attempt the route described, a moderate 3-hour hike in starting in Puerto de Cotos.
It sounded simple enough, but despite my semi-obsessive pre planning tendencies, I never looked up the times of the trains! So after a quick metro ride to the Pitis cercanías train station (you could also leave from Nuevos Ministerios) we had to wait nearly an hour for the next train.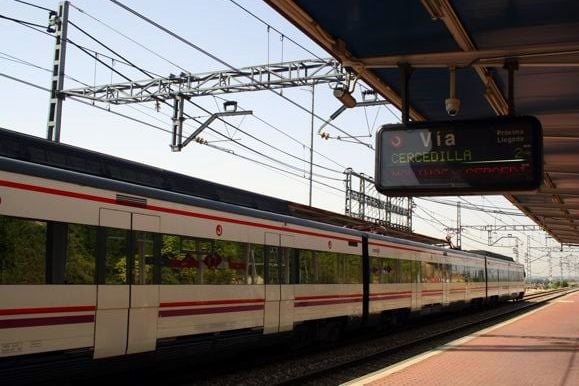 Finally, we boarded the train to Cercedilla, a charming mountainside town we had visited earlier this year for lunch. Cercedilla has many hiking trails of its own, but we were determined to go higher to Puerto de Cotos, another 40-minute train ride from the Cercedilla station. Unfortunately, our delay meant that we also missed the Cotos train, also known as El Tren de la Naturaleza (The Nature Train), and supposedly a really cool old-fashioned mountain train that passes by some beautiful sites. But despite mild disappointment, it really wasn't a problem since Cercedilla offers various routes for all levels of hiking.
From the Cercedilla train station we had to walk about two kilometers (30 minutes) to the environmental office, where they had maps and descriptions of all trails. There were about 10 different trails to choose from, ranging from 2.5 kilometers (1 hour) to 14.3 kilometers (5 hours but only one way!).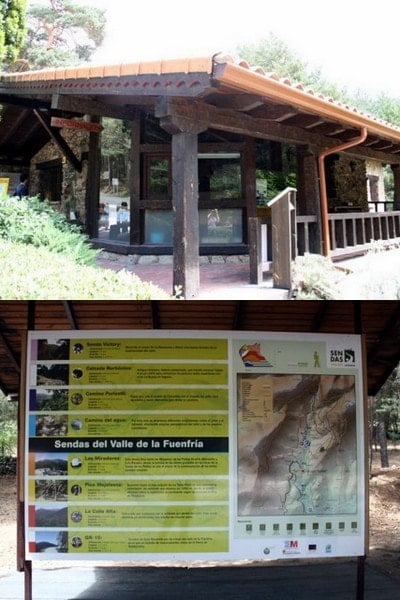 We chose the trail called Los Miradores (The Lookout Points), which was about 10 kilometers and an estimated three-hour circular route. To get to the start of the trail we had to walk about one kilometer more, meaning that before even starting our hike, we'd already walked three or four kilometers! Of course if we'd had a car, we would have started at the beginning of the trail without a problem.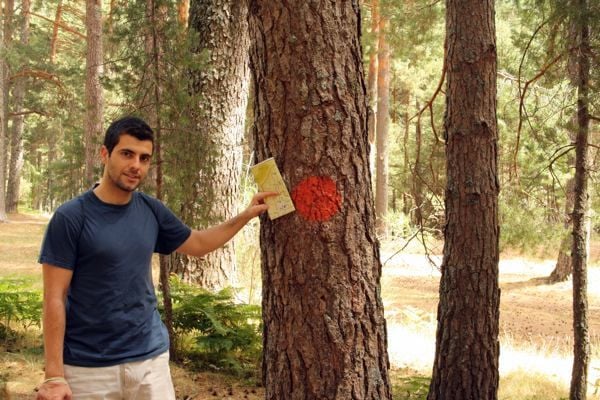 My plan for cooling off definitely backfired-- it was hot up there! We were okay since the trail was covered in shade, but with the weight of my backpack I looked like I'd just worked out.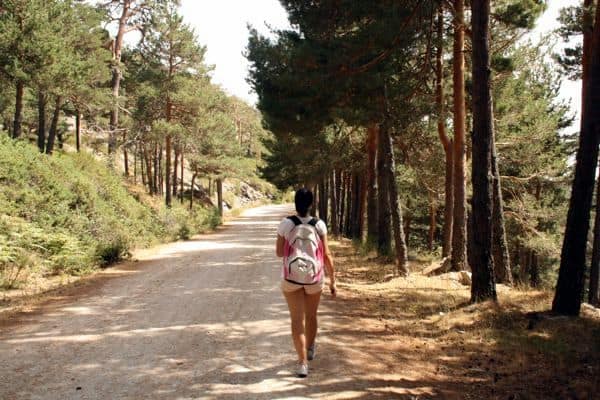 I was impressed that the trail was really well taken care of, and the trees were well marked to ensure that you wouldn't get lost.
The man at the environmental center made it seem like the trail we chose was pretty easy, but the first half was mostly uphill and the ground was uneven, rocky, and full of tree roots. We were fine, but if you aren't in decent shape I would recommend an easier route.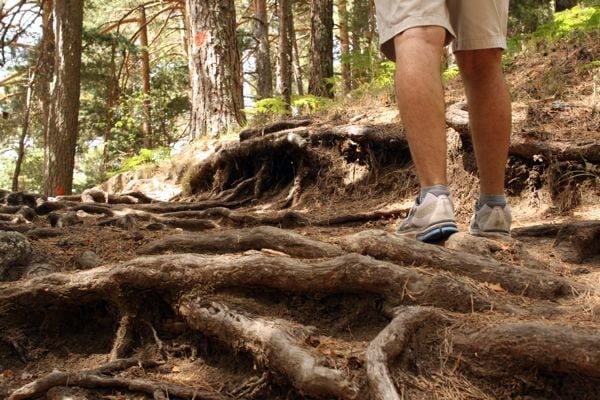 We climbed along and it was amazing to disconnect from the world. My phone was shut off and I felt completely relaxed for the first time in awhile. We stopped for a picnic lunch on a large stone in a breezy, shady area. It was the best lunch I've had in ages.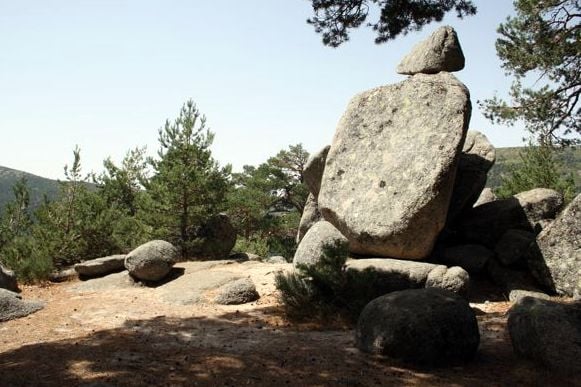 After relaxing (and turning on my phone for a quick instagram shot) we continued on. The rest of the trail was a lot easier and usually flat or downhill. We passed two excellent lookout points that overlooked the valley below, showcasing quaint villages and bright blue lakes.
Although we didn't get to our original destination, we were surprisingly pleased at how wonderful Cercedilla itself is for hiking in Madrid. The Madrid mountains are breathtaking and there were more than enough options for anyone wanting to explore them.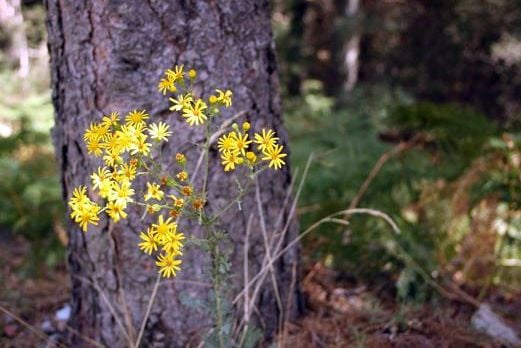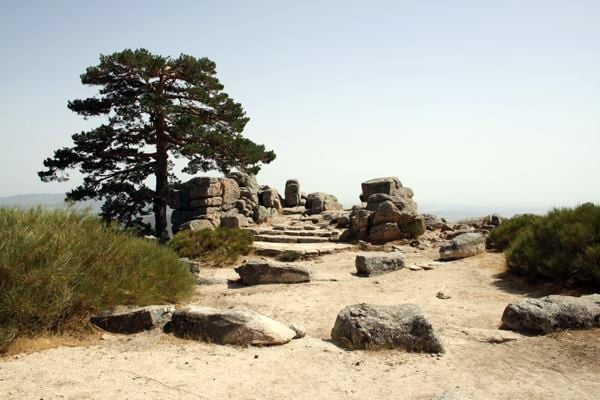 We plan to go back and attempt Puerto de Cotos again, and we also plan to try other trails starting from Cercedilla. Only an hour from Madrid by car and about an hour and a half to two hours by metro/train, Cercedilla makes an easy starting point for hiking in Madrid and the roundtrip train ticket costs less than 8 euro per person!
How to go Hiking in Madrid
Get to the Nuevos Ministerios or Pitis metro station
Change to the Cercanías train toward Cercedilla (check the schedule before!)
Once in Cercedilla exit the station and head up the hill towards the visitor's office.
Choose you trail and get started!
Make sure to give yourself plenty of time to make it back; the last train to Madrid usually leaves at 8:30 (but always confirm this yourself!).
Have you ever been hiking in Madrid?
Brought to you in part by:
Adventures like this are great, but make sure you protect yourself with the latest backpacker travel insurance!
Pin me!