From skiing to sunbathing, here are eight cheap weekend breaks from Madrid-- perfect for the budget traveler!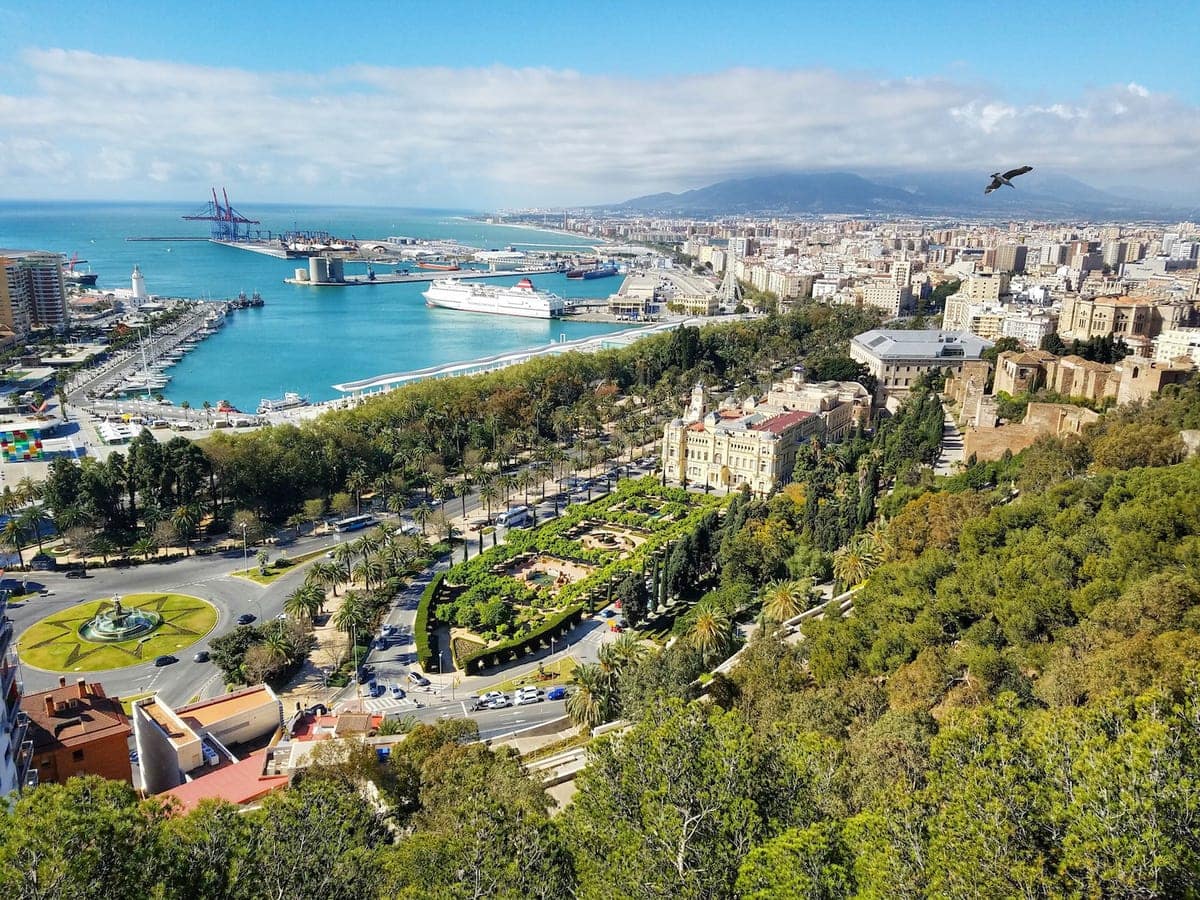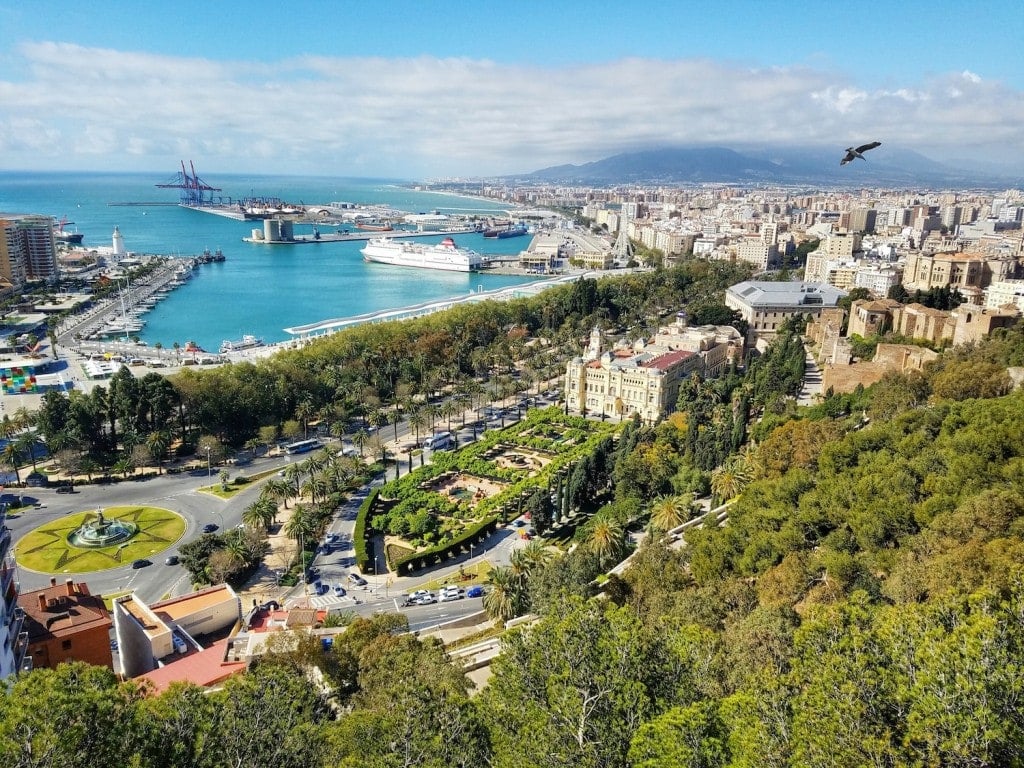 8 Cheap Weekend Breaks from Madrid for the Budget Traveler
1. Lisbon
Getting from Madrid to Lisbon is pretty inexpensive, with plane fares as low as 25 euros each way on Easyjet. The flight takes around 6 hours each way (there's a layover), but the trip is easy to make over a three or four day weekend. Because Lisbon isn't as expensive as other European cities are, prices for hotels and hostels aren't so inflated. A private room at hostels like Lisbon Central Hostal, cost only 25 euros per person for private rooms (dorms, of course, would be even cheaper).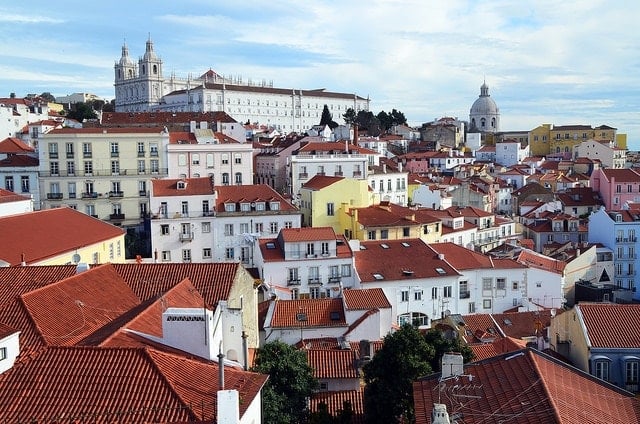 As far as the city goes, Lisbon looks much larger on a map than it is in real life. This means the times you'll need to take public transportation are pretty rare. Walking through the old neighborhoods is what it's all about, and there's nothing better than sitting up on the hills with a glass of vinho verde and looking out over the city and the ocean below!
Lisbon's food is delicious and inexpensive, and the more hole-in-the-wall a restaurant is, the better it will probably taste. The nightlife is alive and well in Lisbon, with more bars than clubs-- making for an even more budget-friendly going out agenda! With a little extra time, day trips to towns like Sintra and Belem are easy and inexpensive too, and totally worth it if you have the chance!
Stay cheap in Lisbon: See top picks for budget hotels in Lisbon here (most with free cancellation!)
2. Granada
Granada is about a five-hour drive or bus ride south of Madrid and makes a great weekend getaway year round. Offering some of Andalusia's best budget hotels, it is also home to free tapas-- that's right, you just have to order a beer and your food comes gratis!
See also: Granada Gastro Guide: Where to Eat in Granada
Granada makes an ideal weekend break for those who adore the outdoors, as its gorgeous mountains are ideal for ski trips and hiking excursions. Even if you don't make it to the mountain, you can see the beautiful snow-capped peaks from just about anywhere in Granada capital, even during the summer months! Make sure to take in a sunset from the Alhambra, known to be among the most beautiful in the world. Granada also offers some of southern Spain's prettiest beaches, and the locals are known to escape the month of August on the coast.
Stay cheap in Granada: See the best budget hotels in Granada here!
3. Andorra
The small country of Andorra borders Spain and France, and makes one of the best (and closest) escapes from Spain available. You can usually find cheap flights and also have the option of driving-- from Madrid it takes about six hours. Located in the Eastern Pyrenees Mountains, Andorra is undoubtedly one of the peninsula's best spots for winter skiing and summer hiking, and many tourists also choose to accompany these activities by a stay in a rural cabin in the winter, or a camping tent in the summer.
It may be a touristy place, but the options to escape the masses and get in touch with nature are infinite, so don't worry about crowds! With breathtaking mountain views, especially when covered in crisp, white snow, Andorra is a must for anyone looking for a quick and inexpensive weekend getaway.
Stay cheap in Andorra: Check out these top budget hotels in Andorra and reserve early (it's a popular place!)
4. Valencia
Only 4 hours by bus from Madrid, tickets to Valencia are around 25 euros each way, making this journey one of the most ideal cheap weekend breaks from Madrid. Flights can be even cheaper than the bus if you plan your trip far in advance, but in a pinch, the bus does just fine! As far as accommodations go, hostels rent beds for between 9 and 15 euros per night.
See also: 48 hours in Valencia: The perfect itinerary to make the most of your stay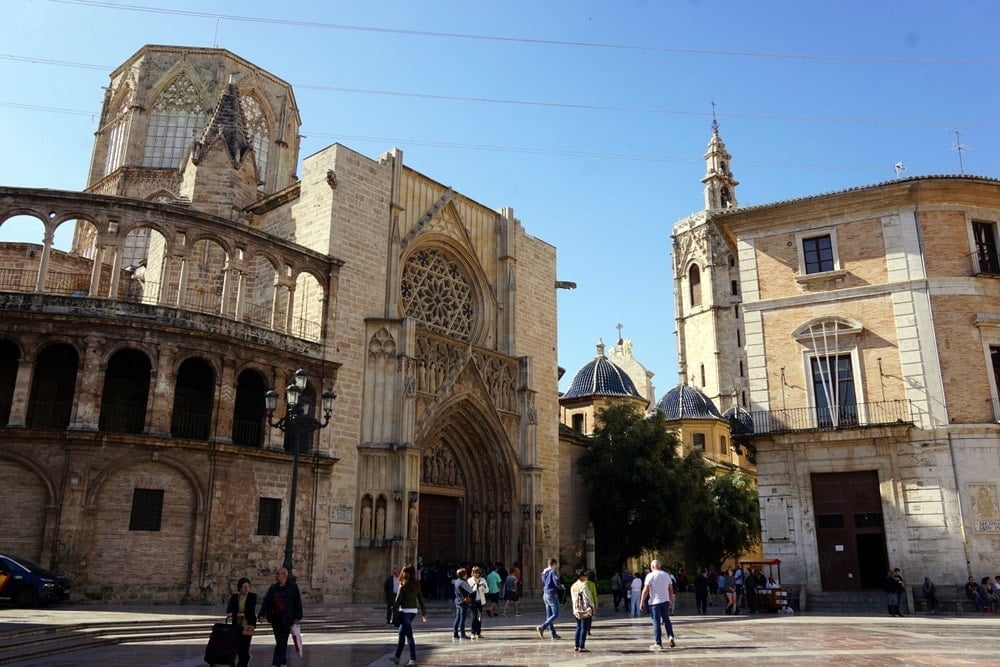 Visiting Valencia is an easy cheap vacation because the main attraction is its beautiful beaches. Playa de la Malvarrosa and Playa de las Arrenas are the two beaches in town, quite close to one another in case one is too busy.
If you need some time out of the sun, the Jardines del Turia and Valencia's Old Town are beautiful areas to wander through. And if you want to splurge a bit, go visit the aquarium, an incredible architectural wonder full of amazing creatures.
Food in Valencia is not as expensive as in Madrid, and you certainly can't leave town without sampling the famous paella. Valencia is known for being the birthplace of paella, and their dishes are world renowned as the very best.
Stay cheap in Valencia: Take a look at budget hotels in Valencia and start planning your trip!
5. Seville
Buses run regularly from Madrid to Seville and cost just over 20 euros each way. However, do be aware that the journey is about six hours long. Some choose to leave very early in the morning, others very late at night, so as to have the maximum amount of daylight in the stunning city of Seville. Hostels are very affordable and shockingly beautiful and clean, many with rooftop gardens and a variety of free activities.
See also: Seville Gastro Guide: Where to Eat in Seville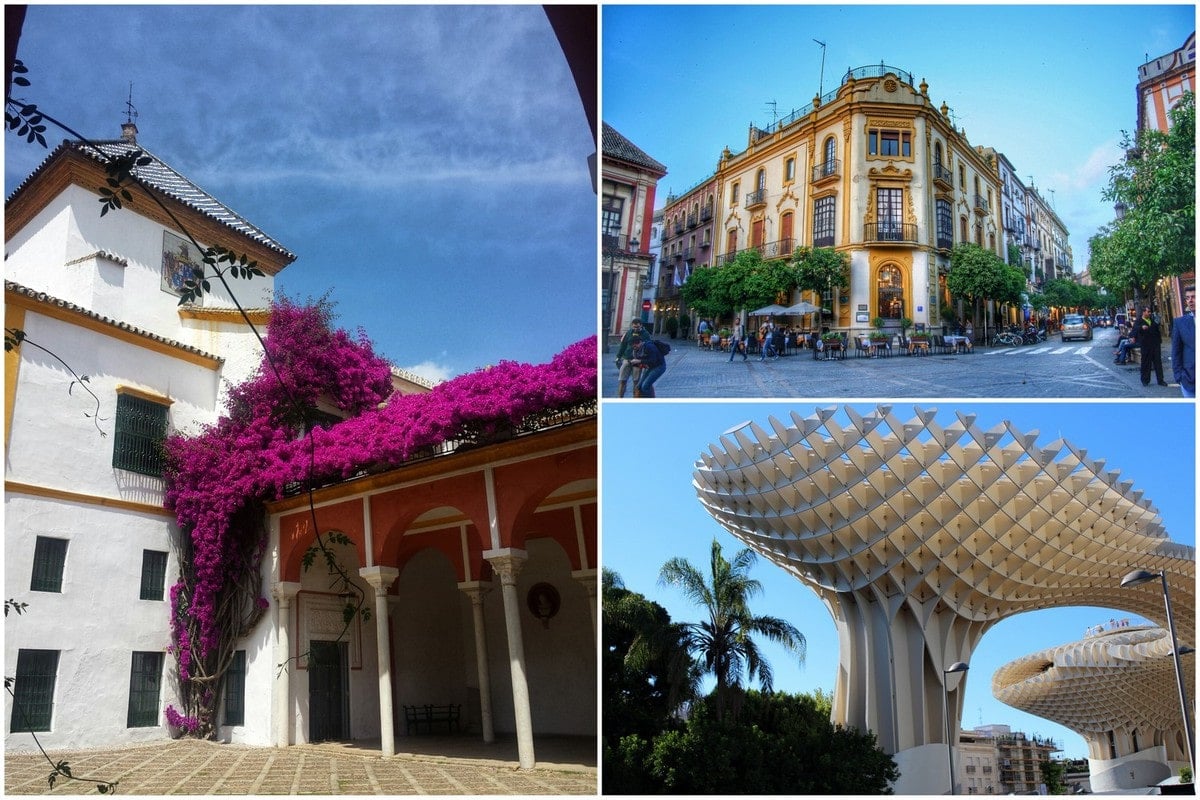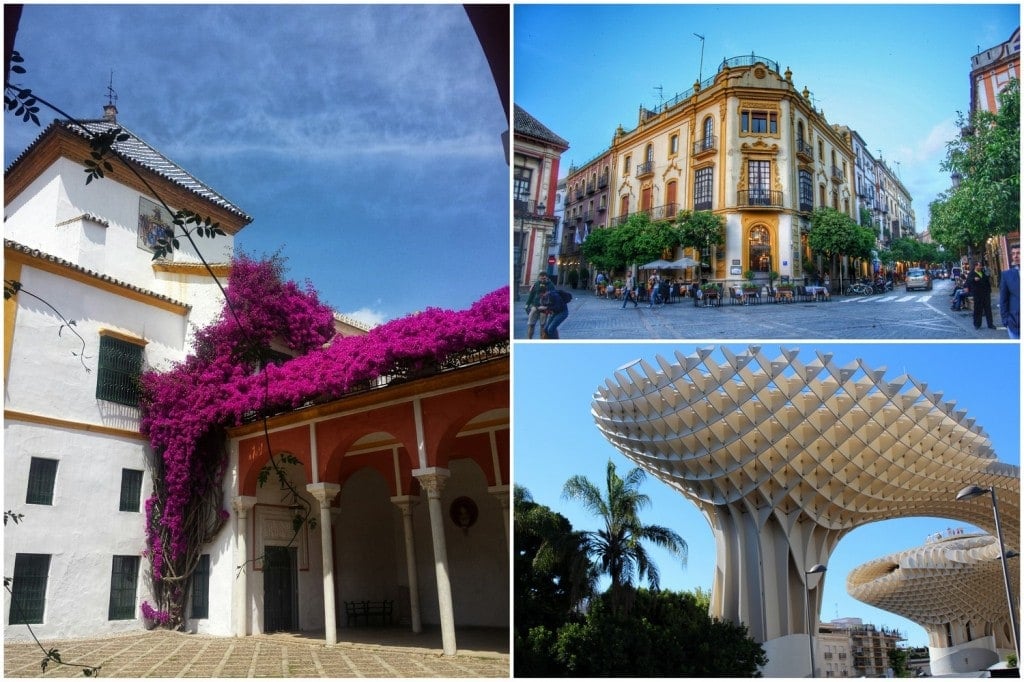 The city itself is small, so you can walk to all the attractions and along the river. Public buses and metros do exist, and buses run often between the stations and the center of town. However, if you travel light, you can walk from the bus station to almost anywhere in the historic city without taking much longer than 20 or 30 minutes. Once settled into your room, wander through the city and look at the brightly colored buildings and bell towers. The cathedral is stunning, as is the Alcazar. Open-air markets also appear throughout the week, so you'll never lack things to see or do. And of course, don't forget the wonderfully delicious tapas of Seville.
Stay cheap in Seville: Seville is home to plenty of quirky hostels and budget hotels.
6. Salamanca
Finally, a trip where you can justify taking the train! Train tickets from Madrid to Salamanca cost under 20 euros each way, and the trip lasts fewer than three hours. The city is much smaller than any of the previous ones mentioned, so you can easily spend only one night there and still have time to wander through the city streets. The architecture of Salamanca exhibits a beautiful sandstone color, and all of it is built in the same style. Moreover, the Plaza Mayor in Salamanca looks magical at night when the building façade lights up. Be sure to visit the cathedral and the Casa de las Conchas as well! Such a small place doesn't need much time, so this cheap weekend break is perfect for those on a tight time schedule who just need a little time away.
Stay cheap in Salamanca: The town is small, so book early- but there are plenty of budget hotels in Salamanca to discover!
7. Malaga
Another lovely beach town, Malaga is located in the south of Spain, beckoning visitors with vistas of sand and ocean as well as surrounding hills and traditional Spanish architecture. Getting there by bus, again, is the cheapest but longest method of travel. Bus tickets only cost about 25 euros, but the ride is about six hours long. Just like traveling to Seville, some choose to make the voyage overnight so they can sleep on the bus. A multitude of comfortable and affordable hostels and hotels await!
Malaga is not a town that overwhelms with its list of "things to see." The beach, of course, is one of the most important places to visit in town, and you can spend hours walking up and down the coast and stopping for a bite to eat along the way. The seafood dishes are just amazing, and the slow pace of life and hot sun will make the day seem endless and heavenly. If you're a bit more active, there are hiking and swimming options for you in and around town, and plenty of world-class museums. Though a vacation spent outdoors is what Malaga is all about, so take a pair of shorts and your sandals and you'll be ready to go.
Stay cheap in Malaga: City center or beach views? Check out these budget hotels in Malaga and choose your favorite.
8. Bilbao
There are some great cheap flights to Bilbao (often around 40€ roundtrip!) that will have you in this fun northern city in no time. With plenty of centrally located hostels to choose from, I'd recommend one near all of the pintxo bars, to make staggering home in a food coma much easier! What are pintxos, you ask? Small portions of food usually skewed with a toothpick and served on a small slice of bread, they are Basque-style tapas and you'll find them in bars all around the city. At between 1.00€ to 5.00€ each, they make budget travelers very happy!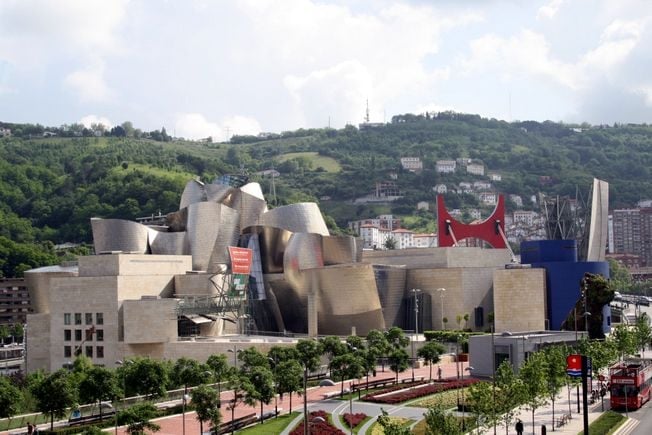 Bilbao is also home to the Guggenheim Museum, which, if you can't afford going inside, is still really amazing from the outside, and its many angles will have photography fans fascinated! You can also take an inexpensive cable car to the top of a large hill and see the best view in the city.
Stay cheap in Bilbao: The city of Bilbao is a must visit-- make room for extra pintxos with these budget hotels in Bilbao.
For cheap weekend breaks from Madrid, the list doesn't get much better, these eight destinations are an incredible way to spend your weekend! Don't forget to bring your camera!