Navacerrada, Spain: Up the Mountain and into the Snow!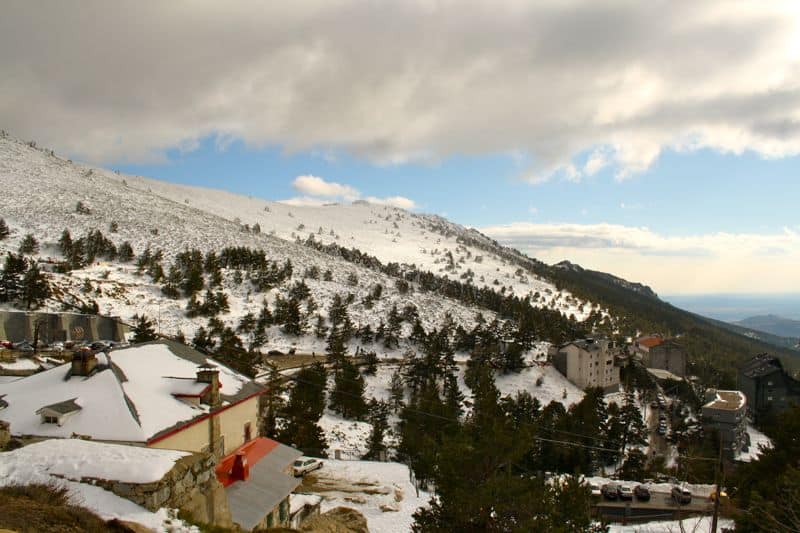 It's only February, but spring is officially here in Madrid, complete with 70° weather and cherry blossoms in bloom. After enjoying such a bright and sunny weekend it's hard to believe that only one week earlier I was playing in the snow in Puerto de Navacerrada, a mere 45 minute drive from Madrid. If the idea of snow in Madrid sounds exciting, I suggest you get there fast-- a few more days of this heat and I can't guarantee you'll be seeing anything but puddles!
It must be said that I don't especially like the snow (a big reason I moved to Spain was to escape the harsh winters of Massachusetts!)But when persuaded by three Spaniards, who come from the sunny, snow-less south, my warnings against the wet, white mush were basically disregarded and up the mountain we went, for better or for worse!
The drive to the top of the Sierra de Guadarrama was gorgeous, scattered with tiny towns and never without lovely views of the snow-capped mountains. The houses we saw were cosy looking, made of wood or stone and completely unlike the whitewashed pueblos blancos of the south.
See Also: 7 Magical Mountain Escapes in Spain
I had heard about Puerto de Navacerrada from my students. It is a medium sized ski resort (the only ski resort in the Madrid province) that offers visitors a chance to ski and snowboard in the lovely Guadarrama mountains. There are handful of local hotels that are full of character to stay at in the little village also!
Being a Sunday morning and knowing that we were headed to an extremely touristy spot we made the wise choice to have lunch in the nearby town of Cercedilla.
Cercedilla is a charming little town with a stunning view of the mountains. We went to La Maya Restaurante where we had some delicious steaks served traditional-style with fried eggs and potatoes. Our meal and a glass of wine ran us about 14€ per person. It was the best steak I've had in Spain in quite a long time, and they actually cooked it rare, just the way I asked for it. If you are ever in Cercedilla, you must try Restaurante La Maya!
Rabo de Toro (Stewed Bull Tail)
After lunch we walked back to our car, and I couldn't help but fall victim to temptation in the form of crispy looking Tejas cookies from the local bakery. They were the perfect after lunch sweet!
Back in the car, we slowly made our way up the mountain. We were only a few miles away from Puerto de Navacerrada but, as it was a Sunday in the middle of the high season, there was quite a bit of traffic. It took us about a half an hour to get to the top where the ski resort is located. The next problem was finding parking. They do offer some free lots and some street parking, but everything was completely full. Parking illegally carries a 200€ fine so we didn't even think about risking it.
Disappointed, we made our way back down the mountain and parked rather far from the resort. Yet the Spaniards weren't satisfied. Determined to reach the top, we set out on our uphill trek. I wasn't in the best of moods but I entertained myself watching the families that were sprawled out over every flake of snow you could see, almost as if it were sand at the beach. Many had brought coolers, lunches, drinks, and sleds to spend their day playing in the snow surrounding the parking lot!
Going to the top was predictably anticlimactic. The views were nice, but it wasn't worth the long walk for me (then again I've seen snow since I was a baby!). We had a coffee in the lodge, which was too crowded to even sit down, but the coffee was good and hot and surprisingly wasn't at all overpriced for being the resort's official lodge.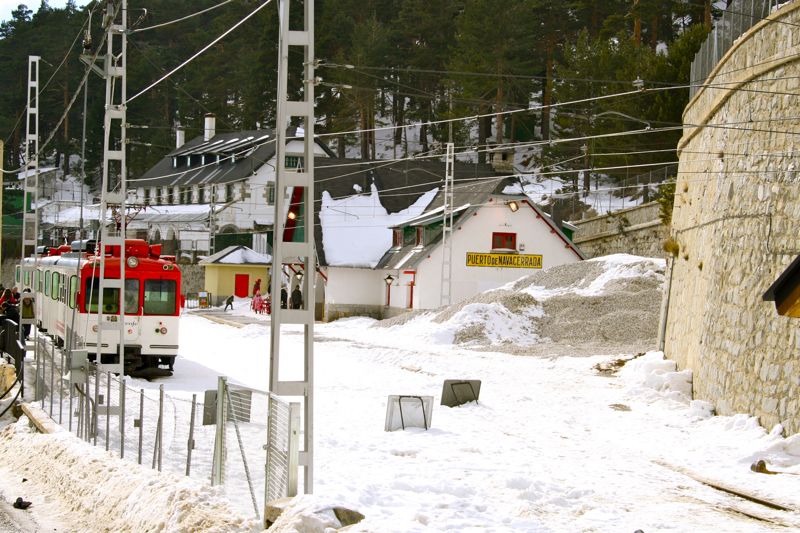 I would highly recommend a day trip from Madrid to Puerto de Navacerrada. You'll enjoy outstanding views and get a glimpse of winter that perhaps you miss living elsewhere. I would definitely go by car if you have the choice, despite the parking issue. The train does stop in Puerto de Navacerrada but taking it means that you'll miss a lot of the pretty drive up the mountain and won't be able to stop in fun small towns like Cercedilla, which has both great places to eat and adorable places to stay. On the way up you should definitely stop for lunch at La Maya. You'll leave happy and full! It is also possible to visit other nearby destinations like El Escorial and Valle de los Caidos in the same day (if you're up early!).
If you've been enjoying my posts please share them using the buttons below. Don't forget to subscribe for posts by email too!