My simple and authentic gambas al ajillo recipe makes the most delicious Spanish garlic shrimp you can imagine! This popular Spanish tapas dish is one of my favorites (and it's ready in only 10 minutes!).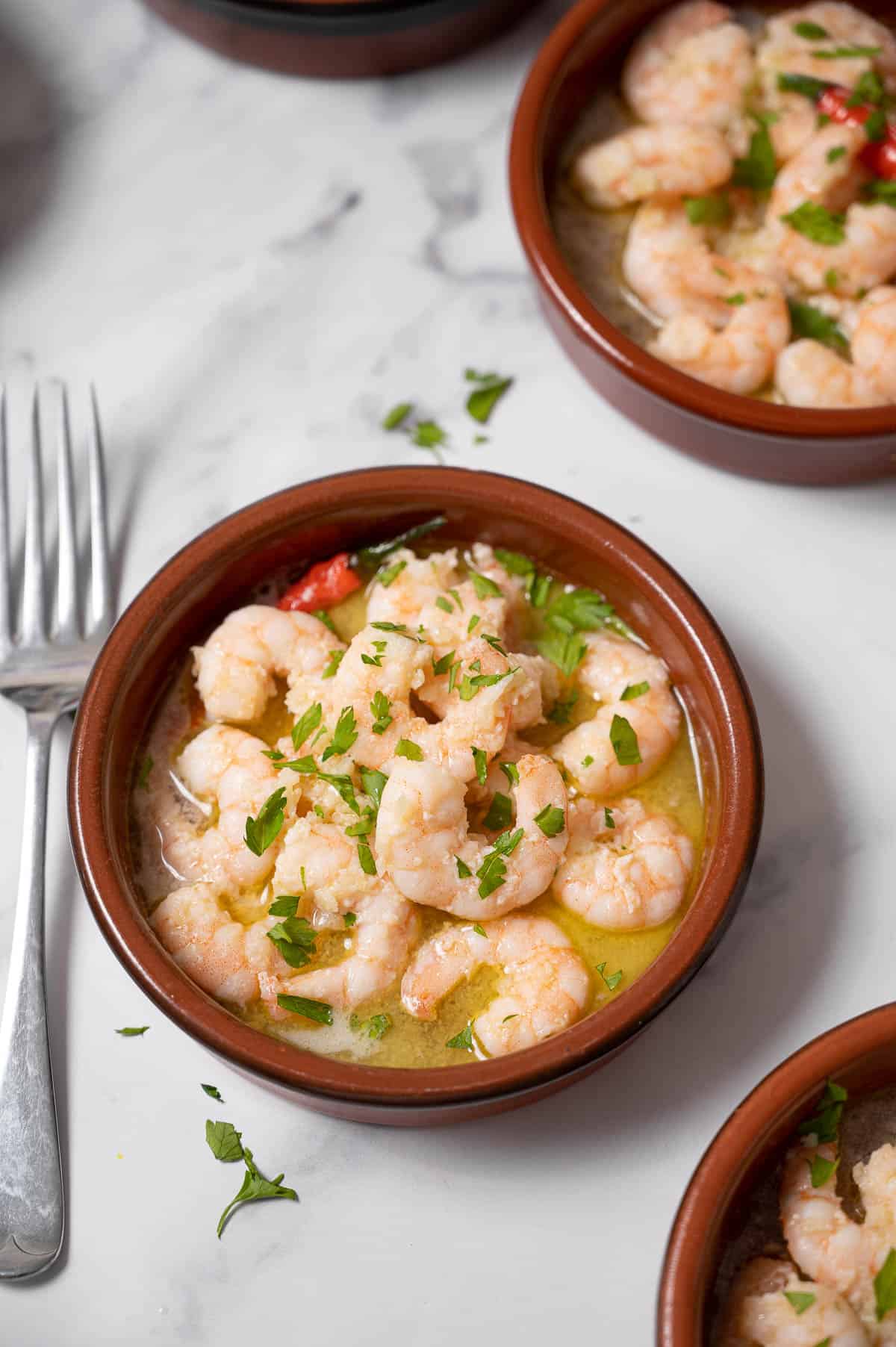 When my mother-in-law makes gambas al ajillo, everyone seems to be right on time for dinner. We scarf down our salmorejo and croquetas de jamón-- the first courses that are only a buffer before the true plato del día. Her gambas al ajillo are fantastic, rivaled only by the ones at Madrid's famous Casa del Abuelo (where you get to see them prepare the shrimp right before your eyes and your plate always comes out sizzling).
Her secret can be explained in two words, sherry and butter. Traditionalists cover your ears, my suegra doesn't make the most typical gambas al ajillo recipe in Spain-- but it might be the most delicious!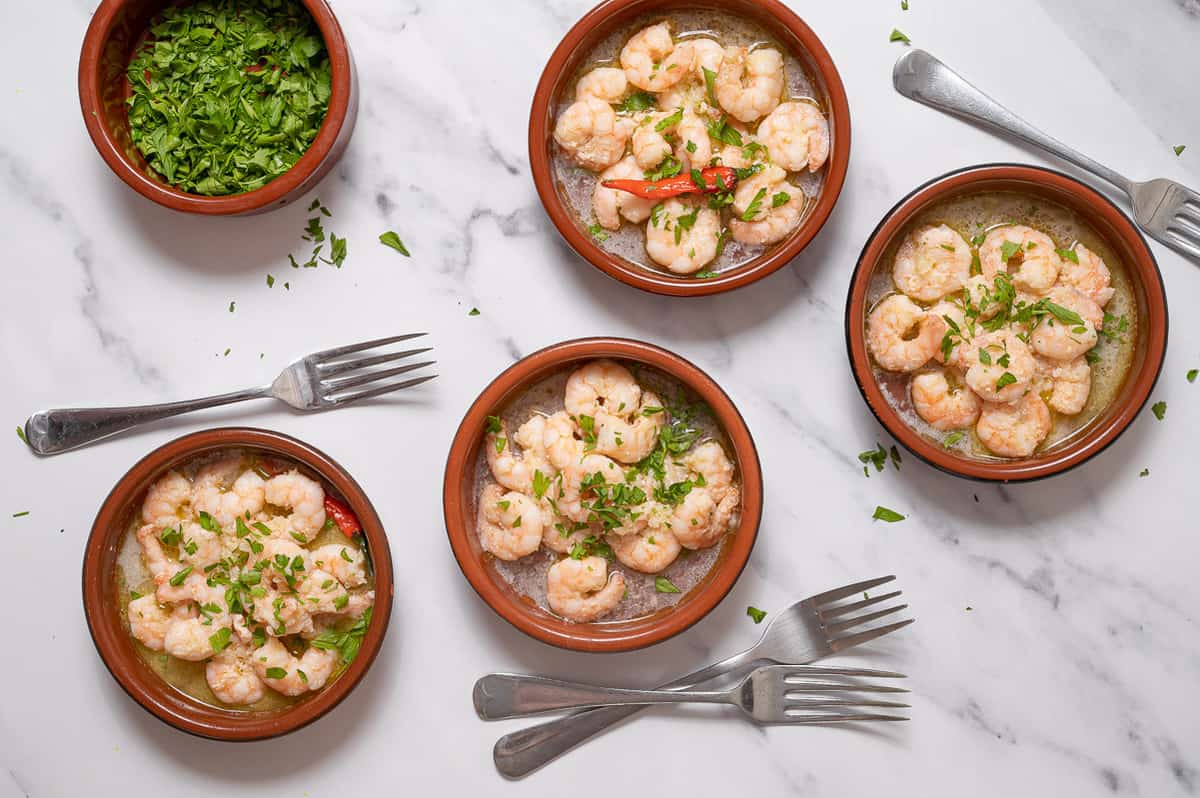 Key Ingredients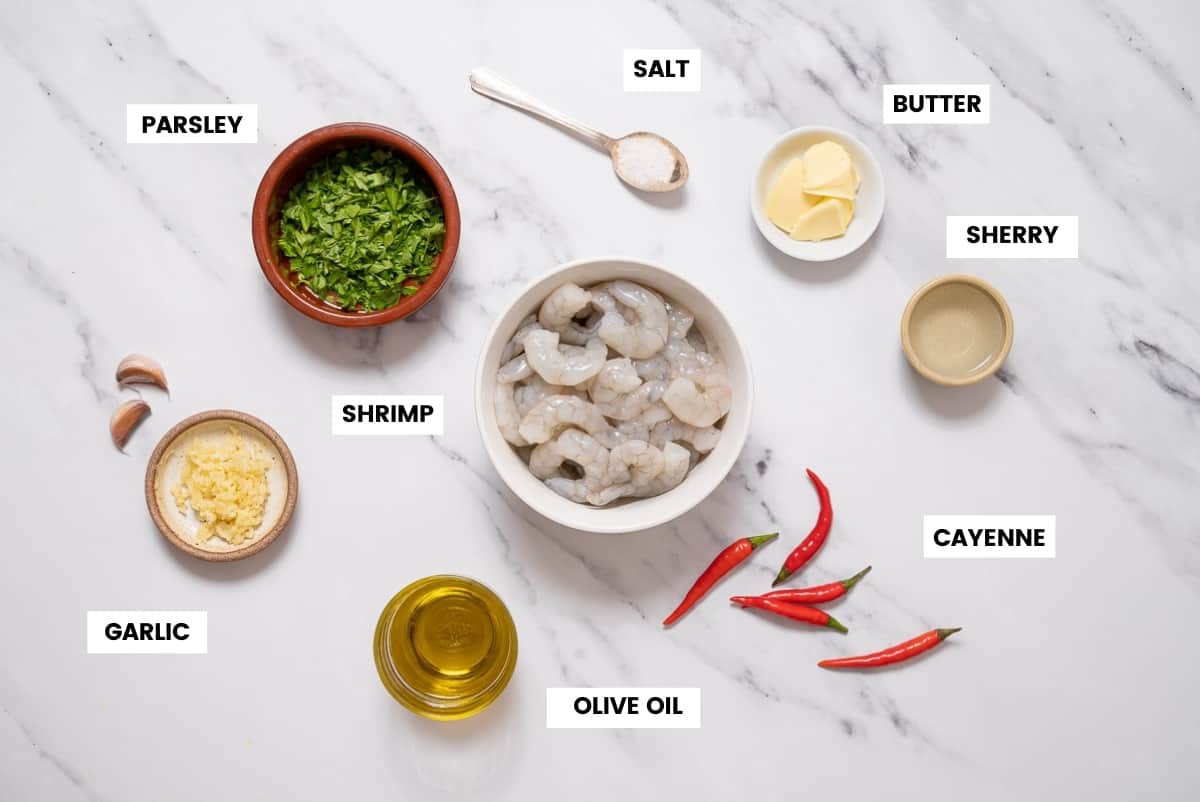 Key Ingredients: Shrimp, butter, olive oil, garlic, salt, cayenne pepper, parsley, and sherry.
Ingredient Notes & Substitutions
This dish is so simple that there aren't too many things to play around with -- but here are some ideas!
Shrimp (Prawns): While I wouldn't go ahead and change the main ingredient, there are other things here in Spain that we make in a similar way! Champiñones al ajillo are delicious mushrooms with garlic, for example. You can also attempt to substitute scallops or crab for the shrimp here. Let me know how it goes!
Butter: My recipe uses butter and the combination with olive oil makes the dish even creamier. But you can use 100% olive oil if you prefer. Extra virgin, of course!
Olive Oil: Please use the best quality extra virgin olive oil you can find. You'll ideally not waste a bit -- sopping up the excess with a good loaf of crusty bread! Read my article about olive oil to find out why it's a fantastic oil for cooking (and even baking!).
Garlic: Add as much as you like (but the more, the better!). This is not a first date kind of dish! There's no great substitution here if for some reason you can't have garlic.
Sherry: A dry sherry wine gives this dish an extra pop, but it's not traditional. Feel free to omit completely, or to substitute any dry white wine.
Cayenne: This is one of Spain's few "spicy" dishes -- but feel free to skip the spice, or add a couple of black peppercorns for a slightly different take on things.
Bread: While I didn't list it as an ingredient - it's important! It wouldn't be true gambas al ajillo without a loaf of crusty bread to sop up all of the delicious garlic sauce!
Gambas al Ajillo: Step by Step
Making these famous Spanish garlic shrimp couldn't be easier. Follow along for a full tutorial, or keep scrolling down for the printable recipe card with exact measurements.
Steps 1-2: Slowly heat the minced garlic, olive oil, and chili over medium heat. Don't let the garlic burn! When fragrant (after about one minute) add the raw shrimp (ideally shelled) and gently sauté to make sure all sides are coated with olive oil. Turn the heat up to high.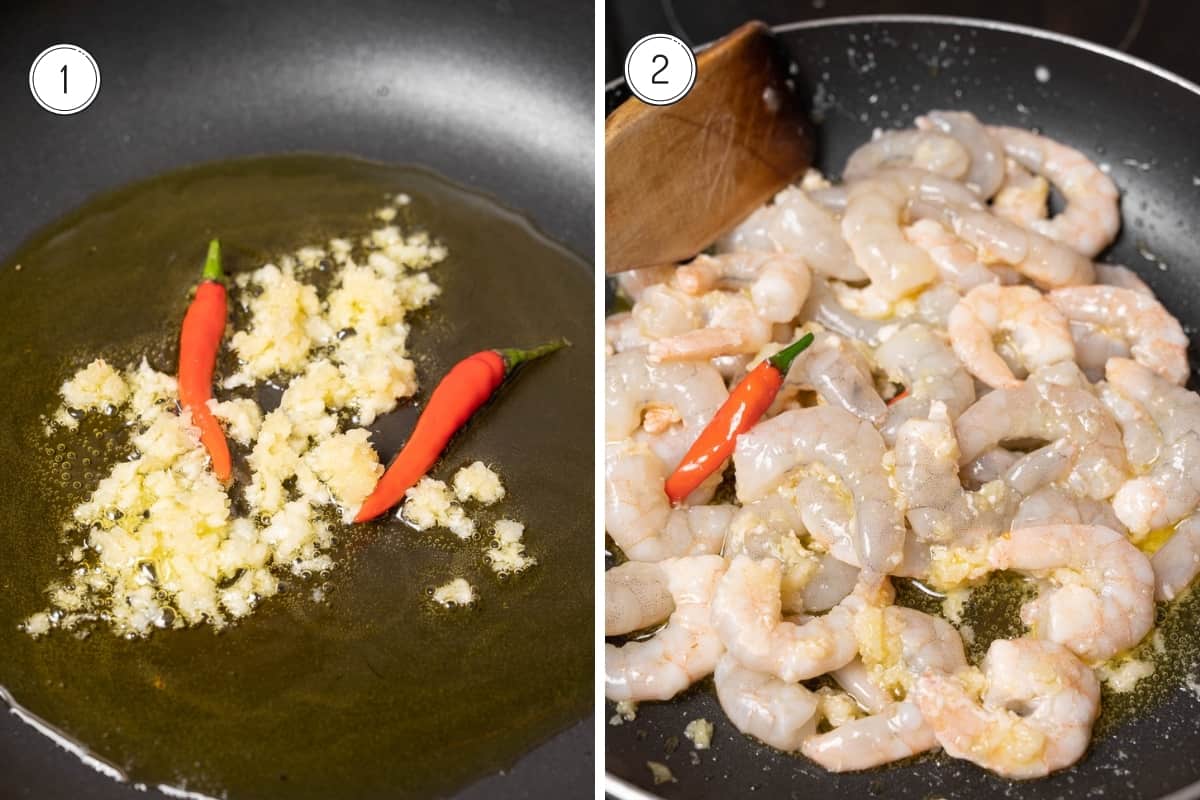 Steps 3-4: Once sizzling, add the wine (if using) and a pinch of salt. Let sizzle for one minute until pink -- don't overcook!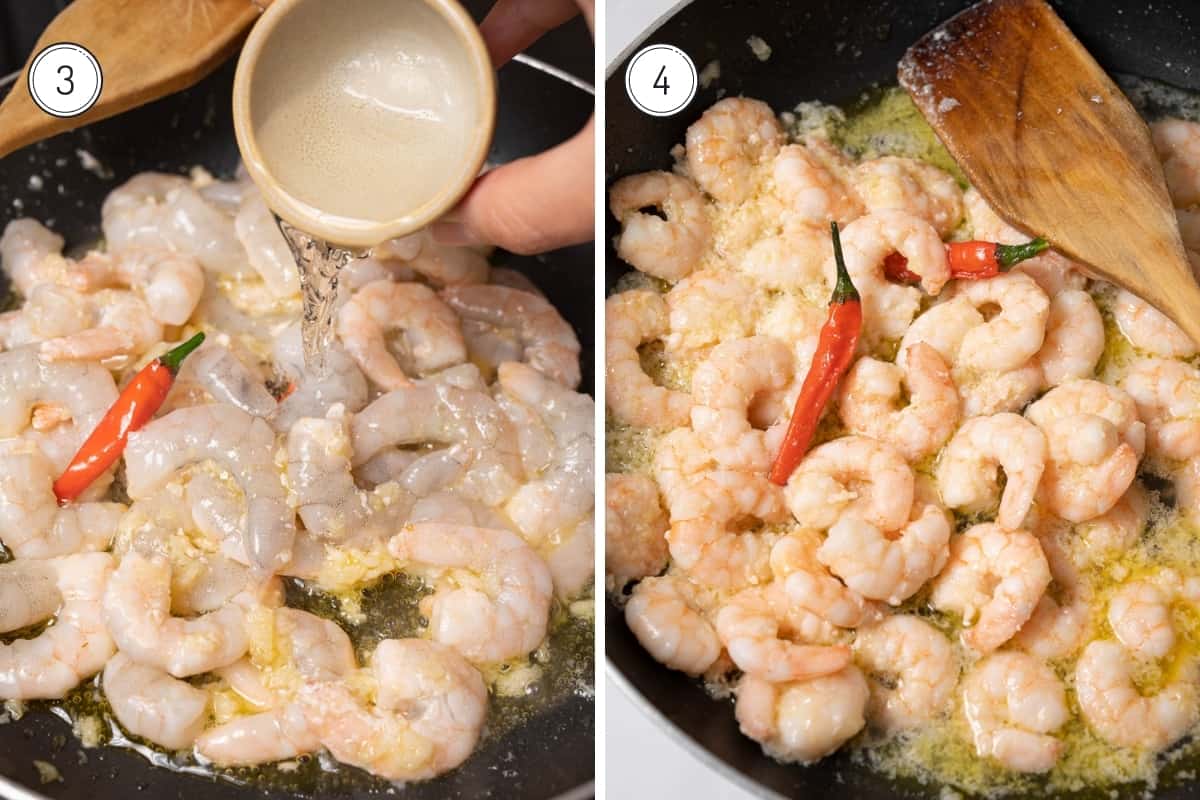 Steps 5-6: Remove from the heat (if making directly in the clay dishes you can serve still sizzling!) and add a pat of butter (optional) and some diced parsley. Serve immediately with crusty bread for dipping.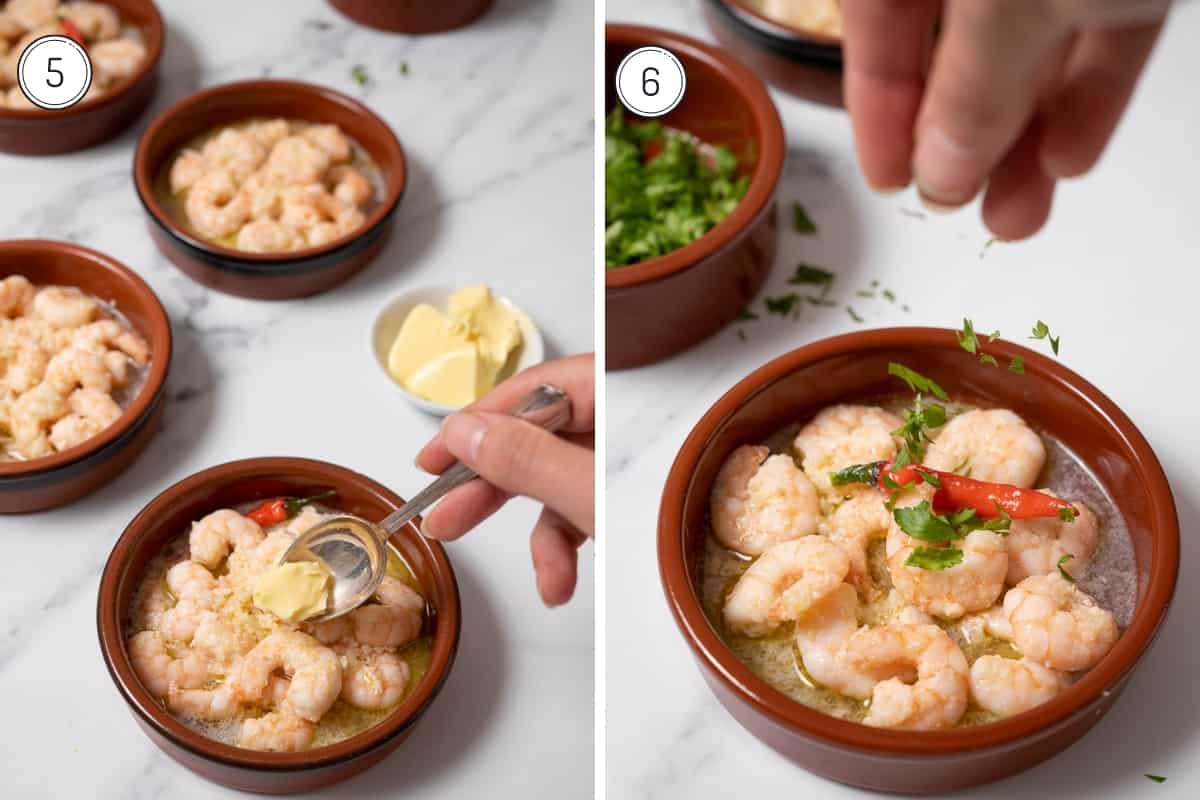 Recipe Tips & FAQs
What kind of shrimp are used for gambas al ajillo?
You can use any type of shrimp to make this dish, but my preference is for a small, sweet variety.
Do you have to use shelled shrimp?
Most places serve this dish with completely shelled shrimp, however, you can also keep the shells (or just the tail shell) on if you prefer. If you make this recipe with whole shrimp (heads on) the flavor may change and taste more intensely of shrimp stock/reduction. To keep the flavors simple -- extra virgin olive oil and garlic -- shelled shrimp is the best choice.
How long will Spanish garlic shrimp last in the fridge?
As with most shellfish dishes, you should plan to consume your garlic shrimp within two days. They will last 48 hours in the fridge without any issues.
Can you freeze gambas al ajillo?
Yes! I recommend cooling the dish completely and spooning the shrimp into a small airtight container (to avoid freezer burn). Make sure to freeze with all of the oil. The gambas al ajillo will last three months in the freezer.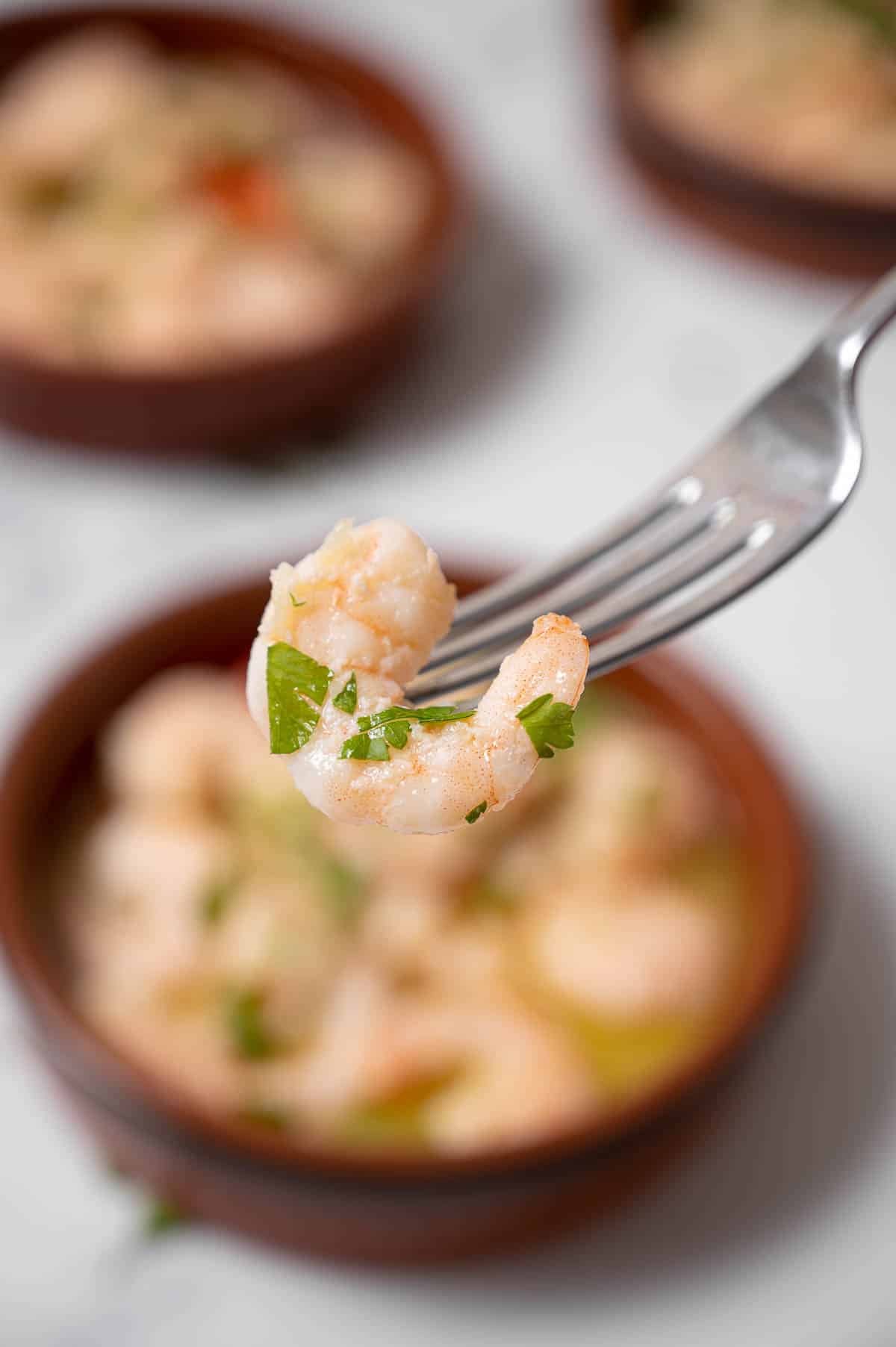 Serving Suggestions
For me, gambas al ajillo are part of a tapas spread! They are a star dish on our Madrid tapas tours, where we enjoy them along with other Spanish favorites, like pimientos de padrón, chorizo al vino tinto, tortilla, patatas bravas, gazpacho, ensaladilla rusa... etc. The list of Spanish tapas is long (and so, so delicious!).
The key to Spanish garlic shrimp, however, is to have a loaf of hearty bread to serve alongside. Dipping your bread into the garlicky sauce is arguably the best part!
More Shrimp Tapas Recipes
Shrimp of all sizes are plentiful throughout Spain and we have some delicious shrimp tapas to show for it!
Hungry for more? Sign up for my free weekly newsletter and receive a new Spanish recipe once a week! Join today and get my FREE Spanish ingredient essentials guide!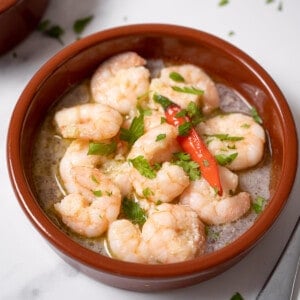 Gambas al Ajillo Recipe (Spanish Garlic Shrimp)
My mother-in-law's gambas al ajillo recipe is one of Spain's best. Piping hot garlic shrimp, smothered in olive oil with a slightly spicy kick!
Print (images optional)
Pin
Rate
Ingredients
About 1 pound

a little less than ½ kilo of small, raw shrimp (shelled or unshelled)

Extra virgin olive oil

Spanish brands preferred!

Minced garlic

about 1 tablespoon per person, you can put less or more depending on your love for garlic

A splash of dry sherry

I generally use fino or manzanilla (this can be omitted or substituted for a very dry white wine)

A touch of butter to finish off each serving

1-2

small cayenne peppers per serving

Sea salt for seasoning
Instructions
My mother-in-law makes these in individual sized clay dishes (cazuelitas) that you can put directly on the stove to cook in. Here I'll assume most will make the dish in one large pan and then plate separately.

If the shrimp haven't been shelled, remove the shells

Completely cover the bottom of a large frying pan with olive oil and slowly heat along with the garlic and cayenne pepper pods.

When the garlic begins to sizzle add the shrimp and sauté a moment.

Once everything starts to sizzle again, add a splash of sherry and a sprinkle of salt.

Simmer for about a minute until the shrimp are cooked through (don't overcook!)

Remove from the heat and divide into four servings.

Top each serving with a touch of butter, and give it a quick stir before serving.
Notes
Serve sizzling if possible, and always with crusty bread to mop up the sauce. Remember to only cook the shrimp for about one minute, they can overcook in no time and will keep cooking once off the heat if kept in the same dish!
Remember that olive oil is a major part of this dish so use the best quality extra virgin olive oil you can get your hands on! 
Nutrition
Calories:
168.39
kcal
|
Carbohydrates:
2.77
g
|
Protein:
23.68
g
|
Fat:
6.1
g
|
Saturated Fat:
1.34
g
|
Cholesterol:
288.45
mg
|
Sodium:
955.55
mg
|
Potassium:
122.8
mg
|
Fiber:
0.17
g
|
Sugar:
0.13
g
|
Vitamin A:
31.24
IU
|
Vitamin C:
7.51
mg
|
Calcium:
178.91
mg
|
Iron:
2.55
mg
Update Notice: This post was originally published on April 10, 2014, and was republished with new text and photos on July 27, 2021.
I hope you enjoy my mother-in-law's gambas al ajillo recipe as much as I do. If you try it, please leave a comment!
Photography by Giulia Verdinelli