Madrid is changing right before our eyes.
Sure, these changes are occasionally positive. The increasing demand for international food in Madrid gives immigrant communities the chance to shine. And Spain's own talented chefs are putting new and exciting twists on the classic dishes we all know and love at Madrid's growing selection of modern tapas bars.
Occasionally, though, these changes come with a price. Century-old taverns are out, and massive multinational chains are in. Longtime residents are being forced out of their homes when entire buildings are purchased by high-paying investors.
To sum it all up, visiting Madrid in a responsible way is more important than ever.
This sustainable guide to Madrid will help you get started. Here are some tips for where to eat, shop, and stay in order to support the local community and environment.
The Complete Sustainable Guide to Madrid
Sustainable Accommodation in Madrid
It can be tempting to book accommodation at a hotel chain with an internationally recognized name, of which there are plenty in Madrid. But you want your money to go right back into the local economy—not into the hands of a big corporation.
Instead, think in terms of locally owned accommodation. Sophisticated boutique hotels, modest pensiones, friendly B&Bs and more all make excellent options for a sustainable stay in Madrid.
Dear Hotel
Bright, spacious rooms; an unbeatable location right at the corner of Plaza de España and Gran Vía; and a stunning rooftop pool and cocktail bar—what more could you ask for? Dear Hotel (Calle Gran Vía, 80) is an ideal option for guests seeking out a luxury boutique accommodation right in the heart of all the action.
Hotel Orfila
With an elegant, sophisticated charm, family-run Hotel Orfila (Calle de Orfila, 6) isn't the cheapest option in Madrid. With just 32 impeccably decorated rooms, it's cozy and intimate, offering a unique brand of comfort you just can't find at large hotel chains.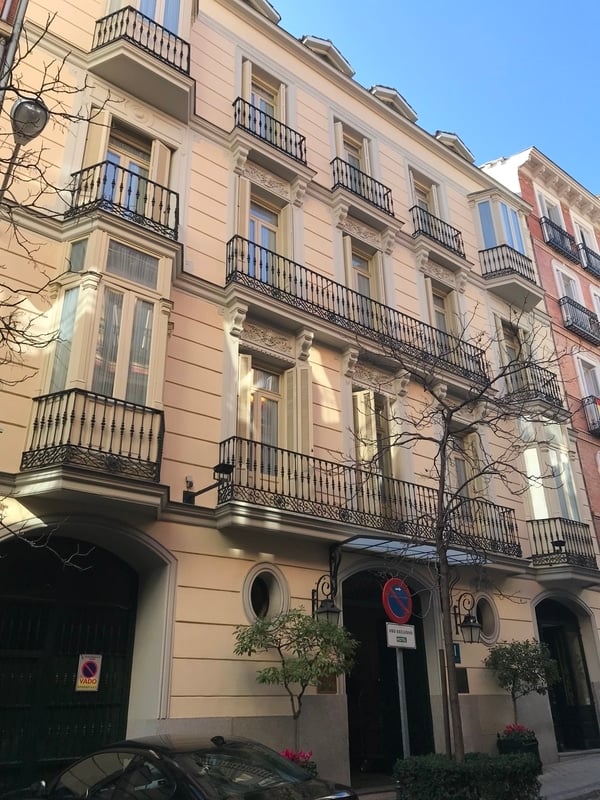 Hotel Ópera
Not only is Hotel Ópera (Cuesta de Santo Domingo, 2) an absolutely gorgeous place to stay, but it's also one of the most environmentally friendly hotels in Madrid. With the prestigious Green Key label and one of the lowest carbon footprints of any hotel in town, it's perfect for travelers looking to minimize their environmental impact.
See Also: An Insider's Guide to Where to Stay in Madrid
Sustainable Dining in Madrid
Just like with hotels, massive food chains are all over Madrid. As tempting as McDonald's or Starbucks may be, walk right on by. In addition to it not being the most responsible choice, why would you waste a meal in Spain at a place you could easily visit back home?
Again, consider locally-owned spots with locally sourced ingredients where possible. This minimizes the transportation distance of products from the source to the table, thus cutting down on an eatery's carbon footprint.
El Anciano Rey de los Vinos
Located just around the corner from the Royal Palace, El Anciano Rey de los Vinos (Calle Bailén, 19) is the kind of place you'd never notice if you weren't looking for it. Family-owned and going strong for more than a century, this place serves traditional dishes that capture the heart and soul of Madrid.
La Berenjena
Though it's not nearly as old as its centenarian counterparts, La Berenjena (Calle Marqués de Toca, 7)'s small space might remind you of the tiny old bars that are seemingly everywhere in Madrid. Don't be intimidated by the less-than-roomy interior, though. This place offers fabulous seasonal cooking and a relaxed, friendly vibe that will immediately make you feel at home.
VEGA
Even if you're not vegan yourself, VEGA's 100-percent plant-based dishes are well worth digging into. Everything on the menu comes together with locally sourced, organic ingredients, so you can really feel good about what you're eating. If you're tired from a long day of sightseeing, they even offer takeout so you can enjoy your food in the comfort of your hotel room.
Sustainable Shopping in Madrid
Before you leave Madrid, you'll definitely want to pick up a souvenir from your time here. And no, I'm not talking about the same keychain hundreds of other people can also buy. Skip the kitschy tourist-oriented stores and instead do your shopping at—you guessed it—a locally-owned shop to support the community.
Antigua Casa Talavera
Nothing says "Spain" quite like a colorful, hand-painted piece of pottery. That's exactly what you'll find at Antigua Casa Talavera, which has been proudly carrying on this artistic tradition since 1904. Support local artists and bring a piece of Madrid along to brighten up your home—it's win-win!
Taller Puntera
If you're looking for a stylish souvenir, Taller Puntera (Plaza Conde de Barajas, 4) won't disappoint. This family-run leather goods store makes and sells beautiful wallets, bags, notebooks, and more. The store itself is located right in the actual workshop, so you can see the artisans hard at work creating their handcrafts with the utmost care.
Donde Sánchez
The Antón Martin Market (Calle de Santa Isabel, 5) is worth visiting for many reasons, but this cozy stall is definitely near the top of the list. Donde Sánchez is a gourmet foodie's dream come true, selling everything from Spanish olive oil and cheese to craft beer and artisanal chocolates. If a delicious memento is what you're after, this is the place to be.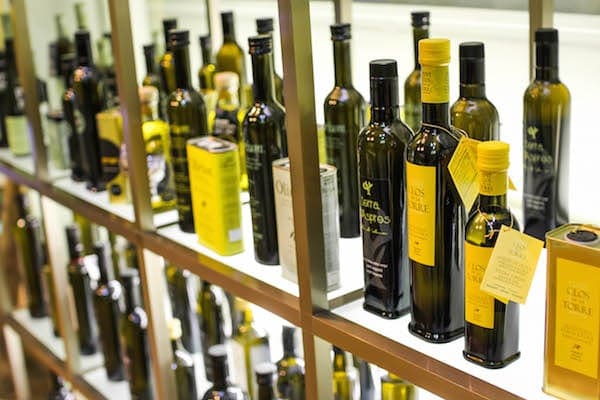 Putting it all together: sustainable tours in Madrid
If you're reading this, you're already off to a good start when it comes to sustainable travel. Keep the momentum going by booking a Devour Madrid experience for your next visit to Spain's capital. With a commitment to helping local culture thrive through sustainable tourism, Devour Madrid's tours take you into the family-run, best-loved local businesses that most other visitors to the city won't even notice. And, of course, you can rest assured that every euro you spend will go right back into the local economy, helping these businesses continue to thrive.
For more information, check out Devour Madrid's guide to responsible travel in Madrid.
Pin me!