If you're in search of the best hostels in Madrid, look no further.
We've rounded up our top picks for budget-friendly accommodation in the Spanish capital, perfect for backpackers, solo travelers, and families.
How do we know so much about hostels in Madrid? As longtime Madrid residents and business owners, we've had our team members stay in these hostels time and time again. They're our honest recommendations!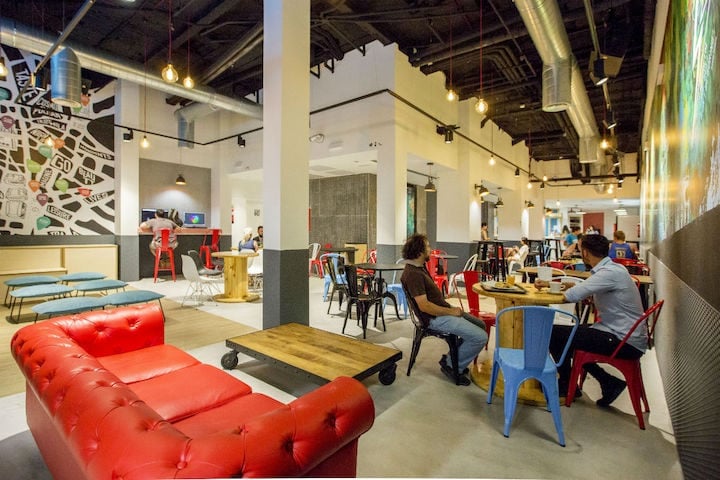 6 of the best budget hostels in Madrid
Whether you're hoping to save a few euros or you just want to enjoy the welcoming hostel experience, you'll find what you're looking for here.
Offering group activities, delicious meals, and an awesome atmosphere, one of these places might just be the perfect choice for your next trip to Madrid.
Check out our picks for the top six best hostels in Madrid!
1. Sungate One
This local hostel is legendary in Madrid's budget hostel scene, and for good reason.
Sungate One has been racking up awards and top reviews ever since it opened, thanks to its welcoming atmosphere and many perks. Unlike most budget hostels in Madrid, there are no bunk beds—so you won't get stuck on the top bunk, guaranteed.
Every day and night a different activity is offered, giving you plenty of opportunities to meet fellow travelers. The prices are slightly higher here, but you get what you pay for... if you can manage to snag a bed before they sell out.
Perfect for: Couples travel
2. Ok Hostel Madrid
When I first moved to Madrid, I stayed here: in between La Latina and Tirso de Molina.
As a result, my first impression of the city was overwhelmingly positive. I even ended up renting an apartment right down the street! Modern, clean, and colorful, Ok Hostel is the kind of place you never want to leave.
The nightly dinners are prepared by a professional chef and are reasonably priced for three courses and bottomless drinks. Best of all, the staff goes above and beyond to help you enjoy everything Madrid has to offer.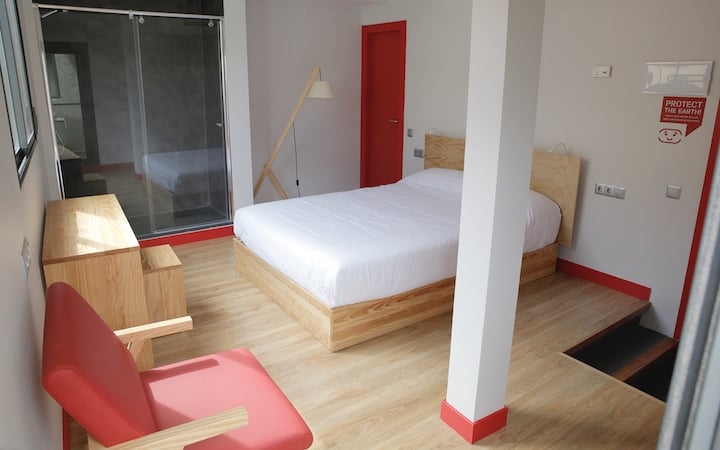 Perfect for: Solo travelers (especially solo female travelers like myself)
3. Hostel One Madrid
If you haven't heard of the Hostel One brand, take note; it was named the world's second-best hostel chain in the 2019 Hoscars.
The same company behind Sungate One has just opened this second location with a more alternative vibe. Take advantage of Hostel One Madrid's free family dinners—yes, I said free—and the spacious terrace where you can relax in the sun. Located right in the middle of Malasaña, you'll be perfectly positioned to explore the trendiest part of Madrid.
Perfect for: Family travel
4. The Hat Madrid
It's rare to find a hostel that's also frequented by locals, but The Hat is proof that it exists.
This is thanks to its charming rooftop bar, which is the perfect place to spend a balmy evening. The space itself is hip, stylish, and a step above your average hostel. There's something here for everyone; you can choose from mixed dorms, female-only dorms, and private rooms. It's also located right next to Plaza Mayor, making it the perfect home base to explore the historic center.
Perfect for: luxury travel on a budget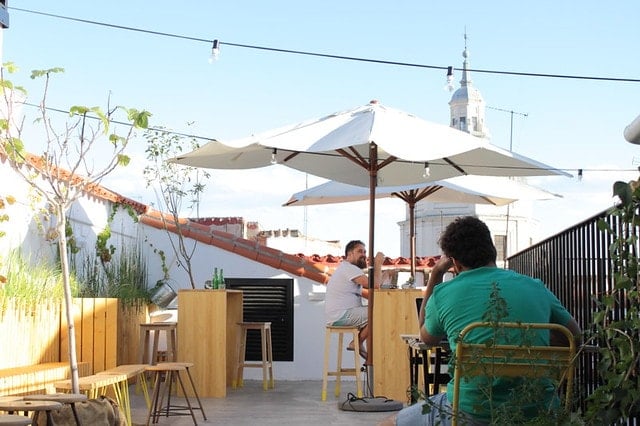 Once you've checked in here, join a food tour in Madrid to get a true taste of Spanish culture!
5. 2060 The Newton Hostel
If you appreciate modern and minimalist style, you'll love 2060 The Newton.
This sleek spot in Lavapiés looks more like a luxury hotel than a hostel, with prices that won't break the bank. It offers "a new accommodation concept" that includes a rooftop bar, spa, sauna, and much more.
With reasonably priced dorms and a whole host of activities offered, it's quickly earning a reputation as one of the best hostels in Madrid. We especially love the quirky quotes and artwork you'll find throughout the building!
Perfect for: Artsy travelers
6. Mola! Hostel
Set in the centrally located Plaza de Jacinto Benavente, this stately building offers elegant accommodation at affordable prices.
Mola! Hostel is chic and cozy, with super comfortable beds where you can actually get some quality rest. The common area is located in the basement, helping to minimize noise on the upper levels. And like all the best hostels in Madrid, it's perfectly clean and cool (read: air-conditioned) at all times—especially important if you're visiting in the summer.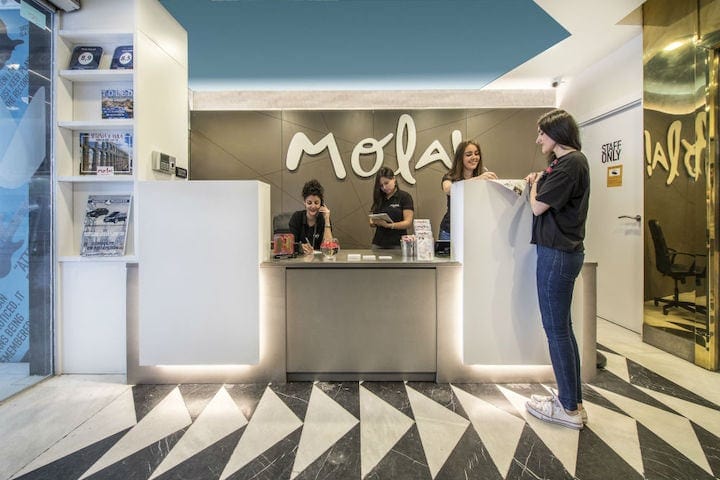 Perfect for: Sleep-deprived travelers
Have you stayed at any of the best hostels in Madrid? Did we forget to include your favorite? Let us know in the comments!
Not convinced about a hostel? Don't miss our full guide on where to stay in Madrid.