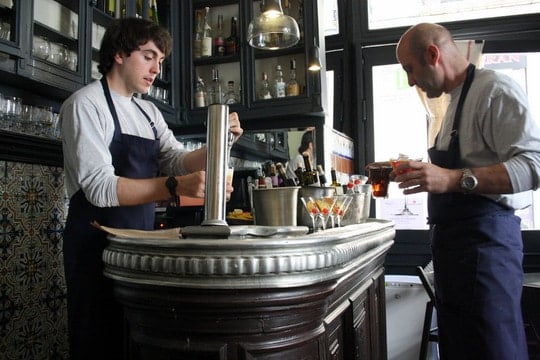 It's the second oldest tavern in Madrid, but until recently you'd have never known it. Dating back to 1854 when it first opened on Calle Libertad in the Chueca neighborhood, Taberna La Carmencita has seen its fair share of Madrid personalities, from the writer Federico García Lorca (who is said to have lived in the apartment above the tavern) to the poet Pablo Neruda, who used to sip vermouth from the bar's small, but striking, zinc bar.
Despite its impressive history, in recent years the tavern was home to nothing more than a couple of restaurant disasters. But the failures allowed the opportunity for Santander based restauranteur Carlos Zamora to take the reigns. Zamora brought with him experience and a refreshing focus on using wholesome, organic ingredients-- perfect timing as the local and organic foods movements are only growing in Madrid. He also restored the restaurant to its deserved glory, maintaining the gorgeous ceramic tiles and long windows.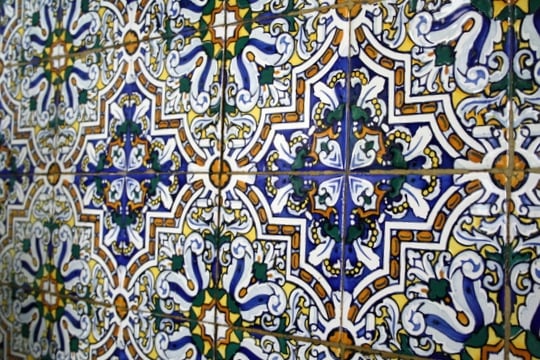 The Menu
The varied menu offers both Cantabrian and Madrid classics, including many recipes that have fallen out of fashion over the years. From the Ensalada Imperial (aka Ensaladilla Rusa) to puff pastry stuffed with organ meat, their menu is exciting, to say the least. They even offer traditional afternoon meriendas (snacks) like toast with olive oil and chocolate, and a variety of cakes and milkshakes.
Among mouthwatering dishes like farm fresh eggs and organic chorizo, slow cooked lamb, and fresh fish from the Cantabrian Sea, we didn't know where to start. But, luckily, we were in a group and were able to try a variety of dishes throughout our lunch.
Aperitif
The aperitivo is an institution in Madrid. Consisting of either a vermouth from the tap (my choice) or a small caña (draught beer) and the house tapa, it is the perfect pre-meal tradition. Taberna La Carmencita serves a delicious vermouth, which we received along with some nutty cured cheese.
Lunch
With so many options to choose from, we ended up letting the chef surprise us. Good choice!
Freshly baked bread with Cantabrian Santoña anchovies (the best in the world), queso fresco, and crushed tomato. On the bottom right we have a lovely veal paté with crisp little toasts.
A mixed plate of some typical fritos (fried foods). We tried rabas (fried calamari), ham croquettes, béchamel stuffed mussels, and fried cheese. How could anyone go wrong with something like this!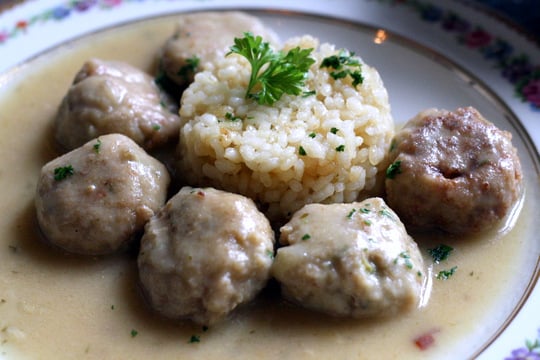 Next came bluefish meatballs in a lovely sauce made of garlic, parsley and white wine. I'm usually not a big fan of fish meatballs, but these were really good.
Onto a plate of organic green beans served with egg and potatoes. This dish was equally delicious, and it's always fun to have the waiter start mixing things at the table.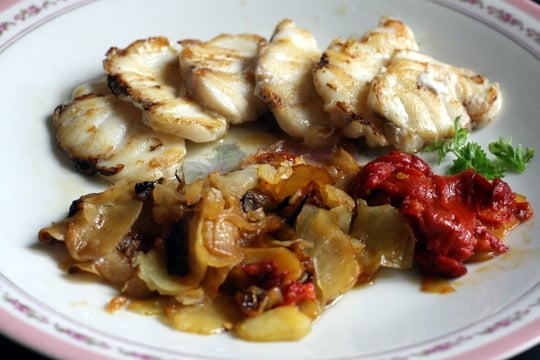 The fish course was tender grilled hake with a side of stewed vegetables. It melted in your mouth!
We were pretty full here but made room for one of my favorite dished of the afternoon, a savory goat stew. The goat was tender and very flavorful, and the little fried potatoes were a nice touch.
Dessert
Anyone who knows me, knows that I always have room for dessert. Luckily the options were varied, straying from the usual flan and rice pudding (of course both of which were offered as well). As tempting as the "floating island" sounded  (a homemade meringue floating in a sea of custard), I went for my all time favorite, lemon pie, and Ale tried the canutillos, puff pastry cones filled with chocolate mousse. The pie was absolutely perfect, not too sweet and deliciously tart. I wanted more!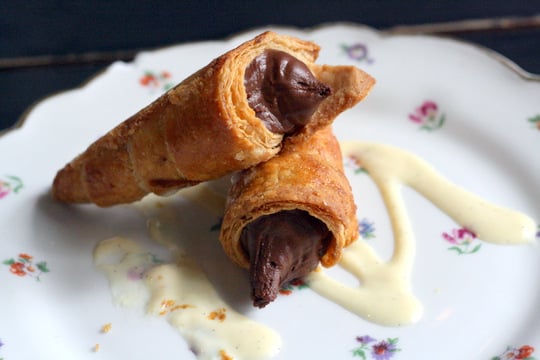 Our conclusion is that we'll certainly be back to try more specialties at Taberna La Carmencita. If you're looking for a Madrid restaurant that has a mix of history, service, and fresh, organic food, this might be your place too!
What dish would you like to try?
Taberna La Carmencita
Calle Libertad, 16
[mappress mapid="23"]