Today Lindsey breaks down some of the most incredible day trips from Barcelona - and I can tell you that each one is worth a trip! While Barcelona itself is stunning, you simply must make time for a couple of day trips when here to get a true feel for Catalonia. 
Barcelona is completely unlike any other place you'll visit in Spain, or even in Europe. You've got a fascinating blend of Spanish and Catalan cultures, with plenty of international influence due to its status as a bustling European metropolis. Its unique location between the mountains and the Mediterranean gives it a stunning geography that looks even better than the postcard. And it's easily within reach of some of the most beautiful parts of the country.
I believe that when visiting a huge city like Barcelona it's nice to escape for a day or two to a quieter, smaller town to relax and recharge. And in a place like Catalonia, there's plenty to see! Here are five of the best day trips from Barcelona, where you can experience a different side of this unique and varied region.
My top 5 day trips from Barcelona
Before you go: Check out Lauren's excellent Barcelona gastro guide and accommodation guide, as well as Devour Barcelona's award-winning food tours!
Girona
A proper Catalan city in its own right, Girona's smaller size offers a much more laid back and authentic feel than busy Barcelona. There's no shortage of things to see and do among its charming cobblestone streets, but you won't be dodging nearly as many tourists as you would in the bigger city. The heart of the historic center is comprised of gorgeous medieval homes clustered beneath the shadow of the grand cathedral. Be sure to walk through the streets of one of Spain's best-preserved Jewish quarters, home to a flourishing community until their expulsion in 1492.
Getting there: Take the high-speed AVE train to get there from Barcelona in under 40 minutes. For a more economic option, Sagalés offers bus services.
Foodie find: Girona is home to El Celler de Can Roca, voted the best restaurant in the world in 2015! This three-Michelin-starred restaurant has an 11-month-long waiting list, but if you can get in (there's a standby list as well) their spectacular food is absolutely worth it.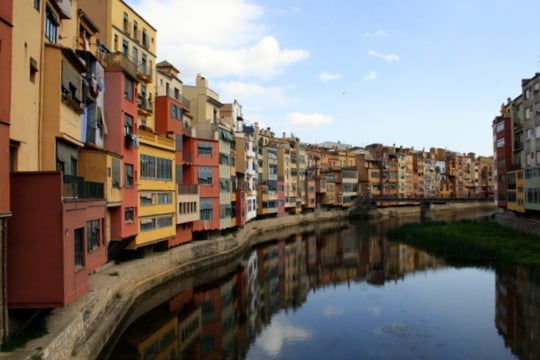 Tarragona
If ancient history is your thing, look no further than Tarragona. In this storied city, you'll find Roman ruins practically around every turn. Enjoy spectacular views of the Mediterranean as you explore the excellently preserved Roman amphitheater, and keep an eye out for traces of the old Forum as you make your way through the walled historic center. When you need a break from walking around, head down to the stunning beach and relax!
Getting there: Take the AVE from Sants station to get there from Barcelona in just about half an hour. Alsa buses also run fairly regularly.
Sitges
If you're looking for a fun seaside escape, look no further than Sitges. As one of the most laid-back day trips from Barcelona, this sunny Mediterranean town features well-manicured beaches, some of the best nightlife in Catalonia outside the Barcelona, and a seemingly endless calendar of festivals. However, even if you're not much of a partier, it's still worth a visit. There's a diverse array of galleries and museums, and dozens of classy restaurants and boutiques in the historic center.
Getting there: Take the Cercanías commuter train (line C2) or one of the Monbus buses. The price is exactly the same!
Figueres
Another one of the best day trips from Barcelona for art lovers, Figueres is perhaps best known as the home of Salvador Dalí's theater and museum. A true surrealist paradise designed by the iconic artist himself, it's the best place to learn all about one of Catalonia's most important historical figures. The lovely whitewashed town also features a well-preserved historic center, an 18th-century fortress, and sparkling, pristine beaches.
Getting there: Regional trains leave Barcelona for Figueres regularly. You can also take the Sagalés bus from Estació del Nord.
Montserrat
Craving some fresh air and natural beauty? In that case, Montserrat will be one of your favorite day trips from Barcelona. Take the cable car up Montserrat mountain to the eponymous monastery, considered Catalonia's foremost religious site. However, even if you're not super religious yourself, you'll be able to appreciate the incredible architecture and design of the monastery as well as the jaw-dropping views from the surrounding walking trails. Bring comfortable shoes!
Getting there: Take the R5 train from Barcelona's Plaça d'Espanya station (direction Manresa). Once there, disembark at the Aeri de Montserrat station for the cable car.
Read more: Learn how a day trip to Montserrat fits perfectly into your itinerary with our advice for planning one week in Barcelona!
What are your favorite day trips from Barcelona? 
See More of Barcelona & Catalonia