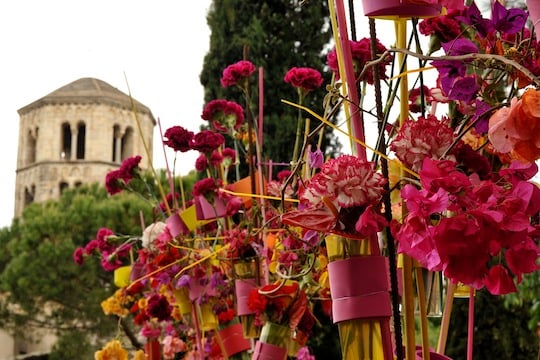 Spain is a country of festivals, from the Southern Spanish sherry fairs, to strange food fights and even wine battles. But one of the most beautiful Spanish festivals is surely Temps de Flors, a springtime flower festival in quaint Girona, one of the most picturesque towns in Spain.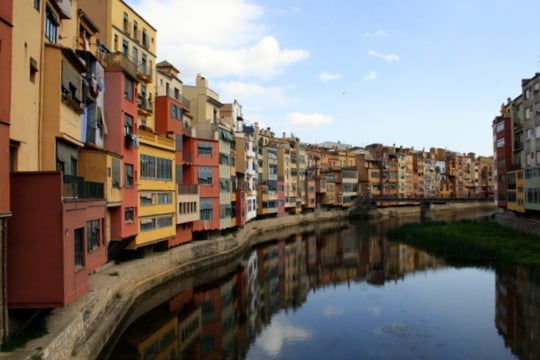 Girona is a city I've passed through various times while traveling, but I have never been able to spend much quality time there. When I was invited to the town's presentation of the Temps de Flors Festival, I knew it would mean another day of racing around the city, but I couldn't resist seeing Girona on a beautiful spring day.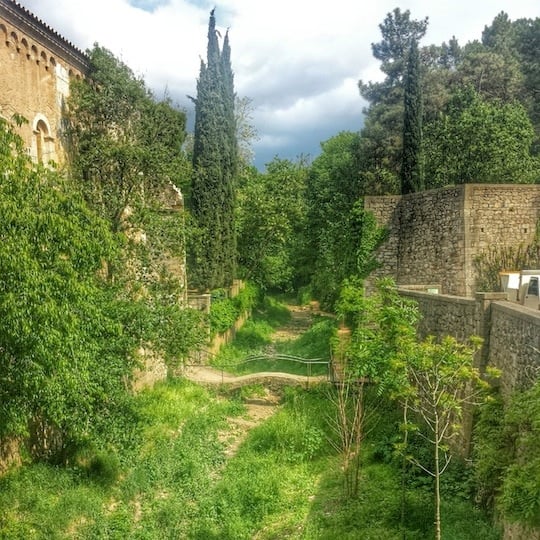 Girona is definitely one of the most gorgeous small cities I've ever visited. I was really surprised to find out it is home to around 100,000 people, as when you're walking through the old medieval quarter you truly feel like you have gone back in time to a small European village.
AVE Madrid-Girona
We traveled to Girona by AVE, Spain's high speed train, from Madrid. In four hours we had arrived to the city-- but not without a few surprises! On the trip there, we learned about Girona's efforts to combat the recession in Spain. Their stance is that tourism is one of the most important industries to protect, and something that won't be disappearing any time soon. They realize that they have the potential to sell their city in a positive and sustainable way, and that's what they do. I already knew that the Girona Tourism Board works with travel and food bloggers, and was encouraged to hear that they've seen lots of results. They should be an example for other Spanish cities to follow.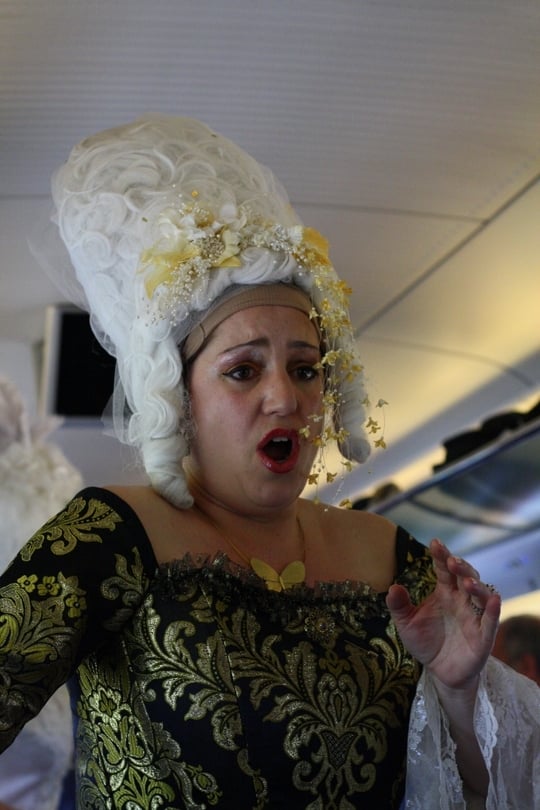 As Girona will soon host the 2014 International A Cappella Festival, we were treated to live opera on the train!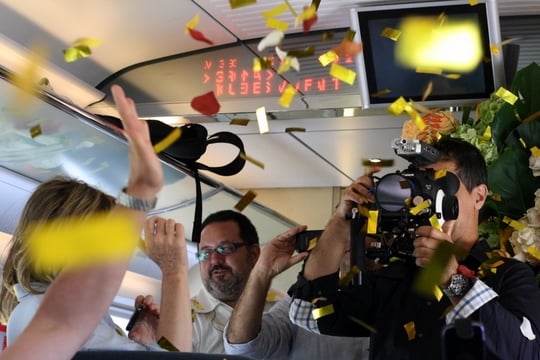 And at the end of the train ride we were covered in flower petals to really set the scene for the day they had planned!
The opera and flower petals were fun, but my favorite part of the train ride was trying a typical Catalan sweet, the xuixo, along with some ratafia (a Catalan liqueur). A xuixo is a sort of fried donut stuffed with delicious pastry cream. The American in me was already dreaming up the delicious fillings you could put inside!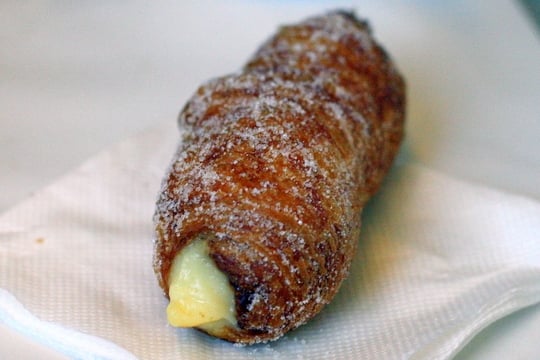 Legend has it that the xuixo actually has its origin in an untimely sneeze (the sound of a sneeze is more or less how you pronounce xuixo). A Girona legend says that Tarlà, the trickster of the town's folklore, had fallen in love with a baker's daughter. On one of his secret visits, the girl's father came home and he had to hide. He jumped into a bag of flour, but couldn't contain his sneeze, and the father found him. But before he could get angry, Tarlà promised that he'd marry his daughter and also share a very special recipe with him, the xuixo! Tarlà is displayed each year in Girona only during the Temps de Flors, in the same spot in the town center where he supposedly used to entertain the people of the town.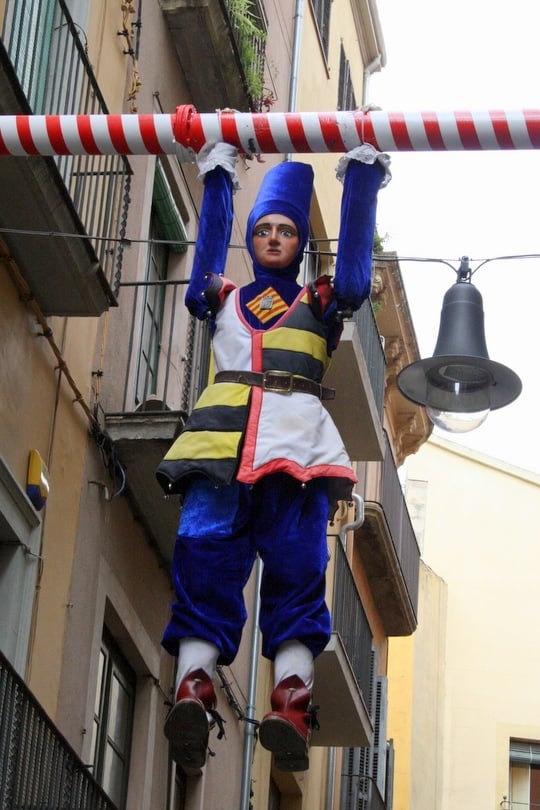 The History of Temps de Flors
Girona's first flower exposition was held in 1954 in the municipal theater, and soon after moved to the beautiful Sant Domenec Convent. In 1992 it became a citywide event, and each spring volunteers decorate the city with intricate flower displays. Monuments (like the Cathedral below) are bestowed with gorgeous works of art, and private patios and monuments are also opened to the public for these days only. The 10 day festival draws over 200,000 visitors (go during the week if possible to avoid the crowds!).
How to Visit Temps de Flors
Visiting Temps de Flors from Madrid is easy and you could even make it a day trip (though I would strongly recommend spending a day or two).
Dates: May 10th-18th (2014) Check here for this year's dates.
Hours: Expositions and patios are open from 10:00 am to at least 9:00 pm
Check Renfe for the high speed train tickets
Start planning for hotels and restaurants!
Eating in Girona during Temps de Flors
One of the coolest things I learned was that local restaurants in Girona serve special menus during the festival that are centered around edible flowers. I haven't eaten many flowers in my lifetime, which is what makes me all the more curious to go back and try them. One of the most famous restaurants of all is called La Calendula (marigold in English), where Chef Iolanda Bustos serves up dishes like flower and herb tempura, elderflower donuts, and a craft beer made with hibiscus, marigold, and elderflower.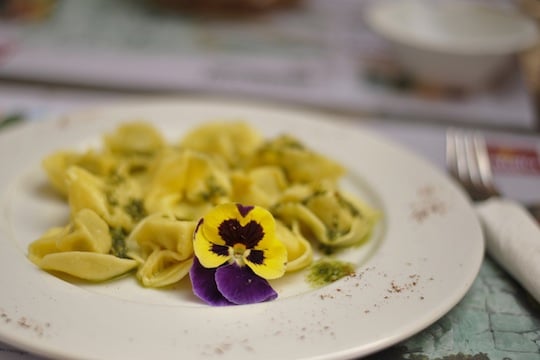 Walking around Girona is incredible as it is, and I can't even imagine how amazing it must be filled with colorful flower displays.
Here are some pictures of last year's Temps de Flors displays: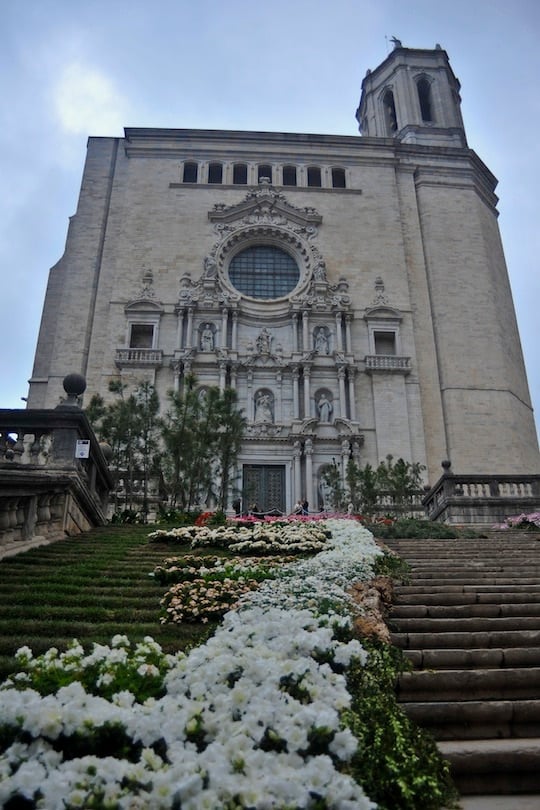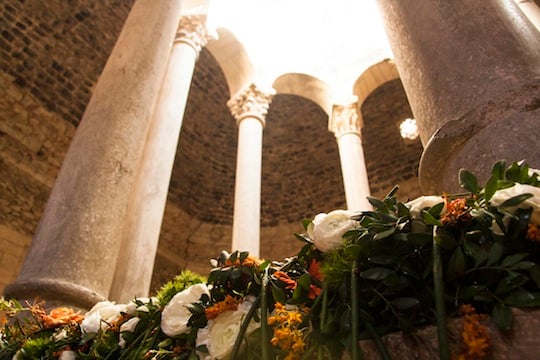 Going to Girona to learn about the festival and its history was lots of fun-- but it left me with the huge desire to actually go see the festival itself! I would highly recommend spending a few days there this year if possible, it promises to be a great time!
Would you like visiting Temps de Flors in Girona?
Photo Credits: Ruben García, Mariona Otero