Everyone knows that the Alhambra is a must, but what if you went the extra mile and explored beyond Granada's city limits? If you're determined to make the most of your stay, you don't want to miss these five nearby destinations that are just a hop, skip, and a jump away. Embark on one of these unforgettable day trips from Granada and enjoy an experience that you will treasure forever.
The Best Day Trips from Granada
1. Guadix
Considered one of the oldest settlements in the whole country, the contrasting lands of Guadix are worth a spot on any itinerary. It's just about an hour away from Granada, and once there, you can start your experience by enjoying a paseo, or walk, through its awe-inspiring historical center. Once you've gotten your bearings, visit the Moorish fortress that has been safeguarding the city for more than ten centuries and the breathtaking cathedral.
Guadix is also famous for its cave houses, which are traditional homes which were built into the clay soil. This unique array of buildings makes up the largest inhabited cave settlement in Europe! Don't miss the opportunity to spend a night in one of them, or at least to check them out during the day.
Insider's Tip: September is an especially great time to visit Guadix due to El Cascamorras, a festival declared to be of International Tourist Interest in Spain. Just leave your Sunday best at home for this one—a lot of paint gets thrown around.
2. Las Alpujarras
Shortly after being defeated by the Catholic Monarchs in the 15th century, part of Granada's Moorish population headed back to their ancestral homeland of north Africa. The rest took up residence in the mountain villages of Las Alpujarras just outside the city. The legacy from these days remains and the Moorish influence in Las Alpujarras is palpable, and the area makes for one of the most beautiful day trips from Granada.
While you're there be sure to enjoy a plate of the famed ham from Trevélez (one of Granada's most typical foods), chill out in the health resort of Lanjarón with pure water from Sierra Nevada springs, and discover why the hidden paradise of Pampaneira has become so popular among locals recently. All this just 70 kilometers (43 miles) from Granada's city center!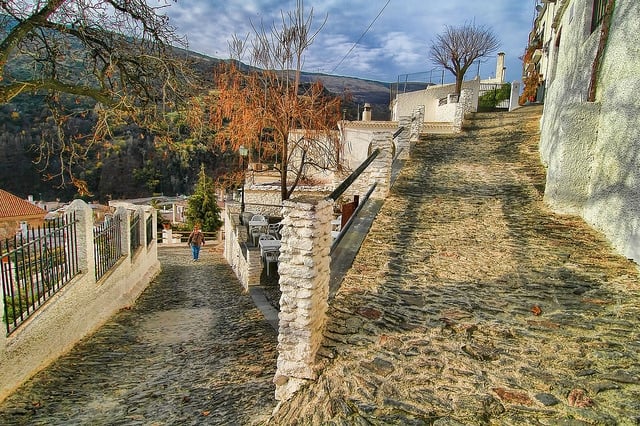 3. Montefrío
Foodies, you'll want to pay attention to this one. Montefrío is positively teeming with top-quality local products, such as delicious goat cheese, amazing olive oil, sausages and the ever-popular bollos (small sweet rolls). You're also sure to fall in love with one of the top ten panoramic views in the world—according to National Geographic, that is.
When you're not eating your way around Montefrío, make your way up the hill to the Iglesia de la Villa and learn more about the historical battles between Moors and Christians that took place here, at the border between both kingdoms. You can find direct buses to Montefrío for less than 10€ from Granada. Get there in an hour and a half and dive into history!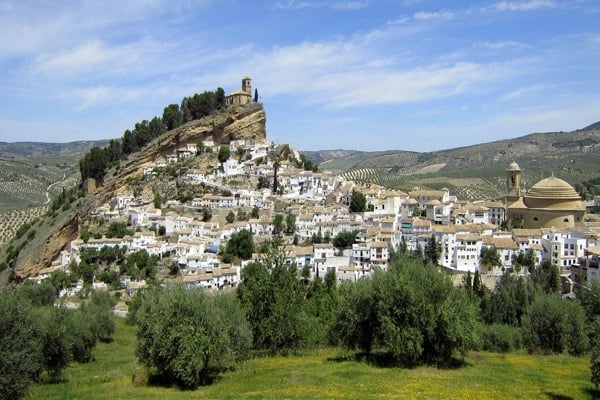 4. The coast and Sierra Nevada
Granadinos are always boasting about their hometown, and how could they not? Since the weather here is usually warm and tropical, you can enjoy a day at the beach in December or stay cool while soaking up the sun in the high peaks of Sierra Nevada during the summer. If you have a car, you can even visit both in the same day! Outside of peak season, the road to Sierra Nevada can get you there in about 45 minutes from the city center. If, on the other hand, you want to chase the sun and the sea, you can be eating fried fish in Salobreña or Almuñecar in less than an hour too!
5&6. Úbeda and Baeza
This trip involves leaving Granada and visiting the nearby province of Jaén, but the distance between these Renaissance jewels and your home base in Granada will only be about 140 kilometers—under two hours by car. Rather than taking a simple day trip, consider making this one a weekend escape in order to get the most of your visit to these two beautiful cities. Peaceful surroundings, gorgeous Renaissance churches and a charming medieval feel are what you can expect from your journey to Úbeda and Baeza, one of the most popular day trips from Granada among locals.
See Also: Top Things to See in Granada
Pin me!