When I first visited El Puerto de Santa María in 2009, I didn't know the first thing about sherry wines. I still remember my first sip of my father-in-law's manzanilla (a bone dry style of sherry with a salty and yeasty flavor); it was intense and intimidating, and I left it alone for another year or so before trying it again.
Armed with some education, I made my way to Jerez, determined to discover the secrets of sherry. 
It wasn't so easy. Sherry ranges from the driest and palest wines in the world to some of the sweetest and darkest. Its aging process is mind-boggling, and the natural layer of yeast that protects the lighter styles is regarded by many as a small miracle.
But slowly, bodega by bodega, my sherry knowledge (and love for this unique Spanish wine) grows deeper.
Despite the fact that we visit El Puerto de Santa María multiple times a year to visit Ale's family, we'd never visited a bodega in El Puerto itself. As one of the only three towns in all of the world allowed to house sherry bodegas (in addition to Sanlúcar de Barrameda and Jerez de la Frontera), this was an embarrassment! We decided to change things quickly on our last trip, by visiting Bodegas Gutiérrez Colosia, one of El Puerto's most respected sherry makers.
Of all the styles of sherry wines, El Puerto is best known for fino, a dry style of sherry aged under a protective layer of naturally occurring yeast called flor. We signed up for a guided tour and tasting at Bodegas Gutiérrez Colosia, and were promised a taste of their fino and other sherries to end the visit.
We were shown around the bodega by a lovely young woman named Palma, who was well spoken and knowledgeable in both English and Spanish (it was a mixed group so I got to hear everything twice-- very helpful!).
The Bodega's History
Built in 1838 and taken over by the Gutiérrez family in the early 20th century, Bodegas Gutiérrez Colosia is still a family run business today. Current owner Juan Carlos Gutierrez is the great-grandson of the founder, and he runs the bodega with his wife Carmen and his daughters Carmen and Carlota. The family works hard to show their sherry to the world, and its known as one of the most respected brands. As the bodega is located a stone's throw away from the Guadalete River, it has the perfect location for the mysterious flor to occur, as its conditions are constantly humid and the aponiente and levante winds make sure to move the air around. This makes their sherry-- above all their fino-- unique when compared to the finos of Jerez.
The Tour
We began the tour by weaving through the rows of sherry butts (barrels), while Palma explained the bodega's production and an overview of how sherry is made. It was fascinating to learn that a sherry bodega never uses new butts and if one start leaking they just replace that portion of wood.
There was a barrel on display where we were able to see the flor, which was fascinating as it is so essential to the wines from El Puerto.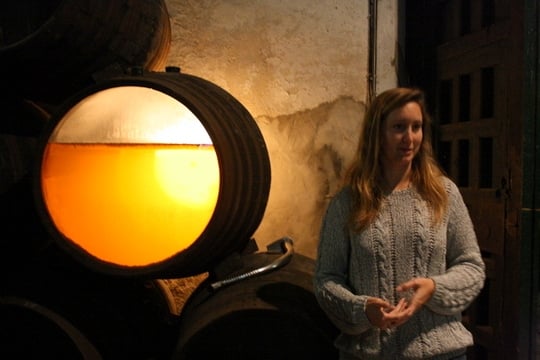 Palma also entertained us with some highlights of sherry's long and eventful history. When Sir Francis Drake pirated 3,000 sherry butts in 1595, they were supposed to be a gift for his queen. But since the queen could never drink that quantity, it is said that they were given away, thus hooking the Brits on sherry to the point of no return!
The Tasting
Our tour concluded with a tasting of four wines in a comfortable tasting room. The only part of the tasting that wasn't a hit was a slightly annoying, outdated sherry documentary playing in the background. But we simply ignored it and leisurely tasting a fino, amontillado, oloroso, and Pedro Ximenez. Palma walked around to see if anyone had questions-- but most of us were perfectly content to simply sip our wines!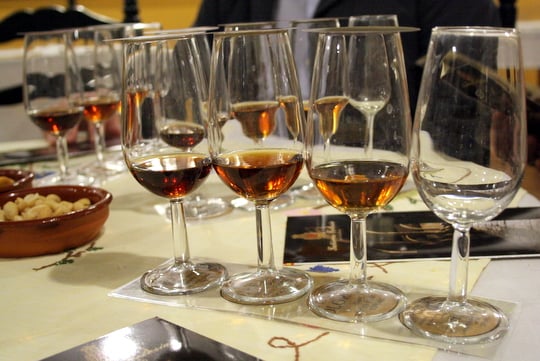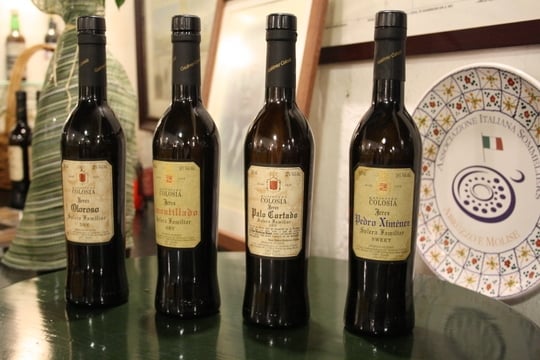 The Good: The bodega is small, lovely and their tour guide was great! The sherries were also lovely.
The Bad: They should stop playing the movie during the tasting-- no one was listening!
The Verdict: I loved our visit to this bodega! If you are ever in El Puerto, taking a guided tour of Bodegas Gutiérrez Colosia is an absolute must. I would actually recommend splurging for a small private tour, which is around 18€ with a tasting of different sherries, brandies, and some light charcuterie. An awesome deal if you ask me!
Bodegas Gutierrez Colosia
Avenida Bajamar, 40
El Puerto de Santa María, Cadiz
[mappress mapid="50"]