Wondering where to eat in El Puerto de Santa María? Below I'll share my top recommendations for the best bars, restaurants, cafés, and more—and tell you the foods you have to try when visiting this beautiful town!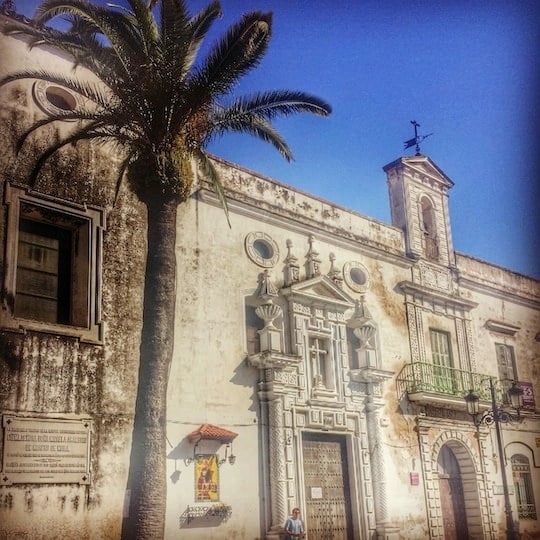 When we first starting dating, Alejandro told me he was from a place called El Puerto de Santa María in the Andalusian province of Cadiz. I remember looking up the area in my Fodor's guide, and being surprised that it had its own entry.
As it turns out, El Puerto (as we call it for short) is home to about 89,000 people, and while it still often feels like a small town, it's actually a small port city known for great seafood and fino del Puerto, a very dry sherry wine.
Despite being from El Puerto, Alejandro didn't exactly know much about his hometown. My first visit started by meeting his parents at the local shopping mall, and was followed by a weekend of home-cooked food at his parents' house in Valdelagrana, a newer part of the city that's right on the beach.
I couldn't complain—who wouldn't be happy with in-laws that lived steps from the beach? But it wasn't until later visits that I discovered all the charm of El Puerto (its old town center, a small castle, the traditional covered market, and—of course—its restaurants, bars, and pastry shops).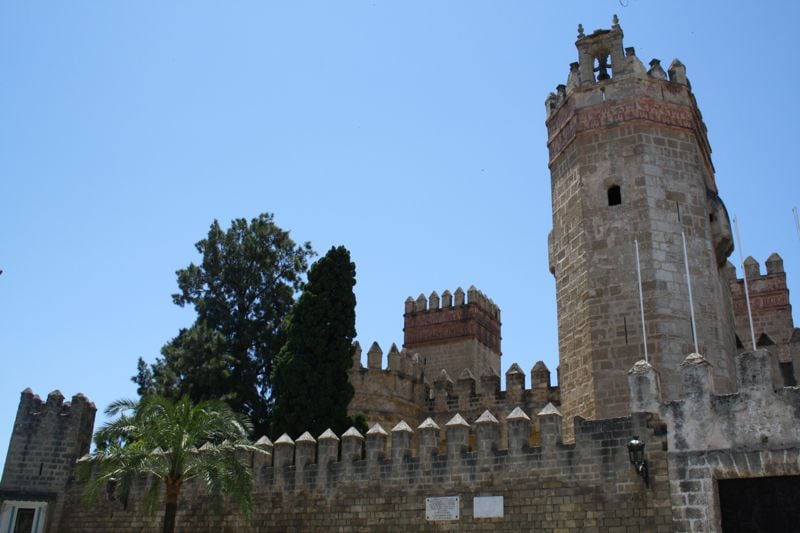 Each visit I make to El Puerto de Santa María, I try to eat somewhere new. This can be difficult since my mother-in-law likes to cook for us, but I convince them to join us for at least one meal out!
Here are my recommendations for eating in El Puerto de Santa María, from the must-try local specialties to my favorite eateries.
What to Eat in El Puerto de Santa María
Churros
The best churros I've had in all of Spain come from the province of Cadiz, and in El Puerto there are plenty of places to get your fill. What makes this version of Spain's beloved fried dough extra delicious is their very thin shape when compared to other regions' versions.
They also contain the perfect amount of salt, making them delicious whether eaten on their own or coated in sugar (which is great if you like a combination of sweet and salty).
In El Puerto, churros are always made fresh to order, and you'll notice that at churros booths in the summer they'll simply throw away any that have been there for more than a few minutes.
The best way to enjoy these crispy churros is to buy a big paper cone of them (they're sold by weight) and sprinkle sugar on top.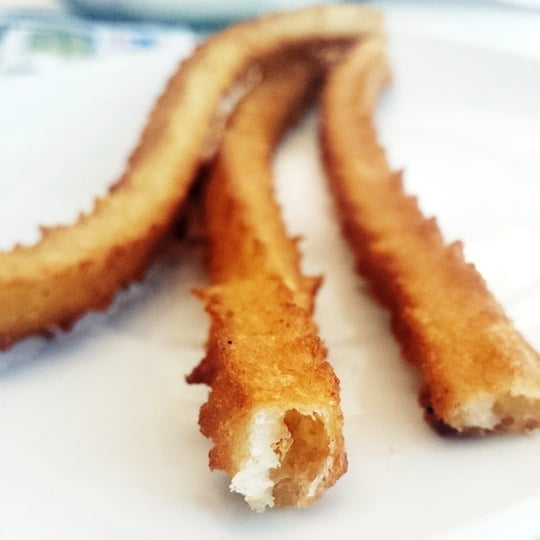 Sherry Wine
El Puerto de Santa María is part of the Sherry Triangle, meaning that it's one of three towns that produce sherry wines (although the grapes can come from all over the region).
Two of the most famous bodegas in El Puerto are Bodegas Gutiérrez Colosia and Bodegas Osborne, and both allow for guided visits (usually by appointment).
Visiting a sherry bodega is an incredible experience, as sherry wines are some of the oldest and most fascinating in the world, and the process for making them is anything but straightforward!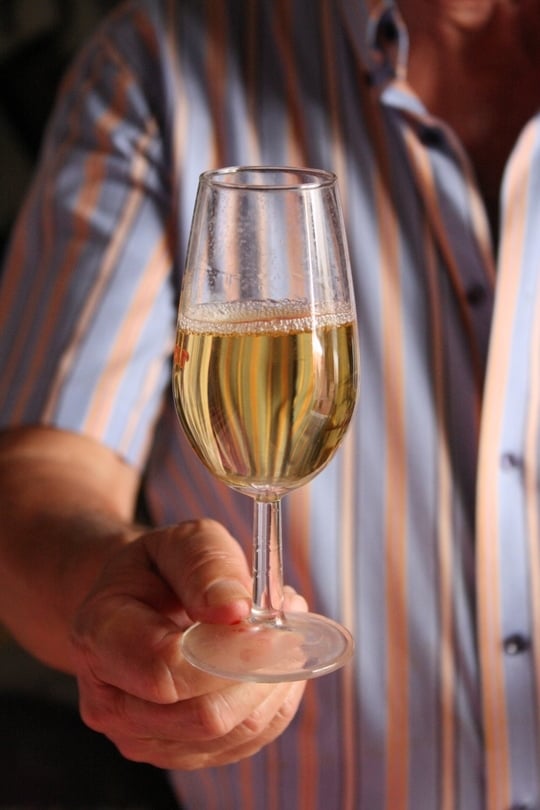 Tuna Conservas
Bluefin tuna comes from the Cadiz region and—in spite of the controversy around consuming it—is an incredibly delicious taste of southern Spain.
One of the best ways to enjoy it all year round is by buying some of the superior-quality conservas, where the tuna has been semi-cured. You can also try fully cured tuna and tuna belly.
If you love salty cured meats go for thinly sliced mojama, which is dried salt-cured tuna typically eaten with Marcona almonds and drizzled with extra virgin olive oil.
Tapas
The south of Spain is the home of Spanish tapas, so do take advantage! In Cadiz you generally pay for the tapas you order (although your drink will likely come with olives or perhaps even potato salad) and a tapa is essentially a 1-person serving size (anywhere from 3–5 make for a meal).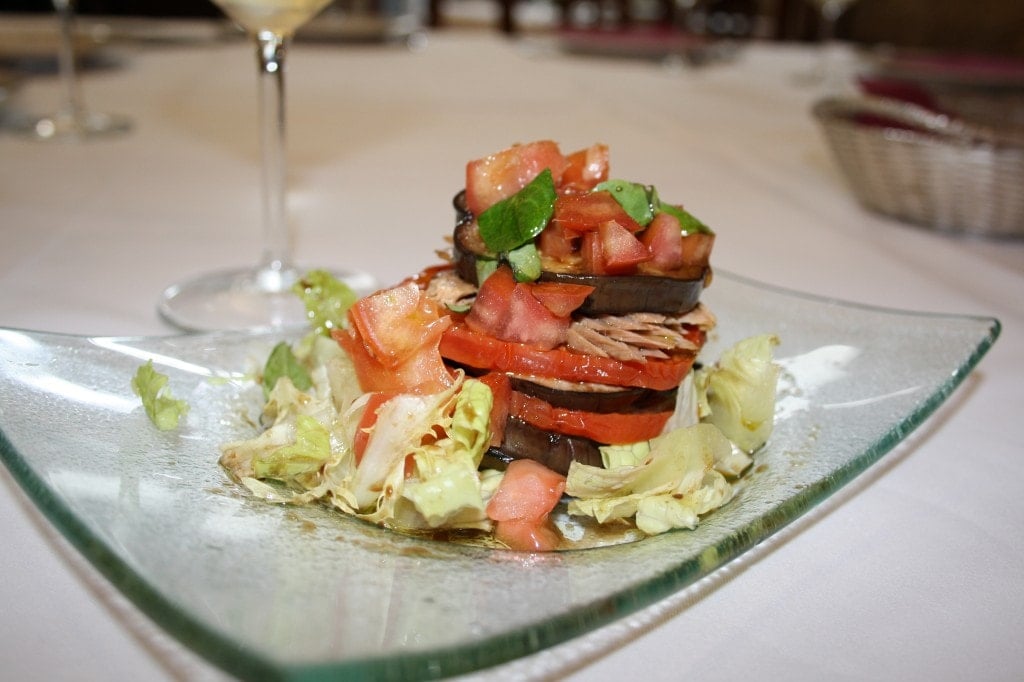 See Also: Where to Eat in Cadiz
Tejas del Puerto
Tejas del Puerto are a typical cookie made in a family-run shop called Cien Palacios. The word tejas literally means roof shingles, and in other Spanish cities these cookies look like the red roof tiles that Spain is known for.
In El Puerto, however, there's nothing tile-like about them! They're made primarily with almonds and sugar, and are crispy, crunchy, and delicious.
They also make coconut and chocolate ones from time to time and you'll even find creamy and delicious tejas ice cream (helado de tejas) at my favorite ice cream shop in El Puerto (see recommendations below).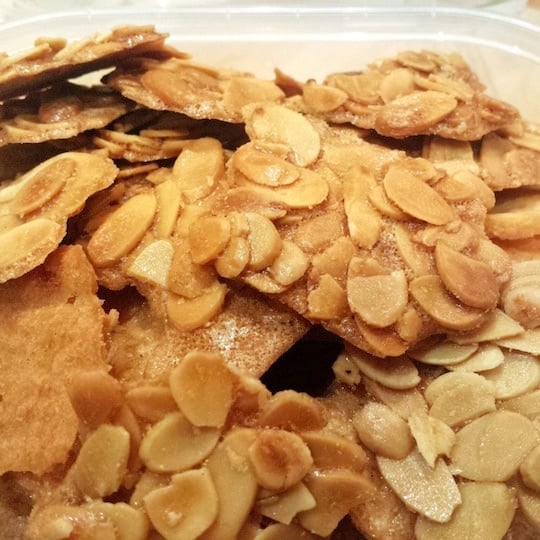 Where to Eat in El Puerto de Santa María
El Rincón del Jamón
This is where my in-laws have breakfast every morning (if you call it breakfast at 12:30 p.m.!). They have good taste, as for just a few euros you can chow down on a delicious tostada topped with crushed tomato and serrano ham. There's a bottle of local olive oil on every table to pour as you see fit!
Avenida Micaela Aramburu de Mora, 19
La Ponderosa
This is THE place for churros in El Puerto (apart from some of the excellent beach stalls in the summer months). They come out hot, fresh, and crispy and are well worth the indulgence!
Avenida de la Constitución, 6
La Bodeguilla del Bar Jamón
Definitely one of El Puerto's best tapas bars, this small establishment serves fun and inexpensive tapas along with some Garum red wine from the region.
Calle Misericordia, 5
Mario Vinos & Delicatessen
This small grocery store becomes a lively bar in the evening where people order the best Spanish cheese, wine, and charcuterie from (who other than) Mario himself!
Try the chicharrones de Cadiz con mojo picón and check if he has any tuna conservas available (the one with hazelnuts and Roquefort cheese is to die for!).
Avenida del Ejército, 8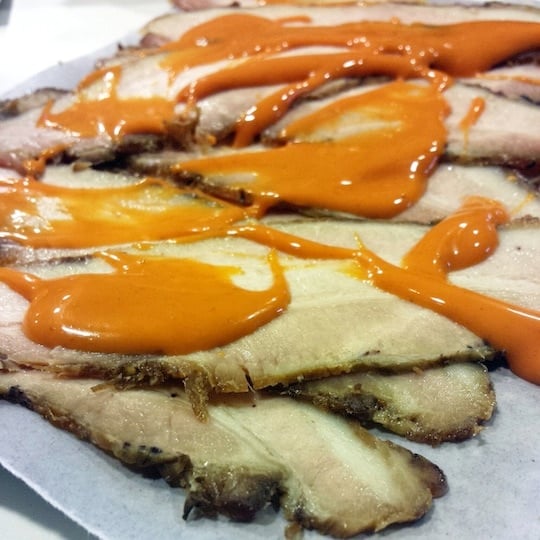 Pizzería Maria Regina
My favorite pizzas in El Puerto come from Pizzería Maria Regina, a small restaurant in Valdelagrana. It's a very casual place (with paper plates), but the pizza is homemade, Italian thin-crust, just how I like it!
Avenida de la Paz, 11 (Valdelagrana)
La Taberna del Sapo
Cadiz is located in the very south of Spain, and Galicia is in the very north. But despite the distance, the locals in both places appreciate good seafood, wine, and company!
La Taberna del Sapo is a small Galician restaurant in Valdelagrana, one of El Puerto de Santa María's beach communities. The Galician ladies running the place cook some of the most delicious Galician specialties at great prices.
Avenida de la Paz, 38 (Valdelagrana)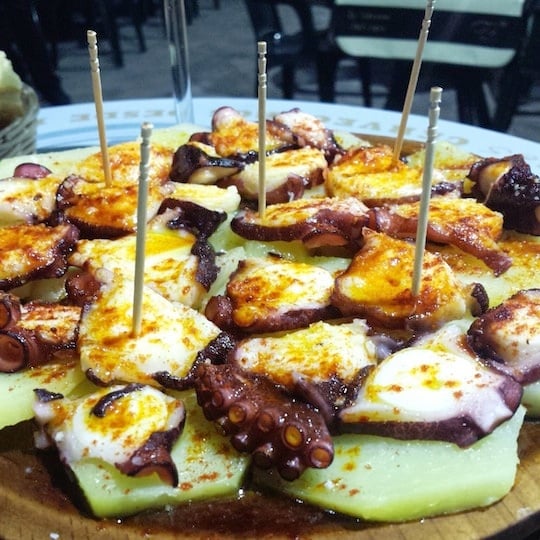 Confitería La Merced
Looking for a traditional pastry shop in El Puerto? Look no further than this lovely bakery, known for a cream-filled pastry called a carmela.
Calle Ganado, 46
Heladería da Massimo
Another Italian-owned business that has been successful in El Puerto is Heladería da Massimo, a fantastic ice cream shop in the city center. If you go, make sure to try the helado de tejas, a true treat that you'll only find in El Puerto.
Calle Luna, 22
Bodegas Guitérrez Colosia
If you're looking to learn about sherry wine and sample some of the best from the region, try making an appointment to visit Bodegas Guitérrez Colosia. They hold tours in English, Spanish, and German and their guides are dynamic and captivating when explaining the complicated process!
Avenida de la Bajamar, 40
Aponiente
Certainly the city's most famous restaurant, Aponiente is the brainchild and passion project of El Puerto-born chef Ángel León. Here you'll find cutting-edge techniques and recipes for local seafood, as León specializes in using unwanted fish species and marine plankton.
Star dishes include "fake" oxtail (made with fish instead) and "Iberian sausage" made completely with local fish from El Puerto. The restaurant received its first Michelin star in 2010—and now has three!
Calle Francisco Cossi Ochoa, s/n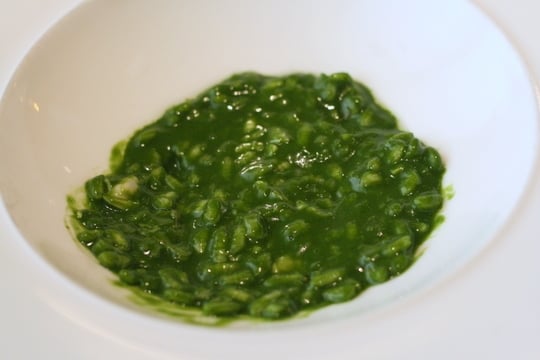 Eating in El Puerto de Santa María – Know Before You Go
Sherry is the English word for Jerez, which is the name of another city in the Sherry Triangle located about 20 minutes from El Puerto. Sherry wines range from some of the driest in the world to some of the sweetest in the world, and El Puerto is best known for its dry finos.
Many locals eat breakfast quite late, with some breakfast places serving desayunos until 12 or 1 p.m.! This pushes lunch back to 3 or 3:30 p.m. and dinner to around 10–10:30 p.m.
Unfortunately (and for reasons I'll never be able to understand) many restrooms do not have toilet paper or soap. Come prepared with tissues and hand sanitizer for peace of mind.
Instead of having dessert right after lunch, do as the locals do and wait a few hours until the afternoon merienda. From around 5:30 to 7:30 p.m. you'll see locals having a drink and a bite to eat in local cafés and pastry shops.
El Puerto de Santa María is one of those places that can seem a bit rough around the edges at first glance (many of the city's most beautiful buildings have not been kept up). But it's a truly beautiful and timeless place to visit that isn't very touristy at all.
That said, there are some awesome local hotels, some with impressive views of the marina, that make it definitely worth staying a night or two! I recommend discovering El Puerto slowly, by leisurely walking around and stopping for a fino and a tapa whenever you have the urge.
Love Spanish food? Sign up for my free weekly newsletter and receive a new Spanish recipe once a week! Join today and get my FREE Spanish ingredient essentials guide!