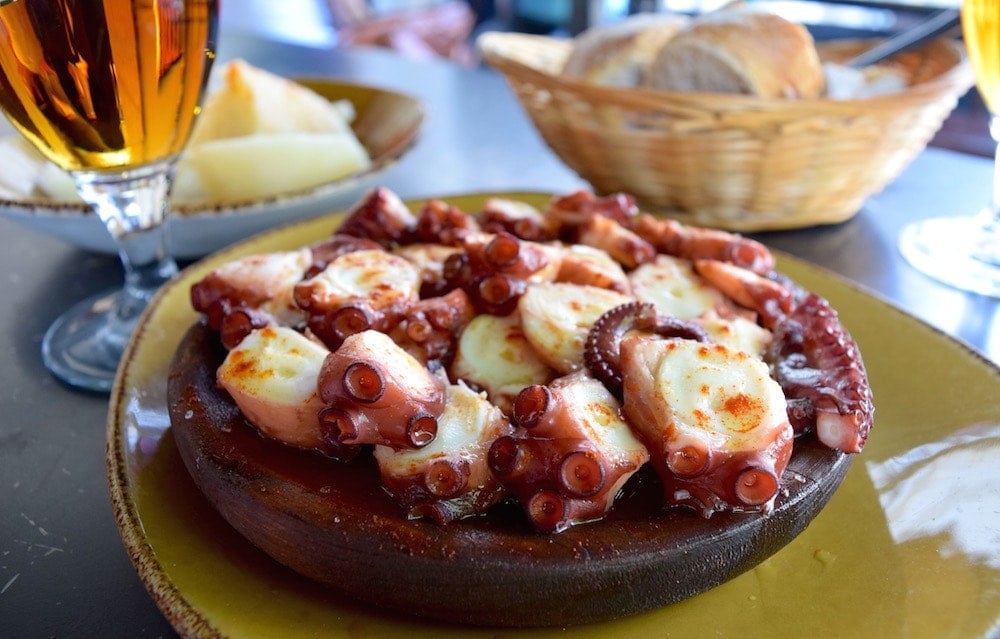 Galicia is a seafood lover's paradise. Surrounded on two sides by the Atlantic Ocean and streaked with freshwater rivers and saltwater inlets, this northwestern Spanish province is the reigning champion of Spanish seafood.
Literally tons of shellfish, octopus, squid and fish are hauled through Galicia's ports each year. More than 246,000 tons to be exact of seafood and fish came through Galician ports in 2014!
Whether it is in the northern port city of La Coruña, the striking romanesque city of Santiago de Compostela, the southern hub of Vigo or one of the many fishing villages in between, there is no better place to nab some of the freshest seafood in the world than in Galicia.
While most of the seafood served here is prepared simply to allow the freshness to shine, there are a select few more elaborate dishes that are positively praise-worthy. Here are the six Spanish seafood dishes that make a trip to Galicia more than worth it.
1. Arroz con Mariscos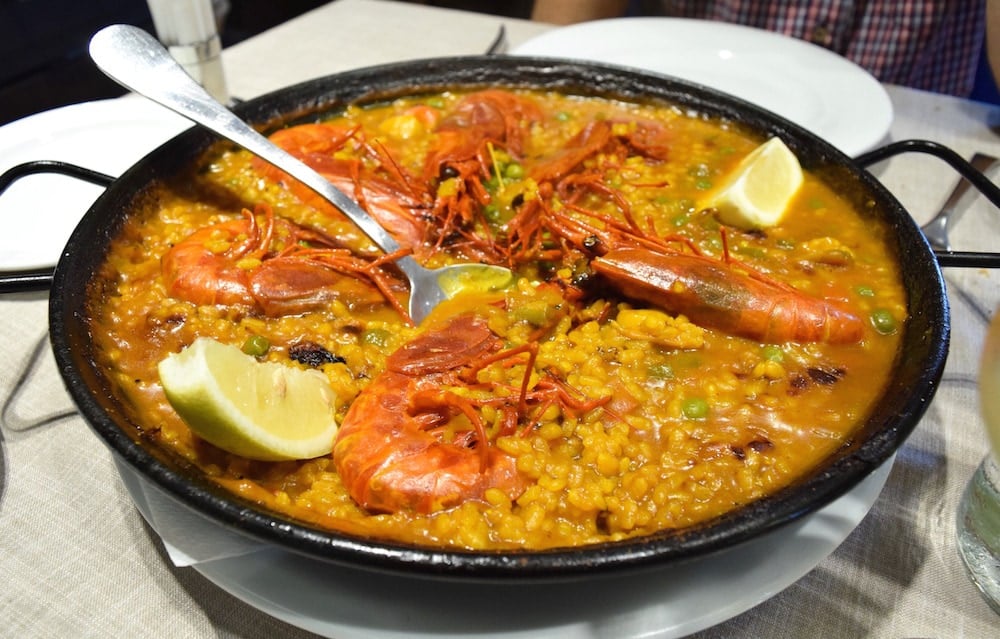 This is rice like I've never experienced rice before. Galician seafood rice is unbelievably rich in flavor, creamy while still maintaining the rice's crispness and brimming with seafood.
The most typical type of seafood rice in the region is arroz con bogavante, rice with lobster. It is usually cooked in a paella pan with the lobster cut, shell on, in half or in fourths.
While arroz con bogavante is fantastic, my personal favorite type of seafood rice is with zamburiñas and carabineros, variegated scallops with carabinero shrimp. The jumbo, bright red shimp infuse the rice with copious amounts of flavor while the scallops add that extra punch of ocean.
2. Pulpo a la Feria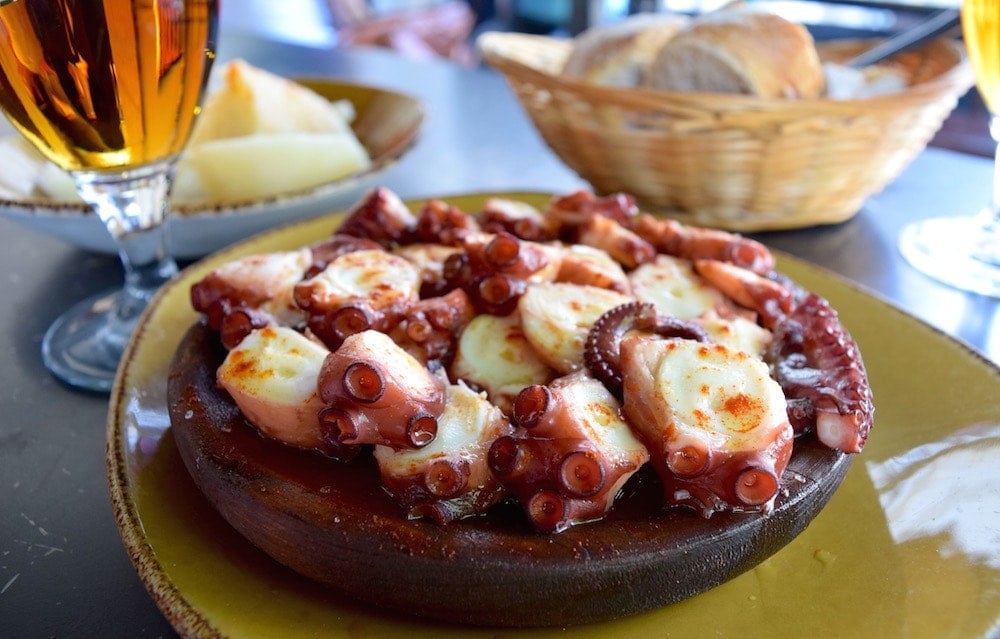 Easily Galicia's most famous dish, you'll find fair-style octopus on nearly every menu on the Galician coast. Small towns throughout the region have fair days when plazas fill with tents and giant copper pots bubbling with the purple octopus tentacles.
In the cities, pulpeiras as the tavern-like octopus houses are called in the local language, also follow the traditional recipe, boiling the animal whole. The purple tentacles are then cut with hefty kitchen scissors into half-inch thick medallions, piled onto a wooden saucer and doused with olive oil, salt and paprika.
The plate of pulpo is most often served with cachelos, peeled potatoes boiled and dressed exactly like the octopus with olive oil, salt and spicy smoked paprika.
3. Mariscos a la plancha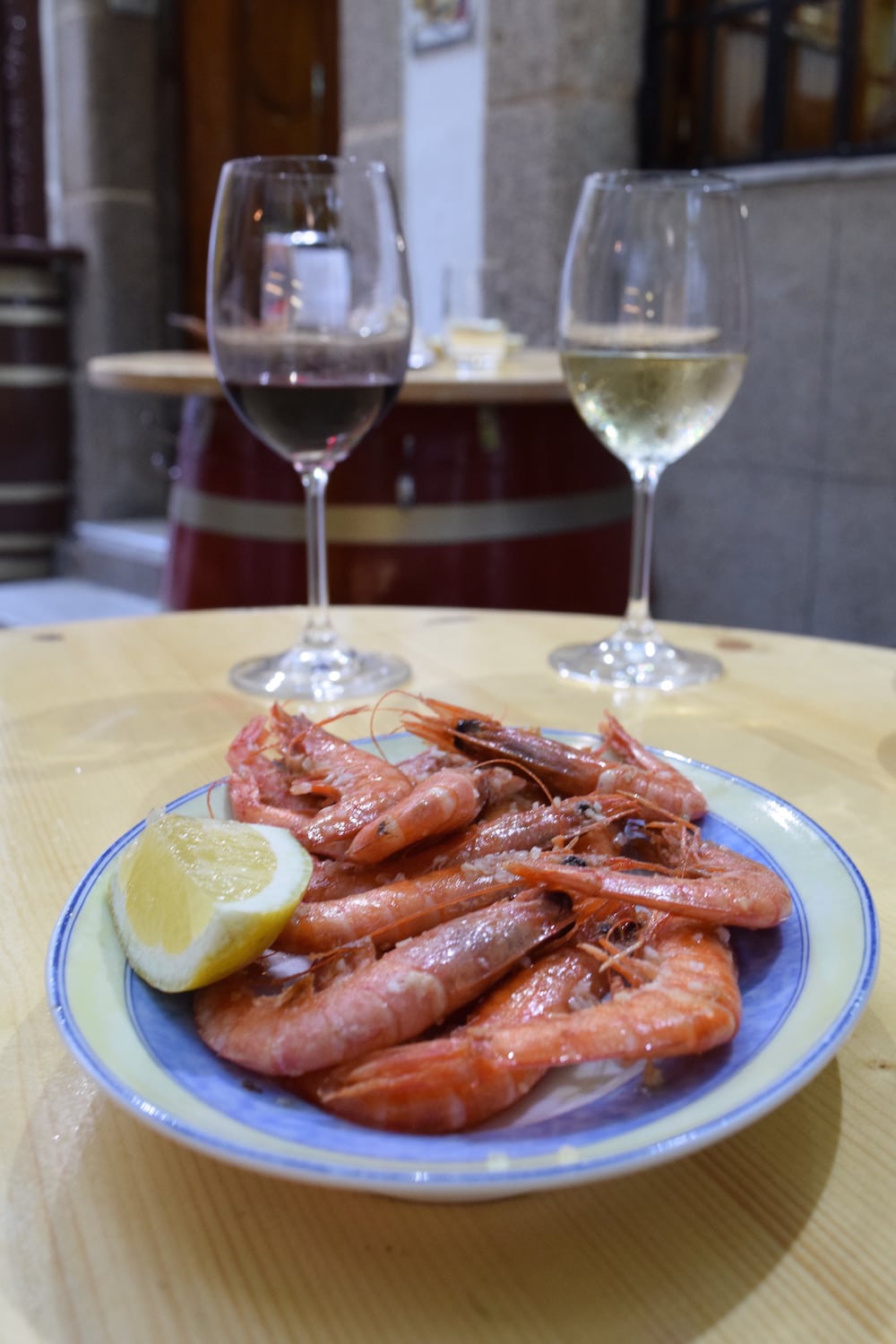 Who knew something so simple could be so delicious! The shellfish in Galicia is so fresh and full of flavor that it is often simply seared with a bit of olive oil and salt. No sauce or spices needed!
The cold waters off the coast of Galicia are home to a huge variety of mariscos (shellfish). There are a dozen types of clams, oysters and scallops, four or five species of squid and more kinds of shrimp and lobster than I can count! These are some of the most popular (and most delicious!):
Mussels: mejillones in Castillian Spanish and mexillóns in the local language
Scallops: vieras in Castillian Spanish and vieiras in Galician
Bay scallops/variegated scallops: zamburiñas in both Castillian Spanish and Galician
Razor Clams: navajas in Castillian Spanish and navalla in Galician
Shrimp: there are many names for shrimp in Spanish. The most popular in Galicia are gambas and langostinos or cámara in Galician
Cockles: Berberechos in Castilian Spanish and Galician
4. Mariscada
There is no better way to taste the full bounty of Galician seafood than with a mariscada or seafood platter. A serving platter is artfully piled with the catches of the season. They typically include a bounty of shellfish like spider crab, lobster, various types of shrimp, razor clams, oysters, clams, scallops or whatever is fresh at the market that day.
For the full Galician experience, pair this treasure chest of seafood with one of the tasty white wines from the region. The most popular Galician white wine is Albariño, a light dry white from the Rias Baixas wine region. Godello is also quite popular and tends to be a bit sweeter than the Albariños.
5. Empanada de zamburiñas
Galician notoriously makes some of the best empanadas in Spain. Galicia is also commonly referred to as having the best fresh seafood in the country. Put those two gold medals together and you've get a true slice of heaven.
Galician empanadas come in dozens of flavors but few are as fantastic as the empanada de zamburiñas. Whole small scallops form a thick layer inside the thin, crispy bread of the empanada. Empanadas are a hearty and rather inexpensive way to get a taste of scrumptious zamburiñas. 
What is your favorite Spanish seafood dish?
Spanish Seafood Recipes