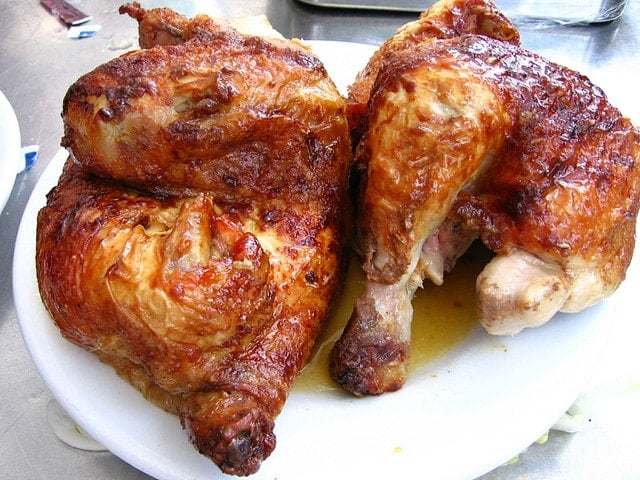 Chicken Anyone?
One of the things that really stuck out to me when I moved to Madrid were the city's many Pollerías— roasted chicken shops. Simply walk down a Madrid street and you're likely to run into at least one, usually filled with plump and crispy chickens spinning about, waiting to be bought and devoured. It wasn't long before we tried one, and soon enough we'd made a list of our favorites. Simple, flavorful, and filling, roasted chicken has become our Madrid take away food of choice.
As an American I've always associated roasted chicken with the cold months of fall and winter. I often prepare a side of mashed potatoes so that when Ale comes home with the hot chicken we have a hearty and comforting meal. So I was surprised when I recently found out that many Spaniards consider roasted chicken to be a summertime beach food! Many families have a tradition of going for a Pollo Asado after a long morning at the beach.
Everyone who's been to the beach knows that a few hours in the sun and sand can turn a normal person into a ravenous beast, so eating a roasted chicken in the summer sounds like a great idea to me! When I looked for recipes I found that Alicante was famous for their version. A lovely port city on the Costa Blanca, I've yet to visit Alicante, although I hear that flights to Alicante are easy to find and that there are also trains that leave daily from Madrid. I now have to visit, to see if my version can compare to the apparently famous Pollastre Alicantí (Alicante style chicken).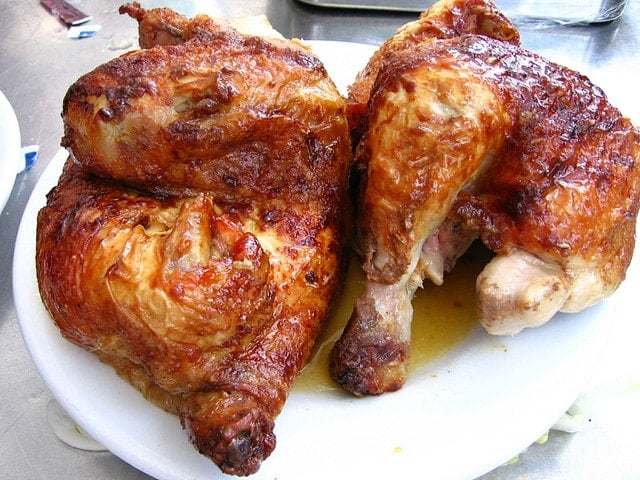 Alicante Style Chicken
Alicante style chicken is a typical dish that Spaniards like to eat for lunch after a morning on the beach. Juicy and delicious, you've got to try it!
Ingredients
1

whole chicken

skin on

One head of garlic

peeled

A handful of parsley

1

teaspoon

salt

2

teaspoons

black pepper

1

cup

of dry white wine or Manzanilla

1

cup

of water

Extra virgin olive oil

1

chicken bouillon cube

optional
Instructions
Preheat oven and a roasting pan to 400°F (200°C)

First, make sure that the chicken is completely dry, pat any moisture off with paper towels.

Put the chicken into a deep roasting pan.

In a food processor, or with a mortar and pestle, make a paste with the garlic cloves, salt, parsley and pepper. You won't need to use all of this paste, and it can last a few weeks in the fridge in an airtight container.

Stuff the chicken with a couple of tablespoons of the paste, and cover it with a bit more. Then rub the skin with olive oil.

Pour the wine and water around the chicken, you can also add a chicken bouillon cube if you want.

Cover the chicken in a damp piece of parchment paper.

Depending on the size of the chicken, the time in the oven may vary. I cooked my 5 pound chicken for about one hour (until the juices ran clear, not pink).

During the last 15 minutes in the oven, remove the parchment paper and let the skin become crispy. If it isn't crisping up use the broiler for a few minutes.

Serve with homemade french fries (I like to fry unpeeled garlic cloves with my homemade fries, they come out tender and delicious!).
Nutrition
Calories:
496.96
kcal
Carbohydrates:
2.82
g
Protein:
35.87
g
Fat:
32.38
g
Saturated Fat:
8.75
g
Cholesterol:
142.96
mg
Sodium:
958.51
mg
Potassium:
432.44
mg
Fiber:
0.35
g
Sugar:
0.79
g
Vitamin A:
519.34
IU
Vitamin C:
7.27
mg
Calcium:
34.92
mg
Iron:
2.16
mg
Have you ever heard of eating roasted chicken in the summertime? And if you've been to Alicante have you tried this Alicante style chicken? Let me know in the comments!
Feature photo by deramaenrama.
Pin me!