Looking for perfectly roasted vegetables each and every time? This easy Mediterranean roast vegetables recipe is as simple as it sounds. So choose your favorite seasonal veggies and in only 30 minutes you'll be enjoying a healthy meal or side dish.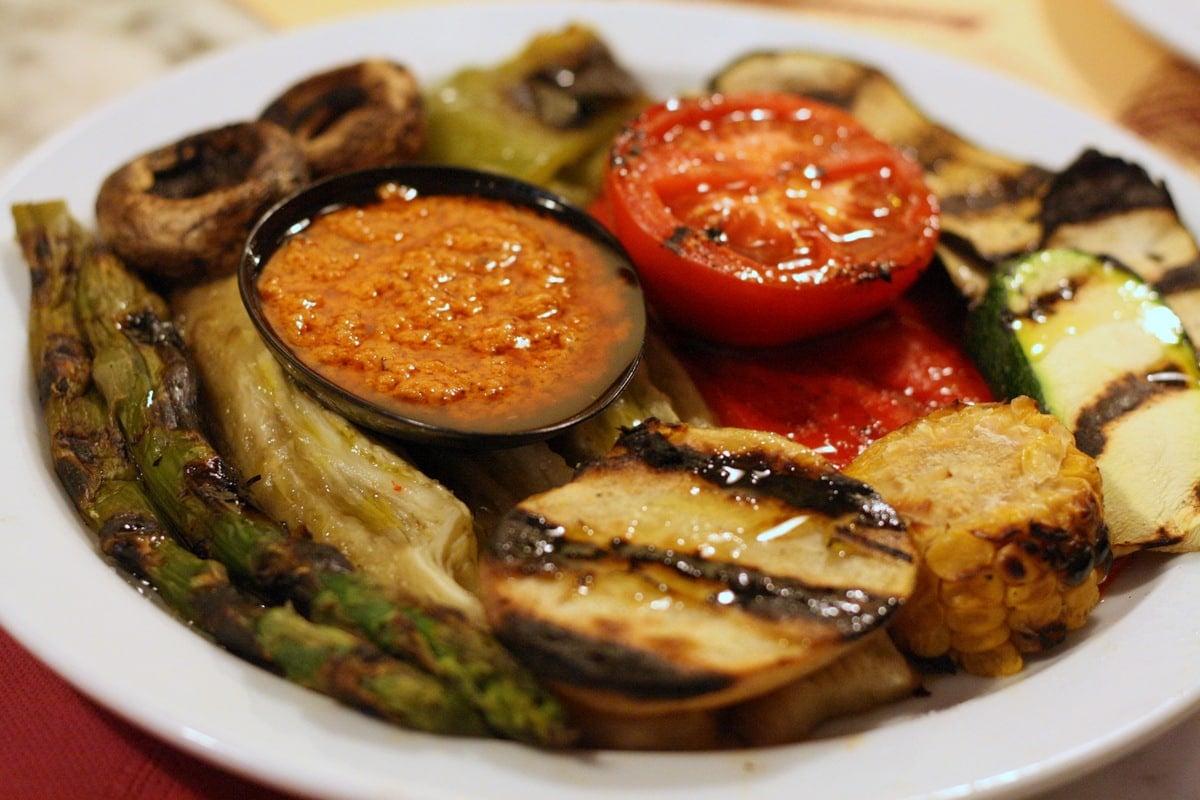 Spanish roasted vegetables are something I prepare weekly for my family when I meal prep. I crowd our favorite seasonal veggies onto a huge baking sheet and let the oven do its magic.
These Mediterranean roasted vegetables are flavorful and healthy -- here's David's fantastic recipe.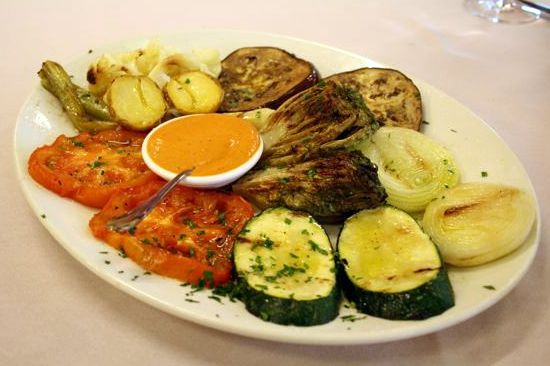 I'll never understand people who say they don't like vegetables.
What's not to love?! They can be sweet, savory, earthy, peppery, crunchy, chewy, juicy... anything you want them to be really. But even if you're one of those nay-sayers, I challenge you to try these Mediterranean roasted vegetables and not enjoy them. 
This is my go-to veggie bake recipe for big family dinners or for those times when you just have a fridge full of veggies you want to use up.
Roasting the vegetables brings out their natural flavors, and gives them an extra layer of sweetness. They're a great side dish to roast meat, and fantastic by themselves, too!
And when in doubt, you can always dunk them in nutty, chunky romesco sauce or smother them in smokey Spanish hummus.
Mediterranean Vegetables
The great thing about this Mediterranean roast vegetables recipe is how versatile it is. You can pretty much substitute all of the vegetables I use for whatever you have on hand. I really recommend using whatever is fresh, in season, and tasty.
For this recipe, I've opted for the classic Mediterranean veggies you can find in Spanish markets almost all year:
potatoes
tomatoes
zucchini
bell peppers
eggplant
But in winter, when these vegetables can be a bit less fresh and juicy, I'll go for:
mushrooms
carrots
cabbage
onion
turnips
pumpkin
Whatever you use, the base roasted vegetable recipe stays the same -- so feel free to experiment!
Recipe Tips & FAQs
What temperature is best for roasting vegetables?
I've found that the ideal temperature for roasting vegetables is at least 400°F (200°C). This is hot enough to caramelize the natural sugars in vegetables and give them that slightly crisp exterior. I personally prefer to roast at 425°F (220°C).
Which oil is best for roasting vegetables?
Extra virgin olive oil is hands down the best choice for roasting vegetables. It is the healthiest choice, absolutely delicious (experiment with different varieties), and allows the vegetables to cook to crispy perfection.
Should I cover vegetables when roasting?
No! Vegetables need to be exposed to the oven's dry heat and covering them would create steam (and therefore steam the veggies instead of roasting them). While steamed vegetables are healthy and delicious, we want to achieve the deep flavors of caramelization that you find with roasting.
Why are my roasted veggies soggy?
Usually this is because you've steamed the vegetables somehow. If you crowd the baking sheet or cover the vegetables they will be soggy. It also may happen if you put too much oil on your veggies. They'll become saturated with oil and therefore turn soggy.
Can you roast vegetables ahead of time?
Yes! Roasted vegetables will be their best (and most crispy) when served right out of the oven. But leftover roast vegetables last in the fridge for a few days and can be reheated in the microwave, the oven, or in a frying pan with a small amount of oil.
Serving Suggestions
These delicious Mediterranean roasted vegetables go perfectly with Spanish sauces and dips.
They also make a fantastic side dish. I like to serve them alongside these Spanish pork skewers (pinchos Morunos) and shrimp skewers (pinchos de gambas). It's like a surf and turf dinner with lots of healthy veggies on the side!
More Spanish Vegetable Dishes
A few more dishes where veggies are the star of the show!
Mediterranean Roast Vegetables
This easy Mediterranean roasted vegetable recipe is the perfect way to make the veggies in your pantry sing! You can use almost any vegetables you have on hand.
Print (images optional)
Pin
Rate
Ingredients
8

oz

waxy baby potatoes

8

oz

roma tomatoes

any small, sweet tomato will do as a substitute

2

zucchinis

cut into bite-sized pieces

2

red bell peppers

cut into bite-sized pieces

2

medium eggplants

cut into bite-sized pieces

1

head of garlic

broken into cloves, peeled

⅓

cup

extra virgin olive oil

1

tablespoon

fresh thyme

(sub dried if necessary)

1

tablespoon

fresh oregano

(sub dried if necessary)

salt and pepper
Instructions
Preheat the oven to 425°F (220°C), and lightly oil a large roasting pan or ceramic baking dish.

Place all of the veggies and garlic into a large mixing bowl. Drizzle in the olive oil, and add the herbs. Season with salt and pepper and toss to combine. Make sure everything is well coated with oil for the perfect roast and caramelization.

Take out the potatoes and place them on the roasting pan. Roast for 10 minutes, then remove the pan from the oven and add the remaining veggies and garlic. Return to roast for another 20-25 minutes, until all of the vegetables are tender to the press of a fork. (Some charred black bits are ok!).

Remove from oven and serve immediately. You can grate some fresh parmesan or Manchego cheese on top too for even more flavor!
Notes
Spread your veggies out of a large baking sheet for the best results. I like baking directly on the sheet, but if you must use parchment paper. 
Never cover your vegetables! This will steam them and make them soggy.
Resist the urge to move them around while cooking. We want them to stick and caramelize just a bit. 
Taste and add more sea salt before serving if necessary. 
For a touch of Spanish flavor add a pinch of pimentón de la Vera (smoked Spanish paprika) right before serving.
Nutrition
Calories:
206.79
kcal
|
Carbohydrates:
22.24
g
|
Protein:
3.95
g
|
Fat:
12.76
g
|
Saturated Fat:
1.8
g
|
Sodium:
19.42
mg
|
Potassium:
869.68
mg
|
Fiber:
7.71
g
|
Sugar:
9.98
g
|
Vitamin A:
1840.5
IU
|
Vitamin C:
82.44
mg
|
Calcium:
46.3
mg
|
Iron:
1.66
mg
Thanks for checking out my Mediterranean roast vegetables recipe! Let me know if you give it a try!