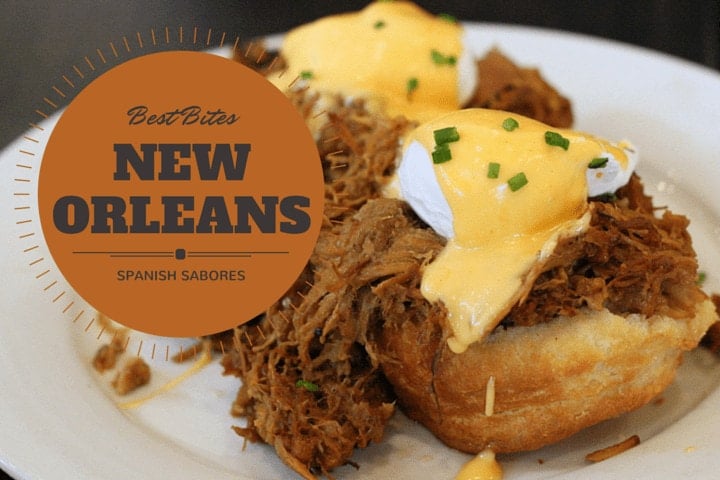 New Orleans is an overwhelming culinary destination. It seems that nearly every restaurant in town is known for something special, and people fight tooth and nail to defend their favorite eats. But despite the difficulties narrowing down an eating itinerary for only three days, we certainly made the most of our time in NOLA (helped by our decision to hire the famous Doctor Gumbo for a private food and cocktail tour). Here is some of the damage we did!
Cheat Sheet: The Best Bites in New Orleans
Beignets at Café du Monde
Blue crab spaghetti at La Petite Grocery
Cocktails
Oysters at Felix's Restaurant and Oyster Bar
Pralines at Southern Candymakers
Eggs Benedict
Bananas Foster pain perdu at Ruby Slipper Café
Fried seafood and fried seafood po'boys
Beignets
No visit to New Orleans is complete without chowing down on a heaping plate of hot beignets. The New Orleans' version of fried dough is crispy on the outside, yet mysteriously light on the inside. The famous Café du Monde has been making these fritters since 1862, and are tightlipped about their secrets to the perfect beignet. I did learn a few tricks, however! Café du Monde use a mix of flours in the dough, they refrigerate the dough overnight, and deep fry in cottonseed oil. It's safe to say that I don't think I'll be attempting these at home anytime soon!
Cafe du Monde: 800 Decatur Street
Blue Crab
Despite being Maryland's State Crustacean (I never knew some states have their own crustacean!), blue crab is a big deal in New Orleans. We tried it in two delicious dishes at La Petite Grocery (which overall I found to be overhyped), and I am still craving more. It was too difficult to take a picture of the star dish, homemade spaghetti with blue crab, mustard greens and anchovy sauce (the tiny portion also disappeared quite quickly), and the picture above of the crispy blue crab beignets with malt vinegar aioli doesn't do them them justice!
La Petite Grocery: 4238 Magazine Street
Cocktails
Cocktail culture is HUGE in New Orleans, something we learned a lot about on our cocktail tour. I would even be willing to guess that New Orleans is home to the highest concentration of award winning bartenders and mixologists in the world! Craft cocktails seem to be on every menu, as are the classics. For a great cocktail experience, do your research and stray away from Bourbon Street (unless you're going to Bourbon O, see below), where cocktails usually mean cheap liquor and powdered mixes. It surprised me that each and every bar had plastic to-go cups available by request, sinful when you're paying $15 a cocktail in my opinion!
Oysters
Everyone seems to have an opinion about the best oysters in New Orleans and the three names that kept coming up in my research were Dragos, Felix's, and Acme. We decided on Felix's after a quick glance in the window showed a casual diner-style ambiance, and a quick look across the street to Acme showed a very long line! I'm no oyster connoisseur, but the raw oysters at Felix's were absolutely delicious. We also tried their famous chargrilled oysters which were smokey and wonderful, although for me nothing beats the pure version.
Felix's Restaurant and Oyster Bar: 739 Iberville Street
Pralines
I fell hard for pralines after my brother brought them home from South Carolina. The good ones melt in your mouth and the sugar goes right to your head-- it's impossible to take only a bite. In New Orleans our favorite pralines came from the shop Southern Candymakers, where you can watch as they make the pralines from start to finish.
Southern Candymakers: 334 Decatur Street
Eggs Benedict
I am obsessed with Eggs Benedict and it's kind of a problem. I order it whenever possible on each trip I take to the US, meaning that by the end of my stay I can barely zip my jeans. New Orleans is known for some epic Eggs Benedict preparations, and I had to sample my fair share. The winners were the Eggs Cochon at the Ruby Slipper Café (slow-cooked apple-braised pork debris sitting on a homemade buttermilk biscuit, topped with poached eggs, and finished with hollandaise) and the Eggs Stanley at Stanley Restaurant (cornmeal-Crusted Oysters, poached Eggs, Canadian bacon and creole hollandaise on a toasted English muffin).
Bananas Foster
Who couldn't love the combination of bananas, rum, brown sugar and cream? No one, that's who! This version of the New Orleans invented specialty was perfect. Light french toast (pain perdu in New Orleans) smothered in just enough bananas foster sauce and topped with raisins and crisp bacon. I enjoyed every bite!
Ruby Slipper Cafe: 1005 Canal Street (and 3 other locations too)
Fried seafood and fried seafood po'boys
I was sad that it wasn't crawfish season while we were visiting (it's early March through mid June and on the top of the list for next visit!) but we still enjoyed some wonderful seafood. The Gulf shrimp were extremely flavorful, and the fried oysters, catfish, and crab legs were a treat. And putting the fried seafood into fresh baked bread with lettuce, tomato, mayo, hot sauce and pickles? OMG. I'm officially obsessed with fried seafood po'boys (NOLA speak for sub/grinder) and the fried oyster po'boys are my all time favorites.
Have you been to New Orleans? What was your best bite?