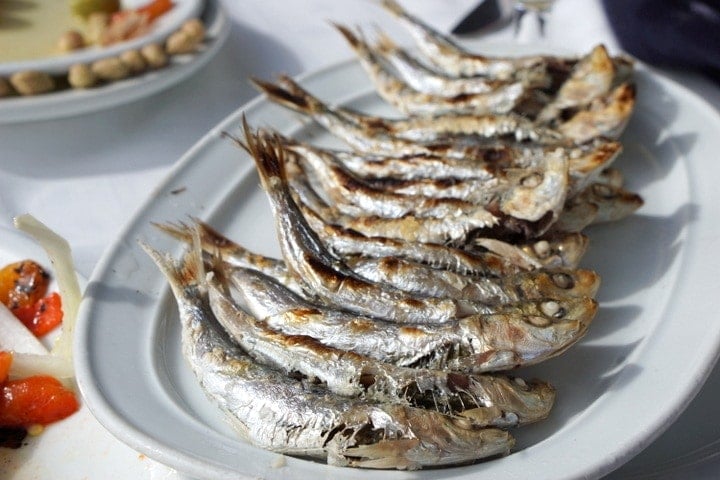 Looking back at photos of 2016 something became quite clear-- I worked a lot! Apart from an incredible getaway to Tenerife at the start of the year and another to Galicia and Pozos in summer, my year was spent traveling mostly for work. How do I feel about this? Mixed feelings, to be honest. On the one hand, I LOVE WHAT I DO. Building food and wine tours across the country is something I am extremely passionate about. Connecting small, family-run businesses to curious, respectful travelers is a mission I embrace. But... sometimes I also want to be a curious traveler! I want to visit places like Japan, Thailand, Vietnam... and take the great food tours that people like me are offering there.
Balance is tricky for anyone, and especially when running a small business. Despite not traveling much outside of Spain this year, I have been happy to have had more time to cook, I received the WSET Level 3 Award in Wines and Spirits (a challenge during our high season!), and continued to build an awesome team alongside my partners James and Alejandro. I've read over thirty books, tried a bunch of different workouts (and found one I love), spent time with family... politics aside, I really can't complain!
But for 2017, I have made some big travel plans too. Marrakech and the Sahara Desert in February, a wine conference in Sicily in March, Thailand in April or May (my first time in Asia!!!), and hopefully much more in the second half of the year. I know how inspiring travel is for me, and am making it a priority in 2017.
Devour Spain has big plans too-- but that's for another post 😉
While I may not have traveled wide and far this year, I did manage to still eat quite well. Here are the highlights of my year-- I hope they will inspire you to travel more in 2017 too!
1. Fried cheese in Tenerife (queso a la plancha con miel de palma)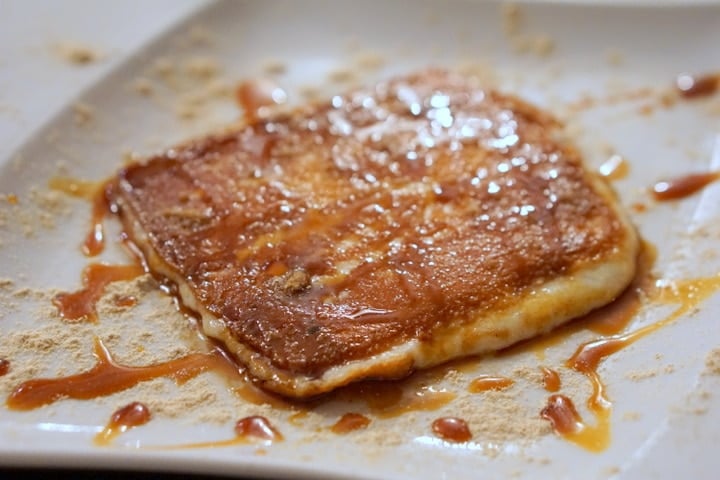 Our trip to Tenerife last February was incredible-- it's a place I'm dying to return. One of the best things we tasted was this simple grilled cheese with palm honey, and a roasted grain flour called gofio.
2. Artichokes from Meson Mariano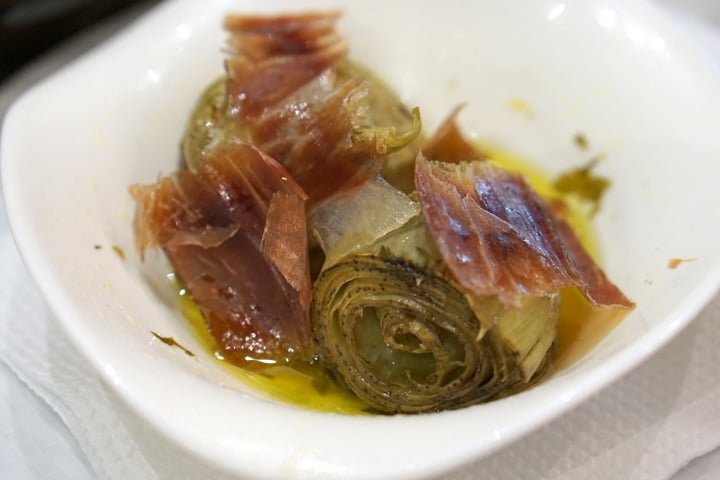 I discovered one of Spain's best tapas bars. Mesón Mariano is famous for its artichokes, and they are to die for.
3. Espetos in Malaga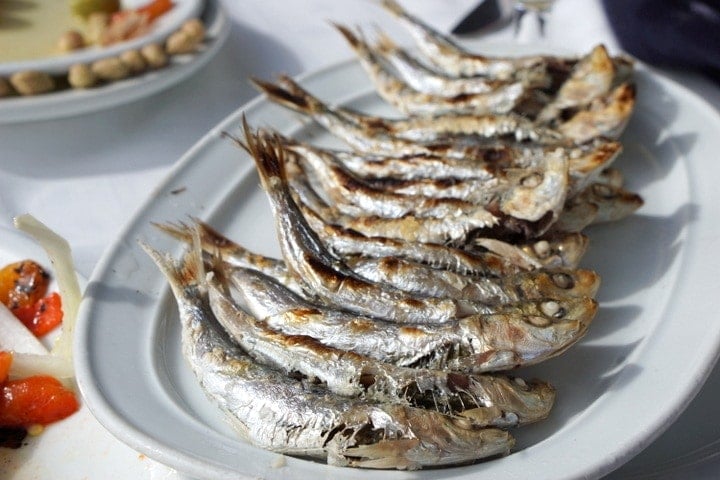 The beating sun, seaside views, and grilled fish on skewers. This is the life. There is nothing better than heading out to one of Malaga's chiringuitos (casual beachside bars) and ordering heaps of fresh fish and seafood, all washed down with local wine. We were in t-shirts in February-- truly incredible.
4. Calçots in Barcelona
Going to an authentic calçotada (a Catalan barbecue, with local onions and grilled meats) was a highlight of the year. So messy, so delicious, so much fun!
5. Homemade tuna stew in Vejer
I finally made it back to the gorgeous white village Vejer to cook with fellow foodie and sherry expert, Annie. Our tuna themed cooking class resulted in the best atún encebollado (tuna and onion stew) I've ever had. Check out the full experience here!
6. Homemade profiteroles in France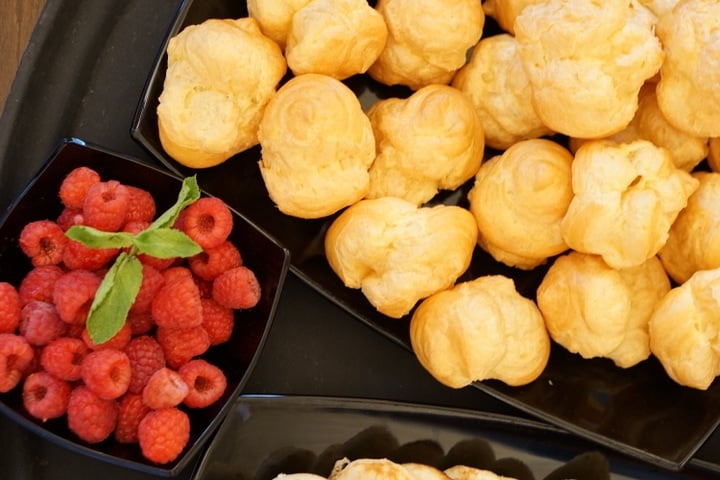 I never knew how delicious a profiterole could be until I made them in France! As a part of a blogtrip I was invited on, we made the most delicious Chantilly cream filled pastries. The only regret was making them after a big lunch-- I truly wished I'd had an extra stomach (or a Tupperware!).
7. Ham and sherry pairing in Seville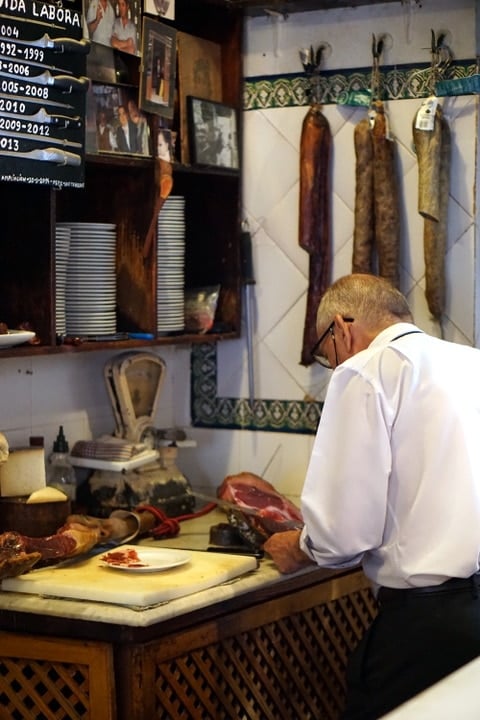 Ham and sherry wines are a match made in heaven and one that we highlight on our Seville wine tour. Las Teresas is where you'll find some of the best ham in Seville (and maybe Spain), hand carved by the owner himself.
8. Steamers in Cape Cod
Despite being born and raised in Massachusetts and growing up spending summers on the Cape, I'd never tried steamers, soft-shelled clams. This summer I had the opportunity to return to Cape Cod with my family, and these were definitely a highlight of the local bites! If in the area, try them at the BYOB Moby Dick's restaurant.
9. Wellfleet oysters
Another discovery were Wellfleet oysters. As a kid, I wouldn't touch them, but now they haunt my dreams! I can't wait to return to the Cape and enjoy these again.
10. Cape Cod lobstah rolls
And, of course, a summer trip to Cape Cod would never be complete without some bulging lobster rolls. These came from Mac's Shack in Wellfleet-- so, so good!
11. Persian food in Madrid
A new favorite restaurant in Madrid is undoubtedly the delicious Iranian eatery, Banibanoo. If I had a personal chef, I'd want to eat like this every day.
12. Local peaches in brandy sauce with Chef Esmeraldo
This summer I had the chance to return to Pozos(a gorgeous town in León) for another culinary retreat with the talented Chef Esmeraldo of Esme Tours. Among many other things, he cooked these delicious peaches with Brandy de Jerez and berries-- one of the best desserts of the year.
13. Rice with scallops and hake cheeks in Galicia
There's rice-- then there is arroz! And this Galician arroz con vieras y cocochas (rice with scallops and hake cheeks) was one of the best rice dishes I've ever tried. I'd seriously fly to Vigo one day just to eat this again.
14. Spicy mussels in Vigo, Galicia
Mussels are everywhere in Galicia-- but they aren't all created equal! Served au natural or with a spicy sauce, these ones in Vigo were incredibly flavorful and perfect with the local wines.
15. Red prawns in Madrid
One of the meals I most enjoyed this year took place just steps from my house at one of my favorite Madrid tapas bars, Celso y Manolo. I tried their red prawns, which were perfectly cooked and extremely flavorful. I enjoyed them shell and all, popping off the head and sucking out the brains (the best way to have them!).
16. Lamb in La Rioja
I celebrated my 30th birthday with a trip to La Rioja-- and my mom flew in to surprise me! We spent a few days visiting wineries and eating delicious local dishes like this grilled lamb. I'd highly recommend the family run restaurant near our hotel, Asador Aker.
17. Cockles in Santiago de Compostela
I'd tried these tiny clams called cockles a few times prior, but nothing ever compared to the fresh ones we found in Santiago de Compostela. One of Spain's hidden foodie gems, Santiago is brimming with delicious seafood, generous tapas, and amazing wines. Though famous for rain, I visited in August and again in December and saw nothing but sunshine. We will definitely be back soon!
That's 2016 in a nutshell. It was a great year personally, though obviously not so great worldwide. I have a great feeling about 2017-- I am excited to hopefully do some great things personally and professionally. And I hope to blog more here-- I really miss it!
How are you feeling about 2017? Has your year gotten off to a great start?