This blog post was originally posted on April 19, 2016 and was updated on May 24, 2017.
They say that breakfast is the most important meal of the day, and that's especially true when traveling.
It's important to get a good breakfast before heading out to explore. And while Spain doesn't typically serve up sausage and eggs with toast, typical breakfasts can range from a simple cup of coffee to a grilled ham and cheese sandwich, or even churros or muffins.
There's something for everyone, and each Spanish city puts its own local spin on the classics. Here's where to head for breakfast in Malaga to start your day off right.
Typical Breakfast in Malaga
The typical breakfast in Malaga is a pitufo, which literally means "smurf."But instead of referring to the small blue cartoon characters we all know and love, a pitufo in this case refers to toast! It starts with a mollete (a special kind of bread that has been around since the Moorish rule in Andalusia) that is then toasted and topped with your choice of EVOO, tomato, butter, jam, pâté, cheese or any other combination. You can also find a pitufo integral which is the whole wheat version, for the healthier among us.
What about coffee?
For the coffee drinkers, the pitufo is usually accompanied by a coffee, although be aware that in Málaga there are very specific ways to order your coffee. But if you're more of a tea drinker, know that you are not alone as tea is also widely available in Malaga. All those years with the Moorish influence has to count for something! So whether you prefer a tea or coffee, pitufo or something sweet, here's where to go for the best breakfast in Malaga.
Best Spots for Breakfast in Malaga
Cafeteria Oliver
Not far from the cathedral, this bar doesn't look like much, but it has great breakfast offerings. You can also enjoy people watching and being part of the action. It's one of the best places for breakfast in Malaga, and with great prices to boot.
Address: Calle Sancha de Lara, 11
Café Central
This is one of the places for breakfast in Malaga that's known by everyone in the city, locals and visitors alike. If you want to go when the locals are here, stop by around 11 a.m., which is the unofficial midmorning coffee break time in Malaga. You'll find people enjoying their delicious freshly made churros, or the typical Malaga breakfast of a pitufo.
Address: Plaza de la Constitución, 11
Casa Aranda
If you're craving churros, this is a classic place for breakfast in Malaga. Although there are also other great places to eat churros, this one fills up quickly—it's the favorite spot among locals. Don't let that scare you off, though. Just push your way up to the counter and tell them how many churros you would like (or how many people are in your group).
Address: Calle Herrería del Rey, 1
See Also: The Best Places for Churros in Malaga
Café Con Libros
Located next to Picasso's childhood home in the Plaza de la Merced, Café Con Libros is a great place for breakfast or for a snack later on in the day. An eclectic mix of furniture and the hipster crowd make this one of the most unique spots for breakfast and for getting some writing done!
Address: Plaza Merced, 19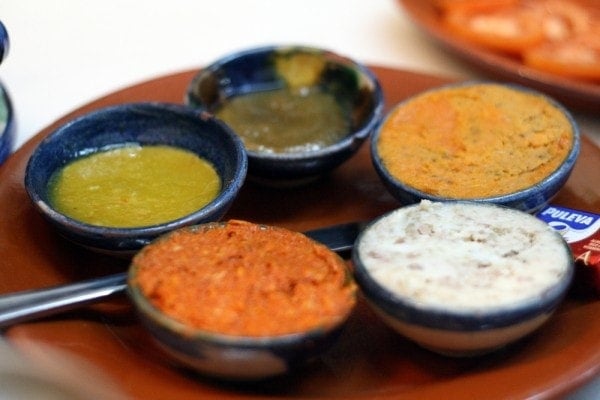 La Recova
This is a art gallery-turned-store-turned-great little cafe that serves a simple but amazing breakfast every morning, followed by delicious tapas later on in the day. For breakfast, you sit down and simply order your coffee, then the food starts coming! You'll get two slices of toast, on top of which you can spread a range of different toppings. Expect specialties such as sobrassada, zurrapa, and homemade jams.
Address: Pasaje Nuestra Señora de los Dolores de San Juan, 5
La Esquinita del Chupa y Tira
A few minutes' walk from the Plaza de la Merced on Calle Victoria, you'll find this little shop that sells canned goods, wine and lunch meats. But don't be deterred if you've come in search of breakfast. In the back of the shop are some barrels set up where you can eat.
The men who run the place will remind you of the Spanish grandfather you'll wish you had, and the products are all fresh. This is an authentic neighborhood place that is well worth heading off the beaten path to find.
Address: Calle Victoria, 31
Don't forget the coffee! Here's how to order a coffee in Malaga.
Pin me!